Review: My Bugatti Story by FronteraFest
by Michael Meigs
My Bugatti Story is playing at the Salvage Vanguard Theatre as part of the 2009 FronterFest Long Fringe. Writer Paul Ehrmann plays Alexander, the principal character. Though there's a cast of six, the show is essentially a long monologue by Ehrmann, interspersed with illustrative scenes. The near-monologue format is appropriate, for most of the action is taking place in his head, or at least in his fantasies.

At the opening, Alexander is found in a psychiatric ward, just about to undergo a board review of his non-voluntary commital. He has refused to participate in drug trials that would take away his memory and he has hoarded enough doses of potent sedative Thorazine to commit suicide. The bout with the review board is unsatisfactory to both sides.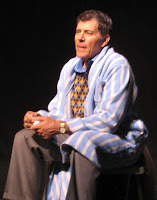 Before chomping down those fatal pills, Alexander tells us his story. When he was seven years old, his parents took him to Paris to visit the neighborhood from which they'd fled the Nazi occupation.
His parents tell him of the arrest, brutal mistreatment and deportation to Germany of one of the bakery workers, a simple boy who unknowingly was wrapping bread in copies of the newspaper of the French

résistance

.
Alex is horrified by the pictures in a book on the

résistance

movement,including a Gestapo

"machine pour
découper les mains" - -
"a machine for cutting off hands."


He returns to the United States forever shaken. We witness some of his unsuccessful attempts to overcome the neurosis and become a "spacious guy" like other American yokels. We do not really understand when or how, exactly, he wound up in the bin.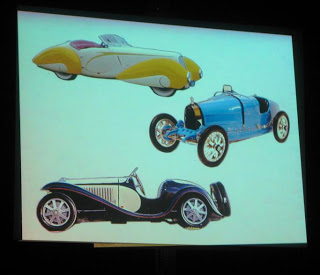 As Alexander thinks of suicide, he is saved by the return of one of the luminescent memories of that séjour in Paris -- the sight of a Bugatti dealership with its powerful, fantastically styled sports cars.
"I escaped into my dreams," he exults, and we follow him into a fantasy world of occupied France where he is a much admired mechanic and driver for Bugatti (played by the imposingly authoritative Frank Benge).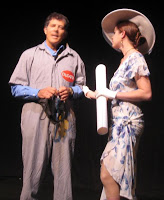 There's a girl, of course, the delicate artist and advertising designer played by Cici Barone,seen here in a light-as-air confection of a dress.The crass American boys of his youth played by Matt Connely and Craig Nigh have transformed into confident coveralled Frenchmen, with pretty good French accents.
We follow the plot as the rotten Nazis oblige portly Bugatti to convert his factory to produce torpedoes, the nobly patriotic French (plus Alexander) scheme to frustrate them, and Alexander's love escapes over the Pyrenees to Lisbon and, eventually, the United States. Alex triumphs over all the bad guys, both those in his fantasies and those running the psychiatric institute.
Publicity for the show asserts that it is "71 percent true."
Paul Ehrmann's heroic little story reminded me irresistibly of a literary genre little known in the United States. Beginning immediately after World War II, principally in Belgium, artists such as Edgar P. Jacobs and Hergé drew and published what we with current political correctness now call "graphic novels." These were fantasy pieces for French speaking boys, in which intrepid adventurers travelled the world, foiled crooks and fought maniacal villains who resembled the worst caricatures of Prussians, Nazis, evil eastern Europeans and third-world dictators. These were not pulp publications, exactly, although they often appeared as serials in boys' magazines. Publishers offered them as albums. Despite dusty concepts and pre-CGI FX, they remain popular today.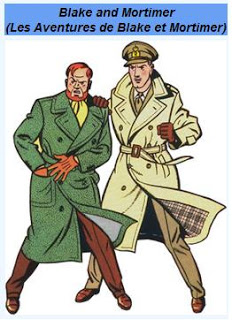 Every French bookstore deals in bandes dessinées. And behind the manga and French surrealist sexy space and crime albums there sits a solid shelf or two of these classics. Paul Ehrmann's pleasant fantasy reminds me particularly of the various adventures of Jacobs' "
Blake and Mortimer
," a pair of very British gentlemen who were always foiling the wicked.
Ehrmann's writing is vivid. His images are often surprising, even poetic -- for example, his description of the first Bugatti shown above, which he hails as "hot cheese poured over a rollerskate." When he imagines an impossible story of pursuing with his fleet, muscular Bugatti the train carrying Louis toward Germany, we accept the story, however far fetched.
Some of his jokes succeed less well -- a gibe about nepotism in Texas state contracting is incongruous. The momentary return of captive Louis as a hostage is the occasion for a dumb sally about "not being the only 33-year old Jew who has ever returned."
By his own admission, Ehrmann has a lot of himself invested in this narrative. At times he comes across as confessional or woodenly self-obsessed, characteristics which are perfectly in keeping with his imaging of Alexander.
Afterwards, I spent some time trying to picture in that role some other Austin actor who could bring more delight and mischief to the portrayal, qualities that could "sell" us more convincingly the happily surreal dénouement. Ben Wolfe, perhaps, or Tyler Jones?
Hits as of 2015 03 01: 2572
---
My Bugatti Story
by Paul Ehrman
FronteraFest
January 19 - January 31, 2009