Review: Mauritius by Austin Community College
by Michael Meigs
Theresa Rebeck's Mauritius is in many aspects a well-made play, fitting neatly into the 19th- and early-20th century tradition in the United Kingdom and in France (there, as une pièce bien faite). Cribbing quickly from Wikipedia, that Cliff's Notes of the Internet, one gets the reminder that the well-made play
has a strong neoclassical flavour, involving a very tight plot and a climax that takes place very close to the end of the story, with most of the story taking place before the action of the play; much of the information regarding such previous action would be revealed through thinly veiled exposition. Following that would be a series of causally-related plot complications. . . . [Plot twists may] bring about an unexpected reversal of fortune. . . . The reversal will allow for a quick dénouement, and a return to order, at which point the curtain falls.
Sound familiar? The well-made play has long been the framework for television drama and for motion pictures. Viewers, like spectators, like to have a story sharply defined, characters first viewed in full motion, a puzzle or two, an unexpected revelation and a satisfactory outcome. Mauritius is that sort of story.
The audience accepts the premises of the story, a suspension of disbelief that may in fact be considerable. In Rebeck's tale, you are required to believe that a New York tough guy with dubious connections and lots of cash is passionately enamored of philately. He has such a vast knowledge of stamp collecting that he's immediately lured and later enthused by two vanishingly rare mid-19th century stamps issued by the British colonial officials in Mauritius. Where did those rarities come from? Some girl off the street carried them into Phil's Philately Shop in a single stamp album that Phil refused to examine. Dennis, the guy lounging in the shop for no apparent reason, recognizes their worth and is off like a lighting bolt to work a with tough guy Sterling.
Complication: ownership of the album is disputed between estranged stepsisters whose mother has just died. The cool-blooded arrogant sister wants the album as a memory of her own grandfather; the warm-blooded younger sister needs to cash in this unexpected treasure left by Mom. As in any potential transaction, value and price are weighed against one another. In Mauritius the potential dealers and buyers are caught up in a lengthy tactical battle often involving lack of information and disinformation.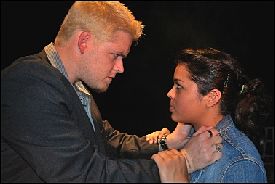 James Hawkins as the potential buyer swaggers, sneers and establishes a powerful physical presence on this stage -- so much so that one might eventually wonder why he didn't just pull out a pistol and take the damn stamps. Hawkins, fully in this role, walks about like a bomb waiting to explode. But as shady as he is, he follows rules of business and negotiation (there we again have the well-made aspect of this play). In a subtle, exciting moment Hawkins shows us this man's awe and adoration for these two bits of rare paper. Rebeck gives him a fine monologue for convincing distrustful Jackie (Vandila Thompson) about his offer of a thick attaché case full of money. Hawkins makes the most of it. The codas to his offer -- additional sheafs of banknotes added with the assertion, "That's the deal" -- would have been even better with just a beat between them for us to watch him watching Jackie.
Mauritius was developed in New York and Boston, so we can assume this action is taking place in such a megalopolis. Set decoration by Peter Sukovaty asserts that with a striking but relatively unnecessary projection of a city skyscape. The action could in fact take place almost anywhere.
It could have been more effectively staged in the far more intimate studio theatre upstairs. The ACC main stage at the Rio Grande campus has all the disadvantages of its historical function as the Austin High School assembly hall -- too many seats and a relatively deep stage that's elevated four feet above the audience. Spectators are necessarily dispersed and separated from the action in this configuration, so complicity with the audience is not easy to establish.
Michael Sorrells as Dennis the go-between is initially smoother and better than a two-bit grifter -- let's call him an eight-bit grifter. As conflicts and complications threaten his imagined perfect deal, we see him working hard to keep it on track. Sorrells has a tense credibility. We are tempted to believe him as he allies himself with Jackie, and so is she. Phil the stamp-selling loser gravitates to ice-queen sister Mary.
These sisters talk past each another, even when they are most vigorously contesting. Emily Robinson as high-toned sister Mary projects her vision and her views so emphatically that we simply don't believe her apologies or allegations of emotion. Vandila Thompson in the role of Jackie has tough things to say, especially to her sister, but her actions are less decisive. Toward the end she and Sterling lock in a terrific brief fight onstage, choreographed by David Yeakle. I'd have liked to see similar psychic energy from Thompson earlier.
ACC's Mauritius stays firmly on the rails, with more than one sudden twist. Director Shelby Brammer keeps her cast at speed and they deliver that satisfying dénouement. There's a reason that the form of the well-made play has lasted so long. Done with assurance, as here, it's very satisfying to the spectators.
Review by Ryan E. Johnson at austinist.com, October 14
EXTRAS
Feature by Cooper Clark in ACC's on-line Accent, October 1
Click to view program excerpts for Mauritius by Theresa Rebeck at Austin Community College
Hits as of 2015 03 01: 2380
---
Mauritius
by Theresa Rebeck
Austin Community College
October 08 - October 17, 2010