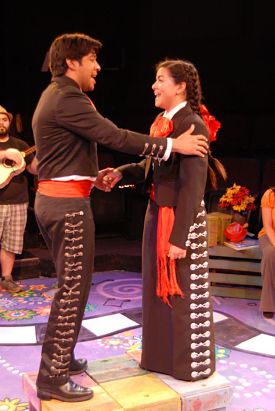 I remember it as if I had suddenly woken from a dream. I was crouching on the living floor, ear pressed to the window like Beethoven, listening to the sound of a tuning guitar, chords on a keyboard, and the distinct hum of the accordion and amplifier. They were bringing my mother a serenade for Día de Las Madres, Mother's Day. It was my father, grandfather, and whatever friend they could find with a cable and amplifier. This happened every year from the beginning of time and was practiced for throughout the year every Friday or Saturday night. So by the time Mother's Day arrived, my mother was usually annoyed. She did however act as if she'd never heard Las Mañanitas before every year on this special day. And twice for everyone's birthday. For her, a delight. For me, it was how I fell in love with music.

It is the allure of multiple perspectives that I love about the musical Mariachi Girl by Roxanne Schroeder-Arce. Everyone's voice was represented on stage through a character, a line, a song, a hat, and yes, even a Barbie. Everyone in the audience had a stake in what was happening on the stage. Full of opinions, explanations, words of wisdom and story, these identifiable characters mirrored our lives and entertained us with humor, song, and intrigue.

The entertainment value of the production was matched by his educational value. Heritage, history and tradition came alive. Children were taught to follow their dreams, celebrate their diversity, and also to respect authority. Adults in the audience related to the pressures of parenting and the complexity of establishing a healthy family. Issues of gender role, social status and race were held in different light. And the artist was celebrated. 'Those people" who practice music in garages, or alone in their rooms can treasure a folkloric production like Mariachi Girl.

Mariachi Girl is a well rounded Theatre for Youth musical enjoyed by all ages, one that asks important questions of its audiences. The musical asked me to remember.

My answer? I do remember -- as if it was yesterday.
Hits as of 2015 03 01: 903
---
Mariachi Girl
by Roxanne Schroeder-Arce
Teatro Vivo
October 06 - November 04, 2012