Review: Mariachi Girl by Teatro Vivo
by Michael Meigs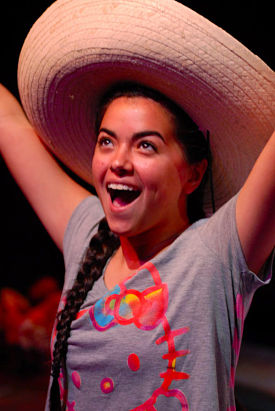 At the Zach Theatre Teatro Vivo, the University of Texas and the Zach 'Theatre for Schools' program have been presenting Roxanne Schroeder-Arce's play to schoolchildren during the week and to the public on weekends. It's a charming, very Tejano experience, a fable about a young girl who dreams of performing with her father's mariachi band, even though he insists that the musical tradition must continue to be exclusively masculine. The performance is accompanied and supported by a real mariachi of four musicians in traditional costume playing original music by Héctor Martínez Morales.
The play was directed by Brant Pope, chair of the Department of Theatre and Dance at the University of Texas.
Aisha San Roman as the girl protagonist is not really an eight-year-old; she's a student at the University of Texas. But with the compliant magic of theatre we had no difficulty in accepting her sparkling performance as Carmencita. Teatro Vivo regular Mario Ramirez as the father is a strong presence, and he reveals a previously unsuspected fine singing voice.
Carmencita turns to the two adult women in her life, her mother and her teacher, and she dramatizes her own dilemma by voicing arguments between her Barbie doll and a male doll dressed as a mariachi performer. She and her older brother (played by Julian Castillo) wrangle as all siblings do but they remain close to one another.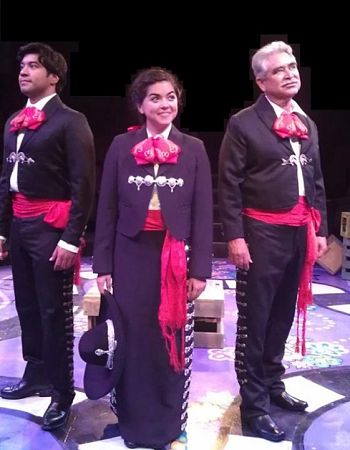 Carmencita discovers that her teacher isn't as 'white' (Anglo) as she'd thought, and the two grown women form an alliance with Rupert Reyes as a sympathetic musician, persuading the leader to bring the band to a school performance where Carmencita flings herself into earnest performance of a traditional mariachi song.
Teatro Vivo artistic director Reyes conducts a talk-back after each performance. At last weekend's public performance, a number of the adults who spoke up had been deeply moved by the message of preserving tradition even as it is adapted to changing circumstances. An older woman who had acceded to the pressures of her traditional family described the sacrifices that path had entailed; others spoke warmly of the positive message about preserving culture.
Reyes told us that school audiences -- constituted of the more than 2,000 children who've seen the play since it opened on October 6 -- have been quick to identify with Carmencita and her ambitions to achieve her desires by lifting the constraints imposed by elders and by history.
As always, Teatro Vivo's adroit bilingual staging assures that everyone attending can follow every moment of the action, and at the same time it subtly emphasizes the value of both of the principal cultures that blend to make the world of Tejano society.
EXTRAS
Feature about Aisha San Roman at the Teatro Vivo blog, November 4
Hits as of 2015 03 01: 1537
---
Mariachi Girl
by Roxanne Schroeder-Arce
Teatro Vivo
October 06 - November 04, 2012