Review: Lend Me A Tenor by Gaslight Baker Theatre
by Michael Meigs
Ken Ludwig's Lend Me A Tenor is one of those 'sure fire' inventions beloved of theatre companies across the world. Since the 1986 debut in London it has been translated into 16 languages and produced in 25 countries.
The Gaslight Baker Theatre is currently staging a vivid and funny production of this farce, a fable of mistaken identities, dizzy romance and worldly sophistication. Aspiring timidity meets bravado, and bigger-than-life Italian passions transform smaller-than-life American provincials. The year is 1934. Great Itallian tenor Tito Morelli is arriving for a single guest performance of Verdi's Otello at the improbable Cleveland Grand Opera Company, and he's about to overwhelm the locals, the society ladies, the cast of the opera, and above all, our ingénue Maggie (Francine Olguin) and her hapless would-be suitor Max.
Max (David Young) has been appointed by Cleveland's growling opera impresario Saunders (Donald Owen) to keep the visiting star sober, satisfied and out of trouble -- an impossible job, even though Morelli is accompanied by his glamorously shrewish wife Maria (Candice Carr).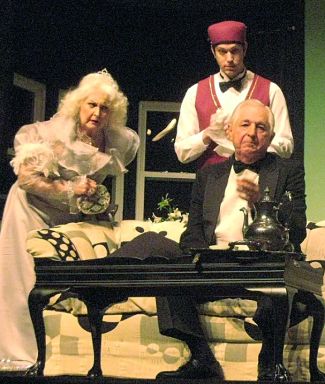 This is a plot that runs like clockwork, complete with romance, jealousy, officiousness, quarrels, disguises, a pertly intrusive servant (Chris Schnaible as the starstruck bellhop), slamming doors and a potent potion that knocks out the Great Man and gives the Little Man the opportunity to triumph unrecognized as his substitute. Yes, Steve Lawson as Morelli and Dave Young as Max are of different heights and builds, but with the magic of the costuming and makeup of stage disguise, predictably, no one can tell them apart!
Now, is that likely? No! Is it even probable? No! And do we care? Double no!
These two familiar Lockhart stalwarts make us root for Max and give us good reason to like Tito Morelli. They even demonstrate singing voices that are passably good enough to convince us in this make-believe world that either could go out there and give Verdi what-for. Young may overdo Max's nervous tics a bit, especially at the opening, and Lawson's Italian-a accent isn't as consistent as that of Maria (Candice Carr), but we hang on every surprise turn in the plot. Director Todd Martin sets a fine fast clip to this action and displays a keen understanding for the pictorial impact in farce of clever movement and positioning of his actors.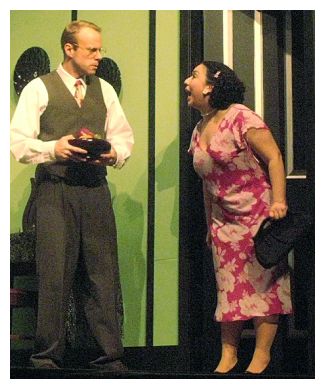 A tip of the hat to David Schneider for the scene design -- Lend Me A Tenor can be played in just about any old box set, but the one onstage at the Gaslight Baker is an artful, eye-catching pseudo Art Nouveau creation. Extra touches give it the flair of a 1930's Hollywood set. Five doorways are meticulously decorated in chocolate and gilt, tasteful black-and-white prints grace the pistachio walls, and there's a dizzying black-and-white sofa creation that has to be seen to be believed.
In response, while writing of this production, I was tempted to riff on 1930's cinema themes -- and certainly, Donald Owen's very funny portrayal of the jowly hypocritical opera manager Saunders is one that could have come right out of the Warner Brothers casting book of the time. But although the lineage of Lend Me A Tenor passes through happily heedless Hollywood comedy in black and white, it really goes much further back.
This play script with its stock characters, flamboyant personalities, wild plot twists and even a grandiloquent costumed Italian is right in the tradition of the commedia dell'arte. Why, you can even check most of the characters off on a list: Max and his beloved Maggie are the innamorati, Saunders is Pantalone, and of course Morelli and his wife Maria are Arlechinno (Harlequin) and Colombia (Smeraldina). With a little indulgence you could interpret the marvelously silly society matron Julia (Ellen Massey) as la Ruffiana and the bellhop as Pedrolino the moon-struck clown.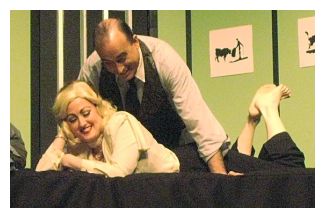 Director Martin is forthright about the intentions of the play, writing in the program,
I wish I could say there was something to learn about ourselves by watching this show, but there is not! Lend Me A Tenor is a farce in the most classic sense of the word. [. . .] So sit back, relax and laugh your head off. It's 'okey dokey' and will make you 'feel like ten bucks'!

And don't miss the ingenious final scene: just after the lights go down and you suppose that the action has concluded, you'll be treated to a delightful two-minute silently mimed re-enactment of the entire show. The cast scamper through swift moves, poses and pratfalls that instantly re-create the comic highlights. Suddenly we're out of the realms of 1930'sHollywood and 16th century Italy and squarely into the tradition of Max Sennett, Charlie Chaplin, George Meliès and other pioneers of cinema comedy. It's unexpected, amusing and surprising, a sparkling conclusion to a very satisfying comedy.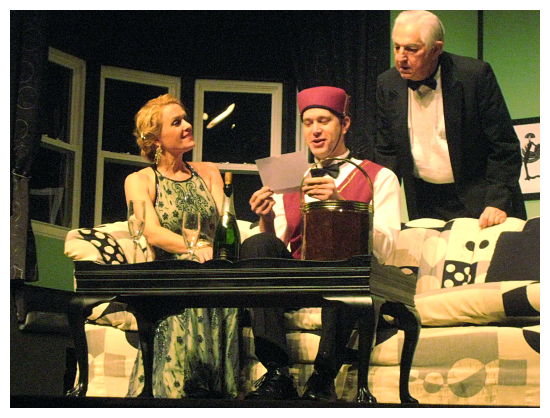 EXTRA
Click to view excerpts from Lend Me A Tenor by the Gaslight Baker Theatre
Hits as of 2015 03 01: 1563
---
Lend Me A Tenor
by Ken Ludwig
Gaslight Baker Theatre
January 27 - February 18, 2012