Review: Land of the Weird by Bottle Alley Theatre Company
by Michael Meigs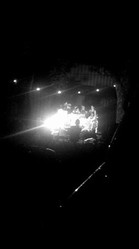 The gang over at Bottle Alley Theatre Company is finishing up their second season, already very diverse, with some good fun. With support from mainstay Chris Fontanes, they took on a puppet project. This is a new art form for all of them, and they benefited from a couple of sessions with Connor Hopkins, Austin's own emperor of animated objects.
Bottle Alley has to scrape, cadge and liberate for venues and material, facing the same perpetual challenge as other inspired but underfunded artists. Classrooms, parking lots and craft stores are one part of that. Kindly local entrepreneurs are another. Their lively show takes place in the back yard of neighborhood miscellaneous shop and coffeehouse Friends and Neighbors at 2614 Cesar Chavez, located in a tidy little thousand-square-foot bungalow just west of the Pleasant Valley intersection and more or less across the street from El Palacio del Marisco. The store is closed in the evening, but friendly folks will send you around to the back yard and the snack shop just off the porch.
So you're learning this new art, maybe imagining a mixture of Sesame Street and Avenue Q, discovering how to create hand puppets, stick puppets, cloth puppets, talking objects, maybe paper mâché -- and what story are you going to tell?
Your own, of course. Or a variation on your stories. About being a single person, recently graduated, who comes to Austin, the endlessly proclaimed land of the weird. The Bottle Alley gang offer a good humored take on all that. One big newbie is Chad the surfer dude, would-be musician who can't think much further than the next bar and street-corner gig; another is the earnest Susie, farm girl fresh from Ohio, trying out Austin's version of the big city. Susie stays with her cousin Roxy the hipster, knowledgeable about stuff like blended sexuality and gluten-free eats.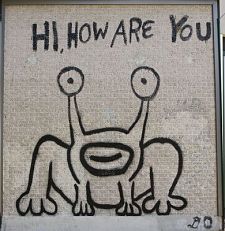 The narrator, fool and guide to the land of the weird is none other than Jeremiah the frog, on tour for the evening from the familiar mural on the Drag.
The Land of the Weird isn't quite the educational and spiritual journey of a bildungsroman, but this light-hearted, highly improvised story does cover two years in the lives of its protagonists. Chad and Susie meet down on Sixth Street and come perilously close to romance ("Eyew! Puppets kissing! No way!" cries one of the other puppets in the crowd). Chad becomes slightly less clueless; Susie applies her ingenuity and becomes a successful farmers' market entrepreneur. All this occurs among lots of puppet commentary and celebration.
It takes place on an improvised stage in the back yard with a low wall of piled cardboard boxes decorated with Christmas lights. They've got lots of puppets stashed back there, ready to surprise and amuse. The performance takes only about 45 minutes. Spectators can position themselves on lawn furniture, up on the porch or even on the hoods or backs of cars or pickups drawn up in the small parking area.
Even with a cast of only six puppeteer-actors, the performance offers a good variety of examples of puppetcraft. Tim Olivares is mostly hidden behind the large figure of duh-drawling Chad from California; Rebecca Corso is a visible alter ego of sweet Susie, for they're side by side and about the same size; lean, bewhiskered Griffith Cook holds the diminutive Jeremiah with the big mouth high above the action and gives him a flippant irony throughout. Rachel Shaw and Kadi Mayo populate the action and the crowd scenes with lots more puppets, some appearing only for a few minutes.
The cool kids at Bottle Alley make good friends and neighbors at Friends and Neighbors. They're out to play Thursday through Saturday of this week at 8 p.m. If it rains, they'll probably perform in the adjacent garage. (Gotta exercise your ingenuity if you're an Austin artist!)
---
Land of the Weird
Bottle Alley Theatre Company
September 11 - September 20, 2014
PERFORMANCE DATES: 11,12,13,18,19 & 20 of September
HOUSE OPENS AT 7:30, SHOW BEGINS AT 8

Performances shall take place at Friends & Neighbors, located at 2614 E Cesar Chavez (performances shall be outside). Parking is available in the lot next to the store (though park there at your own risk), as well as along the street.
Seating is VERY limited, so it is highly recommended to buy your tickets online to ensure entry