Review: Kill Will by FronteraFest
by Michael Meigs
There's no Shakespeare in it, but it's certainly full of sound and fury. Signifying. . . .?

Think of a crime caper that takes place in the sleazy east London, with a dose of pulp detective attitude, nasty obsession with lowlife violence, guns and Irish prolixity.

Austin Alexander plays the lead in his own creation. Mickey Nichols is a guy in a bad way, roughed up in turn by black-leather gangster William Slate, by American cocaine middleman Sid the Sailor, and by Boris "McBoo," a fixer for the invisible aristocrat from whom Mickey has stolen lots of old stuff, including a diary that a museum curator has authenticated as dating from Shakespeare's time. His not-too-bright buddy Rory Townes (Andrew Butler) tries to carry out instructions but keeps screwing up.

Barman Patty O'Reilly is Mickey's only friend. I kept waiting for Patty to turn up and save the day for our boy Mickey, but co-director Nathan Osborne, who played Patty, was too busy elsewhere in the plot. Osborne had three of the prime roles -- he also played tough guy Sid and the lonely, loquacious security officer at the railroad station who greeted and engaged the bad guys swarming around the empty locker supposed to hold the diary. He differentiated nicely among the characters he played.
One demonstrable disadvantage of playing the lead and directing oneself: in his scenes with barman O'Reilly, Austin Alexander spent a lot of time upstaging himself -- standing turned away from the audience and speaking upstage toward the bar.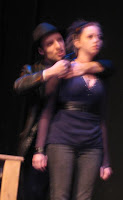 Black-hatted Justin Scalise does a nice foul-mouthed snarl as William Slate.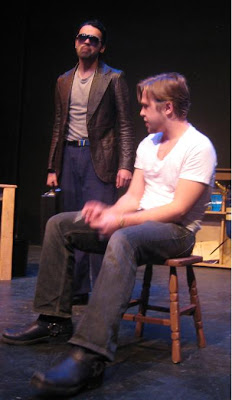 That Russian gangster in sunglasses, Boris, and his lady Nikita (played by Devyn Ray, above) were about as nutty in this plot as their counterparts in the old Rocky and Bulwinkle show. Sesar Sandoval was scary, though. He's credited for the fight choreography, and he had a lot to do. Mickey gets his butt, sides, face and other parts kicked and beaten again and again. Toward the end there's even an improbable sword fight between Mickey and museum curator Ophelia Flinn (played by Kathleen Fletcher). This is pretty impressive stage violence, but the effect is lessened by the ability of these fantasy characters to bounce back from beatings fast enough to fast talk.
Expect lots of gun shots and lots of smoking (watching those blue clouds swirl against the black backdrop at the Blue Theatre, I became keenly aware of the expression "second hand smoke").
The finale? Think Jacobean revenge tragedy. I counted five corpses onstage at the last scene with two more characters rapidly approaching extinction.
The company plays it all with sufficient seriousness for us to go along. If you get a guilty thrill out of Quentin Tarrantino, James Ellroy or Mickey Spillane, here you go!
Hits as of 2051 03 01: 1001
---
Kill Will
by Austin Alexander
FronteraFest
January 24 - February 01, 2009
Blue Theatre (now closed)
Springdale Rd and Lyons
behind Goodwill warehouse
Austin, TX, 78702