Review: John Gabriel Borkman by Different Stages
by David Glen Robinson
John Gabriel Borkman is a legacy play about legacy. Ibsen wrote it in 1896, and it was his penultimate play, penned long after his reputation was established with such plays as A Doll's House and An Enemy of the People. His entire artistic work, or oeuvre, may be thought of as prefiguring 20th century modernism with its emphasis in theatre on realism. Plays explored psychological and social issues with characters speaking directly of them in dialogues with each other. Ibsen deemphasized or eschewed imaginative flights of fancy, mythic themes and realized dream sequences. Peer Gynt came early and bears little resemblance to John Gabriel Borkman.
This work has all the features of the mature Ibsen. And he knew to a silver bell that most people's intended legacies -- those they work for, give birth to, and break laws for -- are very often not the ones they gain. Their real legacies emerge while they are living in another direction.
This English version of the play translated by Nicholas Wright is directed by Norman Blumensaadt. The title character played by the redoubtable Ev Lunning, Jr. has many of the characteristics of the protagonists of The Fountainhead and Atlas Shrugged, works created by Ayn Rand half a century later. But Borkman's love of industrialism led him in his passion to misappropriate his bank's funds, violate every banking law of Norway, lie, cheat, and steal. And then he lost the money of his ill-gotten capital—through a vicious betrayal. Along the way he pillaged all his relationships. But Borkman's story carries with it more realism than those of Rand's fanciful, unrealistic characters. It could be a case study from the North American bank and insurance failures of 2008-2009, except that Borkman got five years in the icy Norwegian slammer while the crooks of the Great Recession got golden parachutes.
Even Norwegian playwrights have to play carefully when espousing realism. After prison Borkman spent the ensuing eight years in the second floor ballroom (!) of the family manse, pacing back and forth, never once going out even in brief periods of good weather. He was said to approach his cape, hat, and cane and then back away in a welter of fearful uncertainty. This is improbable to the point of simplistic contrivance. It is made no better by Different Stages' representation of the ballroom set in one corner of the stage: a space with a small piano against the stage side, a book table and a desk chair. There is no area for dancing or the implied sense of spaciousness a ballroom would have whether or not balls were ever conducted there.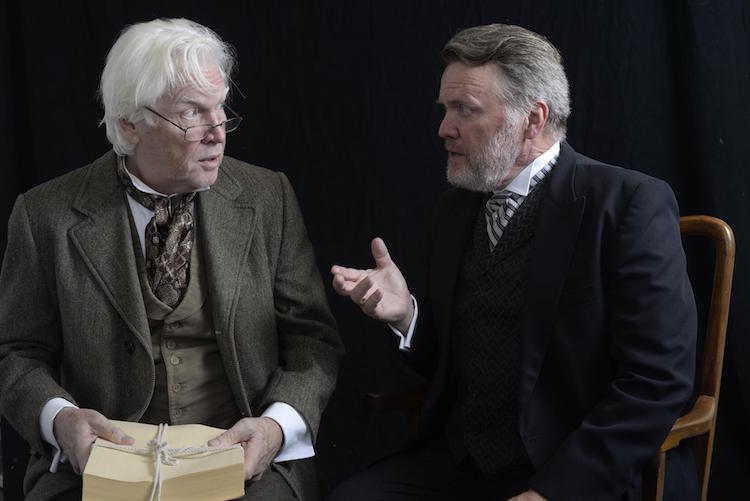 Different Stages could hardly care; its strengths, proven by its impressive awards list, are found in excellent casting and talented actors who clearly enjoy working with the company. John Gabriel Borkman is no exception. As the protagonist Ev Lunning, Jr. happily takes the play across his shoulders and carries it forward. He owns his lines; he has a facility of turning them into lyrics or at least giving them a lyrical quality that enhances and enriches his character. He naturally dominates all his dialogs. Lunning's acting relies perhaps too heavily on the grimace, showing all his teeth. That may have come from portraying Papa Hemingway once or twice too often.
Garry Peters plays Borkman's former friend Vilhelm Foldal as much the polar opposite of Borkman as the script and Foldal's character will allow. His treatment seems like character aikido; he allows all of Borkman's bluster and harshness to blow past him and remains standing, taking joy in his ungrateful child and the one marginally good play he will ever write. Peters creates a memorable character and performance.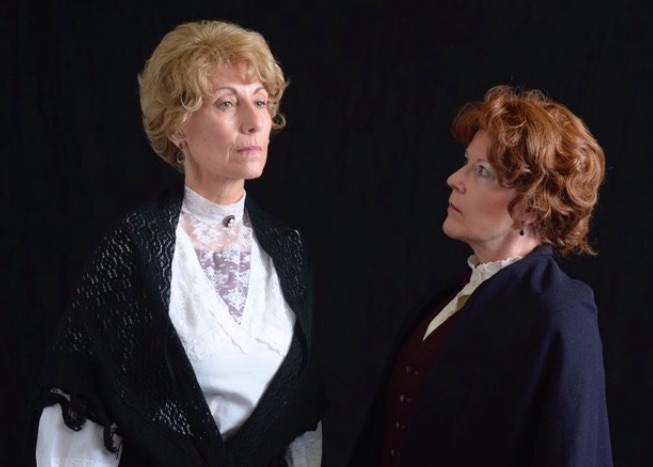 Jan Phillips and Katherine Schroeder played twin sisters, Mrs. Gunhild Borkman and Miss Ella Rentheim, respectively. Borkman bedded both, loved one, and left both behind. Most of the material of the first act is Ella Rentheim's return to the property occupied by her sister and brother-in-law with accusations against the Borkmans and complaints at the insuperable task of retrieving a legacy from the familial wreckage.
The rest of the cast turned in creditable performances. The cast as a whole had excellent enunciation and projection, with one glaring exception.
Opening nights are always fun. Early in the first act the lighting instruments, including those on stage representing kerosene lamps, began fluctuating in their brightness, a most unexpected occurrence for the usually powerful and reliable Vortex lighting system. The actors on stage stole glances at the lighting booth as though seeking guidance whether to run off stage in an emergency. But doughty lighting designer and master electrician Patrick Anthony addressed the somewhat mysterious issue, and it was dispelled by the second act. Otherwise the lighting was generally dim. In this case, that was a good thing. The low light helped suggest the icy coldness of the setting and the emotional chill of the characters. The dimness also gave focal brightness to candles carried on by actors and an actual kerosene table lamp on stage. Dim blue back-lights made colder the icy set walls of set designer Ann Marie Gordon. Then in Act II the lighting sets brightened up considerably, with moonlight through branches -- jagged, yes, but bright enough to offer a touch of hope.
The set, observed from the time the house was first opened for audience seating, offered a highly abstracted floating dream, and not a pleasant one. The ice walls, looking like ice panels cut out of an iceberg and dropped into place to form a house and its rooms, were pushed far downstage to convey a cramped or confined feel of some 19th century interior architecture. The set pieces were mixed period furniture. A small couch, often termed a love seat today, was especially fine; it may have been exactly on-period. Upstage from it sat one of the set's irritating distractions: an iron potbelly stove with a stovepipe that extended vertically only two-thirds of the way to the top of the ice walls. The low pre-show house lights showed it in silhouette and provoked our curiosity. Then early in the play characters in dialogue talked about the room being warm. Sin e presumably the stove was burning fuel, the open stovepipe would be releasing carbon monoxide into the parlor (in the play, at least; the theatre patrons in the embracing confines of the Vortex were perfectly safe from any harm). The abstracted nature of the set required audiences to lead with their imaginations, but the audience's imaginative responsibilities only go so far, and the production has to do the rest. In this case, the solution would be to lead the stovepipe offstage. Set Designer Ann Marie Gordon has worked wonders with many sets, and this one is superb in concept, but it needs some tweaking as noted, and the adjustments are well within her grasp.
The last distraction, something that always makes this reviewer grind his teeth, is off-stage visibility. Entrances both stage right and stage left were such that actors waiting to make entrances were fully visible to anyone sitting audience center. One sees the actor "off," then he or she enters and turns "on." Grind, grind. This is not quite fair to the audience, and it is not the actor's fault.
Borkman finally got to look down from a great height on his one true love and express his adoration. Like Moses, he was allowed to look upon the promised land but not to cross over into it. In the end, Ella was correct: he had committed the unpardonable sin.
Ibsen's next-to-last play is as full of consequential contrivances as the plays of contemporary playwright Annie Baker. Writers of every mode suffer a downfall of passion: they may, for many reasons, focus tightly on what they really want to say on the page, and ignore or gloss over every other element of their form. In John Gabriel Borkman Ibsen seems to have wanted to say it all in a series of brilliant dialogues, and who cares about sets and blocking? When he wants the vinegary Gunhild to speak, he orders her to appear -- never mind that it is on a snowy crag where other characters were trying to escape her. This is literary imperialism on the part of King Henrik, and it blights the better qualities of the play. These things make John Gabriel Borkman a late Ibsen play better read than produced.
Different Stages, for the flaws in its own production, has struggled through and ultimately performed nobly in showing us John Gabriel Borkman, warts and all. The play is not for everyone, but rather only to those ardent fans of Ibsen who want to add to their collection of his plays in production.
John Gabriel Borkman runs at The Vortex, 2307 Manor Road, east Austin, June 24 to July 16, 2016.
---
John Gabriel Borkman
by Henrik Ibsen
Different Stages
Thursdays-Sundays,
June 24 - July 16, 2016
Performances are Thursdays through Saturdays at 8:00 p.m. and Sundays at 6 p.m. at the Vortex Repertory, 2307 Manor Rd.
Tickets are $15 on Thursdays, $20, $25 or $30 Fridays, Saturdays and Sundays.
For tickets and information call 512-478-5282