Review: Jesus Christ Superstar
by Michael Meigs
Jesus Christ Superstar, first an LP, was recorded 45 years ago. Shortly after that it was up on Broadway and running hard, talking to the United States and later the world.That 1970 creation was, in its day, closer to the great era of Broadway musicals than it is to us now.
The full houses at the Georgetown Palace offer evidence that this rock opera about the gentle man from Nazareth still affects us deeply today -- for some, perhaps even more deeply than the Book and history that it's based upon. Rice and Lloyd Webber's Jesus is thoroughly human, subjected to the crushing power of authority and to the treacherous hysteria of the crowd. Two years before it was first produced, the musical Hair by McDermott, Rado and Ragni had created a hippie tribe not too different from the disciples and followers we find in Jesus Christ Superstar. Lloyd Webber and Rice took that yearning for purity and freedom and dignified it with the story of the Gospels. But theirs was a dark musical narration, one that ends with Mary Magdalene in the shadows at the foot of an empty cross. There's no JCS II to describe resurrection, preservation of faith and the eventual spread of the message of Jesus across the world.
Some more context: In April, 1969 U.S. deaths in the Vietnam War surpassed the 33,629 killed in the Korean conflict. U.S. casualty figures were 11,780 in 1969, 6173 in 1970 and 2414 in 1971. Probably more than two million Asians died. President Nixon was systematically reducing U.S. troops there, but in 1972 there were still 133,000 U.S. uniformed personnel in Vietnam. The nation was angry and divided, and many people of disciple age were fearful, ashamed of their government or of themselves.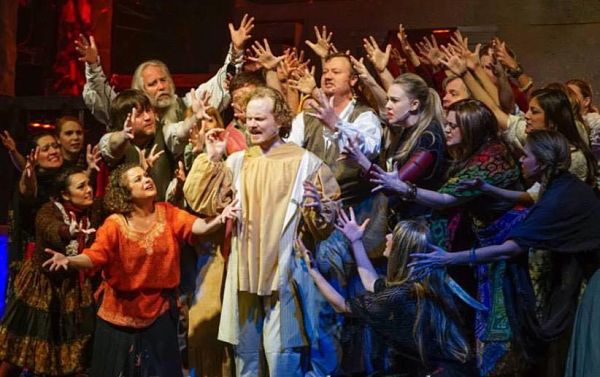 Most of the folks in the house at the Palace last weekend were gray haired. They followed the familiar events of the story and the familiar anguish expressed in the music with the pained excitement of a religious service in time of catastrophe. There was applause for the big numbers and appreciation for the glitz, costuming, dance and the impressive vocal ability of the very large cast. Only a very few spectators were loudly enthusiastic. One of them was the 50-ish jackass seated next to my wife, who was playing drum solos on his knees, humming, and -- I kid you not -- singing along with the music. His female companion joined in.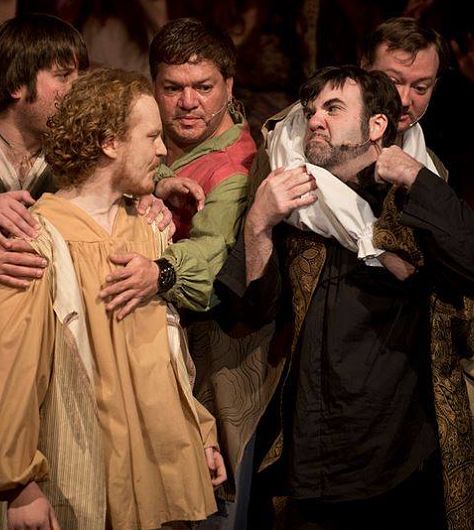 Jesus Christ Superstar has essentially a two-person dynamic: a quietly desperate Jesus and an angrily desperate Judas. Both performers have terrific voices, used in a score that's not kind to the larynx. Red-haired Creighton Moench's tenor as Jesus is pure and at times surprising in its shifts; most of the time he's other worldly and turned inward, even while subjected to abuse. Clifford Butler as Judas is powerful, forceful and delivers with superb diction. Yes, almost all of us know the words by heart -- but hearing them produced like pieces of silver is an uncommon treat. Hovering behind that duo is the apprehensive Pilate (Curt Olson), who sees what's coming and is deeply, melodiously disturbed by it. Devoted to Jesus is Mary Magdalene (Ann Richards), a striking beauty of great dignity and fine voice.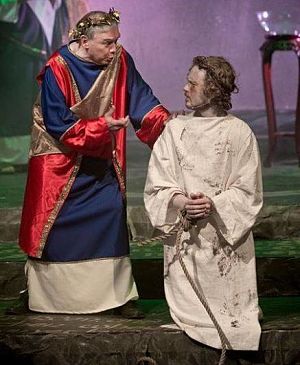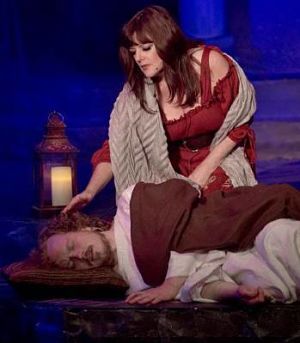 Director Mary Ellen Butler confided to us before the band climbed into place that this was the sixth(!) time she has directed this work. She drew on all the ample resources of the Palace to produce it -- orchestrated by Ron Watson, the production features a a towering set designed by Sam Kokajko, extravagant costuming by Tamar Madrigal, Jesse Smart's confident choreography, and a six-member live band dispersed about the set, led by Jonathan Borden. Uncredited video work provides a simile of local TV news covering Jesus's raising of Lazarus, giving graphic punch to the worries of basso profundo Caiphus (Dale Schultz) and his associates.
Dance numbers offer plenty of glitz and glamor. There's something distinctly Marvel Comics about Simon the Zealot (Evelyn LaLonde) and her equally jumpsuited, harnessed and pushed-up guards; in Jesus's hallucination Broadway style red spangles and sexy outfits adorn the dancin' demon girls who welcome Judas to hell; and astounding costumes featuring Madame Pampadour hairstyles, fishnet stockings, tights and jackets give impact both to the harem girls and to the lasciviously prancing King Herod (a wittily leering Kirk Kelso, unfortunately let down by his body mic while taunting Jesus).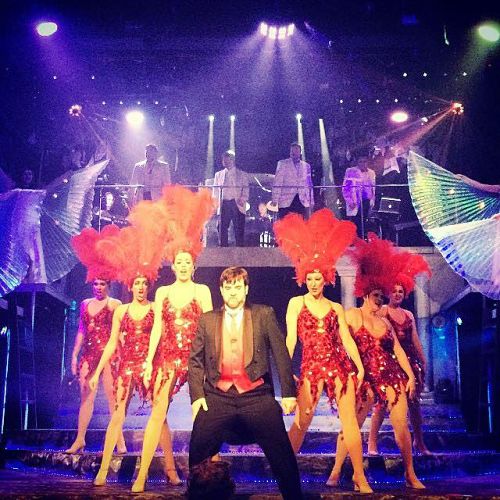 The cast is large, well coordinated and engaged. And it's a pleasure in this twenty-first century to have women prominent in the crew of disciples.
EXTRA
Click to view extracts from the Palace program for Jesus Christ Superstar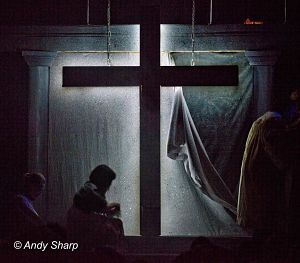 ---
Jesus Christ Superstar
Georgetown Palace Theatre
January 16 - February 15, 2015
Fridays, Saturdays at 7:30 p.m., Sundays at 2 p.m. Added Saturday matinee on February 7, 2015
Tickets available on-line via www.georgetownpalace.com. Regular admission $27, seniors $25.