Review: Humble Boy by Different Stages
by Michael Meigs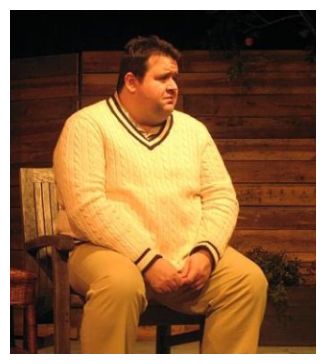 Tom Stephan is a revelation in Different Stages' Humble Boy by Charlotte Jones, playing through the end of the month at the City Theatre.
In Austin Shakespeare's production of The Tempest last September he was a dismayed and battered King Alonso of Naples, cast ashore in the opening scene and awkwardly penitent in Act V. Here, as Felix Humble, the title character of Jones' sardonic social comedy, Stephan is vividly alive, so inventive and subtle of gesture and emotion that one can hardly take one's eyes from him. That's a greater achievement than you might at first suppose, for he plays against the redoubtable Jennifer Underwood, one of Austin's most sharply etched character actresses.
The opening scene, played motionless in the half dark for what seemed an eternity, gave us a bulky figure standing like a great lump in the back yard, next to the stacked supers of a beehive gone mad. An erratic flickering emanated from the hive as the audience was battered with the Trans Siberian Orchestra's manic version of Rimsky-Korsakov's Flight of the Bumblebee.
Only after the last discordant rock 'n' roll flourish did the lights rise to introduce into some semblance of stage reality. Stephan stood there, revealed as Felix Humble.
Felix has come home after seven long years away. The action begins shortly after the funeral of his father James, a gentle pottering schoolmaster who dropped dead in his beloved back garden next to his meticulously observed colonies of honeybees. Felix in all his ungainly bulk is a lost soul, a theoretical physicist close to nervous breakdown. He has the wit and intelligence of a first-class academic but the helplessness of the awkward child. Emotionally, he's a mess, unable to connect to others, subject to dizzying fits, and awkwardly contemplating suicide. Jennifer Underwood is his mother Flora Humble, a creature turned bitter and dismissive by undefined disappointments and by her lasting dissatisfaction with decades of life in the countryside.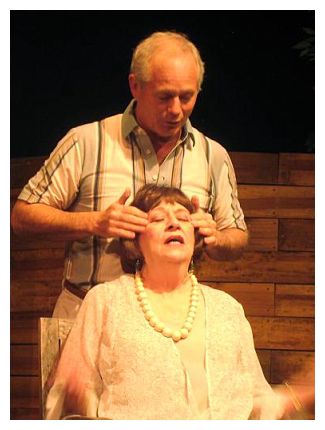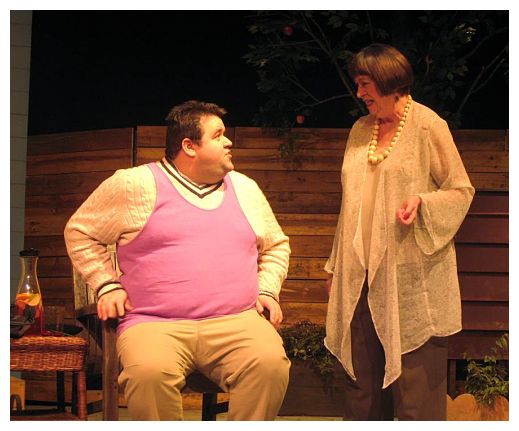 Humble Boy is a sharp social satire with English class differences as its pivot. We attend as Felix learns that his mother is continuing a long lasting and locally notorious liaison with neighbor George Pye, a working class entrepreneur who owns a fleet of tourist buses. Pye becomes squinty eyed around Felix, because the child-man had a relationship long ago with Pye's only daughter, Rosie (Suzanne Balling). The mutual disdain between Felix and George gives rise to some zinging dialogue and the dislike builds to a physical climax in the second half.
Mike Gerecke as Pye is mild, far from the embodiment of the lower classes suggested by the rough "bollocksy" lines assigned to him. Brits are keenly aware of class differences and exploit them relentelessly for comedy. The social gap between the families in Humble Boy should be as difficult to bridge as, say, that between a clan of UT "Texas Exes" and the immigrant family of an ambitious long-haul trucker from Michoacán. One doesn't sense that divide here. In manner and attitude Gerecke could be an Austin plumber or electrician with a modest linguistic affinity for Masterpiece Theatre (let's note in passing that our professional craftsmen here have few complexes and, appropriately, no sense of social inferiority).
Different Stages provides in the program a profile of playwright Jones from the "Balliol College News" written in a tone of privilege and entre nous that unintentionally further reinforces the class message of the play.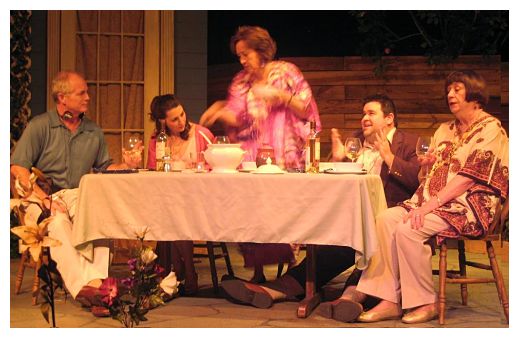 Susan Roberts as the underappreciated friend and confidante Mercy Lott is just the sort of well meaning but misunderstood spinster one might find haunting a rectory, and there's an entertaining dinner moment when the worm turns. Suzanne Balling, appealingly confident as Felix's former girlfriend, stampedes that great baby into thorough confusion.
Humble Boy is full of clever dialogue and moves quickly along. Act I consists of four scenes that occur over the course of a summer that for unadvised audience members may run together in somewhat confusing fashion. Act II is unitary.
Playwright Jones creates vivid characters and director Jonathan Urso runs them through amusing clashes and quirky incidents, including a grimly funny series of missteps with the ashes of the late lamented James Humble.
Jennifer Underwood is strong and precise in her portrayal of the embittered mother, but that very strength drives us emotionally away from the character. If director Urso and Underwood had allowed more vulnerability or fantasy to seep through, the audience could have embraced with greater warmth the playwright's surprise ending, in which Flora changes her mind abruptly and is confronted with a mystery and transformation.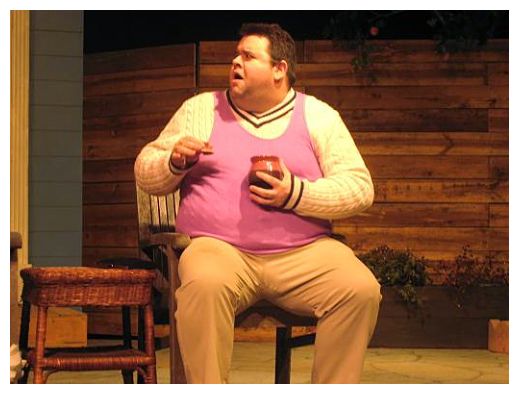 Playwright Charlotte Jones cheats a bit, resolving some plot tangles with resort to magical realism in the back garden. The Trans Siberian Orchestra's transformation of Rimsky-Korsakov has its echo here.
The twist is a delicious little surprise, but one might realize afterward that the playwright essentially abandons Felix.
Tom Stephan's lively vulnerability and invention make us care deeply about that giant mess of a man. His neuroses and life dilemma are far more interesting than those of his Mum.
With this finale, has Felix undergone a transformation, or has his neurosis simply expanded into the general consciousness? He departs from the uneasy shelter of home, but we have no indication whether in the next week or month he'll be lecturing on Big Ideas at the university or sucking down carbon monoxide in a closed garage.
Humble Boy is a clever, precisely calculated piece, a fine evening's entertainment, and once again Norman Blumensaadt and colleagues have found a gem hiding in the library. Their production remains in memory, teasing us with those unresolved questions.
Comments by Stephen Reynolds of NowPlayingAustin's "A-Team," January 11
Review by Barry Pineo for the Austin Chronicle, January 13
Review by webmaster, TheatreAustin, Yahoo groups, January 21
EXTRA
Click to view program for Humble Boy by Different Stages
Hits as of 2015 03 01: 2452
---
Humble Boy
by Charlotte Jones
Different Stages
January 07 - January 29, 2011