Review: Hedda Gabler (for export) by Palindrome Theatre (2010-2013)
by Michael Meigs
Austin's youngish Palindrome Theatre is on its way to the Edinburgh Fringe Festival, to perform their new, 90-minute non-stop Hedda Gabler every afternoon from August 5 to 29, except for Wednesdays. Outside those office hours the six-member cast and associates will be free to immerse themselves in the largest international arts event around, now in its 74th year. Last year, for example, Edinburgh offered 2,453 different shows staging 40,254 performances by 21,148 performers in 259 venues.
That's a theatre artist's dream, but it doesn't come cheap. Artistic directors Nigel O'Hearn and Kate Eminger have raised all but about $3000 of the costs, including travel, staging costs and artists' compensation. The company is making a last push this weekend in Austin, staging the export version at the Salvage Vanguard Theatre Thursday - Saturday, July 28 - 30.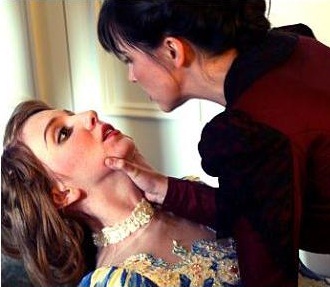 Palindrome staged O'Hearn's first reworking of Ibsen's piece in February and March at the Blue Theatre and received positive reviews from ALTcom and others. The ALT review provides links to pieces by Robert Faires of the Austin Chronicle and by Ryan E. Johnson at examiner.com. Preparing to write this article, I discovered that Palindrome had put together a two-minute video promo featuring a key scene and several "pull quotes," including my own comment, "Robin Grace Thompson gives us a Hedda who is burning with psychic energy. She is deliberate and wicked." (Click to view the video at Vimeo.com.)
Attending a rehearsal of the export version of Hedda Gabler last week, I found a piece recrafted both by O'Hearn and by the ensemble, retaining the strong central core of Thompson as Hedda and Chase Crossno as Thea, the runaway wife who follows Hedda's former lover. Jacqueline Harper plays the servant Berthe, a role considerably strengthened. Nathan Osborn, who played the dissolute, desperate Einar Lövberg, has now assumed the role of George Tesman, Hedda's husband of six months.
The muscular and intense Jude Hickey has replaced Rommel Sulit's affably corrupt Judge Brack, and playwright/adapter O'Hearn steps into the role of former lover Lövberg, creating him as a distracted and largely uncomprehending ghost from Hedda's past.
Tesman's worried Aunt Julia ("Auntie Juju," in some versions) has been written out of the action, a change that removes some psychological background and reduces slightly the concatenation of catastrophe at the end.
Those who appreciated the staging earlier this year will be intrigued by the shifts in emotional weight within the piece. Husband George Tesman gains in force and in frustration; Osborne plays Ibsen's "aunties' boy" as a man who's potentially a suitable counterweight to Thompson's wickedness. As for Judge Brack, Hickey's casual presumption of a bourgeois menage à trois is less alarming than was that of Sulit, in part because he hasn't the slightest whiff of paternalism about him. O'Hearn's Lövberg is more a victim of himself than a bacchant with vine leaves in his hair.
It's done in "workshop" format, with all actors visible on stage throughout the presentation. The set at the Blue Theatre was a passable evocation of a retro Scandinavian version of 19th century Biedermeier style. One assumes that the furnishings at the Hill Street Theatre, a busy, shared venue, will be about as minimal as the folding chairs and stark furnishings in the multipurpose room at the downtown YMCA used for the rehearsal.
This Hedda Gabler retains the power and pertinence of modern American vernacular, including a grammatical clanger or two acknowledged without apology by O'Hearn.
The staging begins with a disconcerting stream of consciousness narration by Harper as Berthe the maid, a couple of minutes during which the cast move through a posed choreography. That Freudian moment gives way to the pre-Freudian 1891 setting of the play. The opening doesn't contribute substantially to our understanding of the central action, for we have little time to reflect during the rapidly advancing plot. Robin Grace Thompson's Hedda is a fierce, intelligent, cornered creature, and we watch with fascination as she advances toward the ultimate, explosive ending of the play.
Palindrome's copy at the Fringe website reads, "UK premiere overture and adaptation. A new English adaptation of the international classic that invented the anti-heroine, broken of its Victorian rigidity and focused on the games of self-inflicted entrapment imposed by Ibsen's stifling society as viewed through a veil of lace."
That text is a bit incoherent, trying to stuff too much meaning in the alloted space. One intriguing feature is the lack of gender agreement between "anti-heroine" and "its Victorian rigidity." The forces in the play bristle at one another right there: Ibsen's implicit argument that a woman should be free to exert as much will and force as a man, and the assumption in the modern day United States that women will do just that.
Check your calendars. Palindrome's Hedda Gabler deserves Austin's support, and by purchasing your tickets for the fundraiser this weekend (complete with champagne and reception afterwards), you'll be combining entertainment pleasure and a good deed.
Review by Ryan E. Johnson for examiner.com, July 28
Review by Vivien Devlin for EdinburghGuide.com, August 13
Hits as of 2015 03 01: 8207
---
Hedda Gabler (for export)
by Henrik Ibsen, adapted by Nigel O'Hearn
Palindrome Theatre (2010-2013)
July 28 - July 30, 2011
Blue Theatre (now closed)
Springdale Rd and Lyons
behind Goodwill warehouse
Austin, TX, 78702