Review: Guys and Dolls by Playhouse San Antonio
by Michael Meigs
Broadway! The 1930's! Folks like Arthur Freed and Busby Berkley portrayed that fairytale sophistication in the black-and-white films they cranked out of Hollywood, but an even more magical version came from the typewriter of Damon Runyon, the sportswriter, gambler, drunk and divinely gifted portraitist of the demi-monde of Broadway. Runyon knew those people intimately and his colorful prose was laden with slang and surprising turns of phrase often inherited from Yiddish. His writing portrayed a gallery of hustling lowlifes with hearts of gold and a stubborn attachment to their own odd notions of honor. He specialized in short stories with unexpected endings, a bit like those of O. Henry, but his were all written in the immediacy of the present tense, like anecdotes told over a couple of beers. Few read Runyon these days, and that's a loss to our contemporary culture.
His semi-fictitious creations live on in movies -- twenty films have retold his stories -- and plays, including Guys and Dolls. This light-hearted musical brings together two extremes of New York life: the crap-shooting, horse-betting gamblers and the uniformed Salvation Army staff with drum, trombone, kettle and their message of reform and a better life. Nathan Detroit is the small-potatoes organizer of the "longest established floating crap game in the City of New York," and Miss Sarah Brown is the uniformed Salvation Army sergeant heading the sparsely attended 49th Street Mission.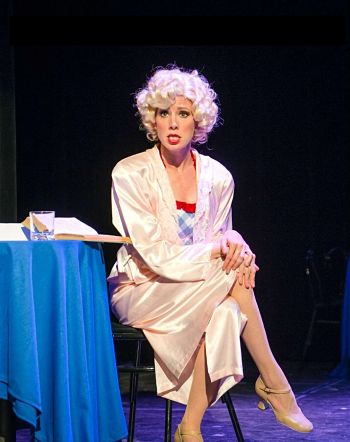 As in Runyon's fiction, these gamblers aren't real criminals; they're dreamers and grifters, perhaps with a inclination to a simple con, but I am telling you that they are in all ways sincere. Their markers -- should you be uninformed, those are their promises to pay, upon their honor -- are regarded with a seriousness not to be neglected or surpassed.
I am quick to say that the Playhouse production of Guys and Dolls does not entirely stick to the 1930s view of these denizens of the metropolis, but director and choreographer Michelle Pietri puts a robust and very masculine set of guys before you to scheme, avoid John Law and pitch the woo to dolls who are in my estimation most acceptable representatives of the female of the species.
Putting aside the Runyonisms for the moment, there are two absolute standouts in this large cast, performers with total concentration and the gift of delivering their characters with special grace and style. Paige Blend is Miss Adelaide, the woeful nightclub songstress left waiting for the altar for 14 years while Nathan Detroit attends to business. She has presence, voice, quickness in detail and the vivacity of a true comedienne. She's got some of best numbers in the show -- "Adelaide's Lament" about allergies caused by a continuing lack of matrimony, her duos "Sue Me" with Nathan Detroit (Miguel Ochoa) and "Marry the Man Today" with Miss Sarah Brown (Caroline Kittrell). She completely inhabits the persona of that not-too-bright but ever-so-sincere character. Her two nightclub numbers with the Hot Box Girls -- "A Bushel and a Peck" and "Take Back Your Mink" -- are adorable.
J.J. Gonzalez as Bennie Southstreet, a minor adjunct to Nicely-Nicely Johnson (chunky comedian Gerardo Vallejo) is the other. Bennie is written as a simple foil to a second banana, a handy harmonizer and straight man. But Gonzalez is intent every second we see him, reacting subtly to events around him. In a way, he represents us, the audience to the events of the play. For the key scene of the second act where the gamblers reluctantly attend a Salvation Army all-night revival meeting, Director Pietri made the right choice to put him at center stage on the bench end closest to the audience.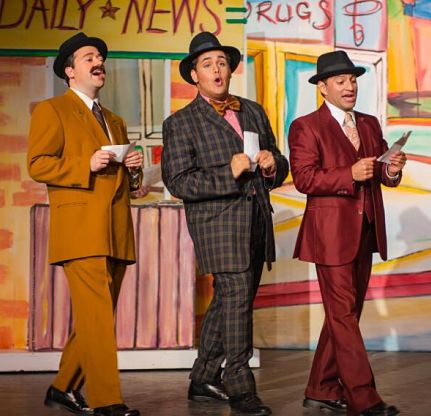 Principal leads Caroline Kittrell as Sarah Brown and Chris Berry as high roller Sky Masterson could have come from cinema central casting. She's a slim thing of porcelain beauty with an angel's voice; he's a tall trim ranger in a pinstripe suit who's mastered that Runyon talk nicely, nicely, thank you. Miguel Ochoa as Nathan Detroit comes across as nervous and inhibited most of the time, hardly the personality type for a crap-game entrepreneur, but Ochoa does manifest a gentle though non-committal attention to Miss Adelaide.
Director Pietri has also done the choreography for the show, and to my mind her pacing and disposition of the dances significantly modulates this Guys and Dolls away from more familiar happy-go-lucky stagings. The opening street scenes, comic encounters and vignettes done to music, are lively and appealing as they take place before the pastel-bright backdrops designed by Marcello Martinez.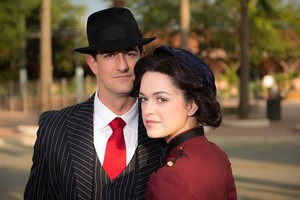 When Masterson sweeps Sarah away to Havana to win a bet, however, the series of comic exchanges between them in the restaurant is dominated by Latino choreography that's almost menacing as it's performed under under red light and shadow. An essential development in the plot is almost lost: Sarah gets innocently and comically tipsy on dulce de leche and Masterson, a man of honor, supports her and declines to take the opportunity to seduce her. Later, in the middle of the second act, the crowd of gamblers gathers somewhere deep underground for the evening's game; a vigorous all-male ballet is performed -- again in stark shadow, but this time under a wash of lurid green. Choreography and lighting are telegraphing sin and depravity, even though our understanding is that these guys are just out for the thrill of the dice.
Following this, luck heeds Masterson's appeal to be a lady and allows him to win those crap shooters' attendance at the Salvation Army revival. The comic scene of gamblers being called to repent and testify might ordinarily be expected to be the climax of the show, for it's the penultimate number, just before "Marry the Man Today" by Sarah Brown and Miss Adelaide. But "Sit Down, You're Rocking the Boat" isn't played as a glad revival, and it doesn't build. In his big solo, Vallejo as Nicely-Nicely sounds as if he's embarrassed, maybe even singing in a different key from that played by the orchestra. The number concludes as if it were an obligatory offering deposited into the collection plate.
Costumes by Samantha Sandifer are true to period and to our musical theatre concept of Broadway style.
It's a treat to have a fourteen-piece orchestra down in an orchestra pit accompanying the stage action (in Austin, such accommodation is available only at the Zach Theatre's year-old Topfer theatre, at the Brentwood Christian school theatre used by the Gilbert & Sullivan Society, and Bass Concert Hall, used almost exclusively by large touring companies). It initially seemed odd to find that music director Joshua Pepper was still rehearsing the musicians even after the house was opened for the first Saturday night performance. Occasional uncertainties and some distinctly sour notes from the violins during the performance suggested that additional practice earlier in the week might have benefited the show.
Guys and Dolls is a classic, and even a classic benefits from thoughtful experimentation. Playhouse San Antonio puts on a thoroughly enjoyable evening, I am telling you, one that reminds us with a smile that will not stop, that guys will be guys -- and dolls will be wives, if they can.
---
Guys and Dolls
by Loesser, Swerling and Burrows
Playhouse San Antonio
Thursdays-Sundays,
December 06 - December 22, 2013
Shows Thursday (December 12 & 19), Fridays and Saturdays at 8 p.m. & Sundays at 3 p.m. & 8 p.m. (December 22).
Tickets: Adults - $25, Seniors (60 plus), Emergency Services, and Military w/ ID - $20, Students w/ ID - $15, Children (12 and under) - $10.
Call 210-733-7258 or visit www.ThePlayhouseSA.org for tickets