Review: Grease by Emily Ann Theatre
by Michael Meigs
The EmilyAnn Theatre in Wimberley is not outside space and time, although from Austin you're going to take a leisurely 45-minute drive through the hill country to get there. And Wimberley may be in ranch land, but it's anything but rural. Witness the presence there of two lively and effective theatre organizations, the EmilyAnn with its outdoor amphitheatre and the Wimberley Players in their snug playhouse on Old Kyle Road.
Rather, it's Grease that stands outside space and time. The 1959 setting portrayed in the original 1971 production in Chicago has remained fixed in the national consciousness, through a lengthy Broadway run, a hugely successful 1978 film with John Travolta and Olivia Newton-John, and even the 1974-1984 TV series Happy Daysthat worked a similar scene with Henry Winkler as the "Fonz."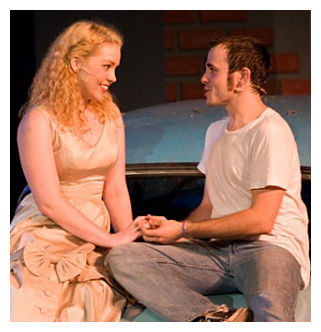 This is nostalgia for a high school experience that most of us never had -- the fictional leads Danny Zuko and Sandy Dumbrowski would be 67 years old today, senior to the Baby Boomers and yet too young to have been part of the Greatest Generation.
Grease works so well because it's an energetic distillation of adolescence, featuring the uncertainties, the swaggering, the exploration and the role play inevitable in any closely contained group of 14-to-18-year olds. The Good Girl and the good Bad Boy are just fated to get together, and we root for them all the way, hoping that they'll come to their senses. The music is familiar and fun, and the dances are the exuberant bursting-out that we secretly wish that we had been able to do at that age (or even now!).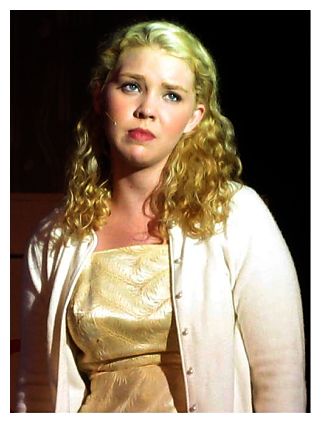 Director Bridget Farias has put together a fine cast for this show. Though many of them are well past the pimply age, all have got the bouncing step and the lyric turn. Mikayla McIntyre as Sandy is an honest-to-goodness teenager, a freshman at Dripping Springs High School, but she sings, acts and dances with the assurance of an experienced performer.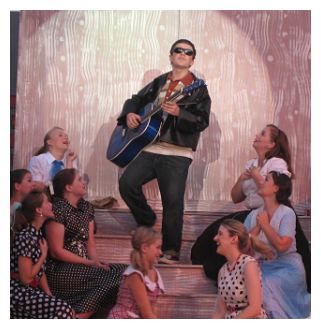 Many of the others have done the Austin-area theatre circuit -- D. Heath Thompson of the Scottish Rite Theatre and the City Theatre brings his comic energy to doofus Sonny LaTierri, and Laura Ray has exchanged her nun's habit as Agnes of God at the City for the wild wigs of Frenchy the beauty-school dropout. Juli Dearrington, so serene and commanding in the Players' 1940s Radio Show, gives us her wise-cracking, wistful bad girl turn as Betty Rizzo. Reed Neal, playing Doody, was a featured player in that same show.
Braden Williams as Danny Zuko doesn't have the pompadour hairstyle of the era but he does have the self-conscious macho attitude and believably conflicted feelings about his allegiances -- his duties as a member of the T-Birds versus the attraction for that sweet girl Sandy whom he met during the summer.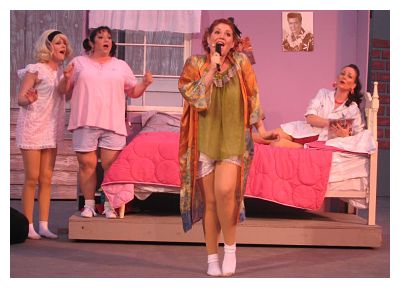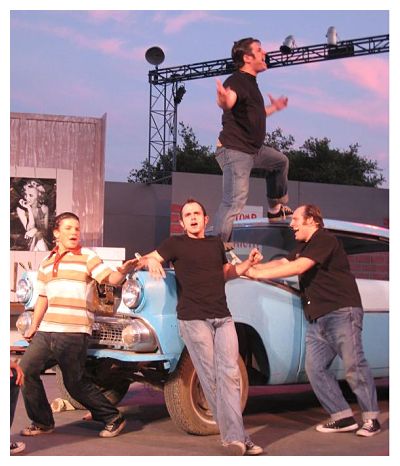 More than 30 performers are listed in the program, but director Farias and choreographer Melissa May-Moncus keep them joyfully in motion throughout. May-Moncus herself is a clever comic in the role of Jan, the perpetually hungry member of the Pink Ladies.
That greased lighting vehicle owned by Kenickie (Bobby DiPasquale) may not have a motor, but it does provide a terrific jumping-off place for the uptempo celebration of the automobile -- the vehicle that brought adolescents away from the close surveillance of their parents.
The stand-up-and-cheer number of this invigorating show is Andrew Cannata's appearance as Teen Angel, the sweet tenor voice in an impeccable white suit who admonishes Frenchy to go back to school. St. Ed's theatre graduate Cannata is a born showman with bedroom eyes, a blithe spirit and manly stubble. He squeezes that ballad for everything that it's worth and gives us an innocently wicked Elvis look at the end of it.
These characters will continue to exist in our imaginations and in their never-never land, especially when they're revived by stagings as smooth, happy and professional as this one. I attended this production in its first week, enjoying the long slow twilight that brought us gradually deeper into their fantasy world. You've got only this last weekend -- Friday through Sunday -- to join the T-Birds, the Pink Ladies and all the folks at Rydell High.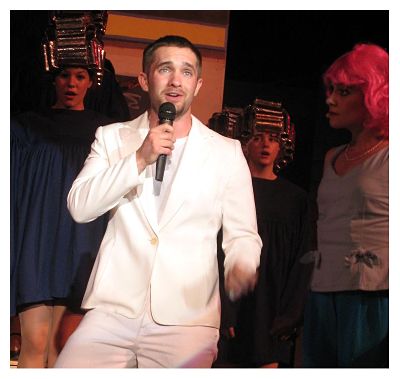 I would have told you earlier, but grown-up life intervened. We were out of Austin for a long, long weekend in Chicago to celebrate the university graduation of our son. Unlike Danny and Sandy, he, we and you just keep moving on. . . another good reason to get back for a Rydell reunion.
View program for Grease at the EmilyAnn Theatre, Wimberley
Hits as of 2015 03 01: 5063
---