Review: Getting Married by George Bernard Shaw, Different Stages
by Michael Meigs
George Bernard Shaw wrote Getting Marriedexactly a century ago.
To my delight, I discovered that the New York Times makes available a copy of
Catherine Welch's 3800-word review of May 24, 1908
, a full page of the paper, including sketches of GBS and two actors.
I haven't read it yet, because with some difficulty I impose on myself the discipline of writing my own review before consulting others.
But I couldn't avoid absorbing Mrs. Welch's subtitles:
GEORGE BERNARD SHAW ON "GETTING MARRIED"; In His Singularly Unconventional Comedy He Tries Various Substitutes for Matrimony, but Finds No Good One. Incidentally He Thinks That Children Are a Kind of Wild Beast and That Old Maids Would Make Excellent Mothers.
There is a lot more to Shaw's play than that, both in the printed version and in the lively interpretation being delivered by Different Stages at the Vortex.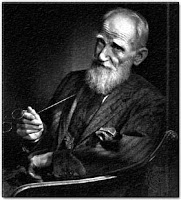 Shaw was a man of ideas, a Fabian socialist from Ireland who delighted in goading the British upper classes. He was amazingly prolific (63 plays, 250,000 private letters, 5 novels) and prolix (he prefaced the printed text of Getting Married with a 30-page essay on matrimony, skewering conventional morality and asserting that the institution more resembled slavery than an access to "happiness"). Incidentally, he lived to the age of 94, dying in 1950 from complications of a fall out of a tree, and he is the only individual to have won both the Nobel prize and an Oscar (for the script of the first filmed version of "Pygmalion").
The simple interior of the Vortex, with the audience arrayed along two sides of a square playing space, gives us a generic interior. There's a table and chairs in the middle, a fireplace upstage and exits upstage left and right. This could be anywhere – though a clumsy portrait of an ancestor hints at England.
The locale and atmosphere are established instead by the actors and their costumes. The women are all beautifully dressed; among the men, only the general could have used a bit more attention, with additional braid and a better quality of scarlet jacket.
GBS takes aim at the institution of matrimony by giving us mannered family chatter amongst the three Northbridge brothers, who are a general, a bishop, and a man about town, with their significant others and with the garrulous caterer/tradesman Mr. Collins. The characters are gathering for the wedding of the bishop's youngest daughter Edith.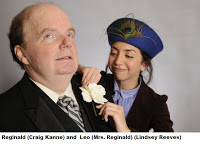 General Boxer Bridgenorth proposes for the tenth time in 20 years to Lesbia Grantham, his very much unmarried sister-in-law. Brother Reginald (Craig Kanne, left) is revealed to be obtaining a divorce from his perky young wife Leo (Lindsey Reeves, right), gallantly making way for her to pursue St. John Hotchkiss, a talkative, snobbish young ex-military man. Abruptly, today's scheduled wedding ceremony stalls because both Edith and prospective groom Cecil Sykes have become alarmed by tracts warning them of the legal pitfalls of matrimony.
Authoritatively bustling about is the matter-of-fact caterer Collins, reminiscent of Alfred Doolittle in Pygmalion and My Fair Lady. Collins (Zac Crofford, having a good time), recounts cheerful stories about his sister-in-law the mayoress, Mrs. George – an impulsive libertine with a heart of gold, enduring love for her patient husband, and a gift of Delphic utterance.
Shaw delights in putting all sorts of contrarian observations into the mouths of his characters. For example, Reg's soon-to-be-ex-wife Leo scandalizes the men when she declares that she would quite like to have several husbands: for example, Reg, St. John, some other young man with whom to be "quite wicked," and a saint, but just once a year. Sputtering, they call in their brother Alfred the bishop. Alfred listens patiently to her, including her complaint that Reg's conversation had gotten boring. His rejoinder:
THE BISHOP. You see, my dear, you'll exhaust St. John's conversation, too, in a week or so. A man is like a phonograph with half-a-dozen records. You soon get tired of them all; and yet you have to sit at table whilst he reels them off to every new visitor. In the end you have to be content with his common humanity; and when you come down to that, you find out about men what a great English poet of my acquaintance used to say about women: that they all taste alike. Marry whom you please: at the end of a month he'll be Reginald over again. It wasn't worth changing: indeed it wasn't.
LEO. Then it's a mistake to get married.
THE BISHOP. It is, my dear; but it's a much bigger mistake not to
get married.
As for the problem of the reluctant bridal pair, the bishop brings in the severely celibate church administrator and solicitor Father Anthony to help draw up a marriage contract. Suggestions criss-cross, debate and polemic fly apace, and the moral, legal, sentimental and religious grounds for the institution are thoroughly and wittily ventilated. Finally, at a loss, the bishop follows the counsel of caterer Collins and calls in the libertine Mayoress with the heart of gold to help explore the matter.
In this play of ideas the repartee is sharp and comic. But the piece is not only talk. Shaw includes some clever plot twists, including a come-uppance for the snob St. John, a truth-telling trance for the Mayoress, and the resolution of the dilemma of the young couple.
Lampooning of sexual mores of the very early 20th century is fun, particularly when one remembers the later liberties of the Bloomsbury set in London and of the roaring twenties in the United States. But the debate doesn't target our own day very precisely – given today's 50% termination rate for marriages, in the United States at least, and the long established variety of possibilities of escape from stifled, abusive or barren relationships.
Sex doesn't have much to do with the discussions of Getting Married. It is hardly mentioned., Leo's proposed polyandry is a search after diverting conversation. And despite Miss Lesbia Grantham's first name, she professes no strong affections for other women – rather, she objects to the messiness, intrusion and tobacco smell of men in general. She appears to be, by preference, an abstainer from all carnal relations. (The Victorian attitude toward lesbianism is indicated by their commonplace interpretation that the Greek lesbian poet Sappho was, in fact, the governess of a girls' school.)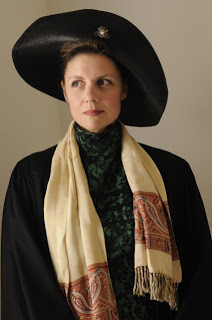 Under Norman Blumensaadt's assured direction the cast has a fine time with Shaw's zingers. My favorite was Emily Erington as Mrs. George, who appears, finally, as the voice of reasonable unreason, but only in the last act. Her small-boned vivacity, toughness and openness could seduce any reasonable man.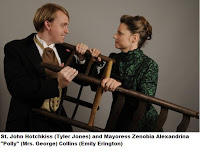 The Mayoress is nicely matched in a battle with Tyler Jones as the well-spoken, whimsical snob (but not cad) St. John Hotchkiss. I kept expecting that sporty mustache to fall off his upper lip, but it defied us and rode triumphantly through his ups and downs.
Craig Kanne as brother Reginald has a decisiveness, exuberance and comic timing very much like those of American actor/writer Wallace Shawn, whom he somewhat resembles. And he has a fine way of flapping the tail of his morning coat to emphasize his pique.
Alfred Bridgenorth, the bishop, could have been the slip-knot at the center of the matrimonial dilemma, and GBS certainly meant the gently doubting bishop to carry his humanitarian message. Randall Lorenz captures the genteel nature of the cleric, but in an atmosphere of assertive, cadenced talk by others, his relatively quiet delivery is overshadowed and loses some of its comedy. He comes across as simply too nice a guy. As his foil Father Anthony, Steven Fay is agreeably grumpy, bristle-browed and believable.
The pace is lively, but the director chose to follow the example of Shaw's 1908 production by inserting two brief intermissions in a text that Shaw wrote as an uninterrupted action. This allowed spectators access to the comfortable, well-stocked Vortex café, but it ran an already lengthy play to an elapsed playing time of three hours.
During the closing scenes I noted a shifting and possible impatience among some of the spectators. Perhaps, I thought, the piece was too long? (Who was I to say? Recalling Hamlet's exasperated reply to Polonius: "It shall to the barber's, with your beard. Prithee say on: He's for a jig, or a tale of bawdry, or he sleeps.")
The next day I downloaded the text from Project Gutenberg and read it with pleasure – and discovered that in fact, Shaw wraps up his plot with fine flourishes by page 77, when St. John Hotchkiss jovially refers to the impulsive Leo as "She Who Must Be Obeyed" (a tag used in our own day by John Mortimer's comic character Rumpole of the Old Bailey, in reference to his wife).
But GBS couldn't let go of the polemic – from that point forward he holds St. John and the Mayoress on stage for another five long pages with the severely celibate Father Anthony, on the pretext that because of her high office she must wait for a sufficient crowd to gather offstage. They further debate the meaning and usefulness of matrimony with the annoyed and dismissive priest/solicitor, The exchange yields not very much entertainment, even though it is full of pithy observations (a bit like that 30-page preface that Shaw printed with the play).
As a director, I probably would not have the audacity to cut the text of the redoubtable George Bernard Shaw. But as a spectator, I wish that GBS had done so, himself!
Michael Barnes' review in the Austin Statesman's on-line entertainment site Austin 360, November 24
Elizabeth Cobbe's review in the Austin Chronicle of November 28
---
Getting Married
by George Bernard Shaw
Different Stages
Thursdays-Sundays,
November 14 - December 06, 2008