Review: Frankenstein by Trouble Puppet Theatre Company
by David Glen Robinson
This is not like anybody else's version of Frankenstein, and it is not even like Trouble Puppet's earlier adaptations of Mary Wollstonecraft Shelley's literary classic. It's a full, 21st century updatingin a stylish live theatre presentation. It offers new material and extends the plot with shadow puppets and other material.
Not all theatergoers find puppet theatre a full and satisfying experience. Some cannot make the mental switch away from seeing puppetry as animated dolls playing jokey children's shows for the kids on Saturday afternoons.
Allow Trouble Puppet to help you with that. See any of their shows, especially this iteration of Frankenstein, right away. Think of Trouble Puppet Theatre Company as a stand-up, big-boy production company that delivers modern and sophisticated theatre all the way from literary playwriting to professional multimedia shows.
Think of Frankenstein as Trouble Puppet's signature work in repertory.
Think of yourself as blessed to see Frankenstein in Austin.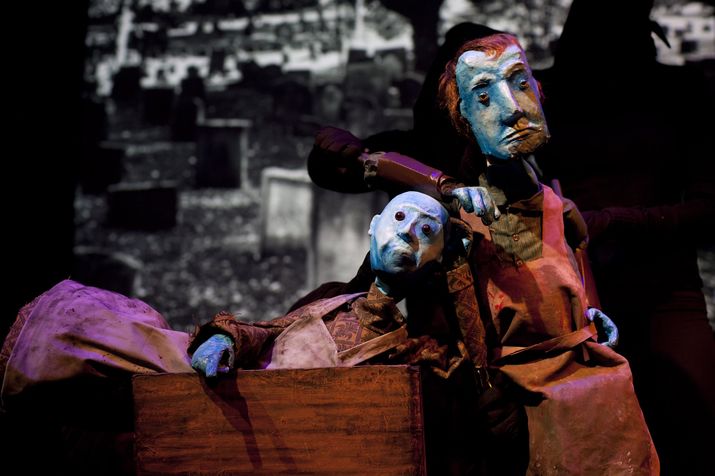 The first striking characteristic of Trouble Puppet theatrical innovation is its recombination of different stories in literature and myth. They mix the DNA of different stories and the new creature -- comes alive! Artistic Director Connor Hopkins writes everything, and his talented co-creators spend months to realize the story treatments and scripts on stage. In Frankenstein, the recombinant story is Goethe's Faust, its detached arms, legs, and spleen grafted onto the stitched-together horror-story body from Shelley and smeared over with galvanism and phytochemistry. Then the whole thing perambulates to Paris in the Reign of Terror where it gropes around for a few guillotined heads with good, fresh brains in them.
Trouble Puppet's Frankenstein glances off Goethe's high spiritual symbolism and, like Shelley, addresses what it means to be alive and have life. Trouble Puppet soft-pedals the separate issue of what it means to be human. The second half of Shelley's book, the monster's quest to become human and find acceptance, is not found in this stage show.Instead, Victor Frankenstein's hubris succeeds in creating a vicious, self-absorbed killer that is simply the image and magnification of Frankenstein's own ego.
In a brilliant stage presentation full of imagery, the singular, central image of Frankenstein is Hopkins' monster, as it should be. It's almost unfair to call the thing a puppet; try to imagine a robo-articulated concatenation of images that comes alive and you'll have a preliminary notion. The head is not attached to the body at all. The skilled articulation by the puppeteers gives it a sinuous reptilian movement that can include flight when the creature is sufficiently annoyed.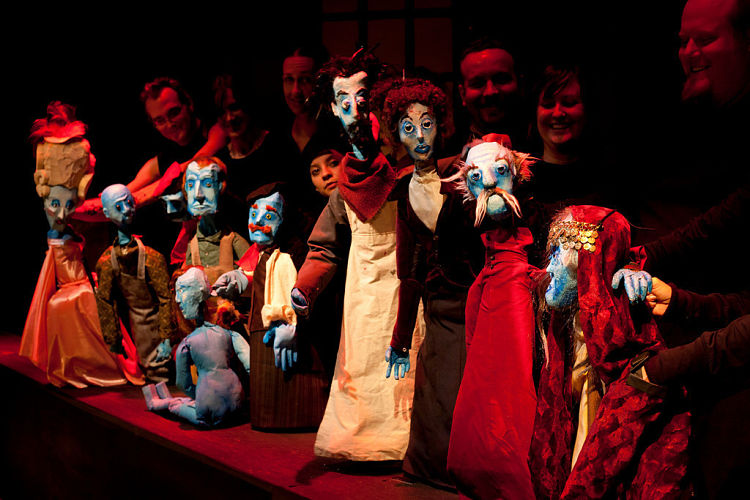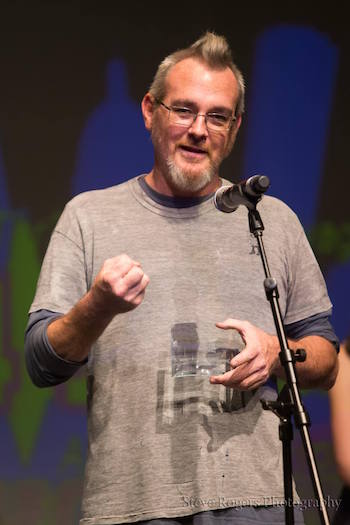 Hopkins' co-creators and artistic partners make the entire show come alive. The performers/puppeteers are Gricelda Silva, Jose Villarreal, Devo Carpenter, Zac Crofford, Ben McLemore, Sarah Danko, Indigo Rael, Cassadie Petersen, and Andrew Ashley Hatcher. Specific credits are difficult to assign, as all the puppeteers were swathed in identical, matching Goth black; among them, Trouble Puppet stalwarts Zac Crofford and Jose Villarreal drove the movements and dialogs with trademark energy and skill. This time around, the voice of Travis Bedard was not heard in the land; Trouble Puppet fans hope for his eventual return. Sarah Danko made her first appearance with Trouble Puppet and voiced the character of Albrecht memorably. Indigo Rael offered adept puppeteering as another component in her wide-ranging skill set. She also displayed imaginative costume design talent at the Halloween night party after the show at the theatre.
The Trouble Puppet design fields have never been better. The credit for media design was shared by long-time Trouble Puppet designers K. Eliot Haynes and Chris Owen. Haynes also designed sound, and lighting was crafted superbly by the award-winning Stephen Pruitt. Justin Sherburn composed the music, and Monica Pasut designed the puppet costumes. A credit for puppet/prop builder was given to Marc Smith, truly a modern-day Geppetto. Character and scenic photography was done by the talented Steve Rogers, and Producing Partner Kathryn Rogers makes everything run smoothly.
As always, Trouble Puppet offers serious adult fare not recommended for children. But all you adults are strongly encouraged to attend Frankenstein before it dies away on November 22nd.
Trouble Puppet's next show, The Wars of Heaven, Part 2, runs at Salvage Vanguard Theatre April 28 to May 15, 2016.
EXTRA
Click to view the program of Frankenstein by Trouble Puppet Theatre Company
---
Frankenstein
by Connor Hopkins, adapted from Mary Shelly's novel
Trouble Puppet Theatre Company
October 29 - November 22, 2015
General admission $15, tickets range from $10 - $50 (ardent supporters!)
Thursdays - Saturdays at 8 p.m. (though not all dates!) and Sundays at 6 p.m.
one Friday morning performance at 10:30 a.m., Friday November 6, 2015.
available from