Review: Fiction by Zach Theatre
by Michael Meigs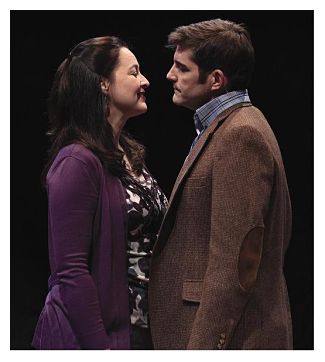 The University of Texas at Austin with its ambitious program for drama and playwriting is fortunate to have hired the prolific Steven Dietz away from Seattle. On the evidence of the four Dietz plays staged here over the last couple of years, he possesses a sure sense of craft as well as an understanding of the hazy dreams of middle class America.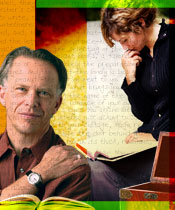 The Zach Theatre chose to feature Dietz himself in its promotional material for
Fiction
rather than creating an image more evocative of the content of the play. That decision plays usefully to local pride; since the Zach has now identifying itself with a certain justification as "Austin's Theatre," there's nothing more natural than featuring a star player on the local team, one with a national reputation.
With Fiction, successful writer Dietz creates a mildly bittersweet tragicomedy about two modestly gifted writers, wife and husband, childless, measuring themselves against one another while struggling with the difficulties of making a living from their craft. Each showed sufficient early promise to merit a fellowship for an unaccompanied season at a foundation's writer's camp somewhere in the wild, meant to provide the tranquility for the writer to work undisturbed.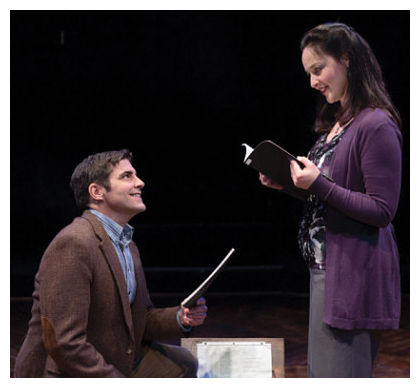 The playwright tells us that they have been married for some twenty years. In the permissive blank space of the Whisenhut's theatre in the round, the actors address the audience directly and shift easily back and forth in time. We witness the first encounter in a cafe in Paris. Most of the action takes place in the approximate present, but we'll see Michael's apprehensive arrival at the writer's camp, years earlier, Linda's breakthrough there at a different time as she works on her first and only successful novel, and other related encounters.

Dietz plays intentionally with a fundamental contradiction in the art and craft of writing: the difference between history (actual events and experiences) and story (the transmutation of those materials into fiction, or, as in the title, Fiction). Linda and David Waterman have assiduously kept private journals since they met, never sharing the contents. Whole tracts of experience and imagining have been out of bounds. The playwright drops the Big C into the midst of this unexamined truce.
To quote the resume from the Zach website,
All works well in the world of the Watermans until Linda is unexpectedly diagnosed with a malignant brain tumor. The doctors give her only three weeks to live. Faced with this news, Linda offers Michael her diaries as a dying gift, asking him to read them after she is dead. In return, she asks Michael if she may read his. Although her dying wish makes Michael uncomfortable, he cannot deny her.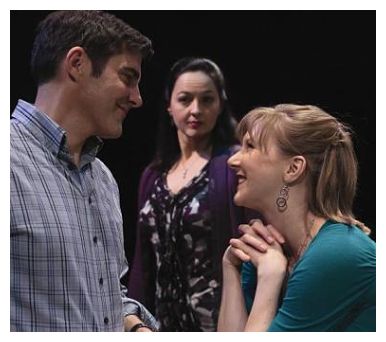 Some things are better left unsaid. Or unrecorded. Or undreamed. Bitterness, already present in their respective disappointments in the writing careers, blooms to its poisonous full. A retrospective triangle emerges and at its apex is Abby Drake, the young woman from the family whose foundation sponsored those writing fellowships. Sydney Andrews is the frank, largely unaffected actor in the Watermans' history and story. That skein is turned twice or more for us. Linda's immediate death sentence is lifted but to little effect in the revelations and suppositions.
The plot turns are artful but I found myself wondering why I should care at all. The Watermans are irretrievably shallow. Their banter does not rise much above their first debate in the Paris cafe, where they sought to best one another in identifying the "greatest pop vocal of all time." (It was no surprise to the local audience that Linda was a proponent of Janis Joplin.)
Ask youself: if you learned that you had three weeks left to live, what would be on your mind? One might accept that in her bright, brittle manner Linda might avoid dealing openly with the really big questions, for that would be to admit the possibility of death and nothingness. But Michael, the obsessive collector of incident and emotion who has been relating most of this story to us? What kind of relationship was this, anyway, and were these spouses so ignorant and untrusting of one another? Dietz turns their eyes away from the Big Questions of "Why are we here?" and "Why do we write?" to focus them on hurt feelings and useless resentment.
Director Charles Otte spools the story smoothly before us. Meredith McCall as Linda is sharp and strong; Robert Gomes as Michael is cautious and moody. Sydney Andrews serves as foil to each.
Review by Claire Canavan for the Statesman's Austin360 "Seeing Things" blog, February 19
Review by Elizabeth Cobbe for the Austin Chronicle, March 17
EXTRA
Click to view program excerpts for Fiction by Steven Dietz at the Zach Theatre
Hits as of 2015 03 01: 1797
---
Fiction
by Steven Dietz
Zach Theatre
February 10 - April 06, 2011