Review by Michael Meigs (#2 of 3): FALLEN ANGELS by Noël Coward, Different Stages, January 8 - 30, 2016
by Michael Meigs
Comedy is fundamental to the human condition. We laugh at the unexpected if it's pleasurable, and we laugh at the incongruous. Often the comic moment in art depends upon a certain distancing: it's funny when a clown slips on a banana peel but it's not funny when we do the same thing. And comedy can be cruel. Satire exposes and intensifies that which we find ridiculous. We poke fun at the pretentious, those who think they're better than we are, and we smile with happy self-reassurance at the antics of the clueless.
No human trait has been so parodied as our obstinately immature desire to fall in love. That's when we're at our most vulnerable and potentially most ridiculous. Not many of us escape blushing when we think of early infatuations and relationships.
Dapper and witty Noël Coward made a long and successful career in music and on stage making fun of the foibles and the weaknesses of the British upper and middle classes. His Fallen Angels, staged in 1925 London, is a teasing, borderline daring portrait of the vulnerable hearts of a couple of married women, childless and thoroughly bored after five years of proper matrimony, alarmed and yet thrilled to learn that Maurice, a former lover of each of them, is comng to London.
Rebecca Robinson and Emily Errington play friends Julia and Jane. These two actresses have often appeared on stage together here in Austin, and their affinity, appearance and chemistry are such that seem like sisters. Fallen Angels is really a two-character play with minor figures trotted on for plot convenience or contrast with the two female leads. Portrayed by these actresses, Jane and Julia are vivacious, vivid and candid with one another.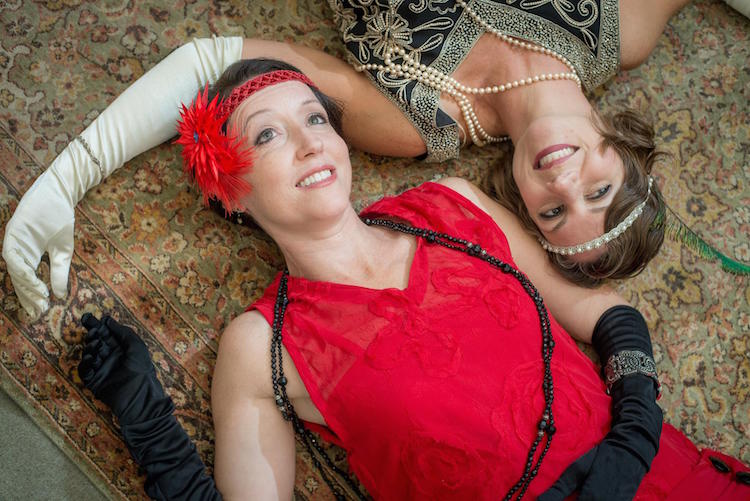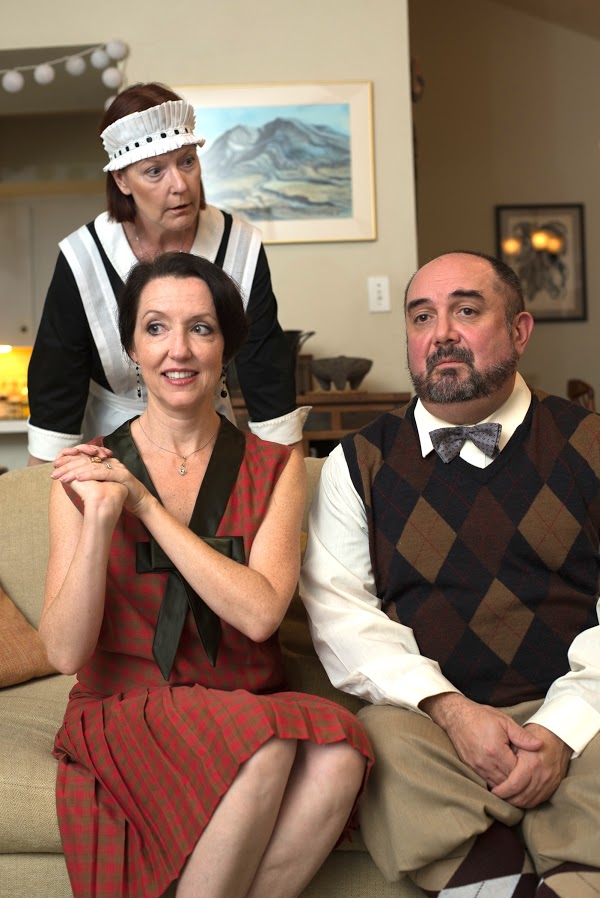 Coward enjoys portraying their fluttering excitement in Act I and their nervous and increasingly inebriated joint vigil in Act II as they wait for a call or visit from the much discussed Frenchman Maurice, who romanced them successively in Italy in their salad days and clearly bedded each of them. Londoners were shocked, titillated or rendered indignant by this portrait of J and J's incipient infidelities and their pledges of mutual loyalty as they ready themselves to deceive the dull duffers who are their husbands Fred (Michael Costilla) and William (Daniel Rice). Those gentlemen appear at the opening and at the end, for they've gone off for a weekend of golf in the country. The playwright hints that they may have been aiming at something other than golfing greens, for they have an unexplained quarrel that will cut short their absence.
The lightheadedness and the lightheartedness of these women friends is charming, but it would better suit a couple of proper ingénues (after all, the word itself means 'naïve' or 'artless). Robinson and Errington are visibly older and we can't help but intuit that they're really wiser than the silly gooses they are playing. But they abandon themselves to J and J's thrills, and director Norman Blumensaadt keeps the action and expectation high by moving them smartly and cleverly about the stage. Ann Ford's costumes are superb in setting the atmosphere and the era.
In droll contrast to their upper-middle-class cluelessness is Katherine Shroeder as the principal servant of the household, Jasmine (hight Saunders for the convenience of Jane's forgetful husband Fred). The figure of the self-assured servant has a long and honorable place in comedy, from Goldoni's Truffaldino to Wodehouse's Jeeves, and Shroeder's deadpan characterization of the solemnly knowledgeable, well traveled and eminently moral Saunders plays delightfully against the women's antics. It's too bad that in Act III Coward leaves Saunders pretty much offstage through the long feared but eagerly anticipated appearance of Maurice (TJ Moreno).
The eventual indignation of Fred and William is mollified, conventional morality is sustained for the moment, and the girls find they'll have lots of opportunities to flirt with the Frenchman. It's a comedy, certainly, in terms of an apparently happy outcome for all.
And yet. . . our three acts with Jane and Julia left us feeling hollow. "What a sad story!" Karen commented in the car on the way home. And indeed, it was. Rebecca Robinson and Emily Errington are so full of life and excitement that they bring us aboard with them. The distance so useful for satirical comedy isn't established. This may have been due in part to the intimacy of the Trinity Street black box theatre, where the audience is close enough to catch every flicker of emotion as these two gifted actresses had it out.
And there's the unfairness of their social plight. With our modern day sensibilities it seemed to us that Jane and Julia had been thoroughly neglected by the plods who were their husbands, leaving their lives barren and sterile both physically and metaphorically. And even more devastating, the girls' increasingly tipsy quarrel in Act II threatened to leave each of them entirely alone.
EXTRA
Click to view the program for Different Stages' production of Fallen Angels.
---
Fallen Angels
by Theresa Rebeck
Different Stages
Thursdays-Sundays,
January 08 - January 30, 2016
Trinity Street Players
Black Box Theatre, 4th floor, First Baptist Church
901 Trinity Street
Austin, TX, 78701
Performances are Thursdays through Saturdays at 8 pm and Sundays at 3 pm.
Tickets are $15 Thursdays, and they are Pick-Your-Price: $20, $25 or $30 on Fridays, Saturdays and Sundays.
(small service fee may apply to credit/debit purchases)