Review: Eurydice by Different Stages
by Michael Meigs
Sarah Ruhl's version of the Eurydice myth begins as a fable. Nicole Swahn, the childishly enthusiastic and simple-minded Eurydice, frolics at the beach with Bastion Carboni as her beau, the music geek Orpheus. They're on their way to an unreflecting storybook wedding. Little matter that she has no comprehension of the music in his head and apparently no head for her own history.

In part, because she's not getting the mail. We learn that Eurydice's father, a deceased man without a name, has been writing letters to her from the underworld. A bit of a simple dreamer himself, he has somehow proven resistant to the anesthetic properties of the River Lethe. Dad remembers her; he remembers and enacts his dreams of squiring her to her wedding. He even remembers how to read and to write, aptitudes that are supposed to drop away in the shades. His epistles, trusted to the worms for delivery, are regularly intercepted by a smirking, swaggering Marc Balester.

This is an imaginative turn on the ancient myth. By tradition, Orpheus with his musical gift is the protagonist of the story, charming his way into the afterlife and almost retrieving his wife. Ruhl's reformulation is a curious mash-up of myth, coming-of-age fable and naive Christian tale-telling. Concentrating on the father-daughter relation, she is exploring the persistence of memory and of human attachment in the face of death.

Ruhl uses some powerful imagery. In the text, for example, when Norman Blumensaadt as the Father recalls his shining memories of his daughter. But also in stage business -- when a character newly arrived to the underworld regards a piece of writing with utter incomprehension, tries to taste it and then tries to step onto or into it. Anyone devoted to language will feel a squeeze of the heart to see that understanding stripped away.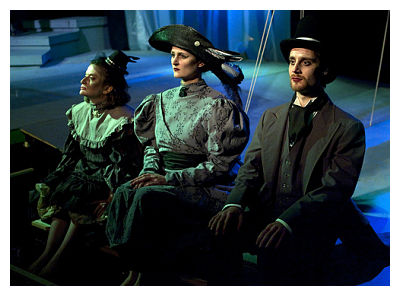 The underworld speaks to Eurydice, to her father, and to us through the persons of the three Stones, a trio of darkly, extravagantly dressed Victorian figures who could have come directly out of a phantasmagoria illustrated by Edward Gorey. Betsy McCann as the Big Stone is a somber mountain of fabric topped by a swirling hat; Miriam Rubin as the Little Stone is something out of the nastier reaches of Oliver Twist; and Jonathan Blackwell in frock and top hat as the Loud Stone is your worst nightmare of a 19th century undertaker long dead. Congratulations to Lauren Matesic for design and execution of these costumes.

This trio polices the rules of the underworld. They rebuke the wayward father without much effect; Blumensaadt's glowing serenity is that of eternal curiosity, not to be bothered by mere rules. Later, the Stones harrangue Eurydice, after Dad has painfully and gradually enlightened her there in the darkness of death.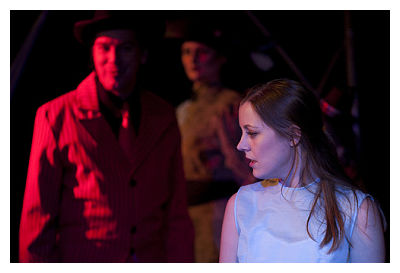 Too bad that as a story teller Sarah Ruhl feels the need to attribute our human tragedy to a swinish anthropomorphic Evil One. Marc Balester is a devil incarnate, by turns, as the Nasty Interesting Man who lures Eurydice away from her wedding party to her death; as a tricycle-riding smart-ass kid informant about the underworld; and as a my-god-look-at-that-crimson-suit debbil who gets the carnal hots when he sees Eurydice resisting her required reversion to non-sentience.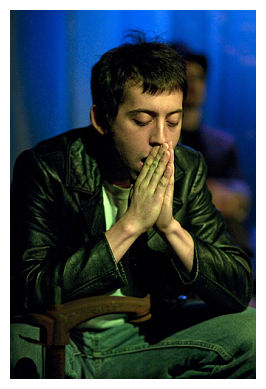 Least convincing in the script is the role written for Bastion Carboni as Orpheus, probably because Ruhl wasn't much interested in him except as an adjunct to Eurydice. Orpheus tries to get the long-distance operator to ring up Eurydice, even though she's dead. He writes some more of that worm mail to her. Ruhl doesn't even deign to give Orpheus an opportunity to show his chops in the music department.


Carboni fills out the thinness of the role with his own dark-eyed intensity. The playwright uses Orpheus principally as a foil to Daddy and to lead the tentative two-person parade up out of hell. That effort fails when Eurydice cries out in a moment of weakness. In that ultimate moment of their realization and consternation the actors make the lovers become real to us. Subsequently, when she chooses to re-enter the Lethe and abandon all hope, Swahn gives us Eurydice's powerful moment of emotion and catharsis.

Perhaps my nagging feeling of discontent arises from the playwright's choice to treat such epic themes with flippancy and with a language that is simple and at times even banal. In Shakespeare, death and memory, truth and loyalty, even treachery, all howl to the winds. The Greek drama wrestles with them in verse and chorus and a comprehensive world of myth.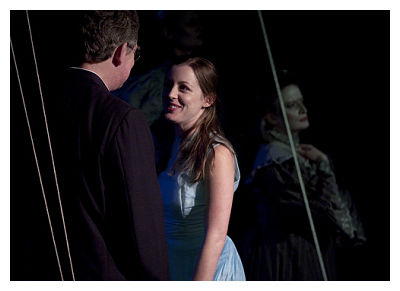 It is disconcerting to see Ruhl turn those themes and the brief spark of human existence into drollery. A bit like accepting a slice of birthday cake and finding it full of shards of glass. It's enough to make you uncomfortable and to make you think.

And that, of course, is what director Karen Jambon and this very capable acting company intend to do.
Review by Elizabeth Cobbe at the Austin Chronicle, January 21
(studio photo by Bret Brookshire)
---
Eurydice
by Sarah Ruhl
Different Stages
January 08 - January 30, 2010