Review: Death of a Salesman by The Classic Theatre of San Antonio
by Michael Meigs
Surely it was inevitable that San Antonio's ambitious Classic Theatre would eventually take on Miller's Death of a Salesman. No serious survey of twentieth-century American drama could overlook Miller's deeply felt examination of Willy Loman. An ordinary man, Willy suffers as his life spirit and life blood ebb away under the confusions of a more complex society and the changing concept of what it takes to be a 'winner' in America. Willy struggles to make the mortgage payments and dreams of something grand, something heroic -- if not for him, then at least for his sons Biff and Happy.
Critics and academics debated whether Willy represented the American Common Man. They argued about whether Willy Loman was a tragic hero. Did the story of this simple, shabby, tired man meet the Aristotelian critera for tragedy? Could he be seen as a great man? Did Willy's fate inspire fear and pathos? And if so, what was the protagonist's tragic flaw -- what willful action inevitably led to his epic downfall? What do we learn from Willy Loman about ourselves?
The Classic Theatre mounts its Death of a Salesman in its new home at the Woodlawn Theatre in the Deco district. The storefront entrance is right next to the Woodlawn's grander, marquee-sheltered swinging doors. The black box accommodates an audience of just under 100 on its risers. The tidy set and director Jim Mammarella's blocking assured that they enjoyed good sightlines most of the time, with one very unfortunate exception: the deeply moving closing moments of the work when Willy's wife Linda is at floor level speaking to her departed husband.
This is powerful drama with deep emotions. Willy Loman has traveled the Northeast for most of his life, canvassing orders for clothing, and particularly for women's stockings. He's started to lose it. He's selling less, drifting off in dreams while driving, hallucinating about his older brother the adventurer Ben. He's doing everything to avoid admitting that he's a failure obliged to borrow money every week from his next door neighbor to cover household expenses. Worse, his two sons, now grown, have so far amounted to nothing: Hap's a womanizing clerk and Biff has drifted, disappearing out West for months at a time. Linda his wife wears a perpetually careworn smile, determined to bolster his spirits even though his world is slowly closing down all around him.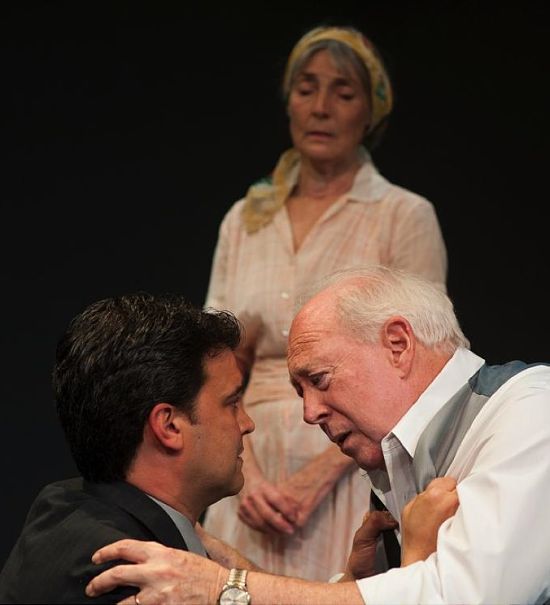 I read this work while growing up. I was fascinated by the 1966 filmed version with Lee J. Cobb, recapping his 1949 stage performance, and by the 1985 film with Dustin Hoffman and John Malkovich. I usually avoid comparing cinematic productions with stage plays, but Death of a Salesman requires an exception, for it persists and develops with our culture. Philip Seymour Hoffman appeared as Willy in a well-reviewed production on Broadway in 2012. The Wimberley Players staged it just a year ago, and I regretted that I wasn't able to see David Bisett in the role. And now here it is in San Antonio, in a memorable production.
After attending the Classic Theatre production with Allan S. Ross as Willy Loman, I realized that -- depending on how you calculate it -- Willy and I are the same age. When I was born in 1949 Lee J. Cobb was about halfway through the original run, directed by Elia Kazan. Since then Willy hasn't aged, while I have; he's now a year younger than I am. That's an age when a man's supposed to have figured some things out.
Cobb's Willy Loman was angry; Hoffman's Willy was querelous. In contrast, Allan S. Ross as Willy is bewildered. There's lots he hasn't figured out, and he's losing more and more with every step along the way. He gets upset rather than angered. Even his attempts to exert his authority over his grown sons are unconvincing. It's the disappointed dreamer in Willy we see, the man who put his naive faith in being well-liked. His callow young employer, heir to the company, addresses him as "kid," a designation that made me wince each time I heard it.
The Lomans, Willy and Linda, are played by real-life spouses Allan and Terri Peña Ross. That fact gives added poignancy as we watch them supporting one another through the adversities of their life together. Those trials are both routine -- the soul-eating necessity of finding enough dollars to make payments -- and existential: Willy's slow drift toward despair and his contemplation of suicide. Linda minds the family finances, penny by penny. She's fully aware of Willy's fatigue and his crumbling spirit, but she's paralyzed by what she understands to be her duty to demonstrate her absolute faith in him as spouse, father and provider. Ross gives Willy a desperation in his struggle against fatigue, a striving that's confused but intensely mental; Ross must be both physically and mentally drained by the end of each performance.
These are eternal dynamics; ageing, the clinging to dignity and the threat of despair at the dusty results of a lifetime of striving. Again and again Peña Ross bites her lips when Willy thoughtlessly rejects her concerns and interventions; her portrayal is a deeply affecting picture of self-restraint and vigilant, suppressed emotion. Her moment of conversion occurs in the middle of the second act, after Willy's sons abandoned him in a downtown restaurant where they'd expected to celebrate a triumph. Her reproach, accusation and renunciation of the two boy-men is essentially a virtuoso soliloquy. She refuses excuses and distractions; this set piece raises the tensions and sets up the cathartic revelations that will close the play.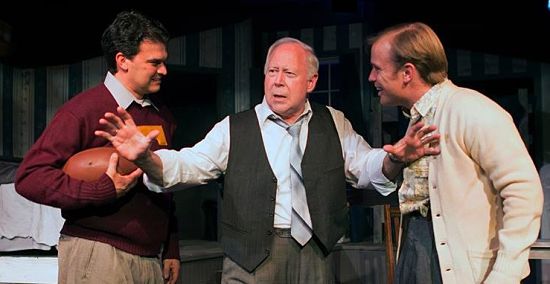 Tony Ciaravino as tarnished former athlete Biff and John Stillwaggon as Hap are the Loman sons. Biff still feels tentative about himself, wanting to win admiration but unwilling to subordinate himself to anyone. Ciaravino's wistfulness and gnawing dissatisfaction are convincing; his anger, confusion and emotion in the revelatory scenes of act two are vigorous and haunting. Stillwaggon as Hap the penny-ante schmoozer and womanizer is consistent: shallow, glib and nervous, he'll never amount to anything, a reality that his brother angrily pushes into his face when goaded beyond patience.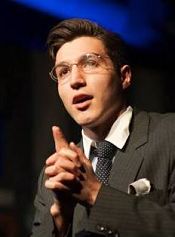 Mammarella supports these principals with smaller roles that are acutely well realized. Charley, Willy's patient, wryly humorous next-door neighbor, is in fact our salesman's only real friend, and as a friend he provides weekly loans, offers of support and endless patience. Byrd Bonner's wry twinkle as Charley is welcome in this dimming world, and his eulogy"Nobody dast blame this man" provides Miller's message while at the same time emphasizing the depth of the men's relationship. Kenneth Lopez is Charley's son the studious Bernard -- a pain-in-the-butt hero-worshipping underappreciated nebbish as a teenager with Biff and Hap, and a strikingly kind and sensitive young ace lawyer who's one of the few with honest concern for the old drummer.
This Death of a Salesman is not to be missed.
---
Death of a Salesman
by Arthur Miller
Classic Theatre of San Antonio
February 07 - February 23, 2014
Friday & Saturday at 8pm
Sunday at 3pm
Tickets available at BrownPaperTickets.