Review: Clybourne Park by Penfold Theatre Company
by Michael Meigs
Plays and performances are complex works of art, and the impact upon those watching even the same staging may be wildly different. That's why I chose very early on -- eight years ago -- not to resort to inevitably misleading numerical rating scales in these reviews. One man's meat is another man's poison, of course, but more importantly, a reductive number is just as misleading as a dutiful standing ovation delivered by friends of the company.
With that in mind I take the liberty to infringe those guidelines as delicately as possible. Penfold Theatre's staging of Clybourne Park by Bruce Norris is superlative, very nearly off the imaginary scale no matter what way you might wish to rate this work of theatre art. This one is major, friends. Do not miss it. Penfold founders Nathan Jerkins and Ryan Crowder grabbed the hammer and rang the bell with this 2011 Pulitzer Prize winner, and you have only this week to see it.
TEXT. Yes, playwright Norris used the catchy device of hanging his story ever so lightly on the framework of Lorraine Hanesberry's 1959 Raisin in the Sun, a path-breaking portrayal of an African-American family meeting resistance when they purchased a house in an all-white Chicago neighborhood. Norris imagines the other side of the transaction. Why might a white family have decided to sell precipitously and at a loss? Norris lifts a single minor character from Hanesberry's play, Karl Lindner, the white man who calls on the family and unsucessfully offers to purchase the contract from them with funds from the neighborhood association.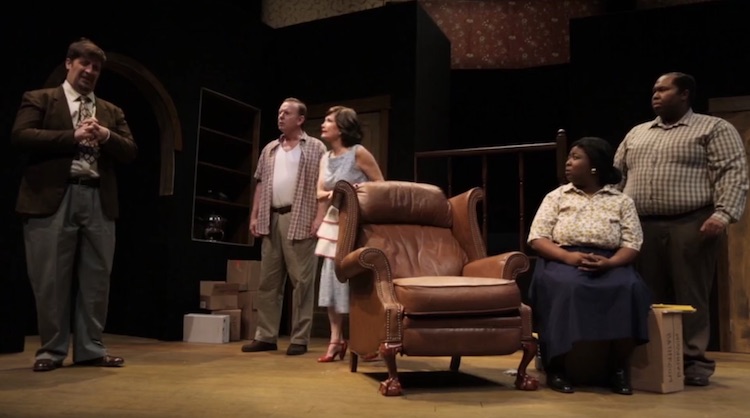 Act I of Clybourne Park takes place in the house in question, where the listless and inattentive Russ and his wife Bev have most of their possessions in boxes ready for the move. Their colored maid Francine has been helping. They'll soon receive visits from the local Episcopal priest Jim, and not long afterward Karl Lindner pushes his way into the house, trailed by his deaf and very pregnant wife Betsy.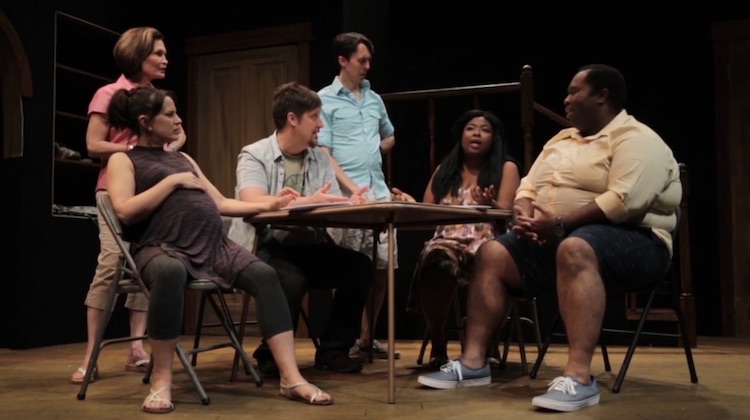 Act II gives us the same actors in different roles two generations on, in 2010. It opens to a talkative conclave around a card table in the otherwise empty house. In the lapse of our intermission time 50 years have passed. We learn that the neighborhood became a middle-class African-American neighborhood and because of its proximity to the center of the city young white couples have recently been buying up the homes and converting them.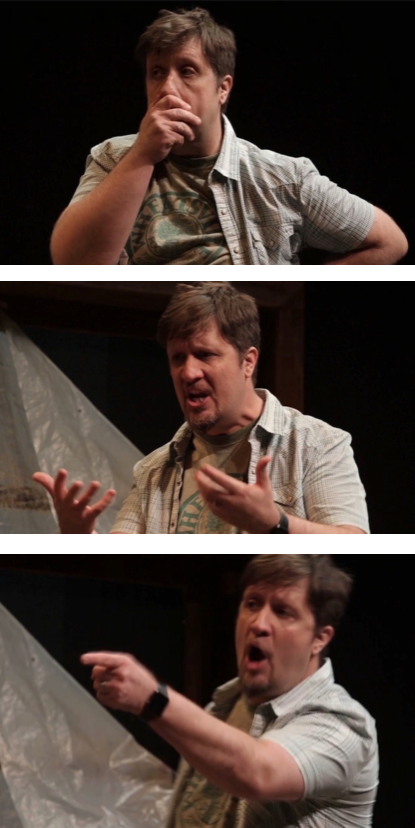 Steve and his very pregnant wife Lindsey, accompanied by a lawyer and their real estate agent, propose to modify the structure. They're trying to persuade the African-Americans Lena, who played there as a child, and her husband Kevin to endorse a proposal to the municipal council to permit alterations in a district that some have come to consider historic.
It's an ingenious structure, and what makes it work is Norris's adroit manipulation of our expectations, sharp realistic-sounding dialogue that often leaves sentences interrupted or unfinished, and his ear for speech contemporary to the period portrayed. He gives us lots of surprises and digs determinedly past carefully observed social conventions, particularly those preserving Americans of different races from one another. Norris deals with depression, pathos, false cheer, anger, confrontation, shame and derisive comedy, all without alienating us from any one of these characters.
ACTING AND DIRECTION. Just look at that cast list, folks. Jerkins has recruited the best in town, and you can bet that they came on board because of the quality of a script that offers each actor two powerful and distinctly different roles. Add to that their evident trust in the young but clear-eyed Penfold founders director Jerkins and Ryan Crowder, a member of the cast.
Robert Matney, known particularly for his long history with Austin Shakespeare and the Hidden Room Theatre, could not possibly be more contemporary and relevant than he is as the indignant and provoking Karl Lindner in the first act and as the uneasy and ultimately outraged house purchaser Steve in the second. Both characters crash through the barriers of politeness-- Lindner on his own volition and Steve when teased and goaded by others. I found it particularly breath-taking to see Matney's characters behaving badly, for I know him to be among the most gentle and courteous of men. Liz Beckham, with similarly strong Shakespearian training and appearance, is sweetly disconnected and at times confused as his first-act wife the deaf Betsy. In the second act as pregnant co-purchaser Lindsey she's decisive and uninhibited.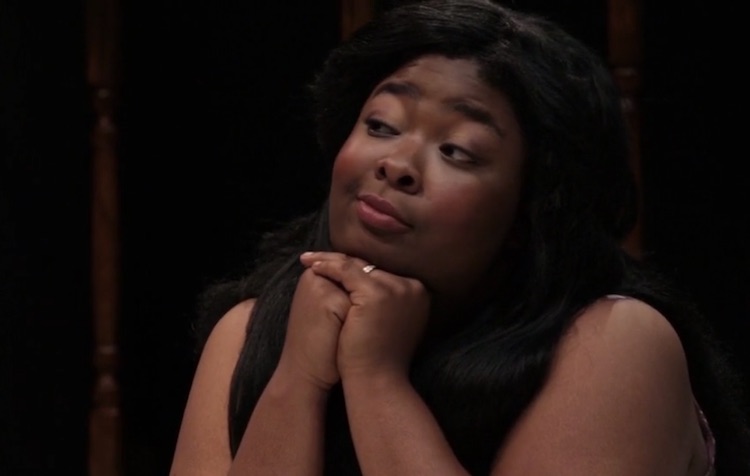 Michelle Alexander and Jarrett King are both Austin stars in their own right, both of them strong dramatic actors and highly capable performers in musical theatre. Their move from attentively deferential servant status in 1959 to assured professional couple in 2010 may seem reassuring to us at first -- my, how far we've all come -- but by the disastrous end of Act II playwright Norris has counterpoised it with recriminations and distrust among all involved. Watch Alexander's facial expressions as she reads the atmosphere and dynamics in each act. She provides an education in the subtlety of attentive reaction.
This was my first opportunity to observe Stephen Price closely. With restraint and deliberate thought he evokes our sympathy for Russ, a man in deep depression, moving on auto-pilot until at last provoked. The brittle cheerfulness of his wife Bev is comic at first, but Babs George gives that woman of good will and shallow intellect her own tragedy. They establish the mood and embody the dilemmas of the first act; their second-act characters are useful but generally peripheral to the action.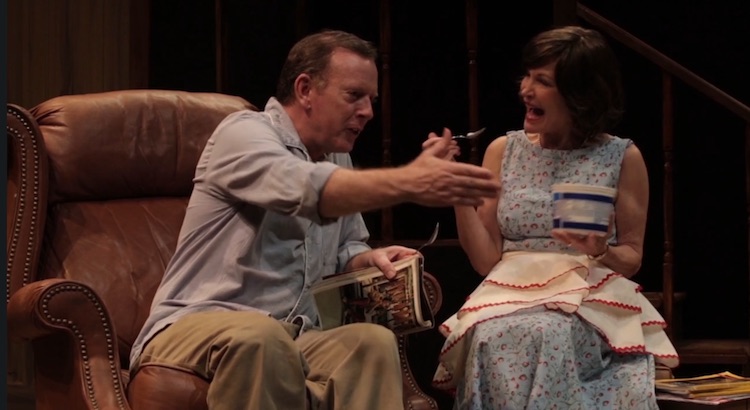 Ryan Crowder is, as always, plausible and eloquent as the visiting Episcopal priest and later as the real estate agent impatient to wind up discussions and get along to his next appointment. I found him about ten years too young for both roles.
Jerkins has a fine sense of stage picture and of verbal rhythms. Confrontation is central in each act. Clashes are motivated and paced with the precision of good fight choreography. My only quibble with his work wasn't in the play but instead in his pre-curtain speech (never mind the fact that there is no actual curtain). His jovial greeting and patter may set up the expectation that we're about to cruise off on a happy comedy; I'd have felt better prepared with a somewhat graver attitude and perhaps a remark or two drawn from his perceptive program note.
DESIGN. Bravo to the period accuracy of Lowell Bartholomee's design for incidental music -- 1950's Hit Parade crooners before the show and a voyage through radio and time during the intermission. I missed much of it because I was deep in conversation, but I understand that those in the lobby and in the restrooms were being moved carefully forward through the decades. Desi Roybal's set was stark, as an emptied house should be, but it featured three wide panels recessed above the playing area, each with elaborate designs immediately recognizable as period wallpaper. Those understated suggestions called forth an entire dwelling and home for us. And bravo for that Bakelite radio center stage at the opening.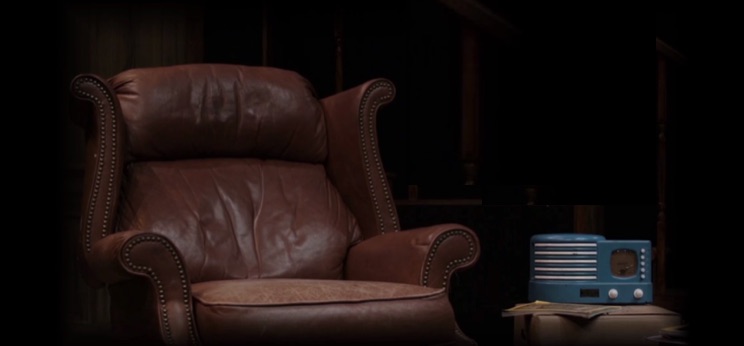 Costumes by Emily Cawood established appropriate periods, social rank and demeanor, with one exception. For a play situated in a Chicago suburb, however mythical, why on earth was Robert Matney wearing a Wheatsville Co-op t-shirt in the second act?
AND HOW QUICKLY THE TIMES CHANGE. Clybourne Park is in part about the passage of time and the shifting of attitudes. I may be mistaken, but I thought I heard a few strains of a contemporary pop song in the last moments of Bartholomee's musical transition, which would place Act II in 2016.
As late adapters of smart phones, we were struck by the Norris's use of cell phones. In Act II Lena's attempt to communicate concerns about neighborhood preservation is interrupted when Tom Driscoll the real estate agent takes a call on his mobile and spends a long time on the stairs with his back to us. That's apt. Earlier he crossed the room when asked for a technical definition, apparently about to make a phone call before getting distracted from the question. But during the back-and-forth around the rickety card table this crowd of youngish professionals chats about travel and vacations. Amid some confusion the question arises: What's the capital of Morocco? A snippy comic debate ensues, with some characters getting it absurdly wrong (Timbuktu? -- this former Africa hand enjoyed that one!). But you know, that dispute simply wouldn't happen in our present day. Any one of them would have pulled out an iPhone and settled the issue in ten seconds. Perhaps the actors should have been carrying Nokia flip-phones.
Whether that action occurs in 2010 or in 2016, for purposes of edification -- particularly for our town where gentrification is surging and disrupting -- the admonitions of Norris's text do apply to our present day. On the final and most comprehensive scale, that of relevance to our attitudes and beliefs about belonging, equity and respect, Clybourne Park as delivered at the Rollins Theatre by Penfold and this cast is immeasuirably important.
EXTRAS
Click to view the Penfold Theatre program for Clybourne Park
Click for CTXLiveTheatre review of the 2011 production by the UT MFA program in acting
Video by Magic Spoon Productions:
---
Clybourne Park
by Bruce Norris
Penfold Theatre Company
Wednesdays-Sundays,
May 26 - June 05, 2016
Rollins Theatre
Long Center
701 Riverside at South First,
Austin, TX, 78704
May 26 – June 5, 2016 at the Rollins Theatre, Long Center for the Performing Arts in Austin
Regular tickets $27. Or included with season membership.
TICKETS AVAILABLE ONLY THROUGH LONG CENTER BOX OFFICE (NOT THROUGH PENFOLD WEBSITE).
CLICK HERE TO BUY TICKETS THROUGH LONG CENTER BOX OFFICE
OR CALL 512.474.5664.
Rollins Studio Theater at The Long Center of the Performing Arts (Map it), 701 W Riverside Drive
Austin, TX 78704
Directions are available on the Long Center website, as are parking information and other details designed to make your visit more enjoyable. Food and drink will be available for purchase.