Review: Cloud Formations by Bottle Alley Theatre Company
by Michael Meigs
Chris Fontanes' Cloud Formations sets a Zen-like entry to the world of shadows it depicts. Part of that is the venue, Sessions on Mary, a 78704 bungalow with a scrap of yard out front, and part may be unintentional, an oversight in the publicity. Cloud Formations is announced for 7:30 p.m. Fridays - Sundays. In fact, the house opens at 7:30, but the action of the play begins sometime closer to 8 p.m. As happened with The Insomniac's Ball, presented last January in this same space, an actor is in place as the audience of no more than a dozen settles into the row of chairs around the periphery of the living room, mostly in quiet expectation. They listen to low-volume recorded plaints of solo singer-songwriters, and they contemplate the large living room space that's lit indirectly, including by ropes of holiday lights. A woman reclines in a tent-like structure with net walls, situated on a large divan in the center. She pays a lot of attention to her books and backpack while waiting for something or someone.
Fontanes has a thing for strong women protagonists. Samantha Ireland as Marlow is the forceful and articulate but existentially confused center of this piece. Though there is a plot with through-line for the three characters, Cloud Formations is strongly contemplative, as the title suggests. The language is descriptive, frequently referring to nature, and often poetic. Events move slowly and unpredictably as we puzzle about the relationships of these three.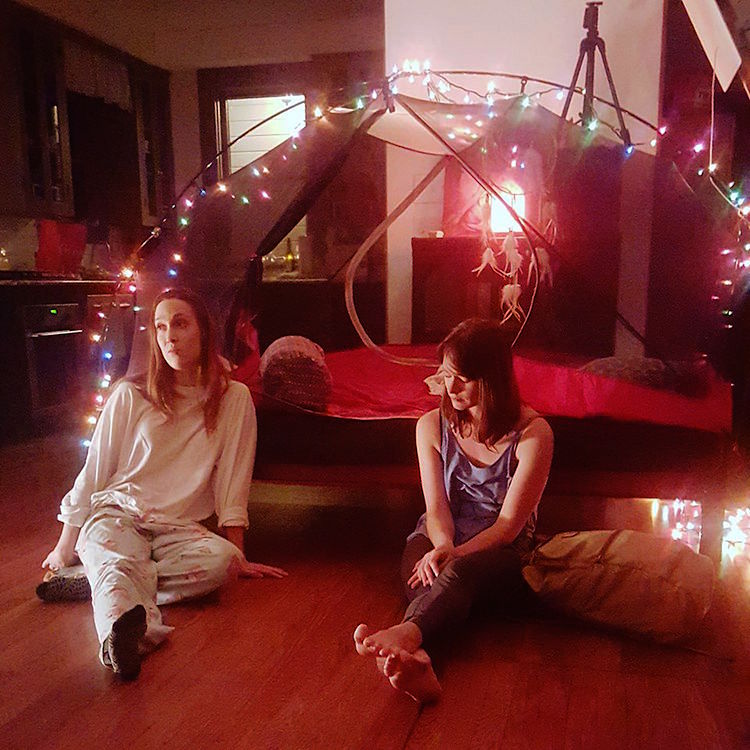 Marlow and Sunny (Marion Aynesworth) have been staying at this unidentified location for some extended period of time. The link between the two women remained undefined for me. Sunny, whose entrance is via a ladder from the attic, is as letargic as Marlow is vigorous; some affliction leaves her largely apathetic and subject to occasional coughs. Those perhaps tubercular coughs suggest a level of homelessness not commensurate with the comfortable surroundings. The women have received word that the owners are returning the next day, a bolt of news that means they will have to abandon this place of calm and refuge as well as its garden outside.
Tom steps into this space, quietly and persistently seeking contact with Marlow. He's both an outsider and an excluded seeker. Playwright Fontanes emphasizes that message by having Marlow break the fourth wall, addressing the audience directly and unapologetically to tell them that Tom has paid her for sex. Ian Pala as Tom remains focused on her, avoiding disputation but clearly pained by her rejection. His attentiveness, patience and persistence make him almost unbelievably solid and faithful in the face of Marlow's jumpy static. When challenged, he confesses to Marlow, quite simply, that he sees her as his 'muse.'
In the context of Fontanes' work to date, that suggests something that we can muse upon: Tom's an artist of some kind, but his art is not identified. In fact, he subordinates virtually his whole person to the unpredictable demands of Marlow. It's easy to suppose that Pala as Tom is a surrogate for the playwright Fontanes, who for the past three years has been working with patient determination to realize his writing and directing, despite all the spiky complications that afflict him as a member of Austin's theatre underclass.
This third season of the company bears the title We Will Only Be Young for So Long. Bottle Alley Theatre Company is a regularly changing assembly of young adults intent on working through many of the same preoccupations voiced by Ireland as Marlow, the protagonist: What is it we're seeking in our adult lives? What are our connections and do we wish to retain them? What's our purpose now that we're here, healthy and in relative security and comfort?
I admired the assurance of all three of these newcomers. The intimacy of their discussions, even in this close-up staging, gave me pause from time to time, not for the content but rather for the frequently non-theatrical diction. I avow some infirmity: I do wear hearing aids as a palliative for some high-frequency hearing loss. A point to remember, however is that actors are delivering their messages not to one another, although that's the fiction we accept; their utterances are intended to be heard by an audience. It is vital to maintain sufficient volume and precision of speech for the audience to track their dialogue throughout. Ireland in her character as the emphatic Marlow was easiest to follow, but in contemplative moments or confiding talk even she sometimes escaped my hearing.
So, Chris, CTX Live Theatre is waiting to see what a fourth Bottle Alley Theatre Company season will bring. We're looking forward to a senior year -- and wondering what the theme will be!
EXTRAS
Click to view the program card for Bottle Alley Theatre Company's Cloud Formations
Click to view review by company member Justin West, October 18, 2015
---
Cloud Formations
by Chris Fontanes
Bottle Alley Theatre Company
Fridays-Sundays,
October 16 - October 25, 2015
Sessions on Mary, 604 W. Mary Street.
Fridays - Sundays at 7:30 p.m.
Tickets go on sale September 22, 2015.
Tickets available via