Review by Dr. David Glen Robinson (#3 of 3): FALLEN ANGELS by Noël Coward, Different Stages, January 8 - 30, 2016
by David Glen Robinson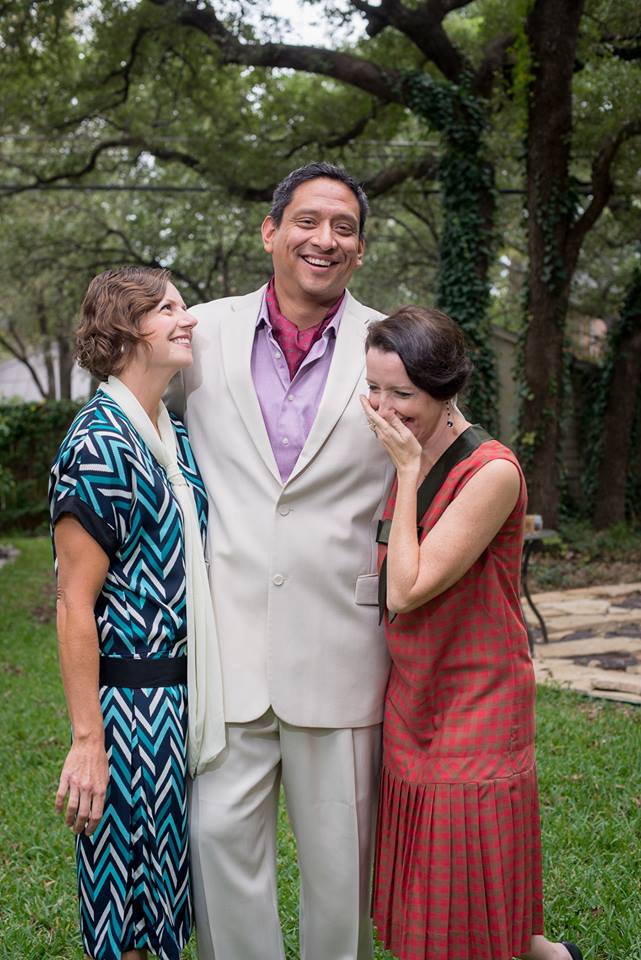 Different Stages, one of Austin's longest running theatre companies, presents Fallen Angels by Noel Coward, at Trinity Street Theater inside the First Baptist Church of Austin on Trinity Street. The play dates to 1924, and it is one of several Coward plays that remains in the regular theatre repertoire. Different Stages takes a fresh and lively approach to all its productions, and Fallen Angels is no exception to the rule. For those newly exploring theatre, the play is an excellent introduction to Coward on stage and an opportunity to enjoy one of Austin's finest theatre companies.
Fallen Angels is filled with the dry English drolleries and biting repartee at which Coward excelled. In this, he kept company with Wilde, Shaw, and Dickens and helped create a comedic form now enjoyed largely on cable. That's fine, but it is a branch of comedy and wit far more enjoyable in the live setting as Coward intended it.
The story is that of two upper class Englishwomen, lifelong friends, who simultaneously diagnose the loss of passion in their respective marriages, awakening the same morning with a "presentiment," as it were. There follows a descent into a maelstrom of enmity, confession, and accusations: of lying, hypocrisy, beastliness, and criminality. Even the stiff English upper classes are not above total ego disintegration, and Noel Coward mulches his rich comedies with it. The two friends' reminiscences swirl around sharing a lover, before their marriages, in Pisa and Venice in nights of romance and carnality worthy of Lord Byron. The love interest Maurice, a stereotypical Gallic lover, threatens, by way of postcards, to return momentarily to both of their lives. Maruce (TJ Moreno) does finally turn up in the comic conclusion of Act III.
Veteran Austin actors Rebecca Robinson and Emily Erington, as the title characters, are seemingly always at the top of their games. Together they convey the heartfelt sense of sharing the theatrical wealth they find in any play. This quality was nowhere more evident than in the champagne-splashed supper in Act II. The show program gave an unusual design credit for Cook to Paula Gilbert. From this reviewer's vantage on the first row, the credit seemed highly appropriate and very well deserved.
The Different Stages production of Noel Coward's Fallen Angels is fully recommended for theatre-lovers and also those only mildly curious about live performance. Different Stages has been around since 1981, all of it under the guidance of Producing Artistic Director Norman Blumensaadt. He shows exquisite theatrical taste and decisionmaking and produces some of the best theatre in Austin, against formidable competition from The Vortex, City Theatre, Austin Playhouse, Physical Plant Theatre, Zach Theatre, and very few others.
EXTRA
Click to view the program of Different Stages' production of Fallen Angels
---
Fallen Angels
by Theresa Rebeck
Different Stages
Thursdays-Sundays,
January 08 - January 30, 2016
Trinity Street Players
Black Box Theatre, 4th floor, First Baptist Church
901 Trinity Street
Austin, TX, 78701
Performances are Thursdays through Saturdays at 8 pm and Sundays at 3 pm.
Tickets are $15 Thursdays, and they are Pick-Your-Price: $20, $25 or $30 on Fridays, Saturdays and Sundays.
(small service fee may apply to credit/debit purchases)