Review by Brian Paul Scipione (#1 of 3): FALLEN ANGELS by Noël Coward, Different Stages, January 8 - 30, 2016
by Brian Paul Scipione
Martinis, Champagne and the Requisite Amount of Passion
"Don't be young Jane!" Rebecca Robinson as Julia Sterroll shoots out icily at her longtime friend (both in and out of character) Emily Erington as Jane Banbury. In other words, be mature, respectable and a proper English wife: a task neither of them achieve after the first ten minutes of the play. They are the titular Fallen Angels of Noel Coward's classic (and very controversial at the time) play which debuted in 1925. These upper-crust, high-society wives are tempted into their downward spiral by the impending re-appearance of a French lover who long ago seduced each of them before their present marriages. From the beginning they identify themselves as devoted wives who always display the "requisite amount of passion and adoration" to their good and noble husbands. They see no reason why their ex, Maurice (TJ Moreno), should upset the fabric of their happy married lives as they pretend to be content in the sweet reminiscences of their Mediterranean love affairs. And of course, boy, are they wrong.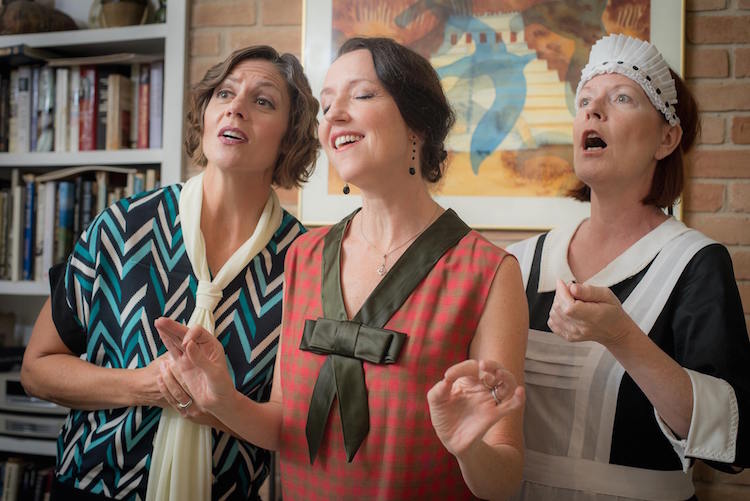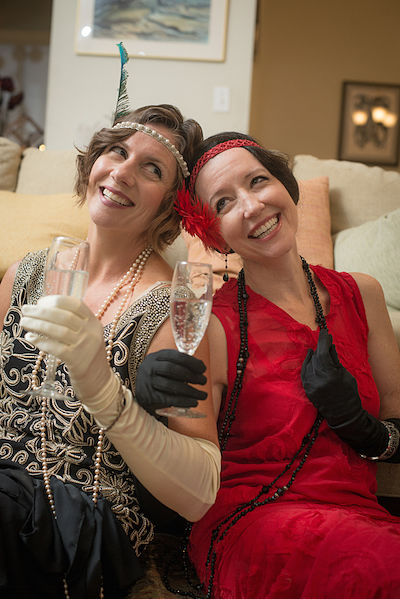 There is a palpable reaction from the audience at the beginning of Act Two when the audience sees how these two woman have transformed themselves from drably dressed house wives to stylish debutantes in young flapper-esque attire. Here it is easy to see that costume designer, Ann Ford has done a phenomenal job with the period wardrobes. It is not just the outfitting, however as Erington and Robinson are in full commands of their performances. The steady exposition of the first act is gone in a flash as these two actors have fully manifested their roles and the result is glorious hilarity that builds and builds into a wonderful crescendo in the third act. The premise is simple -- when will Maurice arrive and which of the two will fall from grace first?
The comedic tension of this production of Fallen Angels has the riveting frenetic pace of a Wimbledon tennis match. Julia reins in Jane, only to break down into a longing fantasy of her own; Jane retorts by taking the high road, only to topple from it a moment later. The actors are in such command of the audience that eventually a wry facial expression or a gloom-filled slouch is enough to evoke peals of laughter. The stakes are then fantastically upped when Jane and Julia decide to settle down and have dinner but instead (and as always fooling themselves about what they are really doing) proceed to get very, very inebriated. By the end of the act all Jane needs to say in her perfect, mewling, English-accented whine, is "Where are my shoes!" to get a roar from the audience.
This is not to say that they completely steal the show. Katherine Schroeder as the wise-beyond-her-years-and-position maid Saunders keeps up with them at every beat. It's a classic theatre trope, where the servant is far more sagacious then the master. Saunders comes in and out of the room without letting on that she knows what the ladies are up to, but she skillfully prods them along in whatever direction brings her mirth at the moment. When they are contemplating another drink she slyly comments, "Several drinks never do any damage. After the first drink the damage is done."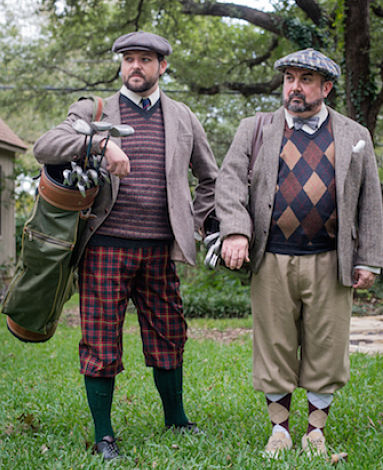 The husbands Fred Sterroll (Michael Costilla) and William Banbury (Daniel Rice) are fittingly indistinguishable in the first act but come into their own in the third act. Rice as Jane's husband William transforms into a fuming and sputtering enraged cuckold and Costilla as Julia's spouse shrinks deeper into his natural naïve sycophantic role.
After a long ninety years of production the play still holds up. The only thing I had to look up after the show was Bow Street (for the record, an area of London noted at that time to be full of bars and brothels). The story is simple and easy to follow but it is buoyed up the vivacity of these amazing actors. It's impossible not to think of the classic British sit-com Absolutely Fabulous during the ribald intoxication of the second act. This is a play worth seeing more than once.
Different Stages has been at it for well over thirty years and they keep getting better. Cheers to this production.
EXTRA
Click to view the program of Different Stages' production of Fallen Angels
---
Fallen Angels
by Theresa Rebeck
Different Stages
Thursdays-Sundays,
January 08 - January 30, 2016
Trinity Street Players
Black Box Theatre, 4th floor, First Baptist Church
901 Trinity Street
Austin, TX, 78701
Performances are Thursdays through Saturdays at 8 pm and Sundays at 3 pm.
Tickets are $15 Thursdays, and they are Pick-Your-Price: $20, $25 or $30 on Fridays, Saturdays and Sundays.
(small service fee may apply to credit/debit purchases)