Review: Buyer & Cellar by Zach Theatre - A Look into the Mind of the Fanatical Realism of a Struggling Actor
by Brian Paul Scipione
J. Robert Moore kicks down the fourth wall in the very first moments of Buyer and Cellar, Jonathan Tolins' one-actor play that is making its local debut in Zach Theatre Company's Kleberg Theatre. It's not real, he says with a smirk. It's not real ,he says with a giggle. It's not real, he says with enthusiastic verve that is coyly coupled with what may be a sigh.
What's not real? The story of the play. It never happened. It is merely a wishful fantasy, an extended daydream of a fan-boy, of what could happen if a struggling actor got a job working in the underground mall beneath Barbra Streisand's Malibu dream house. After the audience gets the point about the authenticity of the story he makes a little joke about the extremely litigious nature of the play's subject. This much is indeed true, but what else is true, Moore goes on to assure us, is that Barbra Streisand does indeed have a replica of a mall in the basement of her Malibu dream house (though 'estate' is more accurate than 'house,' in this case, as the basement in question isn't even in the main house). It has a doll shop, a dress shop, and a candy shop with a frozen yogurt machine and all the merchandise contained therein is already hers. It is a dynamic showcase for her antiques, collectibles and the famous dresses and costumes she wore at her sold-out concerts or in her award-winning movies. This is all very real and can be easily seen on the internet or in Barbra's own book My Passion for Design, which is about nothing else but her humble home. The irony that the most unreal subject of tonight's show is the only real thing is hard to miss.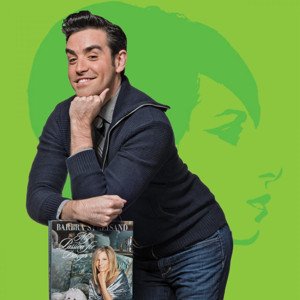 The story itself begins with Moore singing one of Streisand's more famous songs in a low, expectant voice just two shades above a whisper: "Memories light the corners of my mind." And as before he kicks the mood aside to extrapolate on these words. The mind, he muses, doesn't have corners, as the brain is round. The play is peppered with these small witticisms as Moore keeps the tale moving along, probably because there is only so much story to tell. A struggling actor is barely eking out a living by performing at Disneyland dressed as one of the many famous characters from the panoply of iconic Disney characters. It's a horrible job that includes overwhelming heat, bad smells and the ridicule of children. He sums it up by referring to it as Mouse-witz. Of course, no matter had bad it is he can't just quit, but he is forced to move on after being fired. A former boss at Disney concerned for our narrator's fate shares a tip with him about some very mysterious new work for a very mysterious new boss, but of course the audience already knows who that is. And so off he goes on the long, long drive to Malibu up to a strange house (complete with a river and a mill), through a strange interview with a strange and stentorian woman, and he succeeds in winning the strange job.
And so the waiting begins. The waiting makes up the bulk of the story. The waiting of the lone man standing in the empty mall for eight hours a day (sometimes longer) is further dramatized by the near silence broken only by the twin purring rumbles of the frozen yogurt machine on one side and the popcorn maker on the other. Frozen yogurt machine… popcorn maker… frozen yogurt machine… popcorn maker. It is as though his consciousness is being batted back and forth like a tennis ball at Wimbledon. He stands in his uniform waiting for the inevitable appearance of the mega-star whose legendary status looms large above him. He needs the job so badly, but it is worth all this? He finally bursts out: "I asked myself: Have I sunk this low?"
He admits to not even being that biggest of Barbra Streisand fans but demurely admits that he recognizes "her importance as part of my gay heritage." Finally, the little tinkling of the bell of the shop door announces her arrival. Moore brilliantly reveals the stress that waiting for this moment has his put upon his near frazzled nerves. She enters the room like a monarch or a dignity from another planet. He is awed to the bone. He lives in the sandcastle of her imagination, and finally she has entered the scene: a setting built by her, of her things, for HER. He describes her nails with relish. They are wicked, curved and long, the height of style, outright colossal. They are the kind of nails that say, "I don't play the play the piano or type my own blogs, so f*ck you!" And with the last he shoots the bird at the audience with a mischievous grin. But it is not Moore's grin we are seeing: it is the triumphant look of a poor girl from Brooklyn who against seemingly insurmountable odds rose to a level of stardom, notoriety and power almost impossible to fathom given the odds against her.
And this is the crux of the play. By that I mean the play itself as dramatic work and this particular production as done by Zach Theatre. This is the moment when the lead character has to decide whether he is going to stand up to Her and meet Her on equal grounds (as much as is possible within the limits of this basement fantasy land). He does. He plays along perfectly. He fails to acknowledge who She is, and he refuses to submit to Her little whims and tricks. It is outrageous that he refuses to sell her own property to Her at the price She wants. He has stood up to Her when no one else will. The two characters are hooked on each other.
The other way in which the middle-finger moment is crucial is in the intensity of Moore's performance. Without a costume change, a mask or even a dramatically different voice he becomes Barbra. The audience is rapt. That fourth wall he has worked so hard at deconstructing has re-materialized in an instant. We are so lured into the plot that when Moore flips from Babs to his boyfriend or even to Barbra's famous husband James Brolin, he never misses a beat. Though he's technically talking to himself, all we are seeing from the darkened seats of the house is a heated argument, a touching moment, a timid dalliance between the characters concerned. This is the one-actor show at its best. It's hard to not think of the clever work done by the late Spaulding Grey, one of theatre's preeminent monologists.
Production values from setting to sound to soundtrack are all of the top-notch quality we have come to expect from the Zach Theatre, but Tolin's script and Moore's performance that are unquestionably darling. As someone who has grown up past the hey-day of Barbra Streisand I'm sure there are many references I missed, but that didn't detract from the experience in the least. This is your chance to see an actor who has honed his craft and delivers it with an over-the-top vivacity that is purely endearing.
---
Buyer & Cellar
by Jonathan Tolins
Zach Theatre
Wednesdays-Sundays,
June 08 - August 14, 2016
June 8 - August 14 at Zach Theatre's Kleberg Stage
Tickets start at $25 and are available online at www.zachtheatre.org, by phone at 512-476-0541 ext. 1, or in person at the ZACH Theatre Box Office, in the Topfer Theatre, 202 South Lamar Blvd. (corner of Riverside Drive and South Lamar Blvd.) Monday through Saturday, 12 noon – 7 p.m.
ZACH Theatre is wheelchair accessible.
Discounts are available for groups of 8 or more. Student Rush Tickets are $18 one hour before show time (with valid ID).