Review: bobrauschenbergamerica by Mary Moody Northen Theatre
by Michael Meigs
Don't go looking for Robert Rauschenberg the 20th century modern artist in this grab bag. This is homage purely by reference.

Playwright/facilitator Charles Mee is frank in his admission that the piece is a collage of ideas and random bits that had as their starting points some of the images that appear in Rauschenberg's work.

Mee and others free associated about those images. They collected texts and images and other random bits to share in theatre workshops. Mee says that he told his collaborators, "Anyone can steal anything I brought in to make whatever piece they might want to make, and I could steal whatever they brought in."

He sifted through the material, workshopped it again, threw half of the results away and worked the rest up with the SITI Theatre in New York in 2001. We Austinites can think of that ensemble theatre company as the Rude Mechs of New York City.

SITI has kept the piece in its repertory and will revive it in April, 2010.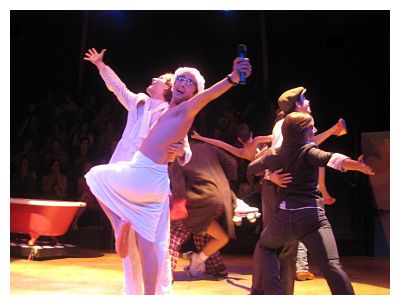 Think collage; think pastiche; think Marx brothers in vaudeville; think channel-surfing of the most random kind. Bobrauschenbergamerica offers a collection of mostly young zanies popping through a totally miscellaneous collection of skits, dramatizations, clown acts, dances, monologues and happenings.

You know that you're in for surprises when the Big Chicken comes rappeling down from the flies to the thundering initial chords from Also Sprach Zarathustra(aka the opening theme of Space Odyssey 2001).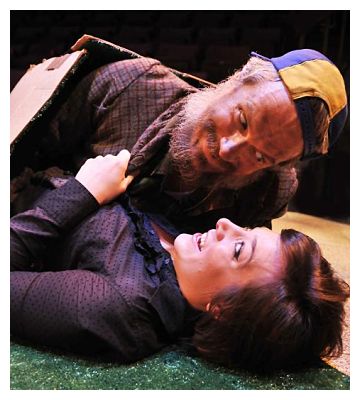 Prominent local Equity artists join the fun. Babs George is a sweetly lobotomized 1950s Texas housewife with the most astonishing misinterpretations of images from a photo album. Jamie Goodwin is a homeless guy in a carton, who's so spry and mischievous that he might be a writer for Wired on a field assignment.

The cast features capable familiars from the St Ed's thespian stables. Christopher Smith, Steffanie Ngo-Hatchie, Nathan Brockett, Jon Wayne Martin and Sarah Burkhalter are completely at home with incongruity. Director David Long moves 'em around like Hellzapoppin'.
Nathan and Sarah have an ongoing number as an emphatic pair of lovers not quite sure whether they're estranged or fated for one another. Sarah has a wonderful solo tantrum with a chocolate cake.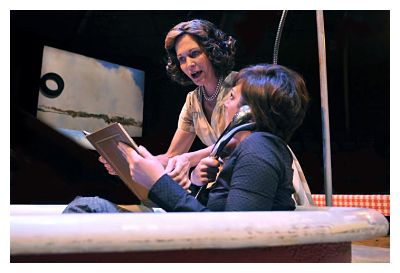 At random -- or so it seemed -- we see folks pushing a bathtub around the stage and using it as a comic venue; we have a group dinner interrupted by Jon's rant about space and time; we have Jon and his lover Carl (Duncan Coe) discussing their affections. Lainey Murphy, the girl in red, is always zipping about on roller skates. Steffanie's the polka-dot bikini assistant who prepares Christopher's magnificent dive and belly slide across the stage.

We have Jamie Goodwin improvising as a director for the filming of a totally off-the-wall adventure movie in which each of the characters on stage is assigned another character. (Marx brothers, indeed!)

The giant chicken keeps popping up or passing through. Clothing falls out of the sky. Ping pong balls fall out of the sky.

The ensemble even does a boot-scooting version of "Friends in Low Places" by Garth Brooks.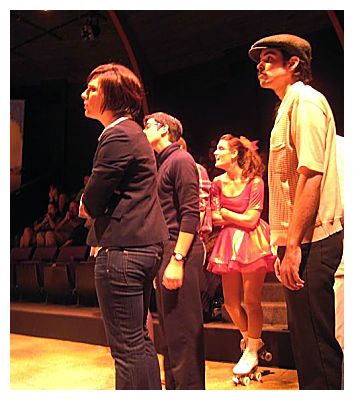 There's the pizza guy played by Kenneth Dolin, increasingly weird, who just can't stop talking about forgiveness, mental health, and a lurid crime in his past -- backing the rest of the uneasy ensemble into a corner as he goes farther and farther off track.

And a fine, dizzying moment when Jamie Goodwin wheels solo at the center of the Mary Moody "theatre in the square," invoking the magnificence and eccentricity of America in an unannounced and uncredited text that some of us recognized as pages taken from wild old Walt's Leaves of Grass.

It ends abruptly, as any apparently random collection must do. The cast has amused us with the many possibilities of comic art and they leave us wanting more.
Which is, after all, the perfect moment to take a curtain call.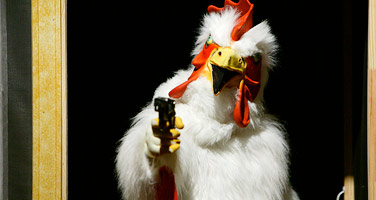 review by Jeann Claire van Ryzin at the Statesman's Austin360 "Seeing Things" blog, September 21
Hannah Kenah's pre-opening piece in the Austin Chronicle, September 17
Review by Robert Faires in the Austin Chronicle, September 24
EXTRA
Click to view program of bobrauschenbergamerica by St. Edward's University Drama Department
Hits as of 2015 03 01: 1973
---
bobrauschenbergamerica
by Charles L. Mee
Mary Moody Northen Theatre
September 17 - September 27, 2009