Review: Blithe Spirit by Fredericksburg Theater Company
by Michael Meigs
The very first sight of the set for the Fredericksburg Theater Company production of Noël Coward's Blithe Spirit illustrates a familiar and gratifying aspect of many a community theatre, including the Wimberley Players, the Gaslight Baker Theatre in Lockhart and the Sam Bass Theatre in Round Rock. Perhaps this care comes from an awareness of being away from the usual metropolitan art centers; perhaps it's a determination to show the world that 'community' doesn't mean 'common' or 'shabby.'
Kerry Goff's set for Noël Coward's archly humorous comedy is detailed, polished and exquisitely lit. Although essentially a conventional box set, it's designed and executed with loving craft, with a taste and finish that situate us firmly in a 1930's country house, right down to the detail of the marbling of the floors. You'll have the time to drink it in while waiting for the show to begin in Fredericksburg's spacious 250-seat theatre and listening to Executive Director Steve Reily and Artistic/Technical Director Goff tell you about the season and upcoming events.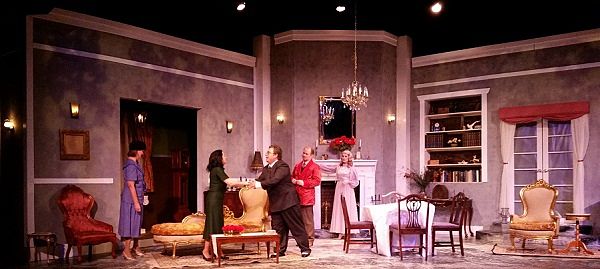 That sort of pre-show spiel is part of the community building, and their cheerful calibration of the message is part of the pleasure. So is the custom of the actors exiting after curtain calls to greet the emerging audience in the lobby.
The sound design uses big band numbers from the 1930s, principally from the United States, before the play and during intermission. They do set a nostalgic mood of carefree elegance, but they seem a bit out of place in the English countryside.
Blithe Spirit is a favorite of mine. I've searched it out in the Chicago suburbs and enjoyed it in Austin. I discovered it again with Ashleigh Goff's direction of the Fredericksburg production. Coward provides a cheerful ghost story that suggests that the dear departed take all their faults with them when they leave this earth and can be just as annoying if summoned back. He pokes fun at spiritualism, but more than that, he enjoys deflating pretensions and revealing the hypocrisies past and revenant of characters who are comfortably genteel.
Writer Charles Condamine invites neighbors to dinner and to a séance by local spiritualist and eccentric Madame Arcati. He conceals from everyone except his wife Ruth the fact that he's really looking for background material for a novel he's writing. Spooky coincidence and an unfortunate choice of gramophone music play a part. Madame Arcadi goes into a dramatic, flopping trance but initially nothing seems to have occured. Then a gust of wind and a disruption in the spirit world bring back Charles' deceased first wife Elvira. No one else can see her, a circumstance that provides a lengthy (and almost over-long) series of opportunities for comic confusion when Charles addresses her in increasingly annoyed terms.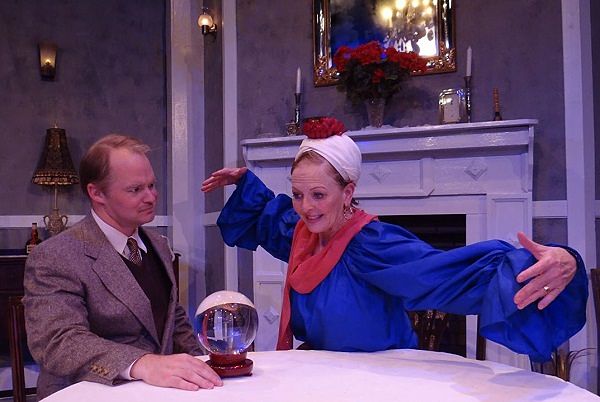 In exuberant contrast to the relatively stuffy Condamines and their neighbors Dr. and Mrs. Bradman, the medium Mme Arcati is always the star of this piece. Frank, talkative, confiding and thoroughly batty, she's the fuse to the comic explosion. Dawn Hahn as Mme Arcati has got the energy and unpredictable direction so essential to this key character. Sher Bottjer's costumes for her capture her gypsy-like flair. Hahn's comic pauses, exclamations and stream of commentary paint for us the thoughts spinning about in her head like caged hamsters on an exercise wheel. Entertaining every second that she's on stage, Mme Arcati surprises us with her sincerity and utter lack of humbug. She's enormously pleased when learns that Elvira's haunting the house. When she reluctantly agrees to try to put the spirit back into the metaphorical bottle, she works at it sincerely. Mme Arcati, unlike the others, is incapable of hiding her own past, keeping a secret or telling a fib. Hahn's performance is a delight.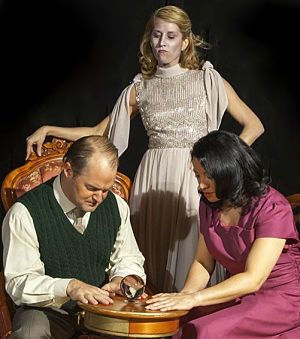 J.D. Cole in the role of Charles Condamine, the much buffeted protagonist, offers the picture of an English gentleman at ease in the country. He's onstage pretty much throughout. With some of the wittiest of Coward's lines, Cole moves Condamine through a succession of restrained emotional sea-changes: a husband of economical expression, a host, a disturbed and then alarmed participant in spiritualism, a man intimidated by a ghost and then someone increasingly comfortable and amused by the prospect of dealing with two demanding wives who can't even see one another.
English accents are vital in establishing these characters in their milieu. The cast captures most of the required vowel shifts, and we accept the creation of their world. I'd have enjoyed more speech couched in the posh ever-so-upper-class sing-song that Coward himself used (YouTube can take you there with a fine 41-minute video of Sir Noël discussing his own acting career).
Joined by this turn of fate, wives Ruth (Priscilla Castañeda) and Elvira (Heidi Eubanks) contrast in all ways -- temperament, physique, sincerity/duplicity and vitality (i.e., alive vs. dead, at least initially). Castañeda's delivery is emphatic, at times without nuance, while Eubanks maintains a mischievous attitude and coquettish lilt. Who knew that life could be so much fun after death? Coward doesn't explore the theology of all this, drawing a veil of unknowing and unremembering over the seven earth-years that have intervened since Elvira's abrupt departure.
And as sometimes happens, the least shall be first -- Julia Dickens in the apparently utilitarian role as Edith the bustling little maid provides agreeable background with her pert 'Yes, Mum,' 'Yes, Sir,' and quick mincing steps; in the concluding scenes she blossoms into a quickly sketched but credible character central to the plot.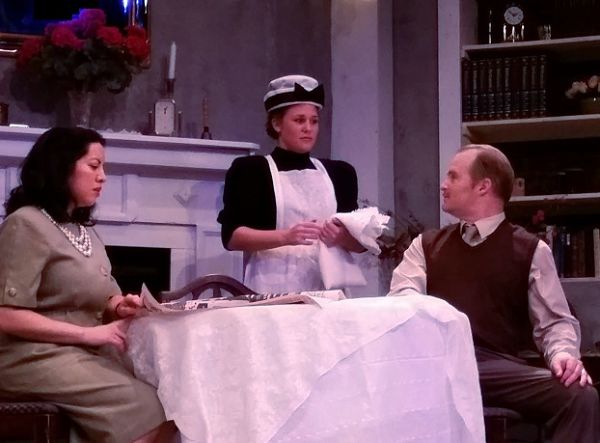 Poltergeist effects in the final act are cleverly convincing.
Blithe Spirit is performed as a play in two acts, but it's surprisingly long, running from 8 p.m. until well past 10:30. The program listing is truncated, doing the supportive audience something of a disservice by failing to list the final two scenes (Acts II and III are played without intermission). I was particularly aware of that omission; I faced a long drive back to Austin because the hotels and motels in this popular destination town were full.
The title, in case you wondered -- and I'm sure you did not! -- is taken from the first line of Shelley's ode To A Skylark:
Hail to thee, blithe Spirit!
Bird thou never wert,
That from Heaven, or near it,
Pourest thy full heart
In profuse strains of unpremeditated art.
His 1820 composition, a standard of English literature, would have been instantly recognized by British audiences attending the 1941 original production, properly educated gentlefolk like Charles and Ruth Condamine. English lit majors, ever more rare in today's university, are probably among the few who would recognize it today. Coward was playing on the notions of 'spirit' and 'spiritualism,' of course, but the twenty-one stanzas offer much more. I particularly like the concluding lines. For the fanciful, and those who believe in a touch of the supernatural, it might seem that Shelley was foreseeing the sparkling spirit who eventually became Sir Noël:
Teach me half the gladness
That thy brain must know,
Such harmonious madness
From my lips would flow
The world should listen then, as I am listening now.
---
Blithe Spirit
by Noël Coward
Fredericksburg Theater Company
October 17 - November 03, 2014
Oct. 17th - Nov. 2nd, Fridays - Sundays
Opening Night Gala on Oct. 17th
Advance tickets are $29 for adults and $12 for 17 and younger. Tickets at the door are $35.
Box office hours beginning Oct. 6th are Monday through Friday, 9:00 am to 1:00 pm. Tickets may be purchased at the theater box office, located next to the Steve W. Shepherd Theater, 1668 S US Hwy 87, Fredericksburg, TX, 78624, or by calling 830-997-3588 / 888-669-7114. They may also be purchased online at www.fredericksburgtheater.org