Review: Black Snow by Tutto Theatre
by Michael Meigs
I saw one of the concluding performances of Black Snow but because of visitors and a trip out of town I did not have the time to review it in a timely fashion. My memory is that Tutto Theatre gave us a bouncy, funny harlequin-esque farce. Gabriel Luna was comically suicidal as the novelist seeking to deal with the happily deranged theatre company. Smaranda Ciceu as the Stanislavsky figure was a hoot -- a senile Groucho Marx in a fright wig, with a blissfully lolling inattention.
The piece is based on Mikael Bulgagov's last novel, unpublished in his lifetime (as were most of his other works). Bulgakov came to international attention with the publication only in the 1960s of his early satirical novel The Master and Margarita. He had pleaded with Stalin in the late 1920s, both in writing and over the telephone, for permission to emigrate but was instructed instead to work for the Moscow Art Theatre. His plays and libretti were not produced there.
So this is a play about a novel that never became a play, drawn from a long unpublished novel about a novelist frustrated by the theatrical mistreatment of his novel. Wheels within wheels! -- MM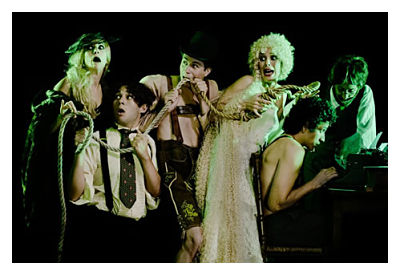 Featuring Gabriel Luna,Smaranda Ciceu, Francisco Rodriguez, Amy Downing, Maarouf Naboulsi, Ron Weisburg, Verity Branco, Diego Larrea-Puemape, & Kyle Lagunas.
UPDATE: Robert Faires' article on Tutto Theatre in the Austin Chronicle, July 16
UPDATE: Profile of Dustin Wills and Tutto Theatre's mid-July performances in Rome, by Nicola Ferlei Brown in "The Roman Forum," July 8
UPDATE: Review by Dan Solomon on austinist.com, July 8
UPDATE: Review by Javier Sanchez in the UT Daily Texan On-line, July 7
UPDATE: Review by Sean Fuentes at AustinTheatreReview.com, July 1
UPDATE: from interview of director Dustin Wills, published by UT June 13 at the alumni profiles section:
Q. What's next for you?

A. The show I'm working on right now is called Black Snow. It's adapted by Keith Reddin and it's based on a theatrical novel by Mikhail Bulgakov who was a writer at the Moscow Art Theatre during the Stanislavski era. I really liked it I think because this is going to be the first play I've ever directed that I didn't write or have a hand in writing or was able to work with a new writer to be able to rewrite. I cannot cut it, cannot change genders – so this feels more new to me than anything right now.

Black Snow, featuring: Gabriel Luna, Smaranda Ciceu (MFA in Acting candidate), Francisco Rodriguez (BA '05), Amy Downing, Maarouf Naboulsi, Ron Weisberg (BA '07), Verity Branco (MFA in Acting candidate), Diego Larrea–Puemape (BA '08), and Kyle Lagunas; with Scene Design by Lisa Laratta (MFA '08), Lighting Design by Megan M. Reilly (MFA '07), and Costume Design by Kim H. Ngo (BA '07), runs June 26 to July 12, at Salvage Vanguard Theater. Visit TUTTOtheatre.org for details.
Hits as of 2015 03 01: 1407
---
Black Snow
by Mikail Bulgakov, adapted by Keith Reddin
Tutto Theatre
Thursday – Sundays 8:00 p.m.
[No Performance July 4th]
Salvage Vanguard Theater, 2803 Manor Road
At the Door: $15 (Starving Artist Rate: $12 Starving Theatre Company Rate: $20)
Thursdays are Pay-What-You-CAN Name Your Own Price w/ Donation of Non-Perishable Canned Food Item(s) to benefit Hope Food Pantry at Trinity United Methodist Church [Price without donation is $12]