Review: An Inspector Calls by Different Stages
by Michael Meigs
Under the artistic direction of Norman Blumensaadt, Different Stages and its predecessor the Small Potatoes Theatre Company have furnished Austin Theatre with a considerable library of stage work. The back page of the program for An Inspector Calls lists 109 productions the company has brought to the boards since 1981.

Different Stages has given the city a good dose of the classics and a wide array of works from the British and European stages. The company has often reached back decades in the English-speaking repertoire to present twentieth century works unlikely to be offered by other enterprises in town. Their production last year of Shaw's Getting Married was a fine example of Blumensaadt's taste, dedication and success as a curator.

J.B. Priestly's An Inspector Calls was first performed in 1945. It recounts a story set in 1912 urban Britain. It's a moral fable with an intrigue that inexorably and progressively reveals the hypocrisy of each member and associate of a wealthy capitalist family. Priestly gives the story a twist of the supernatural, but it's essentially a piece preaching to the British middle class about the wickedness of earlier capitalist generations' exploitation of the poor.

The first two productions of An Inspector Calls were in Moscow. The 1946 London production featured Ralph Richardson as the ominous Inspector Goole, Margaret Leighton as ingenue Sheila Birling, and Alec Guiness as her brother Eric. Goole's berating of the non-aristocratic capitalists touched sensibilities in post-war Britain.

Leading UK cinema actor Alastair Sim starred in a 1954 film version. A production in London and New York in 1993-94 won Olivier, Drama Desk and Tony awards for best revival.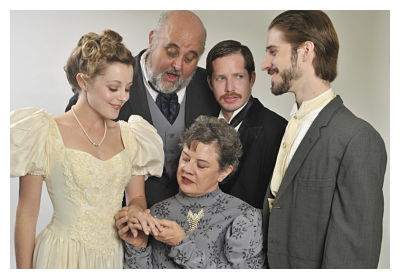 All three acts take place in the dining room of the Birling family. Portly Arthur Birling, played by Sam Z. Deason, is a self-satisfied manufacturer -- of what, we're not quite sure. The family is having a meal to celebrate the engagement of daughter Sheila (Nicole Swahn) with promising young Gerald Croft (Trey Deason). Sybil Birling the matriarch (Paula Gilbert) shares the satisfaction, as does brother Eric Birling (Andy Smith). The family's solemn servant Edna (Amy Lewis) moves dishes, announces callers, and otherwise effaces herself throughout.

A knocking on the door interrupts this contented scene. Edna announces and then shows in a tall white haired man with pale blue eyes -- Inspector Goole, with a no-nonsense attitude, a photo in his pocket, and the news that a young woman has committed suicide by swallowing disinfectant. Probably lye -- a particularly painful way to go, for it sears the mouth, esophagus and stomach, causing internal bleeding.
Goole has some questions to ask, and he brooks no evasions or excuses. He shows a photograph to the industrialist, emphatically shielding it from the view of others. With prosecutorial questioning, the Inspector elicits from Arthur Birling the admission that a year earlier he had dismissed the victim, Eva Smith, for organizing a strike in which the workers insisted on a raise from 22 to 25 shillings. Birling is adamant about the justice of his decision and thoroughly unapologetic.

Garry Peters as the Inspector methodically moves from one family member to another over the course of the three acts. His questions are steel traps closing about them, revealing each one's role in the progressive decline, exploitation and desperation of a working girl. Peters plays Goole more as a justicer than an investigator; politely uncommunicative at first, he evidences a slowly growing contempt at excuses, denials and evasions.

Priestly and his inspector strip the Birlings of pretense and reveal their flaws, not only to us but to others in the family circle. The point hammered again and again by the inspector is that each of the Birlings, including fiancé Gerald Croft, made decisions with full regard for moralistic positions but without charity or human sympathy for the woman who would suffer from them.

Priestly's tale is one of points of view and failures to perceive. Director Norman Blumensaadt uses a clever staging device to hint at this interpretation, and I don't know if the idea was his or Priestly's. Though each of the three acts takes place in the same room, the audience returns from intermissions to find that the furniture has shifted. We are viewing the same place from a different perspective in the room. Inspector Goole repeatedly appears in one of those shifting entryways, dramatically backlit.

In similar fashion, Priestly's narrative toys with our perceptions of the inspector's story and uses a spooky time shift. The device may seem a bit hokey to audiences that have confronted Matrix-type story telling. Once we remind ourselves that this is an early twentieth century telling, not so far removed from the crazes of spiritualism, we can go with it.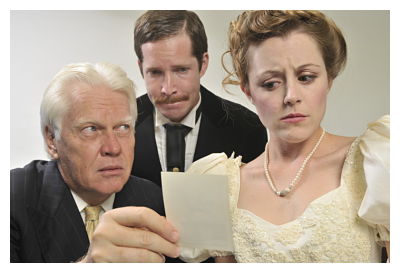 Garry Peters carries the narrative. Before and after his appearance, the Birlings' self-congratulations and concerns seem flat or shrill. Peters' Inspector Goole is properly spectral in aspect, conduct and reproach. He unleashes a moral questioning in this milieu, one that remains alive more with some -- the young and previously thoughtless Sheila, for one -- than with others.

Sam Z. Damon as patriarch Arthur Burling is the incarnation of the short-sighted, complacent industrialist type that Priestly despised. He is lively, simple and often despicable in self-conceit. Damon did give us a couple of flutters, especially in the emotionally charged third act, when he seemed to be glazing over and chopping away at his speeches, perhaps trying to remember what came next. He and the company saved those moments, however, and we could complicitly decide that old man Birling was befuddled by the events.

The Different Stages production won't save An Inspector Calls from obscurity. The Alastair Sim film from 1954 was published on DVD in the UK but is no longer available there. A re-seller associated with Amazon.com offers a used copy in PAL format for $40, if you're interested. There's an NTSC version on DVD on EBay, available until July 14 at the relatively modest minimum bid of $21.99. I put in a bid on it.

But you probably guessed already that I have an inordinate affection for dusty old British black-and-white dramas.

Review by Sean Fuentes, AustinTheatre Review.com, July 10
Review by Hannah Kenah in the Austin Chronicle, July 16
Insite magazine interview of Norman Blumensaadt by Brian Paul Scipione, July 2009
EXTRA

Click to view program of An Inspector Calls done by Different Stages.
Hits as of 2015 03 01: 5040
---
An Inspector Calls
by J.B. Priestly
Different Stages