Review: An Empty Plate in the Cafe du Grand Boeuf by Gaslight Baker Theatre
by Kara Bliss McGregor
At center, Michael Hollinger's An Empty Plate in the Café du Grand Boeuf celebrates the joys of appetite, the mysteries of attraction, and what makes a manly man, with a generous helping of the absurd and homage to Ernest Hemingway. The opening night production at the Gaslight-Baker Theater was a feast, served by a nimble cast under the direction of Robyn Gammill.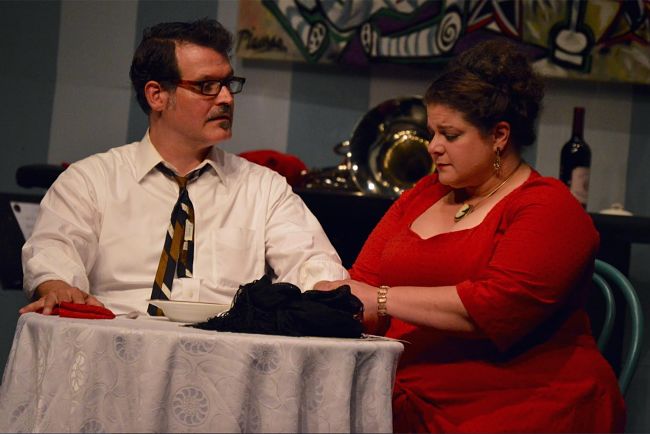 The story unfolds in 1961 in a Paris restaurant owned by an eccentric American millionaire, who reserves the restaurant for his exclusive use. Victor worships and tries to embody the spirit of Ernest Hemingway, but with the death of his idol and the rejection of his mistress, Victor resolves to starve himself in his restaurant, martyred to his disappointed dreams. This is a disaster for the staff, who exist only to cater to Victor's appetites. They try to change his mind with various delectables, and a "comic tragedy in seven courses" ensues.
The plot is frothy and the characters broadly drawn, and in the hands of a lesser ensemble, the performance might leave an audience impatient with the mixed nuts and hungry for a main course. This group offers a satisfying blend of tragicomedy and slapstick, plus food for thought about life, sex and long goodbyes.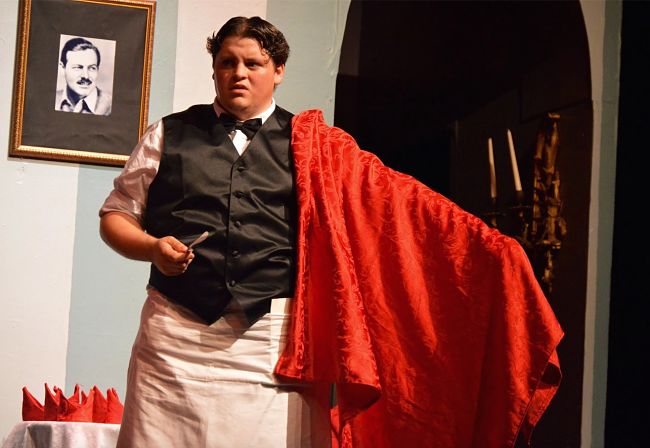 As Victor, Stewart McGregor zeroes in on Hemingway's larger-than-life heroic bravado and despair, and is at his best when playing off the elastic physicality of Michael Dalmon's maître d' Claude, and the sweet, stuttering naiveté of James Springer's waiter-in-training Antoine. Nina Bryant as waitress Mimi, and Don Owen as Chef Gaston both have standout moments, and bring some well-grounded realism to the zaniness. The pure storytelling is rich, touching epic themes through parables of apples, worms and tequila, with a rare comic monologue on starvation – not kidding.
Much of the meat of this production is in the nuanced choices by first-time director Gammill. The ensemble is well tuned and well timed, props are used imaginatively, and the cast avoids the trap of awkward Pepe Le Pew accents – there's just a shading of "Euro" for Claude, bolstering his pretensions. The set is clean and elegant, as is the sound design, all elements transporting you to the expat Paris of 1961.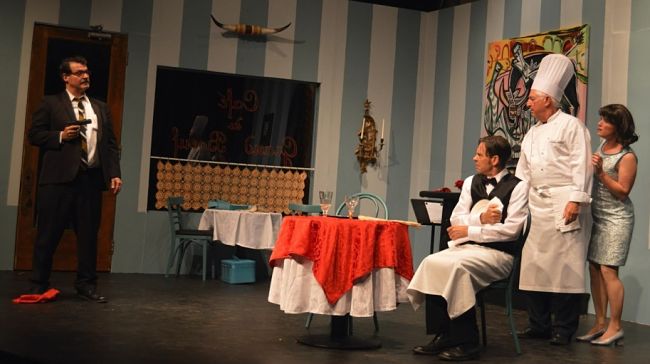 Don't be dismayed that this play is off the beaten path of required reading, or has not been produced as a movie. The intrepid opening night audience was rewarded for taking a chance with a tasty treat. Bon appetite!
---
An Empty Plate in the Cafe du Grand Boeuf
by Michael Hollinger
Gaslight Baker Theatre
Fridays-Saturdays,
May 08 - May 23, 2015
Performances Friday & Saturday nights at 8 p.m., with matinees at 2 p.m. on Sunday, May 17 and Saturday, May 23.

Tickets $15/$12 Seniors & Students