Review: A Samuel Beckett Cabaret by FronteraFest
by Michael Meigs
With no particular fanfare, Rick Roemer is offering you the chance to understand the stretch and diversity of the art of the professional actor. But just for a brief shining moment, so check your agenda.
Roemer appears in these stark pieces by Samuel Beckett this afternoon, Tuesday evening the 25th and Sunday afternoon the 30th. As the complement, you can appreciate his appearance as the haughty, comic Lady Bracknell in The Importance of Being Earnest four evenings a week at the Austin Playhouse, until February 20.
His colleague at Southwestern University in Georgetown Jared J. Stein directs Roemer in these three short pieces by Beckett, collected under the ironic banner title of A Samuel Beckett Cabaret. For the FronteraFest 2011 Long Fringe the production is sponsored by "Fourthworld Theatre Projects" and an informal company assembled from theatre students at Southwestern, including Becca Plunkett, Edward Coles, Kinsey Keck, Matthew A. Harper and others.
Samuel Beckett's 1949 piece Waiting for Godot is the most familiar of his texts, with the 1956 Endgame probably in second place. Notable productions of those longer pieces appeared in the Austin area over the last year -- a cheerfully comic version of Godot at the Sam Bass Community Theatre in Round Rock , a Classic Theatre production of Godot that won three of San Antonio's ATAC Globe awards, and a memorable staging of Endgame by the Palindrome Theatre Company at the Larry L. King Theatre of Austin Playhouse.
Beckett wrote intermittently for the theatre for 25 years after Endgame. His pieces became briefer, more concentrated and more engimatic. Of the 29 shorter theatre pieces collected in the Grove Press edition, the last ones are the shortest and most dense. Catastrophe from 1982, dedicated to Czech writer and political resistance leader Vaclav Havel, is only four pages long. Ohio Impromptu, first produced at Ohio State University in 1981, is three and a half pages and features a character reading aloud to a silent listener. In this Beckett cabaret, those pieces bracket Krapp's Last Tape from 1958, in which Roemer, the solo performer, has lengthy silent intervals of pantomime, including an exquisite sequence with bananas -- worthy of the best of Buster Keaton -- and interacts with his own insufferable self of 30 years earlier via a tape recording.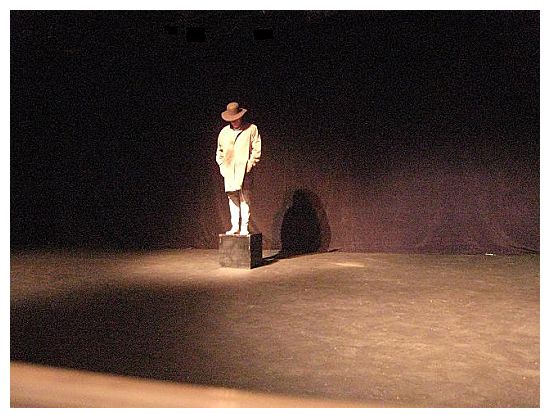 This cabaret begins and ends in stillness, entirely appropriate to Beckett's obsession with the inadequacy of language. You enter ten minutes before curtain time to find a figure -- Roemer -- standing motionless on a pedestal as Samuel Allen, stage left, fingers and flings at the strings of an electric bass. At stage right, close to the audience, sits a bulky long-haired shape concentrating on the man in the spotlight.
Catastrophe, dedicated to Havel, is that director figure's extended complaint and criticism of the inert, anonymous figure at center stage. Puffing angrily on a cigar that he repeatedly stubs out, Matthew Harper as the director raps out instructions to his bustling little assistant Kinsey Keck, who dutifully resets the position of the unyielding central figure, rearranges his clothing, makes notes about additional adjustments, and never questions the instructions.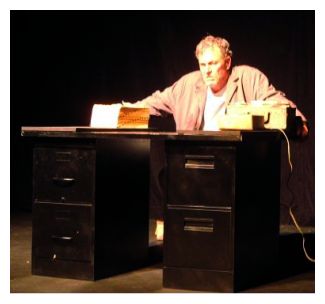 Krapp's Last Tape, which follows, gives Roemer a voice -- two voices, in fact, since the stonily myopic Krapp eventually finds and plays an open-reel tape recording of a voice supposedly his own from 30 years earlier. Aged, stiff, self-vindictive, contemptuous, Krapp listens to his earlier self exulting over a momentous moment of an affair, interrupts the story, returns obsessively to it, dictates a reply, sits frustrated and inept at his desk, a wreck of his former self and an illustration of the long and perilous decline of the body and consciousness.
Ohio Impromptu is the static scene of reading in which Roemer and Keck, dressed and bewigged alike, sit at the same table, mirroring one another in minimal, slow, constrained gesture and posture. Keck reads a nearly incomprehensible narrative. At intervals, Roemer raps the table, a signal that prompts Keck to repeat the beginning of the sentence or paragraph; after a pause, Roemer taps the table as an indication to go on.
The text is a dream narrative in third person of a man who paces, waits, remembers a "dear one," then sees an apparition of a man who comes to read but later disappears. Though written in simple vocabulary, the text is compact, almost incomprehensible. For example: "So the sad tale a last time told they sat on as though turned to stone. Through the single window dawn shed no light. From the street no sound of awakening. Or was it that buried in who knows what thoughts they paid no heed? To light of day. To sound of awakening. What thoughts who knows. Thoughts, no, not thoughts. Profounds of mind. [. . .]"
The narrative ends, "Nothing is left to tell," pronounced and then after a pause, repeated. The reader closes the book. The figures pause. They settle into mirror positions, regarding one another. Allen comes back on, stage left, and resumes his random figures on the electric bass. The lights come up instead of going out, and the audience, uneasy and somewhat alarmed, begins to file out of the playing space. Roemer, Keck, Allen and Beckett's reductionist end-of-the-world tableau remain in front of them as they leave.
Many of those attending the opening presentation were of student age, almost certainly down from Georgetown in response to Theatre Department publicity. I was in the front row and heard someone departing mutter, "That was really strange. . . ."
A Samuel Beckett Cabaret is a nerve-straining, delicious, in-your-face examination of memory, human fraility and theatre itself. You have to know what you're getting into, though, for those seeking easy entertainment, facile interpretation or psychic subtitles are going to find themselves increasingly distressed as the production proceeds. The half-page throwaway program sheet does nothing to warn of the dangers of Beckett's mind or to provide a framework. The program notes do not even mention the dedication of Catastrophe to Vaclav Havel -- a "smoking-gun" clue. No wonder some students were confused.
Beckett's relentless reduction of word, narrative and action poses a formidable challenge to the actors. Roemer and director Stein conquer this with concentration, pantomime, stage business, and a steely dedication to Beckett's silences, so vital to the unwritten message of his texts. There is deep matter here, dark matter. Both attentive spectators and performers can find Beckett defining a phosphorescent trail into undefined darkness.
Recommended.
Comment on the production by Avimaan Syam for the Austin Chronicle, January 27 (256 words)
EXTRA
Click to view the program sheet for A Samuel Beckett Cabaret
---
A Samuel Beckett Cabaret
by Samuel Beckett, arranged by Rick Roemer
FronteraFest
January 19 - January 30, 2011