Review: A Number by Different Stages
by Michael Meigs
The concept of human cloning is profoundly unsettling.

We like the fact each of us is unique. Individuality situates us in the universe and in our own skins. Each of us might fantasize a different reality or our self as a different individual, but we intuit that even those avatars, if realized, would be unique.

The existence of fraternal twins or triplets is nature's benevolent random trick that reinforces our faith in our own individuality. Nature has made each of us.

But suppose that nature took a backseat in the process?

That question was in the air at the turn of the century. Jose Saramago, the 1998 Nobel Prize winner for literature, wrote in his brooding novel O Homen Duplicado (The Double) (2001) of Tertuliano, a dull high school teacher who finds that his inexplicable exact double exists, a discovery leading him into crime in the literary equivalent of a hall of mirrors. In 2002 British playwright Caryl Church wrote this piece, A Number, exploring some of the implications of irresponsible human cloning.

In 2005 scientists at the Roslin Institute in Edinburgh cloned Dolly the sheep, unleashing a lively debate on cloning, in scientific circles, in legislatures and in the popular press.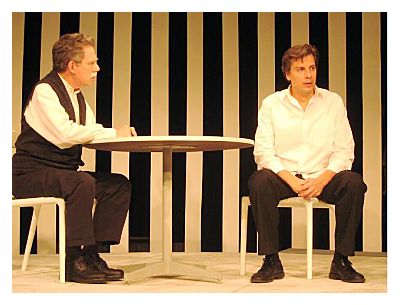 A Number is an intense 60-minute one-act play for two actors -- and four characters. The Different Stages production now at the City Theatre features Norman Blumensaadt and Marc Balester in a match of mendacity, self-seeking, and the multiplication of selves. They play father and son(s). At the opening in a stark soul-less setting reminiscent of a laboratory or a cell, Balester as Bernard the son is stunned, even overwhelmed. During a visit to a medical institute he has just learned that he is anything but unique -- that a now-dead scientist at the institute somehow produced genetic copies of him. Not one; not two; but a number of copies, all of which survived.
Bernard's confusion is palpable. Slater, his father, gets alarmed and gets huffy. "We should go to the lawyers! We should seek damages!" Throughout this scene and those that follow, Churchill's texts are plosive monologues. Ideas and questions rush out out father and son, as each only half-listens to the other.


The father retreats in confusion from the son's questioning, and over the course of the play we hear him attempt several attempts at explanation or analysis, none of which by the end is entirely credible. How did his wife, Bernard's mother, happen to die? Who decided what in this genetic multiplication? And perhaps most importantly, how can Bernard entreat his father with such naive openness, when in every moment we watch him, Slater is consumed with attention only for himself?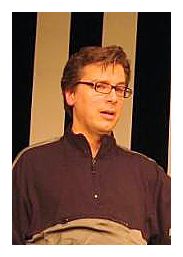 Churchill manipulates the situation deftly, putting Balester as the various offspring through a number of personalities. There's the trusting Bernard, an angry and vengeful one, and a serene but strange variant who appears to have established himself as a teacher of mathematics. Slater the father probes restlessly in each scene, seeking his son in each of these and trying to discover the constants across the personalities. Absence, accident, apparent homicide and genetic tourism succeed one another.

Robert Tolaro's direction makes the most of Caryl's powerful text, pushing forward the ideas in surges and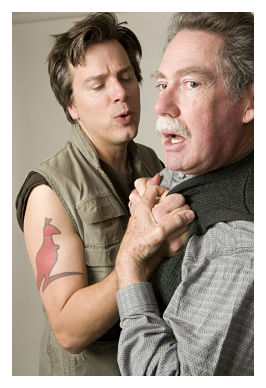 finely calculated rhythms. Blumensaadt as Slater is a walking paradox, a man of mild and fatherly appearance who is revealed to lack sentiment, the quality he most desires to have. Marc Balester makes the most both of the similarities and of the differences among the cloned offspring -- this is not the actor as chameleon but rather a subtle, ductile modulation of one Self.

At the conclusion of the piece the cast and dramaturg C. Denby Swanson invite thoughts and observations from the audience, in an exchange that can provide further, unexpected illumination of the issues.
A Number by Different Stages is deeply satisfying as a demonstration of the actors' art and an invitation to re-examine just what makes us believe that we are human. And that we are, as my mother used to say, "worth saving."


Review by Ryan E. Johnson at Austin.com, May 1: "This is one show that will shatter your perceptions and wake up your brain, so if you're looking for a little intellectual stimulation, it doesn't come much better than this."
Comments by Olin Meadows on May 6 are available at AustinOnStage.com under "News and Features"
Review by Elizabeth Cobbe in the Austin Chronicle of May : "A Number is worth seeing. Bring a friend, in fact. Half the fun is talking about it later."

EXTRA -- Click to view the program for A Number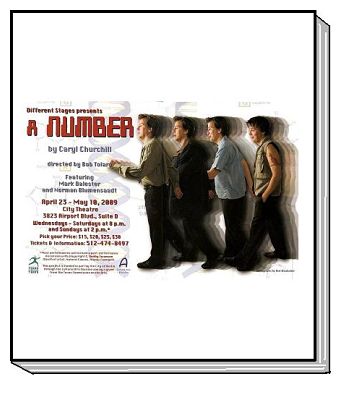 Hits as of 2015 03 01: 3429
---
A Number
by Caryl Churchill
Different Stages