Peter and the Starcatcher, by Zach Theatre
by Michael Meigs
Professional fan-drama has gotten to be a thing in recent years. Wicked, the dreamy adolescent take on The Wizard of Oz, has been the most successful, and the Marvel Comics franchise leaped past the stage right to the big screen.
In 2004 Dave Barry and Ridley Pearson wrote their Peter and the Starcatcher prequel to J.M. Barrie's Peter Pan and followed it with three additional post-prequel/pre-Peter Pan children's books. This theatre adaptation by Rick Elice was done in 2009 in La Jolla, California (the U.S. state of eternal youth), and get ready, folks, Disney's got the rights for the film and Gary Ross (Hunger Games) was announced some time ago to direct it.
Elice's play as directed for the Zach Theatre by Michael Baron aboard the huge deck of the Topfer Stage is an exuberant, rambunctious, noisy boy's slumber party of a production, full of mischief and cheer. The cast is large -- 13, including the two understudies -- and all male, with the honorable and charming exception of Sara Burke as Molly Aster, revealed eventually to be the (singular) Starcatcher in this fantasy. It's 100% Central Texas talent, for J. Robert Moore, imported to play the role as the flamboyant Black 'Stache (destined to become Captain Hook), is a veteran of Texas State University and San Antonio's Classic Theatre. And a welcome ensemble of faces they are, too, with stage credits all around town: the Austin Jewish Repertory Theatre, Austin Playhouse, Capital T Theatre, Different Stages, the Georgetown Palace, the Hyde Park Theatre, Pollyanna Theatre, St. Ed's Mary Moody Northen Theatre, Paradox Players, Penfold Theatre, Summer Stock Austin, Teatro Vivo, Zach Theatre and Zilker Productions, and just to mention only the ones that jump out at me.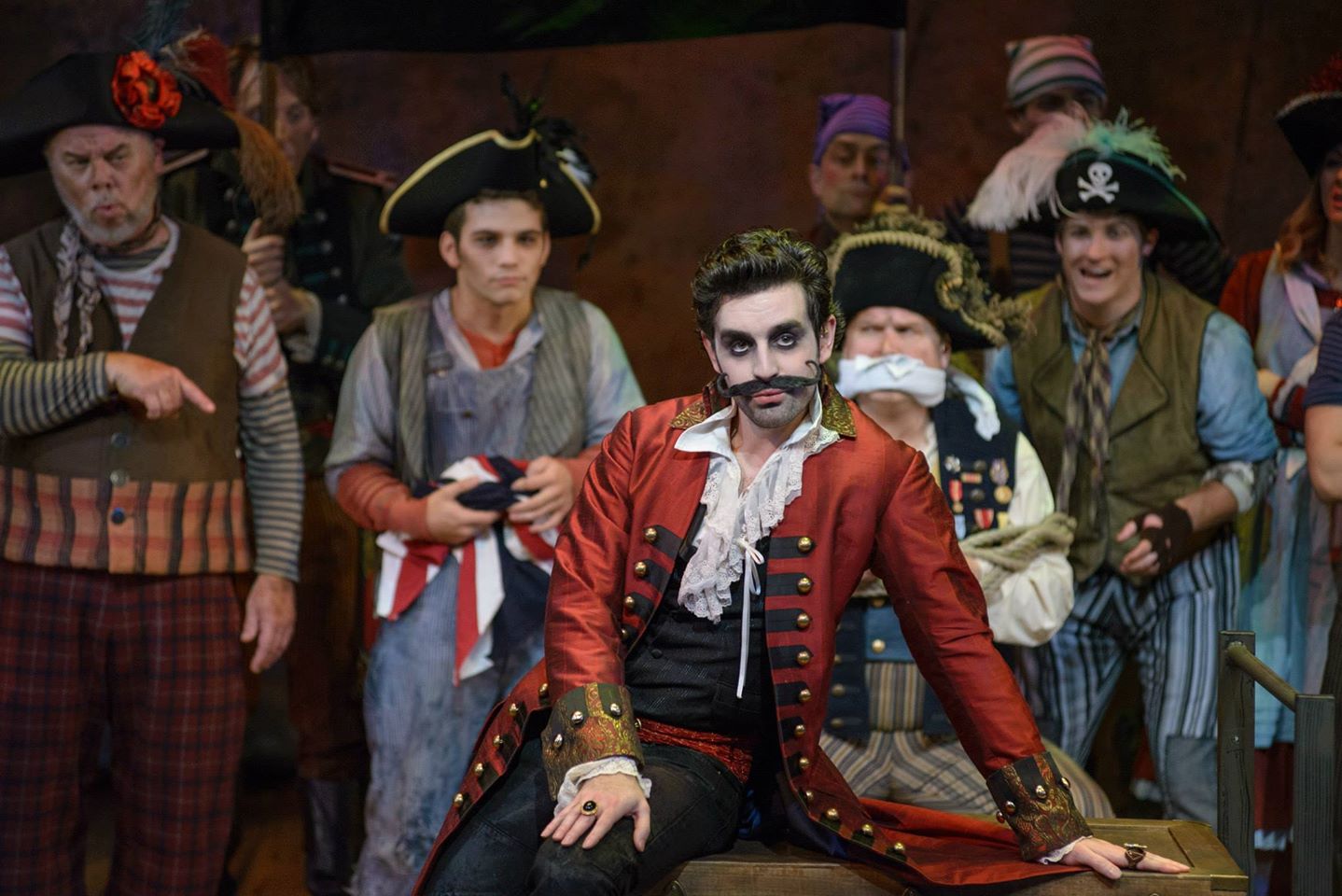 The story's divided into a first-act tale of two nineteenth-century ships sailing to Asia, one of them laden with a mysterious treasure chest and both of them eventually surprised by a band of pirates led by Black 'Stache and his loyal confederate Smee (Toby Minor). The second act is a castaway tale on a Pacific island where nobody dies, Starcatcher Molly (Burke) mothers three lost boys, rapscallions and the righteous contest one another for access to the mysterious treasure, a nameless orphan gets both first name and family name, and 'Stache becomes Captain Hook, deathlessly linked forever with Peter Pan.
Direction and conception evoke the sort of rowdy play-making one might imagine if a dozen pre-teens spent the night at a lock-in after watching Disney's film of Peter Pan. Most of the cast is onstage most of the time, and with a switch of cap or cloak and the brandishing of a length of cloth they transform instantly from one character to another (it's particularly amusing, for example, to see Burke as goody-two-shoes Molly suddenly sporting a black tricorn hat with crossbones, brandishing a cutlass). The show has a fine feast of vivid characters, most prominent of whom are Jamie Goodwin as Molly's father the right righteous Lord Leonard Aster, Tyler Jones as the grime-faced pirate Bill Slank, David Jarrott as Alf the goofily clueless sailor, and Zach music director Allen Robertson as the captured captain of the H.M.S. Neverland. Toby Minor, who also did fight choreography, gives us a Smee with humorous grit and subtle reactions and gesture.
As you might expect for a boy's night out, there's a lot of innocently titillating fun. Not one of the characters onstage appears to have come to grips with adult sexuality, although valiant young Molly in her bossypants way is probably the wisest of them in that aspect. Gender jokes are central to the comedy. Moore as Black 'Stache is a prancing, preening queen in mannerism, although there's never a word about sexuality (except perhaps a veiled implication in the comment about Peter and him being joined for eternity). The ever adorable Martin Burke plays Molly's chaperone Mrs Bumbrake and is confidently old maidish in that role and his voluminous skirts throughout. And catch his star turn in the reveal of Act II as a mermaid to banish forever all thoughts of Esther Williams .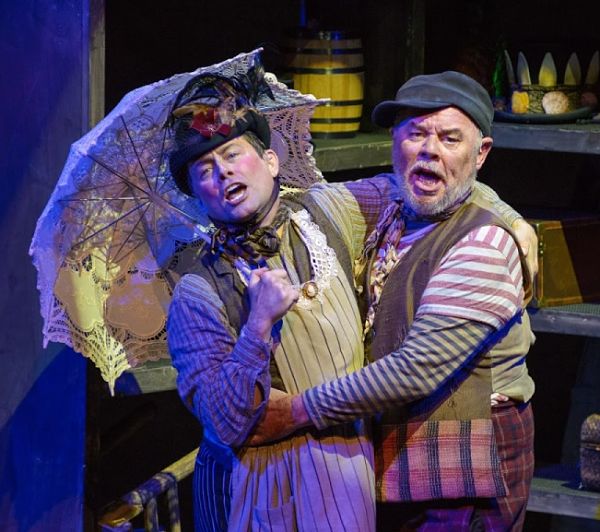 The opening number of Act II is a 30's style choreographic spectacle, a sort of on-acid combination of Disney's Under the Sea and Busby Berkley costume extravaganzas. Most of the guys sport gigantic bosoms within their colorful costumes, and Martin Burke particularly flaunts his pleasure at twirling his tassles. That number is eerily disconnected from the main plot but it's such a comic spectacle that nobody cares.
Special praise goes to Josean Rodriguez, 2014 graduate of St. Ed's, where he did a memorable Tartuffe. The early stages of the plot of Peter and the Starcatcher leave him generally obscured as one of the orphan boys regularly mistreated and dispatched to become zoo food in an obscure Asian kingdom. It quickly becomes evident that as the least of those captives, pushed aside by the others, he's destined for greater things. Rodriguez's presence, voice and visible sensitivity emerge gradually, and the quiet and emotion of his duo scene with Sara Burke at the turning point of the final act are a poignant moment in the noise of the ongoing plot.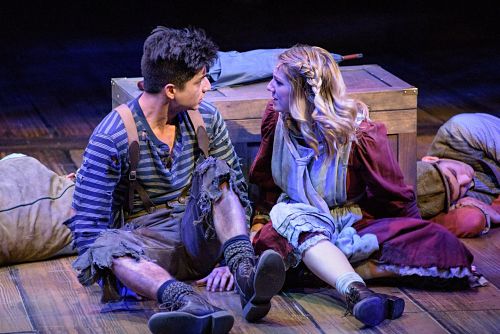 Players are all mic'd up but almost without exception have no need of amplification; that reverb at times makes their lines difficult to catch.
Peter and the Starcatcher is a celebration and a costume riot, full of ingenuity and fun.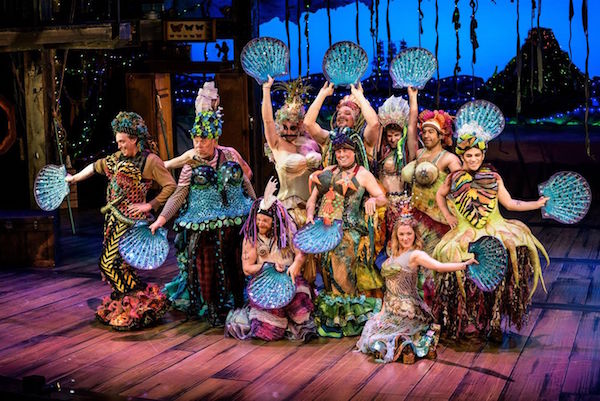 EXTRAS
Click to view the Zach Theatre program for Peter and the Starcatcher
---
Peter and the Starcatcher
by Rick Elice, based on the book by Dave Barry and Ridley Pearson
Zach Theatre
January 28 - March 01, 2015
Wednesdays - Saturdays at 7:30 p.m., Sundays at 2:30 p.m. at Zach's 400-seat Topfer Theatre on S. Lamar at Riverside, Austin.