Review: KOMOREBI by Navaji David Nava and Ventana Ballet
by David Glen Robinson
Ventana Ballet is one of those new advanced ballet companies in our dance-rich town. Along with PerformaDance and Ballet Austin, it pushes the envelope of dance and the meaning of ballet for the fine arts. They try new forms and ideas, unrestrained by the ballet canon. Rarely do they wear toe shoes onstage. At the same time, they insist that what they create is ballet, nothing less, nothing more. Their own acceptance of that seeming contradiction is proven by their recruitment of some of the best trained ballet dancers of this generation. Their colleagues across town, Jennifer Hart, Alexa Capareda, and Steven Mills, cheer them on.
Although they insist their art is ballet, nothing more, in the wider dance universe their art is very much more. All their results on stage are breaths of fresh air that allow us to believe. They give us hope that creativity has returned in full, unblighted by the pandemic and looming threats of yet more Covid variants. While visual artists are paint how depressed they were in Covid times, dance artists are dancing and flying into a future they intend to brighten.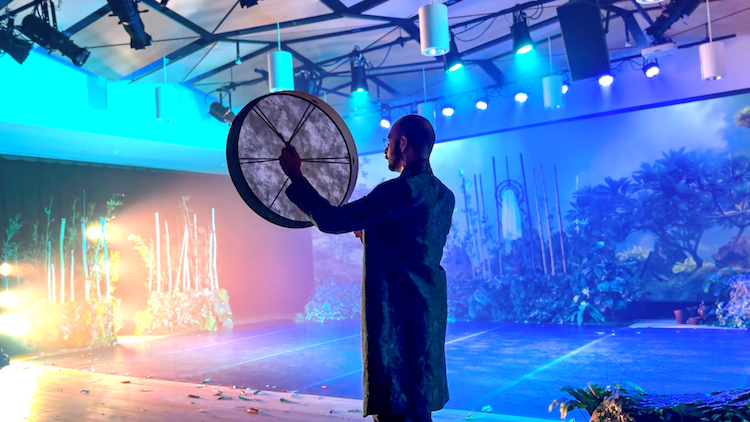 The latest successful effort in this new creative ballet world is Komorebi, a not-quite evening length ballet. The multiform and multimedia show enlivened the Draylen Mason Music Studio upstairs at KMFA's new edifice near Lady Bird Lake. The dance is a composite of theatre ritual, silent acting tropes such as seeking shelter from a storm, joyous greetings of bright new days. The ensemble in socks and the solo passages united it all. The dance cast was as skilled at acting as in ballet technique. Such evenly balanced talent is rare in any company. Visual art coordinated with the performance was displayed in a gallery off the lobby of the studio. The artists were elementary and middle school students of Navaji David Nava, the choreographer.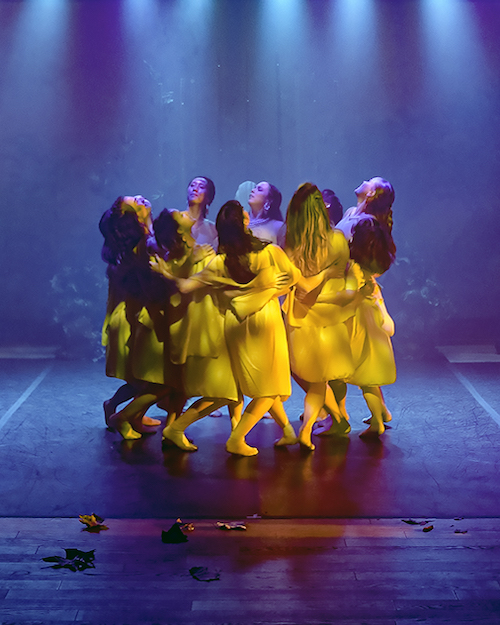 Nava is the personification of his multimedia work. In a few brief interviews before and after the show and at an earlier fundraiser, Nava discussed his background as a choreographer for five years, as well as a visual artist, music arranger, jewelry maker, and fashion designer. Yes, he designed the costumes for the show, dyed sunrise yellow, with distinctive circular veiled headgear doubling as the backdrop installation piece. He designed the highly detailed set to evoke nature indoors, using wood, bamboo, rocks, and living trees courtesy of reforestation concern Tree Folks. Nava had been working on the concept of the complex show from his beginnings in choreography; he created Komorebi over the last three years.
Komorebi is divided into discrete pieces. Like Alexa Capareda's Maria and the Mouse Deer, it draws heavily on world cultures, moving away from the Western Civ themes that created the ballet canon. Here is the creative newness this reviewer has illuminated before. The name "Komorebi "is Japanese for, approximately, "sunlight leaking through trees." The title establishes the theme of refuge and renewal, the return of brightness and hope. The performance starts with a sound journey composed by Vanush Von Love and Navaji David Nava. The show takes us through a storm, the night, and the dawn of a new day. The titles of the sections are from the traditions of Hindu yoga, Japan, Finland, Portugal, and ancient Greece. The lighting design kept everything on track; kudos to Kendra Wiley.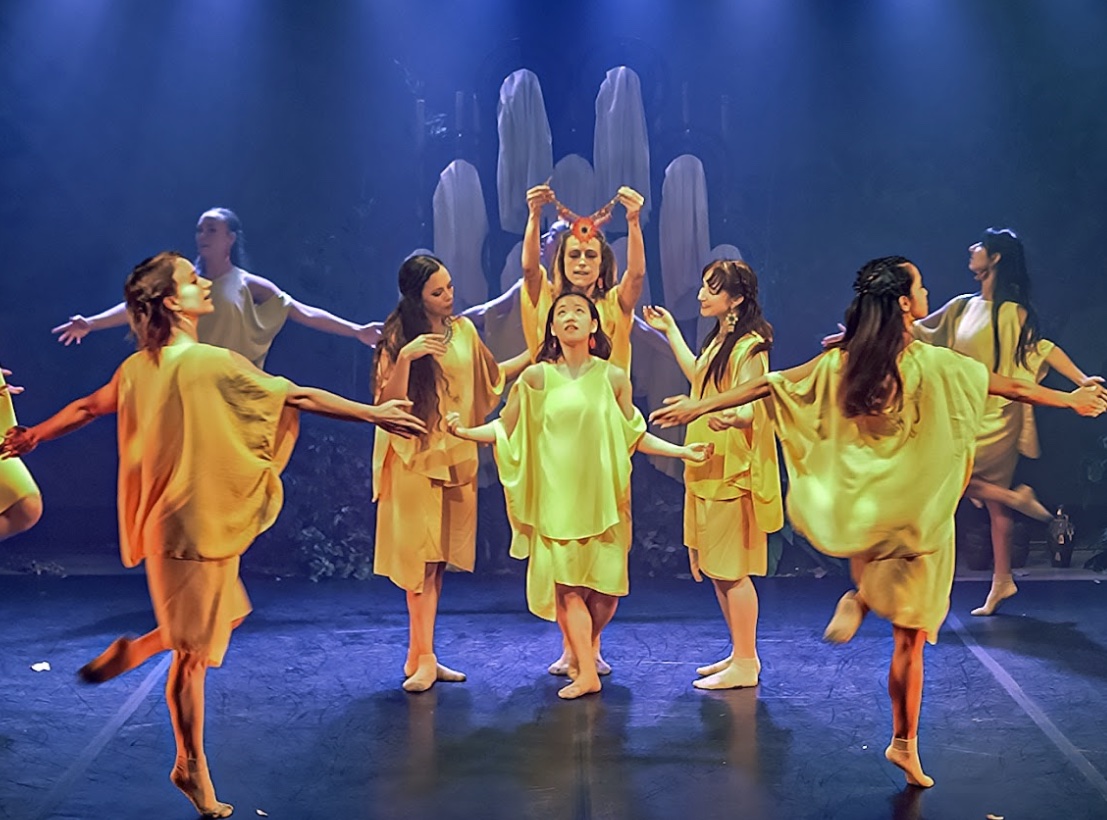 But what about the dance, you say? It altogether possessed the intense beauty that makes ballet so beloved of so many. The impossibly perfect ensemble work was uplifting, and Nava and Ventana treated us to several sequences of it in the group. Ventana Ballet's Director AJ Garcia-Rameau and its Artistic Advisor Dorothy O'Shea Overbey each had transcendent solos.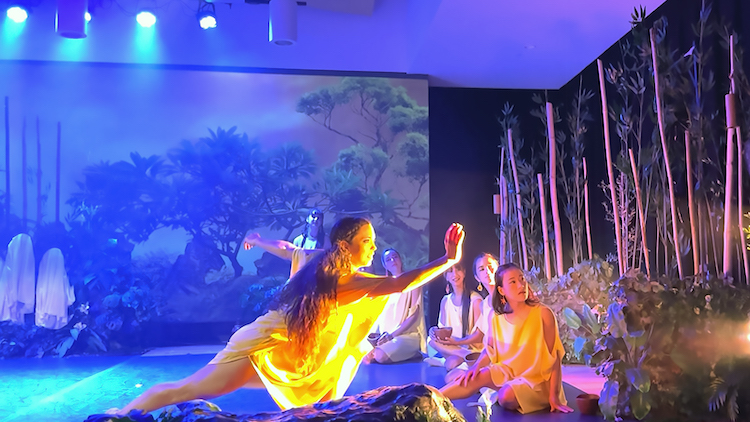 One phrase by Garcia-Rameau reminded us that this is alt-ballet. She descended to the floor, resting on her knees, her trunk and head bent over like a child playing leapfrog. She rolled fluidly to the right, returning to her knees. She performed the same sideways rollover. Floorwork featuring the knees and shins is not done in classical ballet, but Garcia-Rameau owned it as a virtuosic creative expression. Overbey blended silent acting shapes with explosive ballet phrases in a solo of "determination, perseverance, and acting rationally in the face of adversity," to quote the program. As always, Overbey's perfect technique makes her dances look easy, as if arising naturally from within.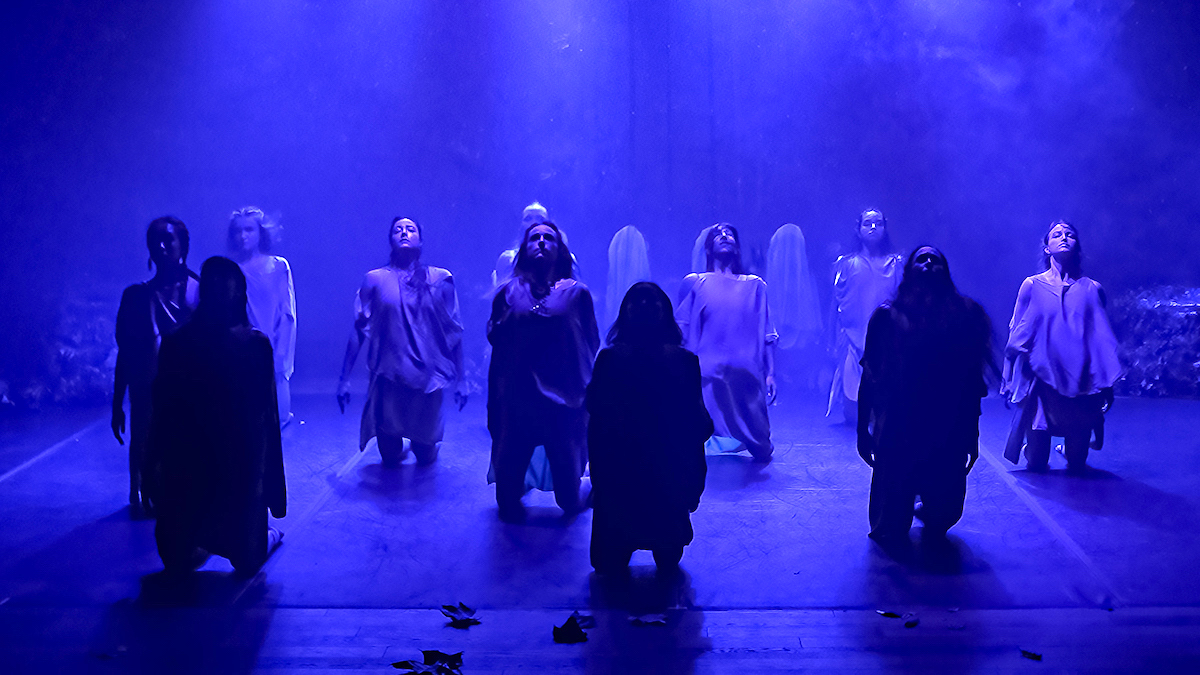 One section, "Pralaya—The Silence," was indeed largely silent. The audience was cued in the curtain speech to honor the quiet, and that request worked perfectly. The silence was its own form of sensual, beautiful, deafening counter-music to all that had come before. Not since Depeche Mode's 1990 song "Enjoy the Silence" has silence been incorporated as its own form of performance and a sound type. Fans know the song for its longish silence at the end of the music, the bridge if you will, punctuated by the sound of a single water droplet falling into a cavern pool. Commercial radio stations invariably cut off the designed silence because silence is the one thing they hate, terming it "dead air." Their loss.
"Pralaya" was as profound as John Cage's 1952 work "4'33."
The entire cast performed beautifully, as mentioned, well-matched high talents performing with joyous faces. They were Rachel Cox Culver, Kanami Nakabayashi (both soloists), Rachael Hanlon, Tikiri Shapiro, Mia Moi, Caroline Jones, Jessica Siclari, Fay Leonard, and Veronica Boccardo. They became the art, born Athena-like from Nava's imagination.
In the end, Komorebi stamped us with the expansiveness of Nava's spiritual journey. We were witnesses to the growing gentle brilliance of this multi-talented choreographer. He is grateful, too, for the fortune of having the resources of Ventana Ballet's trained dancers and the First Street Studio venue for rehearsals, classes, and fundraisers. Garcia-Rameau and Overbey are the co-leaders of the fine-arts enterprise. We hope to see more soon of Nava's work and look forward all shows by Ventana Ballet. These are auspicious times for the dance community. Monitor your social media and CTXLiveTheatre.com for news about these gifted artists and their offerings.
---
Komorebi
by Navaji David Nava
Ventana Ballet
Thursday-Saturday,
September 21 - September 23, 2023
5 performances
September 21, 2023
Opening Night Celebration.
Doors open at 7 pm. Show at 7:30 pm.
Post-show artist talk-back and reception to follow.
September 22 + 23, 2023
Two shows per evening:
Show 1 — 6 pm Doors, Open Bar, & Youth Art Show; 6:30 pm Show
Show 2 — 8 pm Doors, Open Bar, & Youth Art Show; 8:30 pm Show
* KIDS SHOW*
*Please note there will also be a special interactive kids showing at 1 pm on September 23. Those tickets will be sold separately. Ticket link coming soon!
KMFA Draylen Mason Music Studio
Austin, Texas