Review: The Sound of Music by Zach Theatre
by Michael Meigs
Austin's Zach Theatre needed a big one to bust free of the COVID oppression that harmed this and other venues, and Dave Steakley has delivered handsomely.
Who doesn't know The Sound of Music, the 1959 Rodgers and Hammerstein musical that garnered an armload of Tony awards and was the basis of the 1963 film that swept the Oscars?
Steakley's challenge: use that familiar material but make it new. He succeeds with an innovative staging concept and sparkling cast; he mostly succeeds in tying fraught pre-Anschluss Austria to today's beleaguered, maybe post-Trump United States.
The first magical trick is the design concept realized by Stephanie Bussing by taking full advantage of the depth of the Topfer Stage. The principal acting area is at deep center, for virtually all the visible stage area, including the apron and closest rows of seats, have been converted into a beer garden with three ranks of table seating. Music director Allen Robertson sits at a keyboard situated at the base of an artfully constructed huge tree and presides as jovial concertmaster over the band arrayed on either side of him. An all-purpose stair descends around the tree to Robertson's piano, which serves as a platform, and then to the floor of the stage.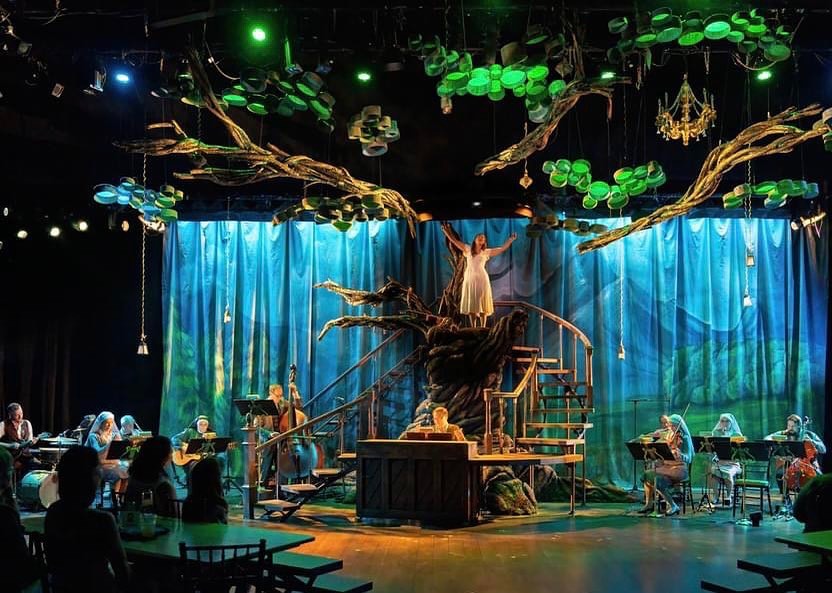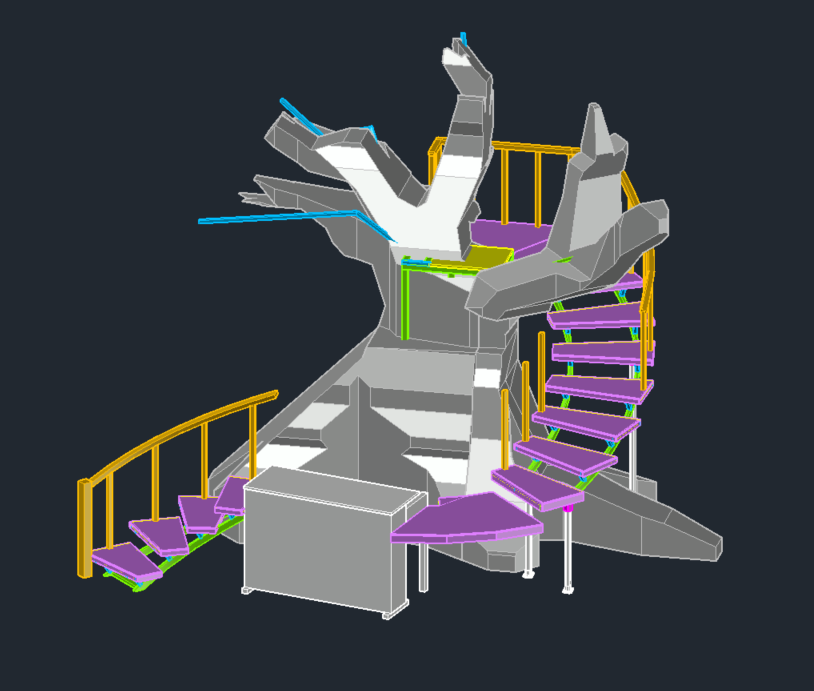 If you're a forward-row addict, as I am, you will want to splash out the extra to get a place either in the front rank (situated left and right behind the proscenium and visible in the photo above) or in the second or third, from which the view is approximately that shown in Suzanne Cordeiro's show photography. Oh, and you'll have access to your own cash bar at deep stage left, less crowded than the one in the lobby.
Otherwise, you'll find yourself at considerable distance from the action. That's not a great disadvantage, for the Topfer sightlines are excellent, sound engineering is professional, and at times the actors move out into the second rank/apron stage or even up into the aisles of the main house.
Robertson and the band do a rousing warm-up session, solidly anchoring the beer garden concept, even including audience-participation yodeling led with a sly grin by band member Kent Lewis (bass, accordian, and cornet). Lots of oom-pah and jollity may keep quelled your impatience while waiting for the familiar show to begin.
When it does, you'll receive a series of pleasant surprises. Not from the familiar plot, but rather from the fact that those talented musicians are actors and singers as well, stepping forth and sometimes changing costumes to participate in the story. Lewis is particularly notable as Fritz, the major domo; guitarist Alexa Holland (aka Lex Land) is an impressive Mother Abbess; trumpeter Katie Horner becomes a demure nun concerned about Maria, matched by violinist Selene Klasner, who later changes chameleon-like into von Trapp's executive assistant Frau Schmidt.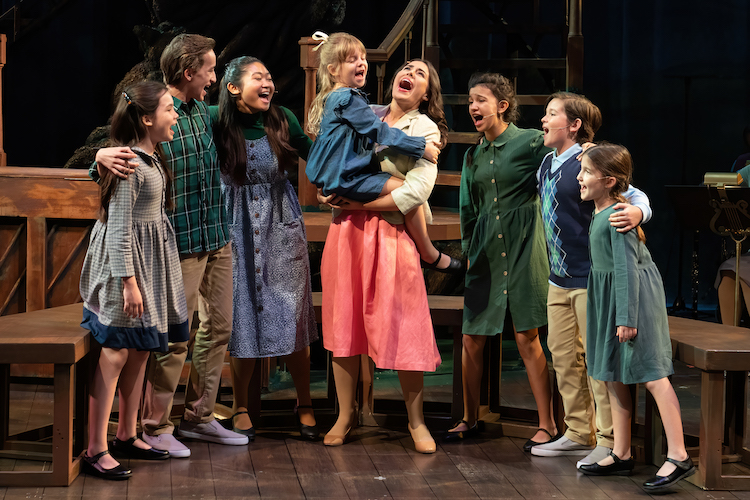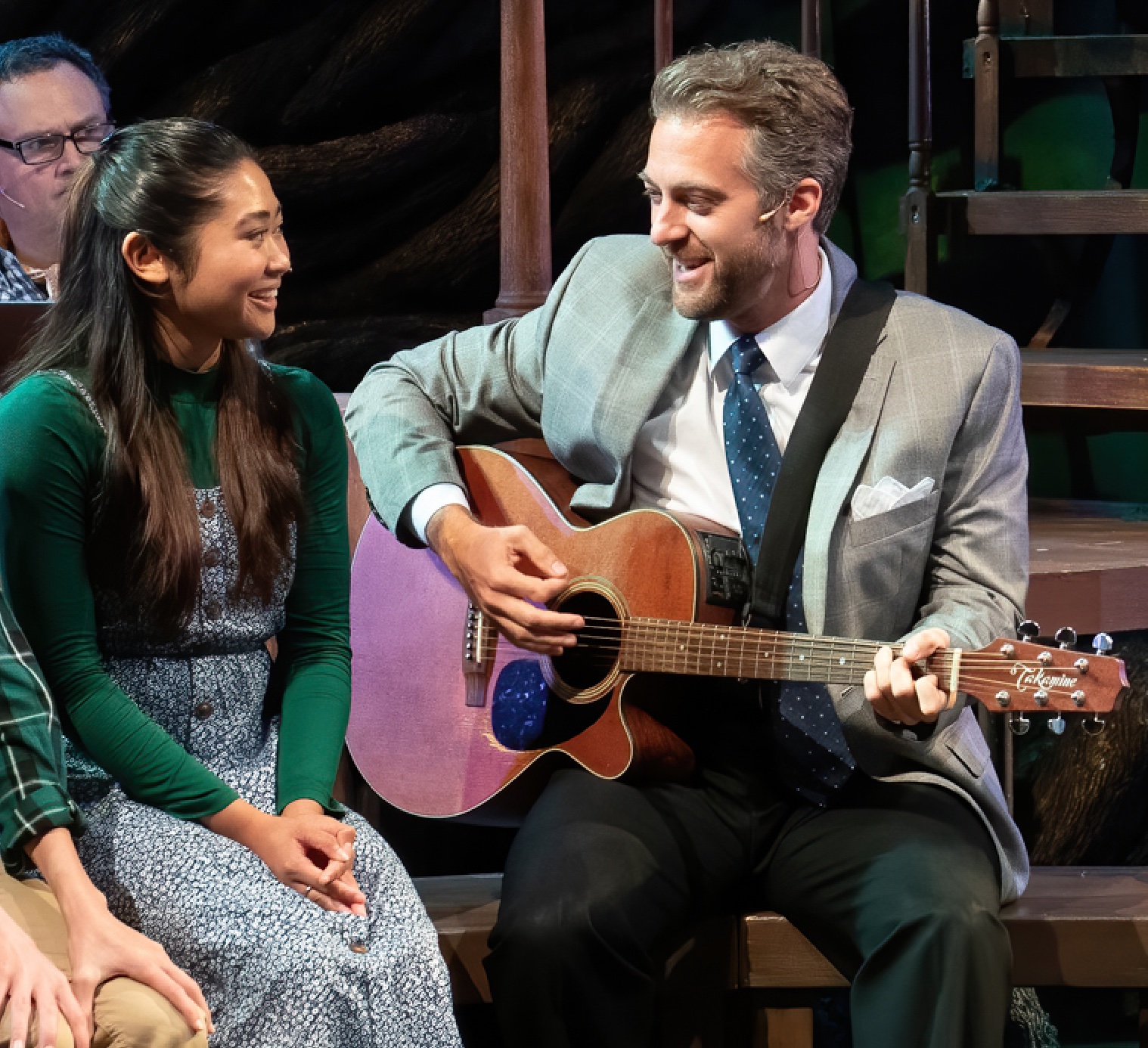 Imported talent is of predictably high quality. The first act belongs firmly to the lively, comely Amanda Rivera as Maria. The lilt of her faint Puerto Rican accent is spot-on for this 21st-century reimagining (nothing more natural for a Catholic postulant these days), and her conquest of the children's hearts is entirely believable.
Trevor Martin has played Captain von Trapp before, according to his bio, and he'll be doing the role again soon for Broadway in Asia. He's a remarkable contrast to the stiff Christopher Plummer of the 1963 film. Martin is suitably stiff of demeanor in the first act, but in the second, he telegraphs the captain's increasing confusion and misgivings with the subtlest of facial signals (as read from our seats on the stage apron). The near-finale number "Edelweiss" as performed at a festival flanked by swastika flags is a heart-breaker, especially for his careful avoidance of bathos.

The children's roles are double cast, and we were fortunate to see the same young actors shown in Cordeiro's photos. These are serious performers, entirely capable. Once again, the director avoids "cute" for "sincere," and that technique works. Smallest of them all, Camille Bergmann particularly stands out for her plucky determination to get those moves just right. Teenagers Liesl (the gifted Francene Bayola) and her would-be beau Rolf (Tyler Hecht) work all performances.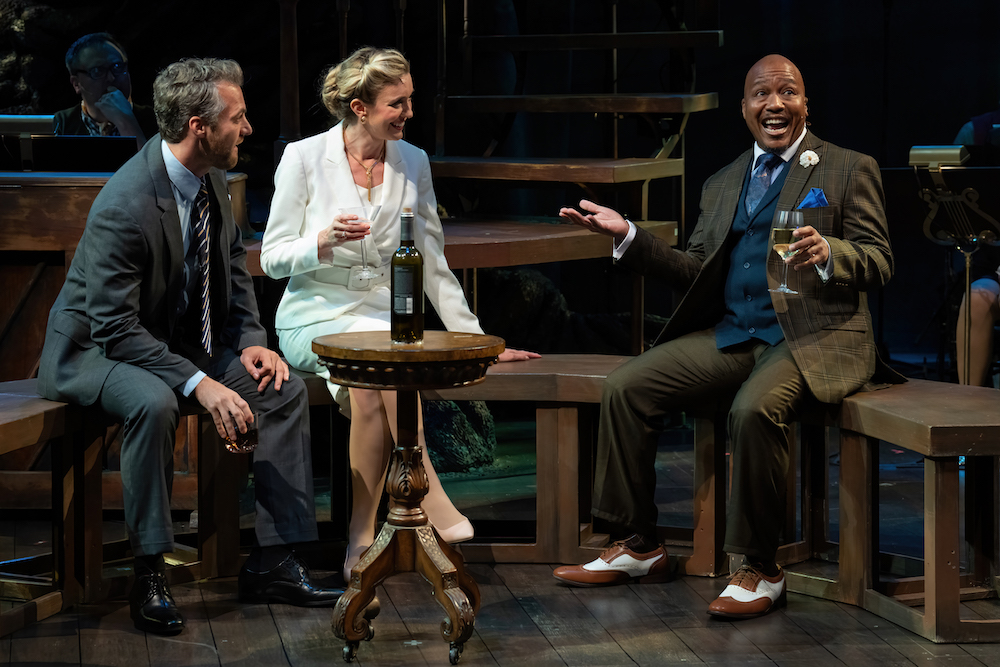 Zach regulars appear: Kenny Williams as Max Detweiler, so an on-the-make African American replaces the Jewish promoter, and Jill Blackwood (clarinetist and saxophonist!) as wealthy Baroness Elsa Schrader, courted by the captain. Blackwood's tailored white two-piece outfit subtly evokes Ivanka Trump. Williams and Blackwood join Trevor Martin in two striking numbers omitted from the film. "How Can Love Survive" speaks of the difficulties of the very rich; in "No Way to Stop It" Max and Elsa advocate the gray world of collaboration: "You dear attractive dewy-eyed idealist,/ Today you have to learn to be a realist./You may be bent on doing deeds of derring-do,/But up against a shark, what can a herring do?/ Be wise, compromise./Compromise, and be wise!/Let them think you're on their side, be noncommittal." Neither of these wryly cynical numbers fit the mindset of the pre-1968 United States; the art of our own times embraced such irony long ago.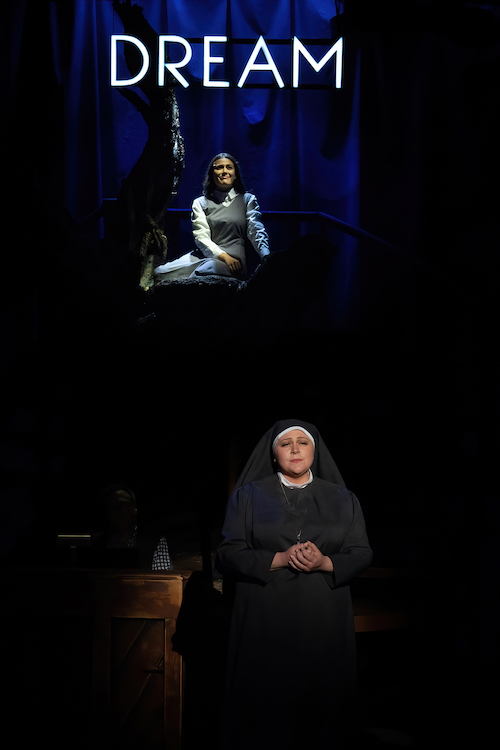 Which brings us to Nazis and fascists and idealists, authentic ethnicity vs. racism, and authoritarianism. Steakley's allusions to those themes play mighty well in Austin but would have rocky going in, say, Fort Worth, where all those billboards were upproclaiming Ted Cruz "Tough as Texas."
That red tie on the local Nazi official? Cheap shot.
The neon sign "DREAM"the echoing Act I finale "Climb Every Mountain" ("till you find your dream") -- maybe, but pretty crass to then light up another couple of letters during intermission to make it read DREAMER.
Really effective: the masked mob that emerges from the darkened wing carrying torches as they hunt for the von Trapps was a virtually perfect evocation of those white nationalists marching in Charlottesville.
EXTRAS
Click to view Zach Theatre's online program for The Sound of Music
Click to view the program for The Sound of Music distributed in the theatre.
---
The Sound of Music
by Rodgers and Hammerstein
Zach Theatre
Tuesdays-Sundays,
June 15 - July 24, 2022
June 15 - July 24, 2022
ZACH360 in The Topfer Theatre
Tickets $25 - $95, available online HERE
COVID PROTOCOLS AND HEALTH AND SAFETY:
Though masks are optional at ZACH Theatre at this time, wearing a high-quality mask (KF94, KN95, or better) is encouraged as it can provide individuals with additional protection.
The health and safety of our ZACH family has always been our first priority, and we will continue to monitor risk levels in Austin and update our policies in accordance with CDC and Austin Public Health guidelines.
Find a complete list of ZACH's Health & Safety commitments, please visit zachtheatre.org/healthandsafety.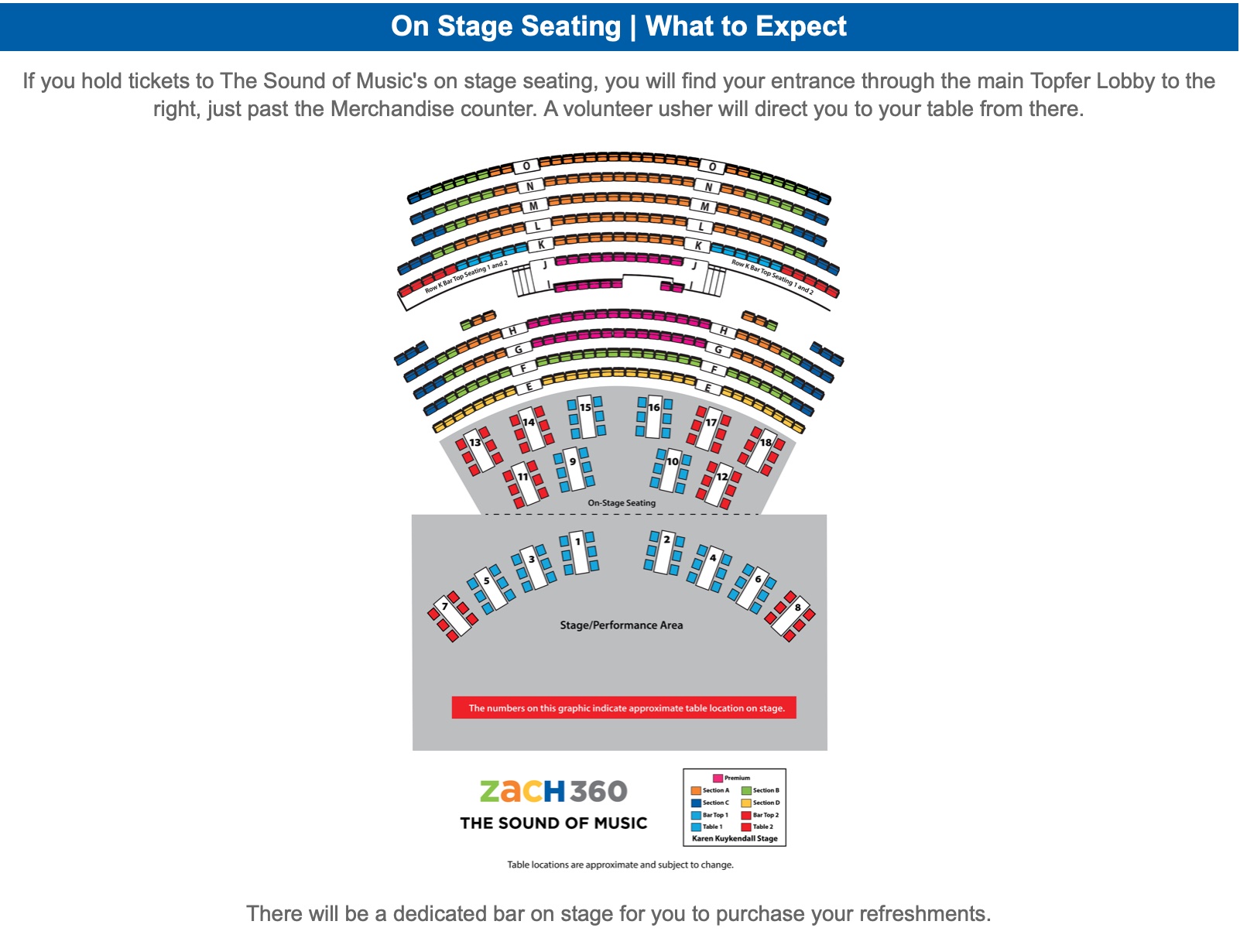 TICKETING AND MEMBERSHIPS:
Tickets are available online at zachtheatre.org, by phone at 512-476-0541 Tuesday through Friday, 12–5 p.m. Free, short term and convenient parking available at the front entrance. ZACH Theatre is wheelchair accessible. Student Rush Tickets are $18 one hour before show time (with valid ID). A limited amount of Pay–What–You–Will tickets are available the day of for Mainstage preview performances only. Groups of 8 or more may request reservations by calling 512-476-0594 x3 or by emailing groupsales@zachtheatre.org.