Review: Somebody Loves You, Mr. Hatch by Zach Theatre
by Michael Meigs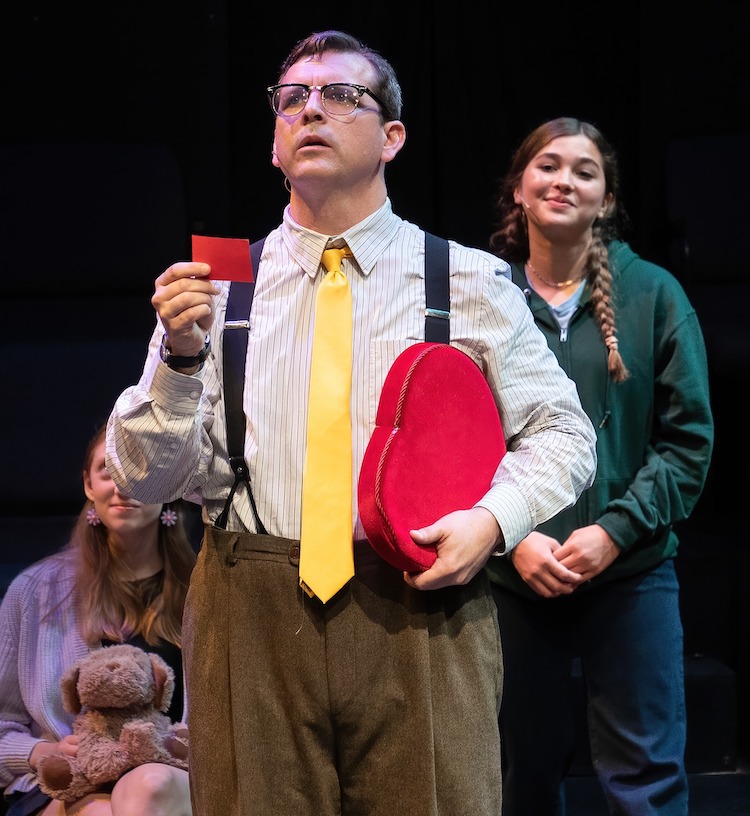 Allen Robertson has delivered a gentle miracle at the Zach Theatre with his adaptation of Eileen Spinelli's 1991 picture book Somebody Loves You, Mr. Hatch. Three well-known and admired adult actors are matched by the lively young character Melanie Todd, played by a rotation of three young women from Zach's theatre program.
The production takes places in the Kleberg Theatre, configured as a theatre-in-the-square, around which the audience find themselves up close and personal. Watch as the spectators file in; you'll see jovial Paul Sanchez, warm-hearted Amber Quick and the "Melanie" of the performance chatting with the kids and their parents (or, often, grandparents), establishing rapport and getting names. Robertson's blocking includes a maximum of cheerful interaction, especially with the forward rows, so that spectators rapidly become participants.
Spinelli's picture book tells the story of a lonely man, Mr. Hatch, methodical and morose, alone in the world. Young "Melanie," our narrator, wonders about Hatch's set routines and his obvious unhappiness. We watch him stuck in his groove—rising always at the same hour, departing for his tedious job with a stop on the way for the newspaper, always going to buy the same sandwich for his dreary lunch. Through a fortunate accident, the titular character receives an unexpected gift through the mail, delivered by "Mrs. Goober" (an adult pulled from the audience). The big red heart with the mysteriously unsigned message of love proves the catalyst that gradually melts Mr. Hatch's frozen heart, and we in the audience rejoice and join in that revival. Director/ composer Robertson blends music, song, and audience participation into the story, achieving a sweetness in the revival of a despondent life.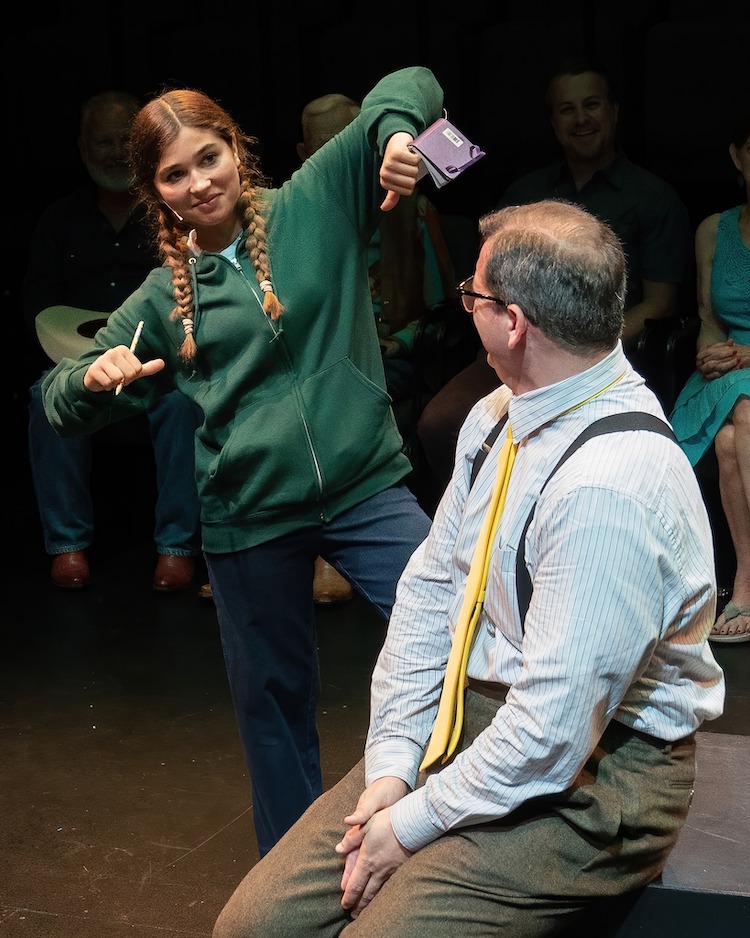 One particular attraction, particularly for the family audiences for which this story is crafted, is a clever reversal of roles. As children, we are ever encountering adults who know better, who correct us, who urge us to perform differently; here, it's "Melanie Todd" the narrator who tells the story, addresses the audience, and becomes the coach and encourager to the adult. The Melanie role is a plum for any young actor, and Lila Gonzalez, with whom we lived Mr. Hatch's story, was perky eloquent, whimsical, and entirely self-assured, the very picture of a young person in charge of her own world.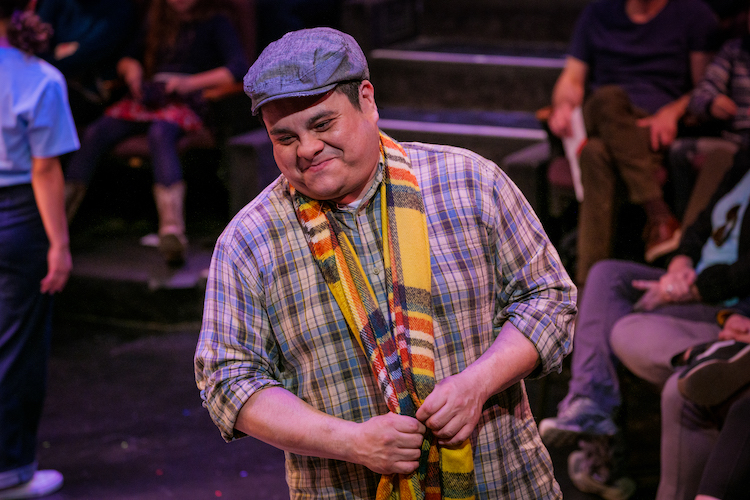 And what a trio of adults! Paul Sanchez is a fine, funny, and winning character actor (that beautiful tenor voice of his supports the music but never dominates). Amber Quick's empathy and open nature make us like her immediately, and her tender emotions when dealing with her daughter Melanie the narrator increase our sympathy for her. And then there's Mr. Hatch.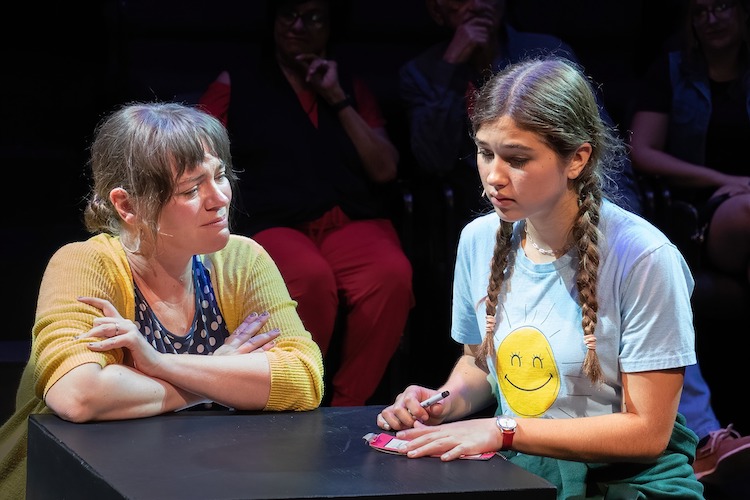 Nathan Jerkins, co-founder a dozen years ago of Penfold Theatre, is familiar as an energetic, comic, and decisive actor, both for his own company and for others, such as the Hidden Room and Austin Shakespeare (I still cherish his 2010 portrayal in The Tempest of the drunken butler Stephano). In this staging that persona disappears. Mr. Hatch is lonely, inhibited, reticent, and afraid; he survives through a routine that is almost ritual, rising at the same hour, departing to work with a stop for the newspaper (no idle chatter with Sanchez as the news agent), stopping at the grocery for the same sandwich at lunchtime (not an extra word for Quick as the shopkeeper). He proceeds in careful, guarded motions; his voice is hesitant and his replies are short. It's a reversal of impressive scope, one that creates by careful omission a character we'd really like to encourage with a big hug.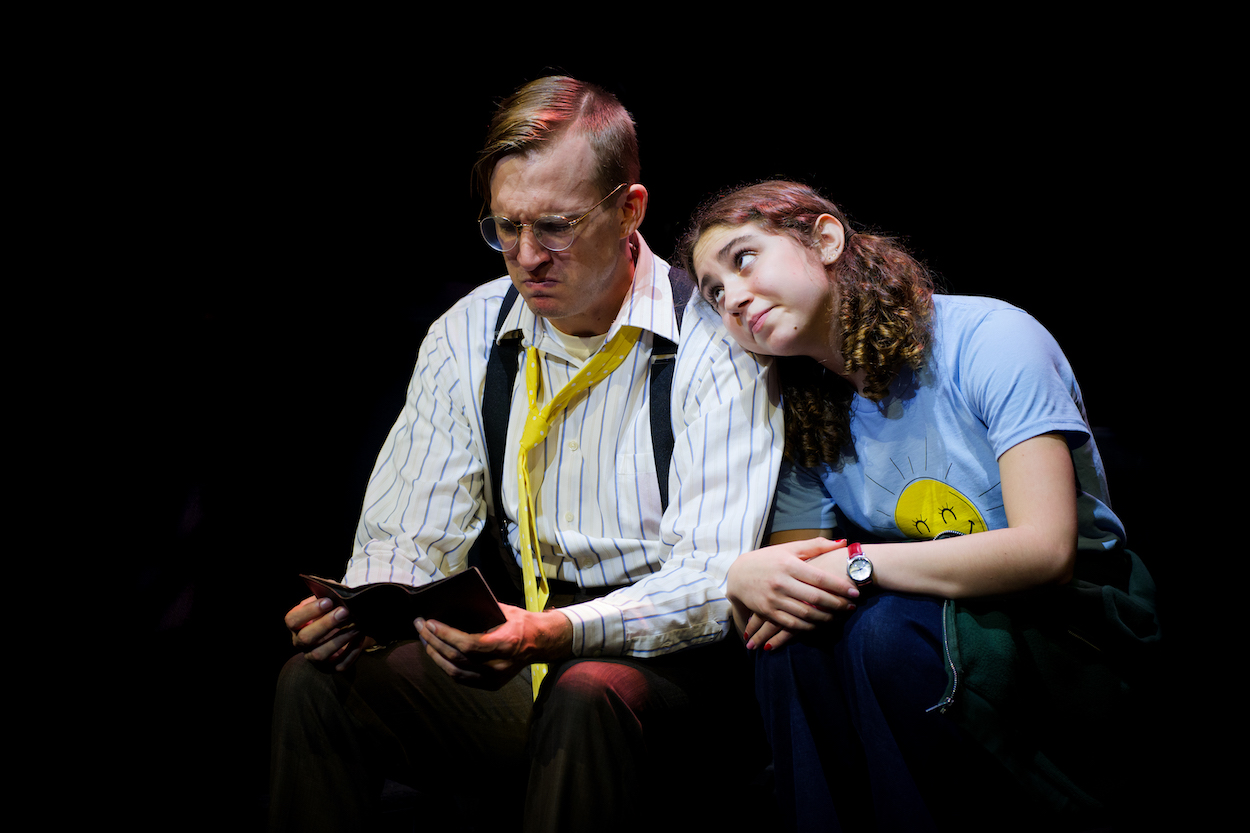 Robertson's music and direction bring the audience entirely into the story. Simple things are victories—baking brownies, responding to the news agent, choosing a different sandwich from Mrs. Todd's assortment. And there's a glorious moment when Jerkins/Hatch picks up a harmonica and releases his soul. When Hatch emerges, he's no superman, but he's our Mr. Hatch (no first name here!), and we feel that we've all reached out and gathered him into our family.
EXTRA
Click to view activities sheet & program for SOMEBODY LOVES YOU, MR. HATCH
---
Somebody Loves You, Mr. Hatch
by Allen Robertson, adapted from a story by Lisa Spinelli
Zach Theatre
Saturdays,
April 26 - May 22, 2022
April 26–May 22 2022
The Whisenhunt at ZACH | 1510 Toomey Rd. | Austin, TX | 78704
Tickets start at $15 (Youth) and $21 (Adult) at ZACH's box office - (512) 476-0541 x1, zachtheatre.org
The first school performance will be on Tuesday, April 26, 2022 and opening night for the public is Friday, April 29, 2022. Performances will be weekly on Tuesday through Sunday.
Matinee performances will be at 10 a.m. and 12:00 p.m. on Tuesday through Friday.
Evening performances will be Fridays at 7:00 p.m., Saturdays and Sundays at 2:00 p.m.
Special Events in celebration of Somebody Loves You, Mr. Hatch:
ASL Interpreted Performance – Sunday, May 8, 2022 at 2:00 p.m.
Sensory Friendly Performance – Saturday, May 14, 2022 at 11:00 a.m