Review: ¡Estar Guars! by Latino Comedy Project
by Justin M. West
Just in case you're the type who reads only the first paragraph to get the gist, then let me put it all above the fold for you: This show is damn funny! Its acerbic wit is wild yet on-point and just as relevant now as in 2019 at the Ground Floor Theatre. Maybe a bit more so. Buy a ticket and go see it. Period. And bring a conservative friend. Make 'em squirm.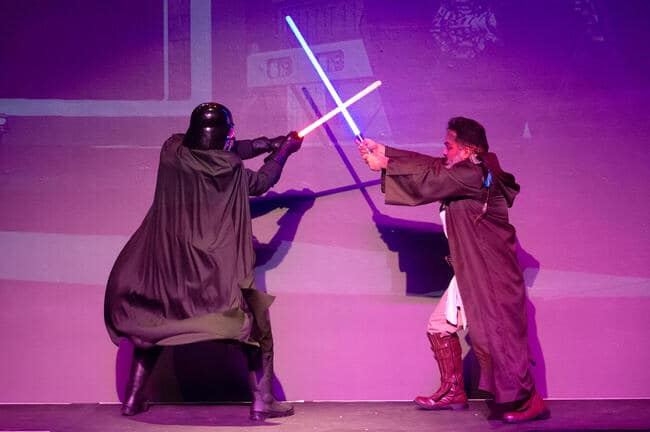 I wasn't exactly sure what to expect from the Latino Comedy Project's Estar Guars! I was excited to be reviewing a show for only the second time since The End of the World began and downright elated to be there without a mask. No fussing about vaccination cards or what have you. I just went to see a show, and that alone was worth it. It was an unexpected bonus to find myself at the opening night of one of the funniest live shows I've ever seen.
Writer/director Adrian Villegas uses the most popular franchise of our time as a backdrop for witty, biting criticism that pulls no punches and spares no targets. Mind you, this is no mere formulaic lampooning of Star Wars. Villegas dives into truly dicey territory by changing the story and its tropes to fit the picture he intends to paint. If that notion scares you, if you find yourself wondering what he might do with the all-exalted S.W. Canon, don't worry. You're in safe hands. Villegas will address your concerns quite directly and win your trust very early on.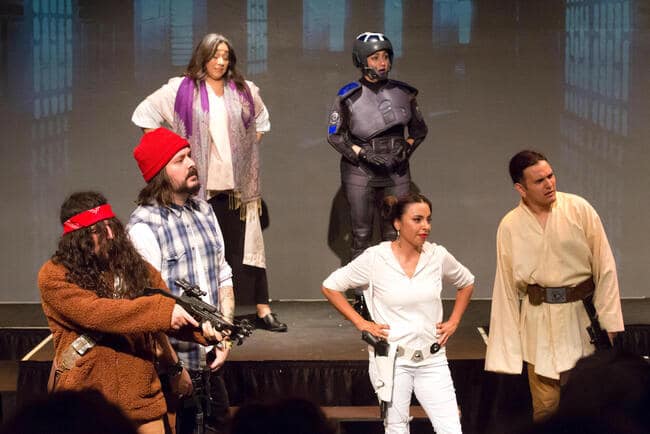 This show isn't only a crisp, deftly-executed rebuke of the ills of America's current political and social paradigms either, though It is definitely that. It's a damn shame those haven't changed much in the last three years - but Estar Guars! is also a rallying cry to to keep fighting and never give up hope.
Estar Guars! is the very exemplification of lightning in a bottle. Villegas showcases his evident love of the Star Wars universe while carefully leveraging creative license to make a point. Well, not a point, a whole bunch of them, and not just those you'd expect. Estar Guars! is primarily a veilless allegory for our times that will have you laughing as you cry on the inside.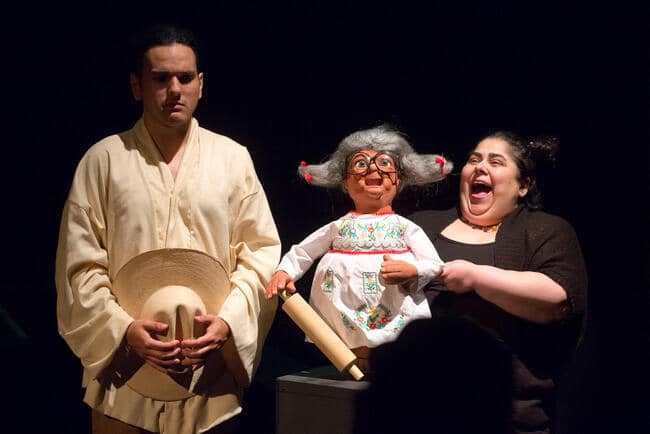 The entire cast gives outstanding performances, and a few are particularly memorable. Eva McQuade exudes sincerity and bravado, making us forget that Yola is, in fact, a chancla-wielding puppet. How they managed to get the chancla to levitate by itself across the stage I'll never know, though I'm told it has something to do with John Johnston's hilarious and expertly-timed performance as Green Suit Guy.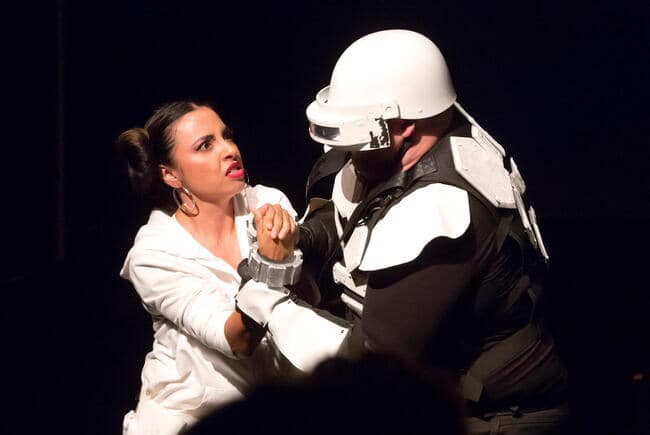 Nick Walker plays a certain orange-skinned leader (The Emperor), as well as a fanboy (we all know one or two), and he's so very on the money with both that it's really hard to like the guy. Thelma Rosana as R2Me2 nails every note and has the entire audience in stitches. The ICE Troopers (Joseph Dailey & Beau Paul) manage to steal every scene they're in. They wouldn't seem a bit out of place in a Mel Brooks film.
Villegas himself sells Jorge Lucas so well that it'd probably piss the real George Lucas off, and his lively performance as Tio Juan Kenobi had the audience rolling.
Of course, it's Villegas' amazing script and wonderful direction that give all these actors something to really run with. The performances have room to breathe, and the comedy is timed impeccably. But it's more than just the jokes - and there are a lot of them - that make this show worthwhile. It's the view into the culture of America that, while funny, you really wish weren't true. It's almost painful that this show had to be made. I'm glad it was, and I'm especially glad that it wasby this cast and crew, because I just can't imagine it having been done any better. Bravo.
---
¡Estar Guars!
by Adrian Villegas
Latino Comedy Project
Wednesdays-Sundays,
April 28 - May 08, 2022
April 28 - May 8, 2022
Wednesdays - Saturdays at 8 p.m., Sundays at 5 p.m.
Emma S. Barrientos Mexican-American Cultural Center
Tickets $22.50, available via Eventbrite HERE