Review: The Lion King by touring company
by Brian Paul Scipione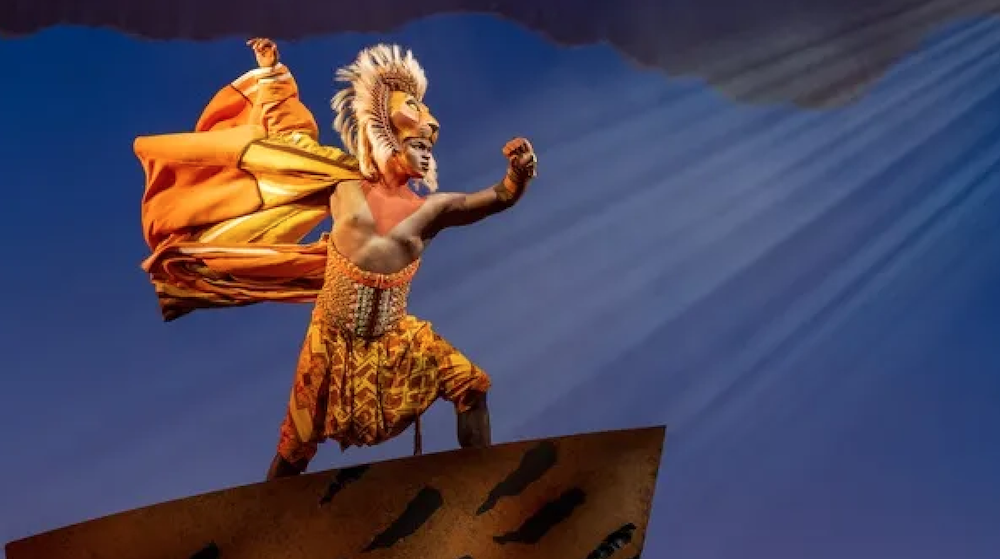 The Lion King really needs no introduction. The original, a 1994 animated film, was an enormous success both domestically and internationally. Featuring songs by Elton John and lyricist Tim Rice and a musical score by Hans Zimmer, it was released during a time known as the Disney Renaissance. The voicework was done by an all-star cast including Matthew Broderick, James Earl Jones, Jeremy Irons, Nathan Lane, Rowan Atkinson, and Whoopi Goldberg.
Yet although it was such a monster hit (at the time it was second-highest grossing film of all time), I have never seen it. I am fully aware of its hits songs and the iconic moments, including both the birth of Simba and the death of his father. I know that the story is supposedly influenced by the Biblical accounts of Joseph and Moses and by Shakespeare's Hamlet.
These "influences" are rather minute. The plot lines are somewhat similar, but the characters are remarkedly different. In truth the entire story of The Lion King is very straightforward and remarkably brief. Simba's coming of age is interrupted by the murder of his father, and he reacts by running away to the desert and chumming around with some simple-minded but well-meaning friends. He finally r
Overall, it is a light-hearted romp, well-designed for kids (and the kids within adults) and as far as that goes, it is a complete runaway hit.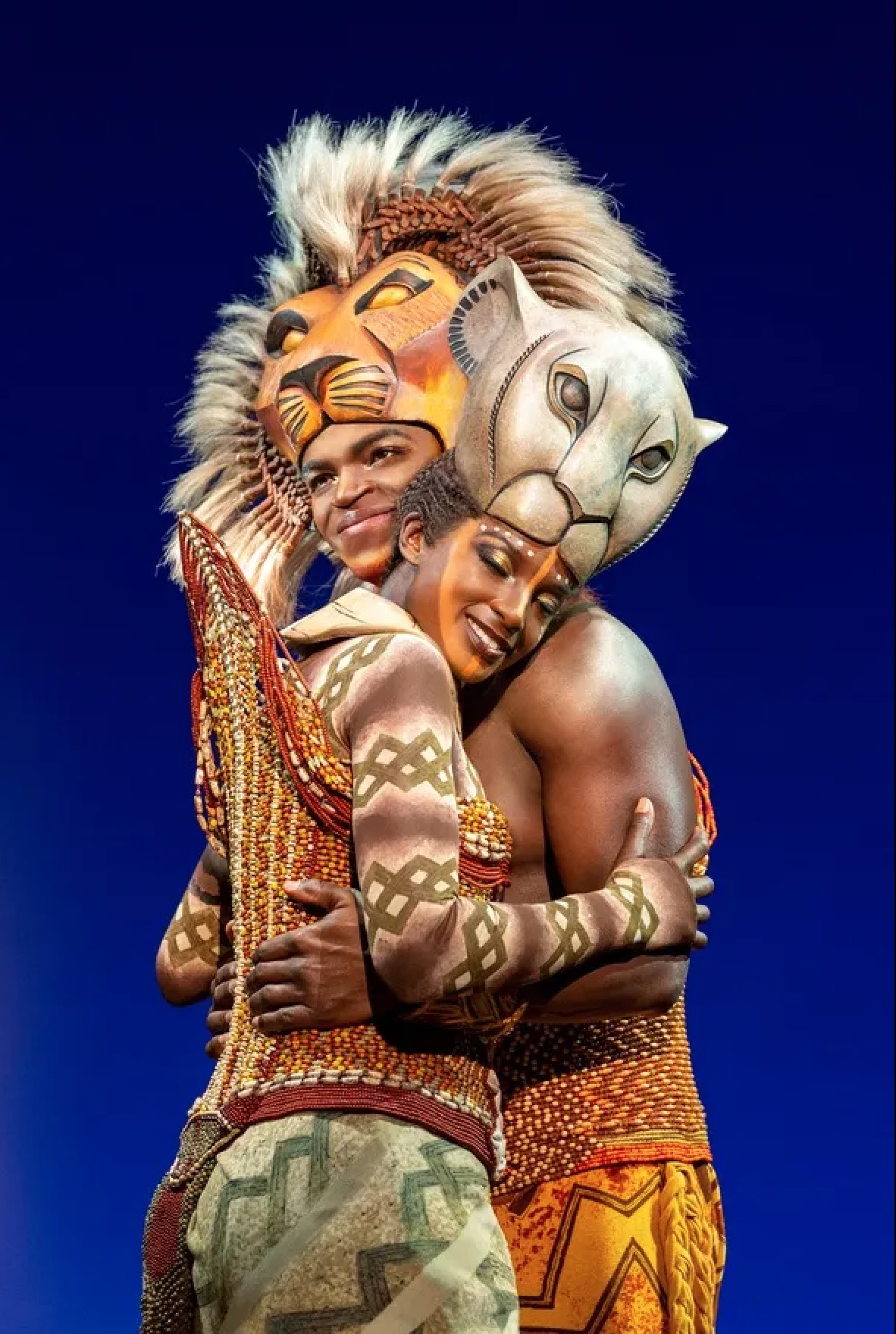 The Broadway adaption debuted in 1998 and, like the movie, it was a huge smash. There have been over 6,700 performances as well as hundreds more around the country and the world. It is much longer than the film version, includes more songs and music, and Julie Taymore's design was a notable achievement in puppetry.
Despite the increased length, the musical has not added any subplots or additional storylines. The extended scenes are at best mesmerizing and at worst a bit plodding and over-long. Keeping its target audience of children in mindm the story is told visually manner with vibrant dancing and excellent mood lighting. Director and designers have created a stereotypical African landscape, the Pride Lands (a fictional name), both expansive and generic, apparently not tied to any specific geographic location. The bright and colorful costumes also express a general regionality. The producers of the film were inspired by southwest Kenya, which they visited during their research phase. The scenes of the sunrise over the plains and the elephant graveyard are particularly arresting.
Young Simba leaves the Pride Lands in self-exile at the end of act one and transforms into older Simba during the intermission. It is unfortunate that his coming-of-age period is unseen, as there is a lot of room for an interesting story here. The first act is moody and mellow except of course for the famous rebellion scene; the second act bursts into life.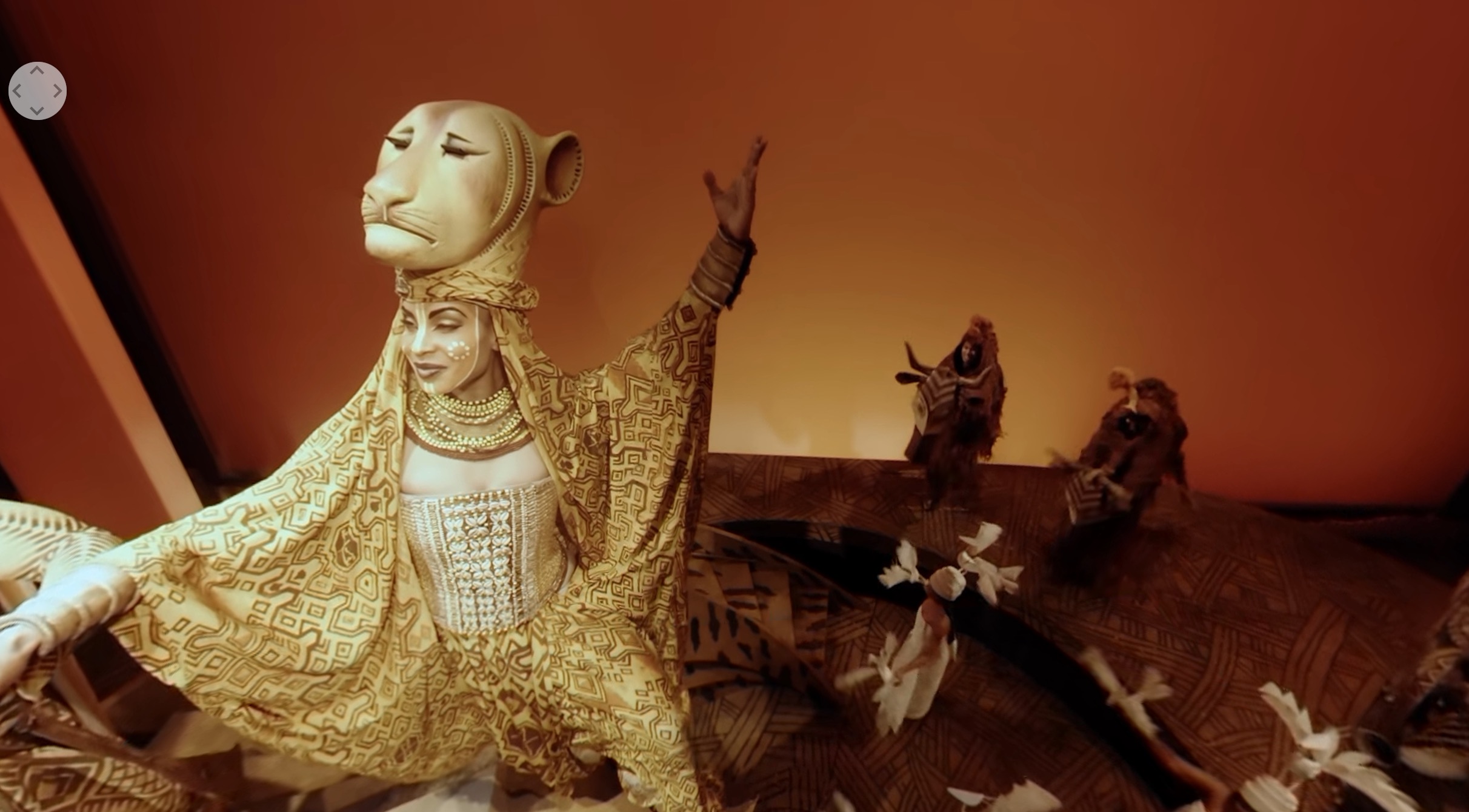 Simba's new friends Timon and Pumbaa, played by Nick Cordileone and John E. Brady respectively, are the highlights of the performance. Nearly all their scenes are hilarious, exhibiting the best puppetry, comedic timing, and joyful singing by the entire cast. Timon, a tiny meekrat, and Pumbaa, a big, bumbling warthog, are a direct homage to the long history of big and small duos of comedy history (Abbot and Costello, Laurel and Hardy, Simon Pegg and Nick Frost, and the Rock and Kevin Hart).
The appearance of the hyenas also increased the play's tempo by adding an element of mischievous danger. Overall, this musical's songs are atypical of a Broadway music.
While Elton John's music is obviously fantastic, some of it is a little too heavy on the ballad side for an ensemble production. His "Hakuna Matata" on the other hand, was made for Broadway.
EXTRA
https://lionking.com/north-american-tour-cast/Ciick to view cast photos for 2022 North American tour
---
The Lion King
by Disney; Elton John and lyrics by Tim Rice along, musical score created by Hans Z
touring company
Tuesdays-Fridays, Sundays,
April 07 - April 24, 2022
Texas Performing Arts presents Broadway in Austin
Disney's The Lion King
April 7-24, 2022 | Tuesday-Friday 8 PM | Saturday 2 PM & 8 PM |Sunday at 1 PM & 6:30 PM
Bass Concert Hall | 2350 Robert Dedman Dr | Austin, TX 78712
Start at $35. Tickets are available at BroadwayinAustin.com and texasperformingarts.org, by phone at (512) 477-1444, or from the Texas Performing Arts ticket office at Bass Concert Hall. For groups of 10 or more, call (877) 275-3804 or emailAustin.groups@broadwayacrossamerica.com.