Review: Amadeus by Penfold Theatre Company
by Brian Paul Scipione
In the early 1990's Spanish chef Ferran Adriá came up with "deconstructed food," an approach in which a dish is served with its primary ingredients presented separately. The idea was that diners should be able to re-assemble them so as to experience the dish anew in an entirely personal experience. The essence of a classic dish is maintained but its form is broken down so one has greater appreciation of the parts that make up the whole.
Director Liz Fisher's production for Penfold Theatre of Amadeus, Peter Shaffer's 1979 classic, is very much a deconstructed vision. The stage is a nearly empty space on which two cast members quickly rearrange tables, chairs, and benches to form new scenes. This all takes place before a looming web of LED tubes that mimic the 18th century European architecture of churches, homes, and palaces. As the action becomes more intense, those light strips glow or vibrate in a variety of colors to provide a haunting visual counterpoint to Michael Monét's surprising and often captivating reworkings of Mozart's music.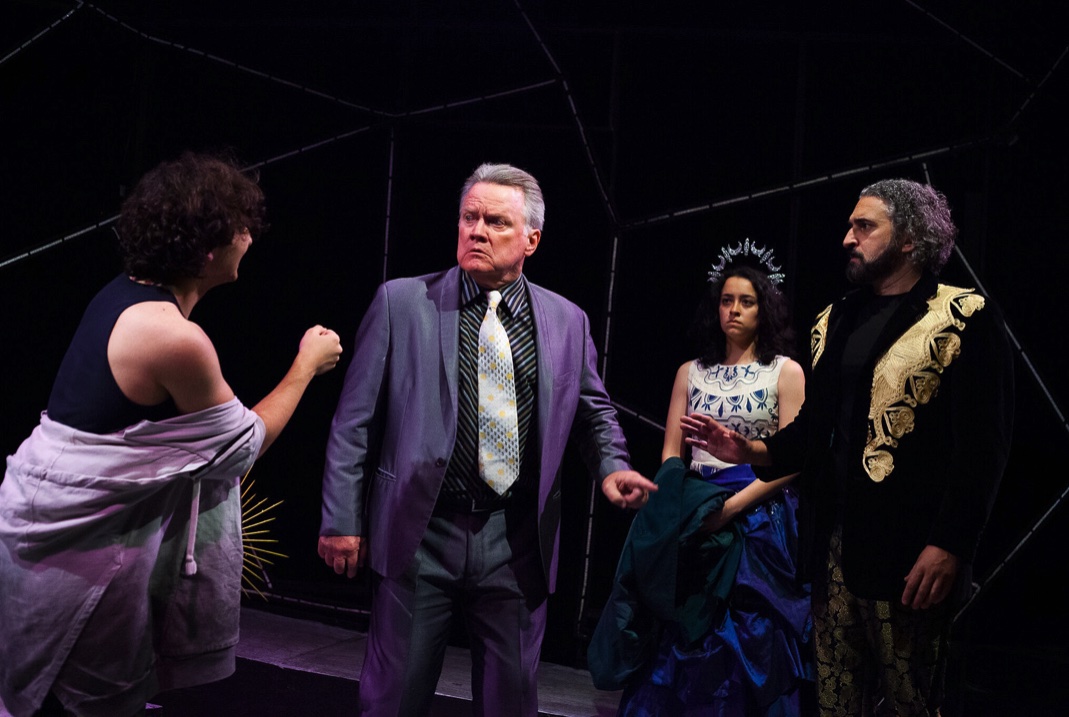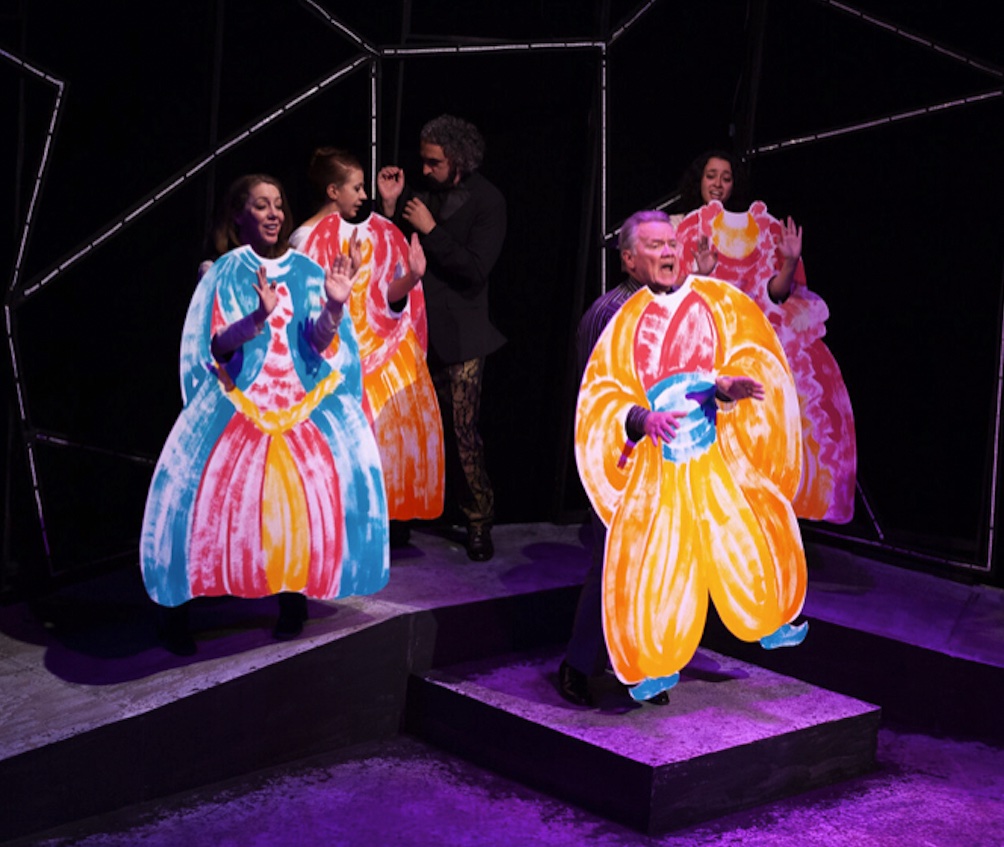 Costumes designed by Aaron Flynn ran a very wide gamut, from modern street wear to period outfits to cartoonish cut-outs that would have been at home in a Michel Gondry film. Supporting actors morphed effortlessly from character to character as they pranced, danced, strode, walked, and crawled across the floor. The music drifted in and out of the background. Like the rest of the play , it was strikingly deconstructed. Monét concentrated on the primal elements of the melody, an approach quite the opposite of Mozart's lavish, precise, and layered tapestries of rhythms and musical phrases. Famous Mozartian arias and opera choruses performed by the cast were melodic highpoints. It's an immense treat to witness opera singing in such an intimate space, delivered by so many nuanced and lovely voices. Miranda Marquez's rendition of the Queen of the Night's aria from The Magic Flute was ground-shakingly powerful.
Spectators entering the theatre were probably recalling the 1984 Academy-Award-winning film by Milos Foreman, but those memories are quickly discarded. This production has stripped away all pomp and circumstance. Fisher intends it to be raw and intimate, and there's no question that it is. The atmosphere throttles back and forth between raucous and sinister. One minute Diego Arroyo Aceves as Mozart is cursing, groping, and blowing raspberries with inarticulate glee, the next he's ogling and groping his love Constanza (Karina Dominguez) with unnerving infantile lasciviousness. Dominguez counters this with refreshing candor and control. This interpretation is a far cry from the more familiar depiction of Constanza as a wilting violet.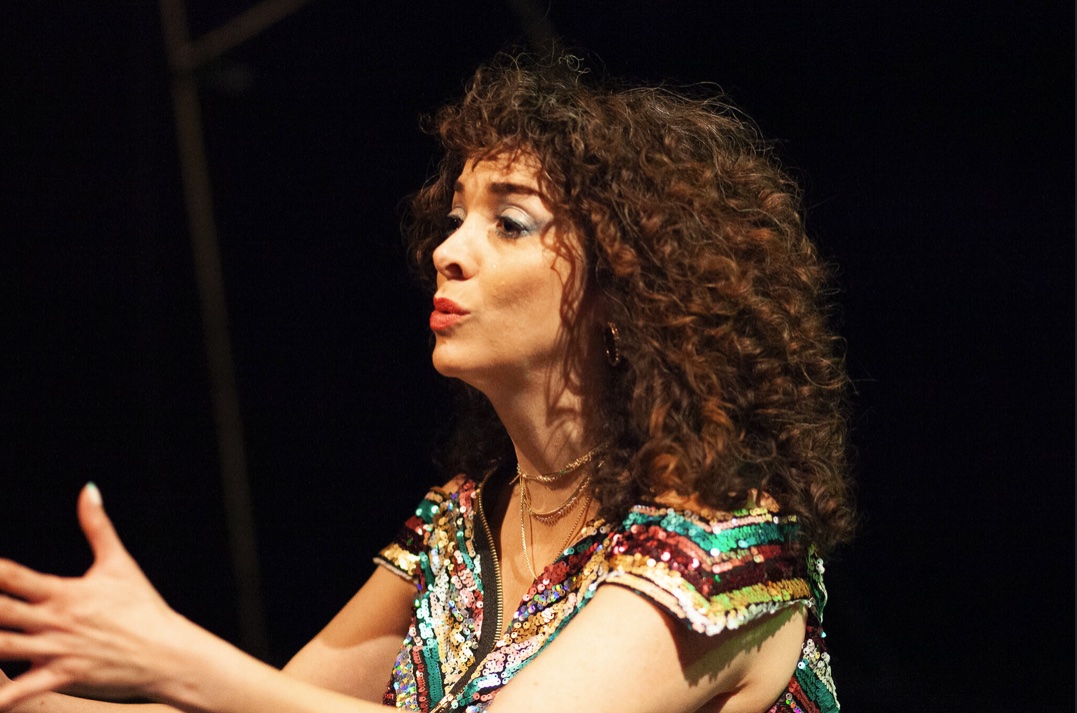 Chuck Winkler as Emperor Joseph provides plenty of comic relief, and his powerful voice resonates wonderfully when he returns to the stage as an opera performer.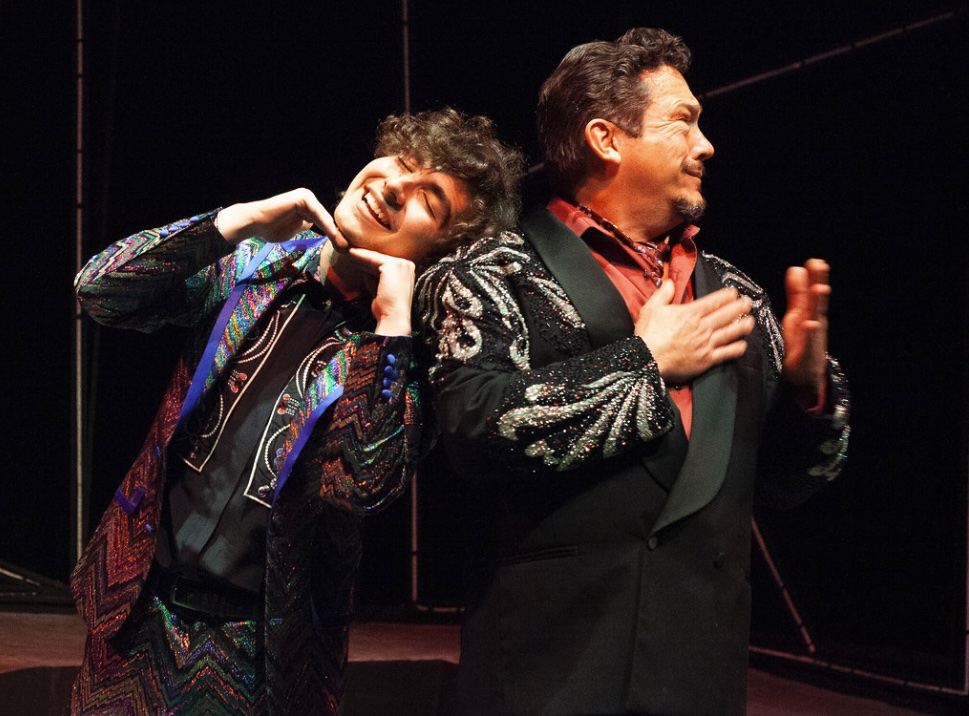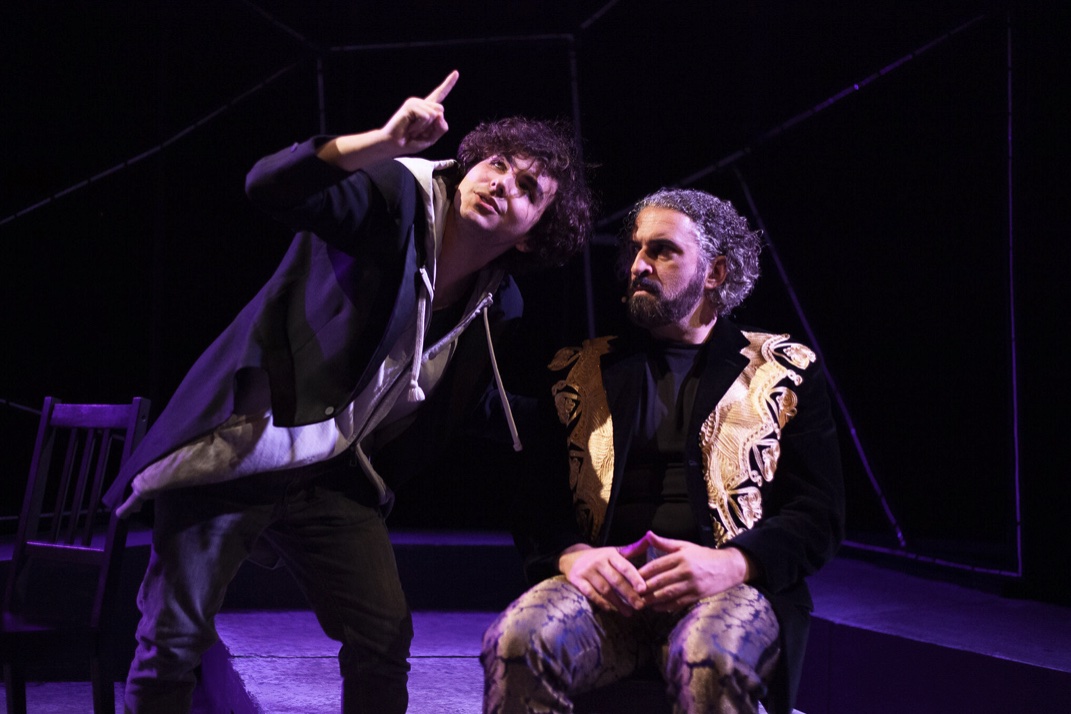 In the non-titular lead as frustrated court composer Antonio Salieri, Kareem Badr stands appalled by Mozart 's overbearing obscenity as well as by his genius. Badr does a masterful job of providing a solid through-line to a production rocked (in both senses) by emotional outbursts and fitful movement. Between the music and Flynn's gorgeous, glittery glam costumes, the play seems to exist simultaneously in the past, the present day, and the future: Salieri's story supercedes the time continuum. The elements of envy, revenge and guilt are as old as time itself. By refusing to nail this production to one dimension, Fisher directs the audience's attention to the emotional journey of the relationship between Salieri and Mozart.
Upon hearing Mozart's music (and assuming himself to be the only one capable of recognizing its genius), Salieri is cursed with retroactive imposter syndrome. Though he bitingly refers to his rival as that "shit-talking Mozart and his booty smacking wife," Salieri begrudgingly admits that the beauty of Mozart's music turns his audiences to God. Feeling betrayed by the diety to whom he has devoted all his own creative effort, the older composer chooses to destroy Mozart. Reduce the man, reduce God. And why not? he asks, since no matter what Salieri does, Mozart will live forever.
Badr's performance as Salieri is mesmerizing. The chaos of the play reflects the chaos of his character's mind.
This production does exactly what characterizes great art: it makes you feel rather than tells you how to feel.
And what will you feel? That depends entirely on you.
Comments from Rick Perkins and Michael Meigs:
Austin favorite Liz Fisher has done a stinging "fresh take" on Peter Shaffer's work, uprooting it from 1780's Vienna and slamming it down in our own day.
Imagine an opera of Shakespearean complexity with petty jealousies, raging insecurities, and murderous intrigue. The principal roles require punishing stamina, for they deal with insurmountable egos and focused intensities not for the faint of heart.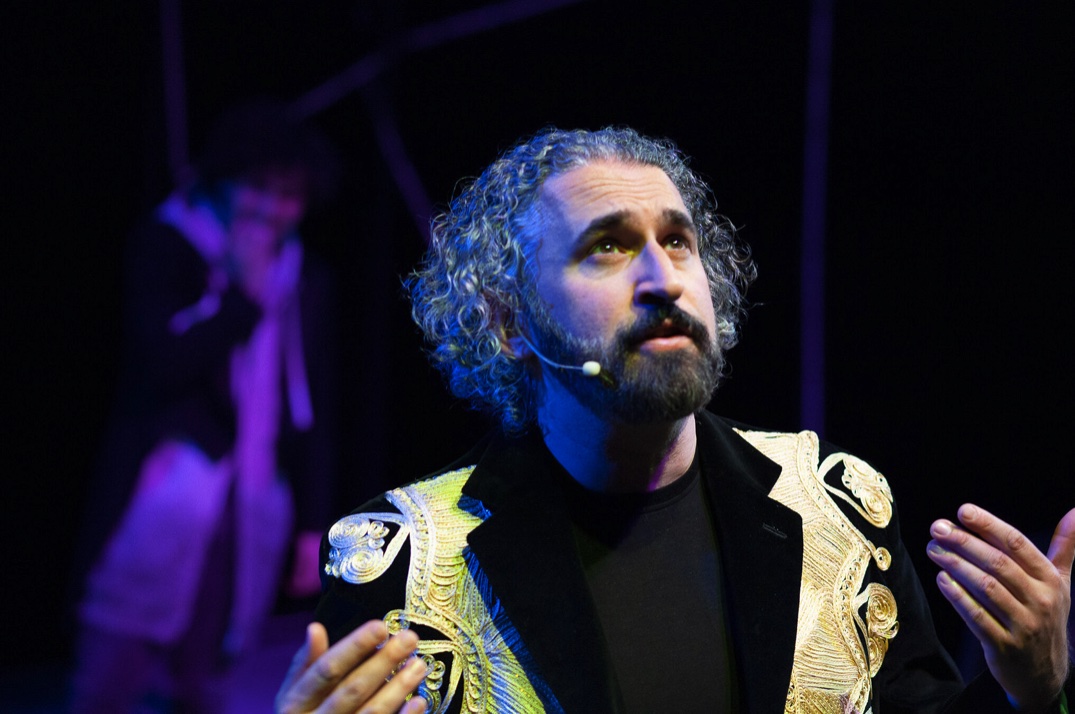 Kareem Badr commanded the role of Antonio Salieri, the composer eclipsed by childish upstart prankster Wolfgang Amadeus Mozart (young Diego Arroyo Aceves). Onstage throughout, Badr guided us through endless mental minefields of miseries, sometimes addressing us, in other moments wandering into the dementia that eventually killed him.
Badr told me afterward that his intense preparation began a full month before he encountered his cast mates. That's a far cry from his regular improv antics at the Hideout Theatre.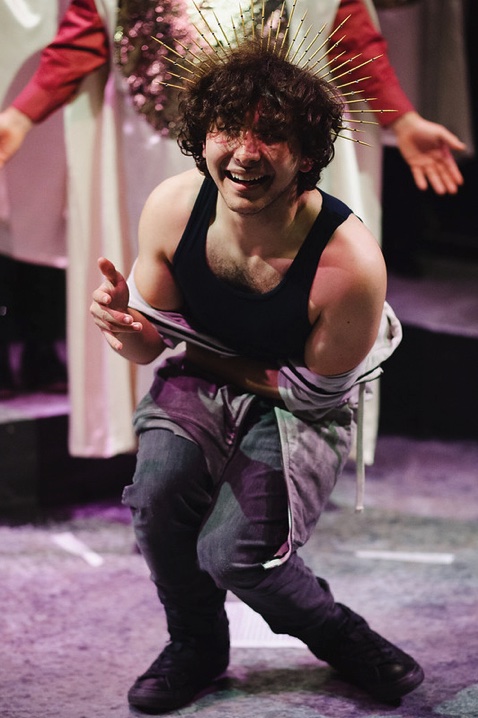 The audience enters the empty house to find him sitting onstage with his back to us. He's with us every minute after that, his only respite being one glass of champagne lifted to Amadeus. He's resentful of the youthful prodigy who bursts upon the scene in rock star mode. As Mozart, Arroyo Aceves pranced, paraded and partied at full gallop in manic rush to his own demise. Mozart's babbling was set against the dark doom of Salieri's suffering. "What use is man, if not to teach God his lessons?"
Composer Michael Morét's mix and mashup, inspired by Mozart but no mere copy of that genius, underscored the action and provided emotional depth for a contemporary ear. "Music is God's Art," as Salieri insisted.
Carlos Nine's lighting design will be mentioned come awards season. LED-infused rock-star stage effects and cinematic flourishes stimulated us in ways rarely seen onstage.
Costume designer Aaron Flynn held nothing back with regard to colors, fabrics and palettes for all the cast. Mozart glittered like rock star royalty for his grand entrance and eventually declined to dull, impoverished grays and blacks in route to an unmarked mass grave.
I've never seen painted cutouts worn as costumes with such élan; inventive and imaginative design deas emphasized the director's innovations.
The ensemble delivered several solid vocal performances. A fond nod to Chuck Winkler for his foppish full-on theatrical take as the dull-witted Emperor Joseph doling out cash and exulting in entertainments.
Karina Dominguez's fiery portrayal of Constanza, Mozart's wife was delicious.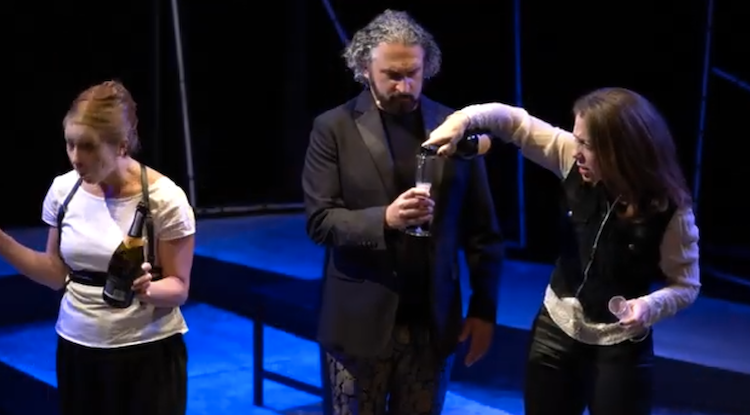 My heart goes out to Natalie Blackman and Sarah Fleming Walker, the venticelli ("little winds") whose reported gossip filled Salieri with insecurities. Tasked with dozens of shifts of scene furniture, they deserve time off and spa days for their hard work.
EXTRA
Click to view the Penfold Theatre program for AMADEUS
---
Amadeus
by Peter Shaffer
Penfold Theatre Company
Thursdays-Sundays,
March 24 - April 09, 2022
Ground Floor Theatre
979 Springdale Rd
Austin, TX, 78702
March 24 – April 9, 2022, 7:30 p.m.
at the Ground Floor Theatre EXCEPT for the performance of Sunday, April 3 (see below)
Price: $16-$31
Run time: 2.5 hours
For ages: High school+
Need help? Email us or dial (512) 850-4849.
Special Events
Saturday, March 26: First Saturday Soiree
Stay after the show to celebrate opening weekend with the cast and creative team! Food and drinks provided. Be sure to reserve your place when you purchase your ticket.
Sunday, April 3: Performance with the Central Texas Philharmonic
For one performance only, take in Amadeus with 40 members of the Central Texas Philharmonic (CTP) bringing Mozart's music to vivid life! Tickets available soon through the CTP website. Check back for details.
Klett Center for the Performing Arts
2211 N Austin Ave
Georgetown, TX 78626
See map
Parking: Free parking on surface lot.