Review: Next to Normal by Ground Floor Theatre
by Brian Paul Scipione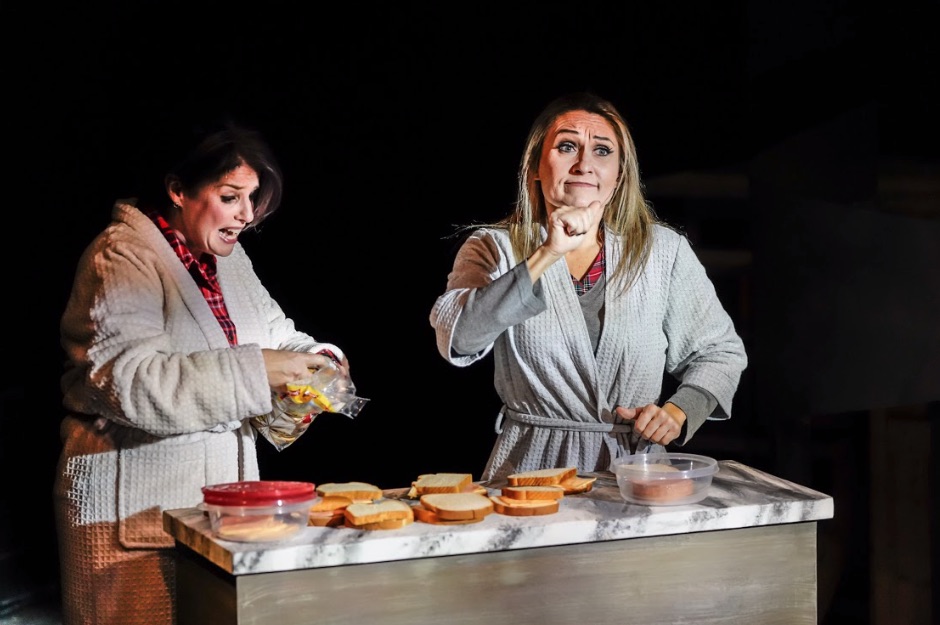 Diana, portrayed simultaneously by Megg Rose and Kerry McGinnis, is suffering from bipolar disorder. Her psychic struggles spread out and ensnare all those near and dear to her. First affected are her husband and daughter; from there her crisis reaches her doctor, her daughter's boyfriend, and — most frightening of all — the ghost of Gabe, her long lost first born.
The brilliant dual casting of most parts with two distinct performers, one singing and one signing, sets this production up for success. The crafty use of a multi-level set transforms the industrial feel of the Ground Floor Theatre space into an intensely dynamic presentation and showcases Next to Normal's various storylines and metaphors. The sound, lights, shadows, and live band enrich the setting with so much detail that the audience's eyes skip about, greedily consuming spectacles happening on many levels, both physically and in the harried mind of the protagonist.
Even if one only has a rudimentary idea of what American Sign Language is, the beauty of the movements and power of the expression come through. An audience member fluent in ASL will find the performance of the signing cast members amazing indeed. The powerful voices of the signing actors were up to the task of this multiple-Tony-Award-winning rock musical.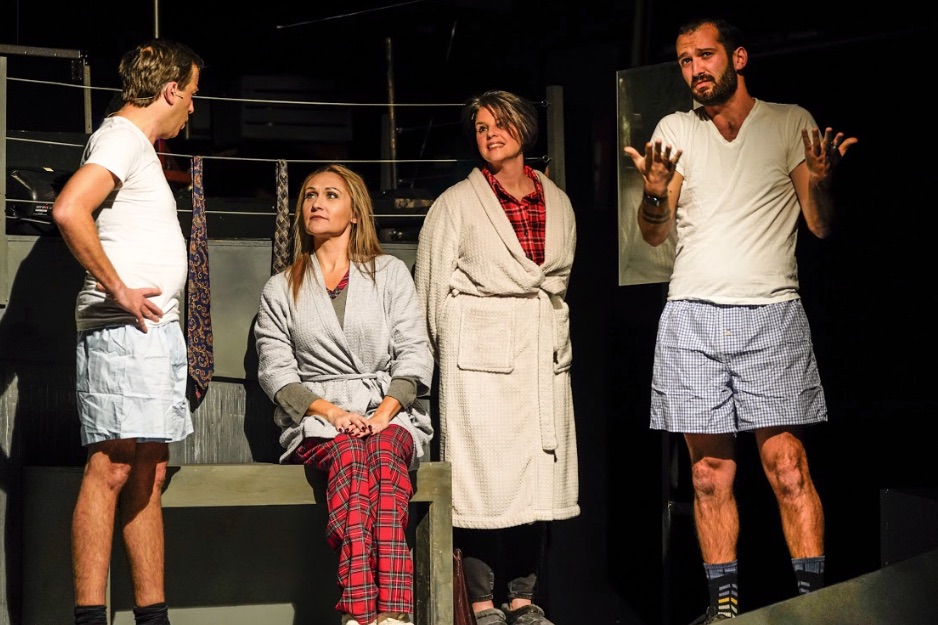 Next to Normal debuted on Broadway in 2009 and garnered eleven Tony nominations. The play took on the heavy themes of mental illness, drug abuse, depression, ethics in professional medicine, and strained family relationships. This piece by Tom Kitt and Brian Yorkey also won the 2010 Pulitzer Prize for Drama. Despite that incredible reception the play had a relatively short run on Broadway and closed in 2011. Touring, regional productions and international stagings have kept it alive. Austin's Zach Theatre staged Next to Normal in 2012. Temple Civic Theatre did it last February, and the Wimberley Players' production closed a week before this one opened.
This collaboration between Ground Floor Theatre and Deaf Austin Theatre isn't only unique; it's groundbreaking in the effectiveness of both concept and execution. There have been other singing/signing collaborations, but this one integrates an amazing cast of performers in such a powerful and seamless manner that at no point does it seem as though there are two plays happening on one stage. Neither set of actors is relegated to serving as subtitlers or interpreters for its counterpart. The paired performers work together as one, becoming a whole equal to much more than the sum of its parts.
The credit for this goes to distinct directorial choices by Brian Cheslik and Lisa Scheps. The foremost is having the deaf/signing actors interact directly with the hearing/signing actors rather than separating them by language. As far as I can tell there was no rigid pattern; all characters had full freedom of the stage. Another striking decision is to have the two actors who were playing the same character interact with one another, usually in subtle ways. They were not shadows of one another, but rather different facets of the given character's personality. As the story progressed and tension rose, the performers upped the stakes. Each member of a duo managed matched the energy level of the counterpart and fed off it, building the play's action upward into its blistering cataclysmic emotional conclusion. Each character is bound to their social, sexual, professional, or domestic responsibilities; each is equally bound to the partner in the duo.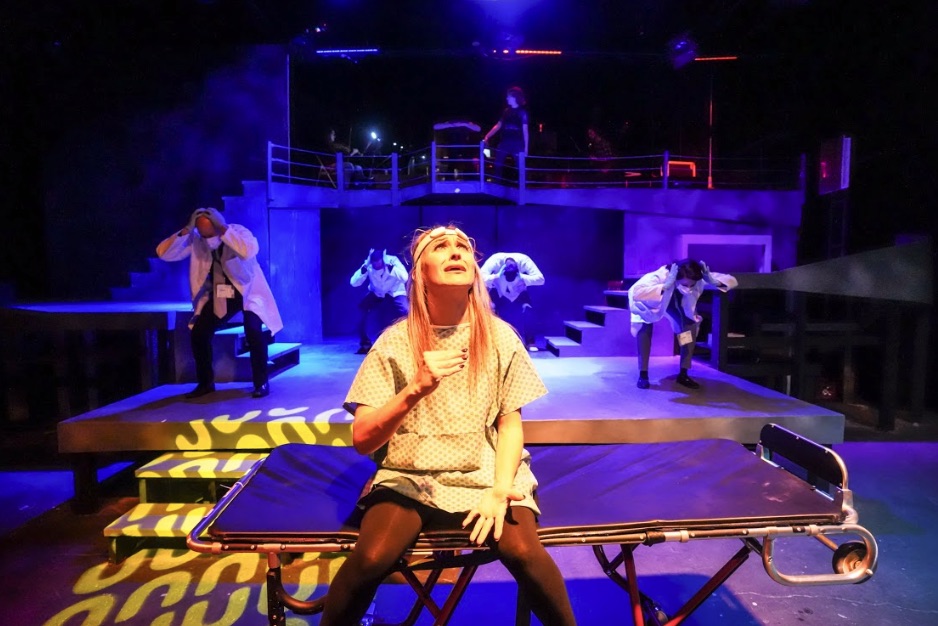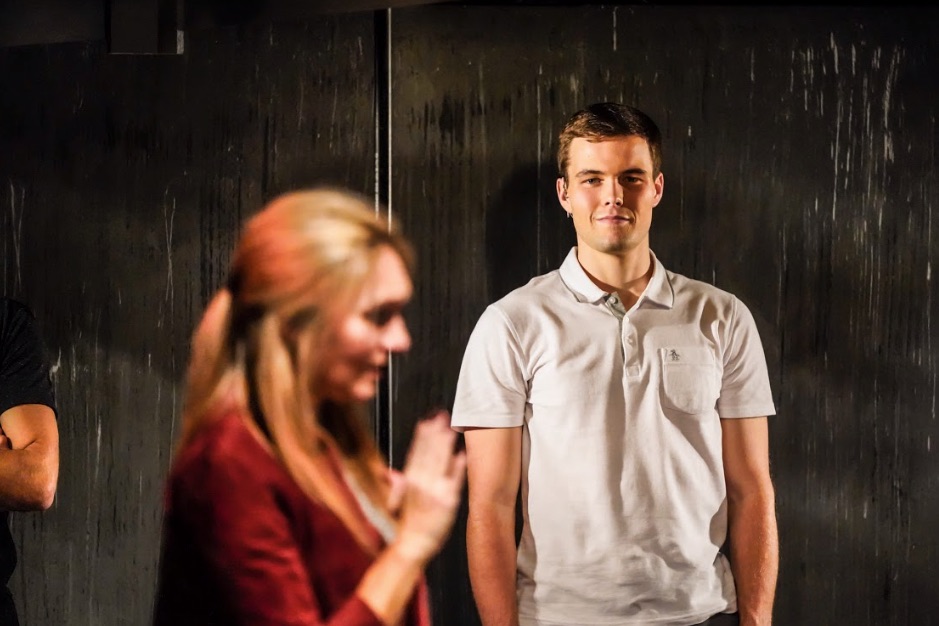 This dualities are made all the clearer and more intriguing by the fact that there is only one character who is played by a single performer. Riley Wesson, in the role of the deceased son Gabe, has the double duty of signing and singing. Wesson is quite literally haunting as he reaches out from the stage's periphery. He latches onto the characters who struggle to deal with his physical disappearance and with his lingering, intangible presence.
Jim Lindsay and Seth Washington play the role of the father, Dan, like tightrope walkers balancing between quiet desperation and a well of unending sympathy, perhaps even martyrdom. Diana's psychiatrist, with the charisma of a rock star, in a daring combination of bravado and bold physicality captured by Kirk Kelso's voice and Jo Rose Benfield's bodily swagger.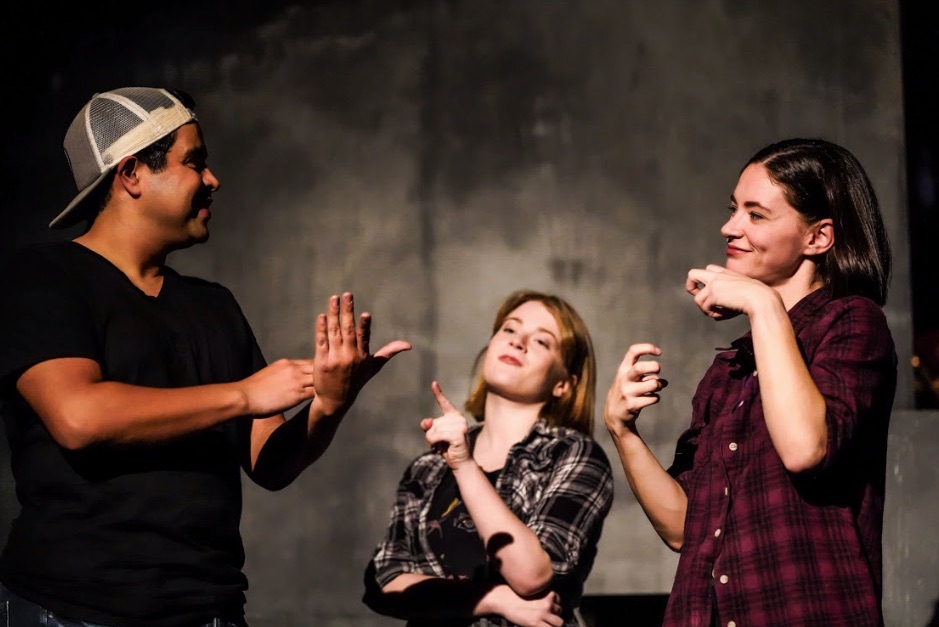 Daniel Ponce and Tarique Sylvester as the suitor Henry are full of teenage attitudes, clumsy charm, and incredible likeability.
Sandra Mae Frank brings an intense fury of emotions that runs up and down the emotional gamut as she bursts like uncontained fireworks around the stage as Natalie. She creates a fully articulated character who demands attention and sympathy while exasperating her audience. Her counterpoint Maryanna Tollemache lends the full range of her colorful and theatrical voice to a performance true to the play's Broadway roots.
There are many more reasons to catch this extraordinary Next to Normal. I highly recommend it. It's one of the must-see theatrical performances of the year.
---
Next to Normal
by Tom Kitt, Brian Yorkey
Ground Floor Theatre
Thursdays-Sundays,
December 05 - December 22, 2019
Ground Floor Theatre
979 Springdale Rd
Austin, TX, 78702
Performances run December 5-21, 2019 at Ground Floor Theatre, 979 Springdale Road, Austin, TX at the corner of Springdale and Airport. Performances are Thursday through Saturday nights at 8:00PM and Sundays at 5:00PM. The "First Friday" performance on December 6 includes a reception. Ground Floor Theatre believes in "theatre for everyone" regardless of ability to pay, so tickets are always "Pay What You Can". Tickets can be purchased at groundfloortheatre.org