Review #1 of 2: Dracula (adapted by Dietz) by Zach Theatre
by Brian Paul Scipione
Just in time for the spooky days of autumn and the celebrated night of All Hallows' Eve, ZACH Theatre presents the classic story of the original vampire, Count Dracula. The plot is taken from the original Bram Stoker novel with updates by prolific American playwright Steven Dietz. Dietz has composed more than 30 original pieces and 11 adaptions. His Dracula was originally produced in 1996 but has been given a twist and restaged in 2019.
Austin is fortunate to see Dietz's new vision with the playwright himself in the director's chair. Dietz has also been a faculty member at the University of Texas since 2006. The present production has a tag, "Mina's Quest" which simultaneously brings up images of adventure and role-reversal of the traditional hero/heroines. This is no spoiler as the ZACH's billing describes the play as "a chilling fantasy with a surprising twist — a bold heroine who dares to defy the ruler of the night." Also, audiences should be aware that ZACH has transformed their lobby into a Victorian and Gothic setting with both Tarot readers and Ghost Story-Tellers, so be sure to arrive early. Unsurprisingly, the theatre has even more festivities in store on Halloween night.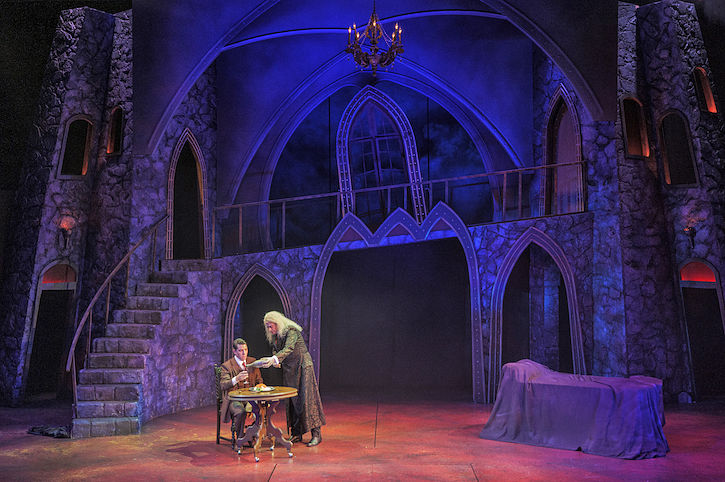 This production excels in the unity of its vision. Not only are the set, sound, costume, and creative designs really well done, they are seamless, making this production one of the most cinematic I have ever seen at ZACH. The mood is set from the creepy stylings of the lobby and is increased the moment ones sees the spooky set with a coffin taking center stage. Smoke pours out in a misty fog and sinister red eyes appear in the walls. The set itself is designed with a jagged uneven structure that increases the sense of confusion and unease that the characters transfer to the audience. The lights are dim and then dappled, and one senses there may be someone in a certain place only to see them appear in an entirely different part of the stage. The costumes are beautiful and stylish yet manage to more or less stay in the period. Interestingly, as the story flops between Transylvania and London the setting remains dark and foreboding.
The acting of the play lacks a sense of naturalism and reminds me quite distinctly of British stagecraft (where the word theatre itself may be pronounced with three syllables). Screaming and heavy breathing abound, and there are 'adult themes,' so the play is only recommended for those 13 and up.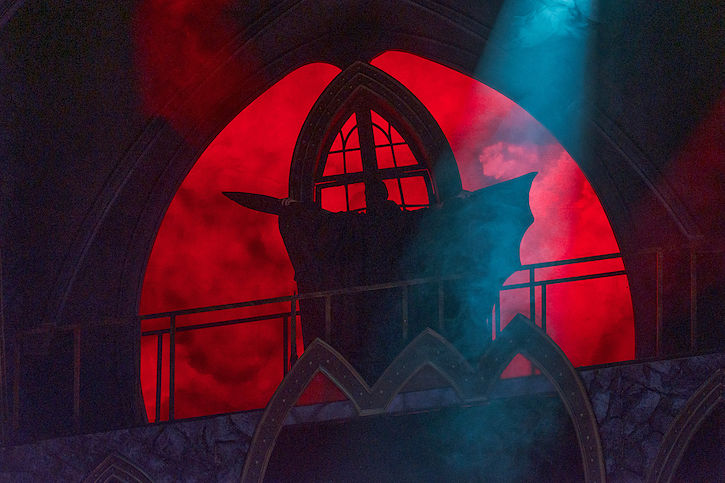 In the end, if you took away the special effects and the lighting and all the rest this would still be a thrilling night of entertainment thanks to the appreciable passion of all the actors. The story is well known and there is a bit of a twist but it's the characters that make this play.
Charlotte Gulezian as the mad servant Renfield is simply brilliant, delivering an onstage depiction of madness so convincing that it makes one afraid to meet the actor in person. And all this is done in the smallest amount of space, she turns her cage into her personal stage, flitting about back and forth like a caged bird after a cat has entered the room.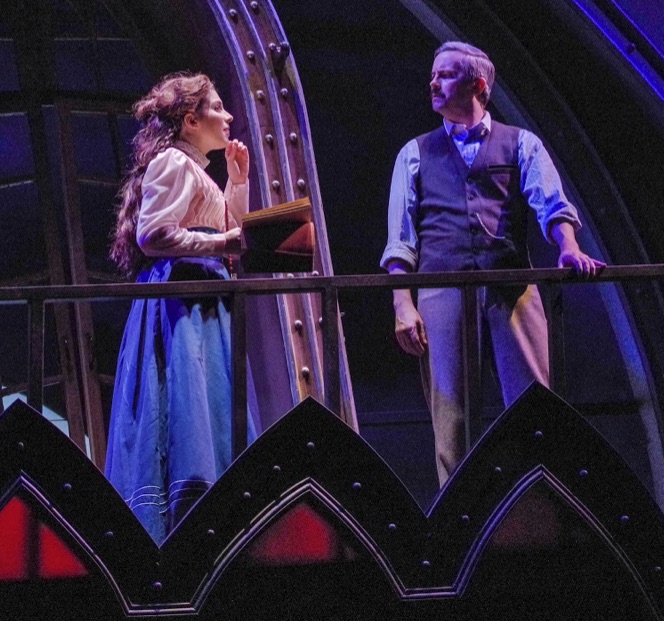 Jeff Mills as Seward does an excellent job of embodying the spirit of the play. His character is in turns lovestruck, forlorn, determined, mad for revenge, and he plays each emotion with epic dimensions. Interestingly, his character may garner the most sympathy from the audience as battered (both physically and emotionally) but never broken.
Keith Conteras-McDonald as the titular villain embodies the perfect combination of exotic and nefarious as he slithers across the stage. He is certainly paying diligent homage to the many cinematic bloodsuckers who have come before him.
Finally, Sarah Kimberly Becker certainly fulfills Dietz's vision of turning Mina into a heroine, and what makes her performance stand out is the character's slow transformation from proper and pure lady to a beleaguered friend to an ardent researcher to vicious fighter who takes the battle into her own hands. There is a line in that play that suggests that what man recognizes as evil takes the deepest root in those that are most pure. This theme is repeated as Dracula uses it to taunt his victimsand terrorize them. And yet Mina's actions show that there may be some so pure that evil may never truly take root in them at all.
EXTRA
Click to view excerpts from the Zach Theatre program for DRACULA: MINA'S QUEST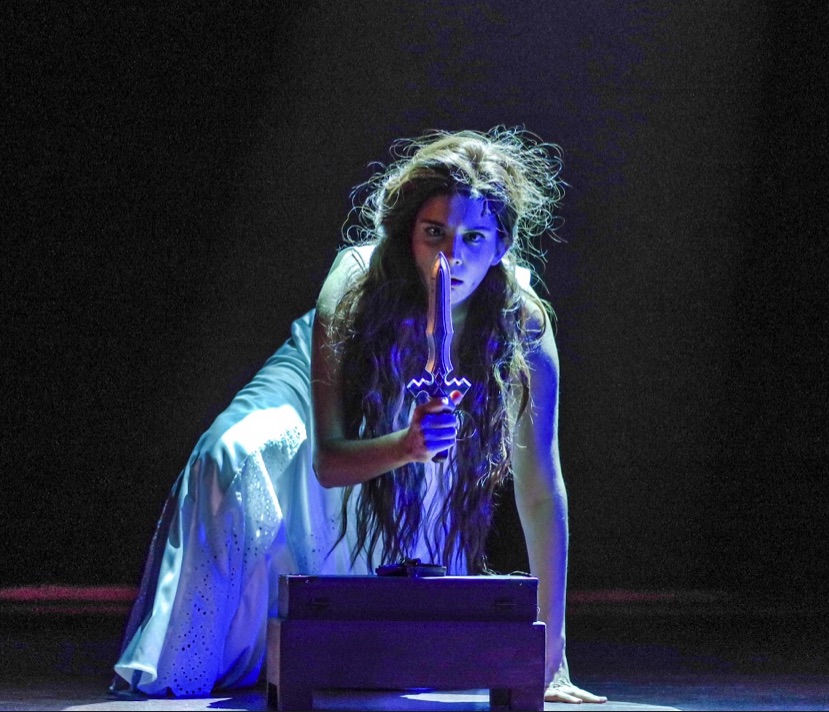 ---
Dracula (adapted by Dietz)
by Steven Dietz, adapted from Bram Stoker's novel
Zach Theatre
Wednesdays-Sundays,
September 25 - November 03, 2019
Dracula plays The Topfer at ZACH, September 25–November 3, 2019, under the direction of playwright Steven Dietz.
Wednesdays - Saturdays at 7:30 p.m., Sundays at 2:30 p.m.
Special Events in Celebration of Dracula:
Pride Night with catering by Juliet – Thursday, September 26, 2019
Wednesday Post-Show Discussion – Wednesday, October 2, 2019
ASL Interpreted, Open Captioned, and Audio Described – Wednesday, October 2, 2019
"Halloween Costume Party" with DJ, Costumes, Food and more – Thursday, October 31, 2019
Tickets start at $25 and are available online at zachtheatre.org, by phone at 512-476-0541, or in person at the ZACH Theatre Box Office, in the Topfer, 202 South Lamar Boulevard (corner of Riverside Drive and South Lamar) Monday through Saturday, 12 – 5p.m. ZACH Theatre is wheelchair accessible. Groups of 8 or more may request reservations by calling 512-476-0594 x.245 or by emailing groupsales@zachtheatre.org.