Review: Hamilton by touring company
by Michael Meigs
Hamilton is epic; there's no gainsaying that fact. Lin-Manuel Miranda's imagining of key events and personalities of the American revolution has a savage, electrifying impact, and by comparison it leaves the venerable musical 1776 looking like — well, a bunch of old white guys standing around in funny breeches.
Manuel blows up the traditional narrative and mercilessly rips away the bandage of stale conventions, but at the same time the playwright embraces the moral aspirations of the new American people. To change the metaphor: he puts old wine into new bottles and creates a potent new brew.
Hamilton was a major selling point for the 2019-2020 season of Broadway in Austin. Touring shows generally touch down at the Bass Concert Hall for only a week, but this one is with us for three, until June 16. Demand is enormous, prices are high, and that cavernous space is packed. My gosh, the management even limited reviewers to a single ticket rather than the traditional two, so my spouse had to be content with my verbal account instead of the experience itself.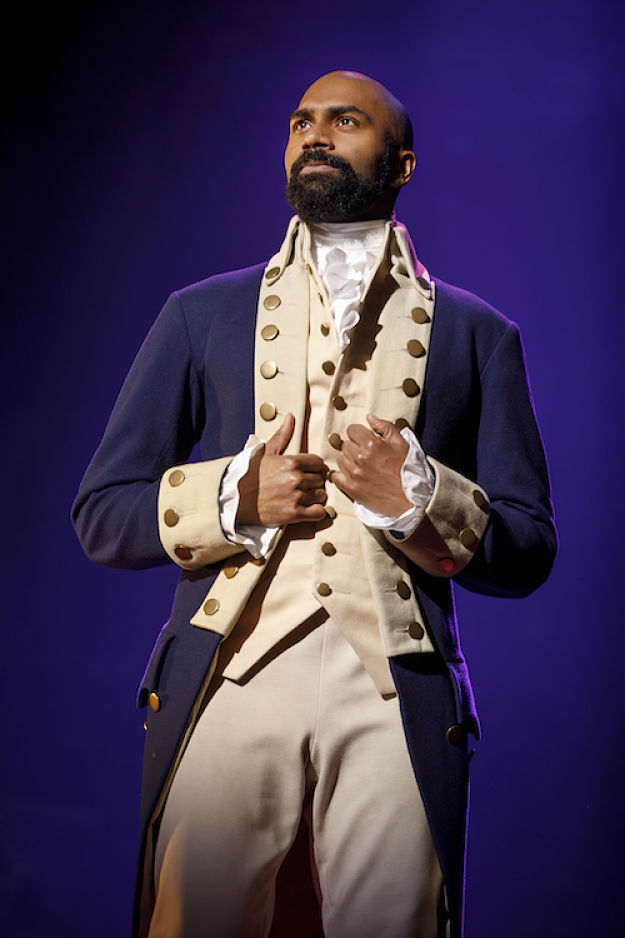 This cast, these performers, are accomplished professionals, and they serve the story admirably. Particular standouts for me were Nik Walker as Aaron Burr and Marus Choi as Washington. Walker has great presence and range; he also has the advantage that the libretto and score provided him with moments when Burr expressed himself solo. Choi has a fine tenor voice, and he benefited from the decision common throughout the Hamilton process to cast and portray these characters in deliberate contrast to conventional images. This approach is most evident in casting performers of color. The historical Washington towered over his compatriots; Choi's Washington is a small, contained man, an intellectual, who serves Joseph Morales's striving Alexander Hamilton as a father figure.
There's a lot of flash and dance, as well as some deliberately hokey numbers that evoke minstrel shows. Kyle Scatliffe, immediately recogizable to anyone who saw Zach Theatre's 2012 Topfer Stage opener Ragtime, has plum roles as the gallant Marquis de Lafayette and as Thomas Jefferson -- a happy, hopping clown, whose antics were surpassed only by Jon Patrick Walker as the prancing, preening, queening King George.
The crowd clearly knew and loved the text. They laughed at the jokes and delighted in Miranda's boom and sass.
I don't read the reviews before I write my own, but there was no mistaking the enthusiasm expressed by my colleagues in their headlines. But instead of being carried away, I came out of that packed auditorium impressed but bemused. I hadn't known the music beforehand, but because I made sure to read the libretto, I wasn't completely lost. The hip-hop idiom of frantic, fast syncopation sprayed the words like a water cannon turned on an unruly crowd. It wasn't a question of amplitude but rather one of wildly irregular rhythms. And the implied assumption that the audience knew in advance what was going to be said.
I got all of the action and the major plot points. I appreciated those great, big, vivid characters, and especially liked Miranda's ingenuity and audacity in crafting an Aristotelean tragedy. Hamilton is a huge story, cleverly conceived and staged, with a witty libretto that's almost impossible for the uninitiated to understand. Did I catch half of what was said? Maybe less? You know, this experience was hauntingly close to that of attending a lavishly and lovingly produced opera written in a foreign language.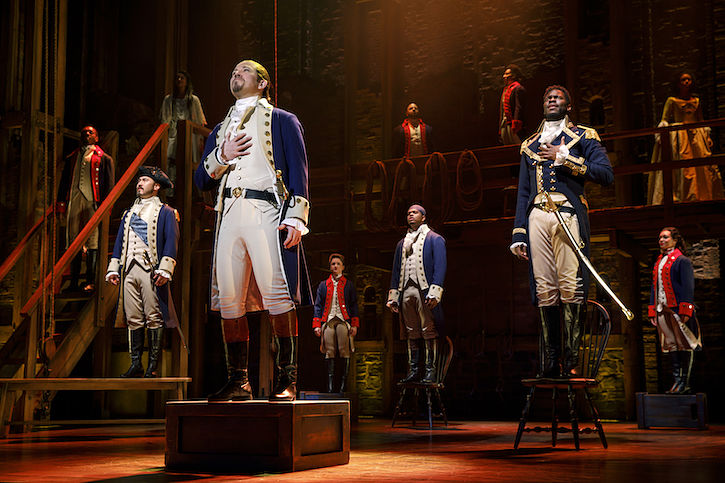 Miranda didn't just write a piece of musical theatre; he gifted us an opera of great stature that retells our own story. His is a complex work, written in a challenging idiom, and it's an achievement that deserves study and attention. And -- why not? -- you know, reverence, both for the artistic achievement and for the reminder that our American ideals are alive and fundamental to our identities. The identities of all of us.
---
Hamilton
by Lin-Manuel Miranda
touring company
Tickets available via Broadway in Austin.