Like many, I'm sure, I recall the exuberant review of "I laughed! I cried! It was better than Cats!" that became a ubiquitous catchphrase, even becoming a Saturday Night Live skit. This phrase became a common way to express one's admiration for a new Broadway play (and then eventually anything: "How was that coffee?" "It was better than Cats!").
The rub here is that for a long time Cats was the standard bearer of what an excellent Broadway musical could be. To say something was better than Cats was in a way saying it was better than the best.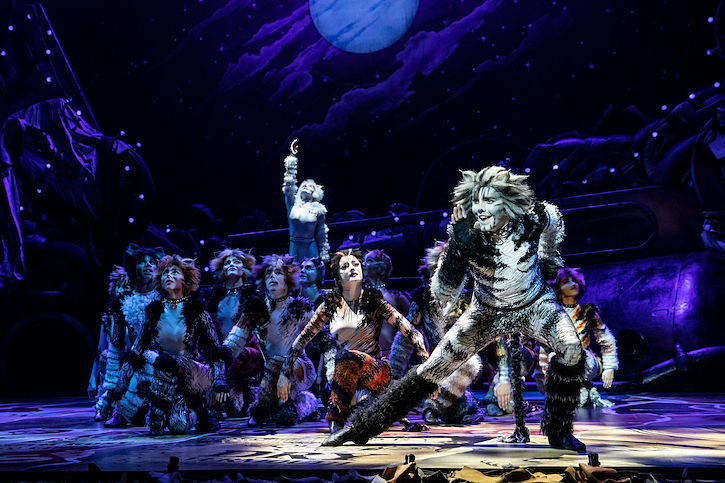 Cats was considered the best because of its smashing success. Since its premier in 1981, it has been performed in over thirty countries, translated into fifteen languages, and seen by an estimated 73 million people. It has won seven Tony awards and "Memory," its most famous number, has been recorded by more than 150 musicians. Cats was the longest running musical until it was eventually displaced by The Phantom of the Opera.
The musical's success is undeniable, so what is all the fuss about? Interestingly, not much more than spectacle. Great dancing, fun costumes, epic music, and a lot of flashing lights. All of which takes place in a single setting: a junkyard. There is essentially no plot, just a series of vignettes that are arguably nothing more than a series of character introductions.
The characters are very fun and do resemble what anthropomorphized cats would really be like, that is brash, bold, coy, passionate, aloof, playful, and loud. The dancing is cat-like as well, with each performer attempting to out-do the last and everyone making the most of the time in the spotlight.
Andrew Lloyd Weber based the musical on the T.S. Eliot's Old Possum's Book of Practical Cats, a book of whimsical poems about cats with names like Bombalurina, Grizabella, Mistoffelees, Mungojerrie, and Rumpelteazer. The play was written after Andrew Lloyd Weber and his writing partner lyricist Tim Rice stopped working together. It has been suggested that Weber used Eliot's poetry as lyrics to prove to Rice he didn't need him.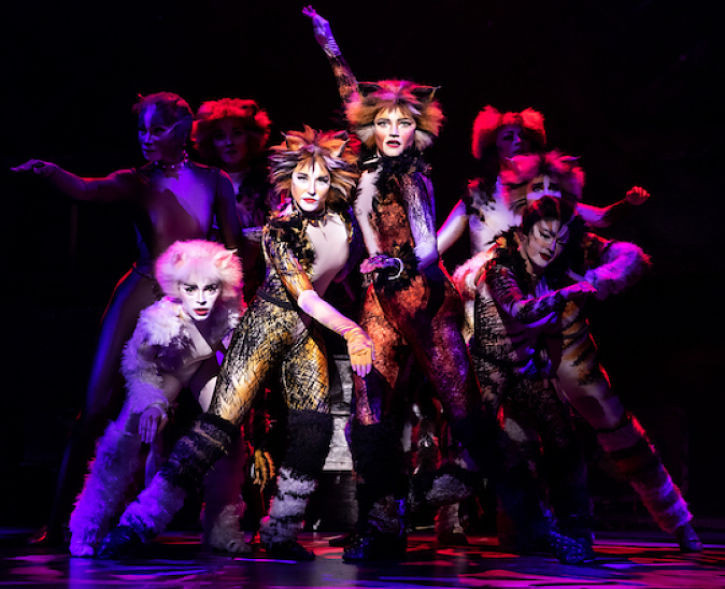 The basic story is about a tribe of cats known as the Jellicles and the night of the Jellicle Ball where it is decided who will ascend to the Heaviside Layer. During the ball the cats frolic and introduce themselves, hoping to be chosen. There's a wise old cat, a theater cat, a curious cat, criminal cats, and even a magic cat. The songs are catchy, and the dancing is delightful. Great lighting enhances all of this and gives the show the feel of a rock concert at most points and a darkened alley at others. The dramatic mood shifts create a tension of the story that would normally be induced by the plot.
This touring production is a fitting update without a lot of overt changes. The costumes look much better than I recall them when I saw the play in the early 90s. The lighting is even more impressive considering, it's a touring production. The performers are clearly enjoying themselves as they race around, sashaying and performingacrobatic maneuvers. The singing and dancing is challenging enough, but doing so while carrying another person is pretty wild. The phrase "herding cats" came to mind more than once as they spread across the stage, weaving in between one another like synchronized swimmers.
Both Tion Gaston as Mistoffelees and Rose Iannaccone as Rumpelteazer were standouts in a crowd where everyone was working hard to stand out. Weber began writing the music for this play in the 1970s, and today it's easy to see the Disco sensibility that permeates this production. It's all sound, flash, and fury, which equals a night of great entertainment requiring nothing from the viewers but a willingness to smile.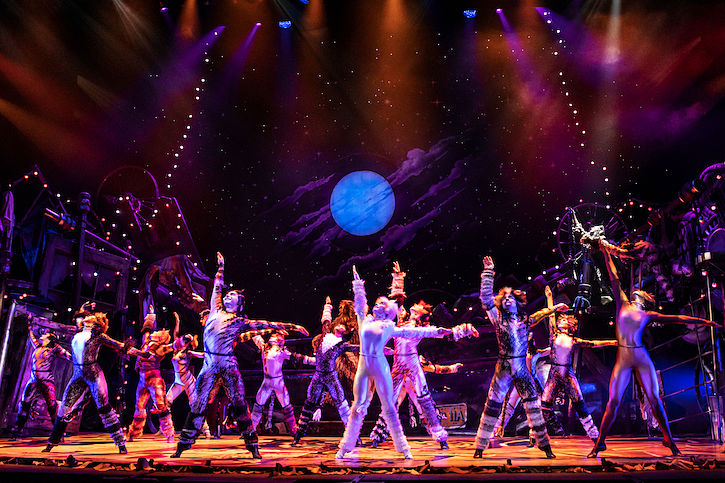 ---
Cats
by Andrew Lloyd Webber
touring company
Tuesday-Saturday,
May 07 - May 12, 2019
Info available from Texas Performing Arts. Evening performances at 7:30 p.m., matinees at 2 p.m. on Saturday and Sunday
Click for ticketing info.