Review: The Ballad of Klook and Vinette by Zach Theatre
by Brian Paul Scipione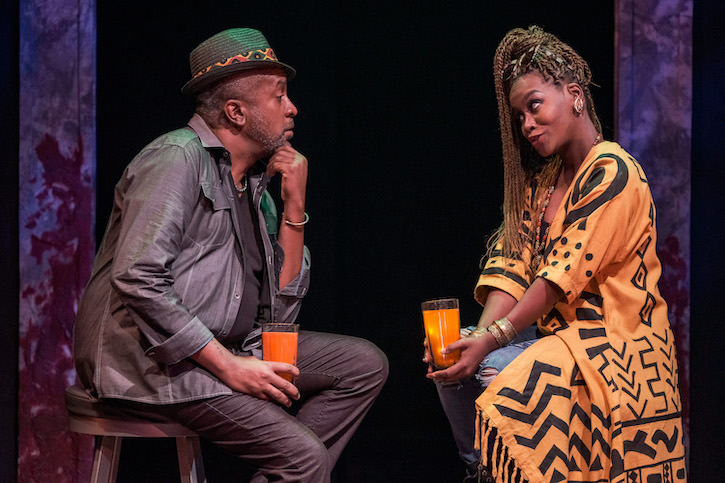 The Ballad of Klook and Vinette tells the tale of a modern love story of "lost souls" trying to find happiness after trying times. The story is regaled through a well-balanced mix of dialogue and original R and B tunes that run the emotional gamut from breezy, to seductive, to playful, to heart-wrenching. It begins with a solid dose of comedy as two strangers banter back and forth, slowly realizing that though they do not know each other they have similar trajectories and backgrounds, the inter-twining of which elevates both to new and more dynamic levels. Suffice it to say, while it is billed like a potentially (or definitively) ill-fated affair, the crux of the story is not the potential end but instead the blossoming of what could be these characters' first chance in a long time to re-embrace hope. Taken from this angle, it's a story of the creation and eruption of new love at its apex. It is no surprise that the writer's original vision was not a musical or even a play with music but rather as one long song interposed with plot.
Fittingly, the writing is incredibly on point: rich with witticisms, emotional exchanges, and some of the best vocabulary I've seen outside of a Martin Amis novel. Imagine a recipe including the forked tongue of Dorothy Parker, the poetry of Warsan Shire, the complex despair of William Faulkner, and the brash honesty of Roxanne Gay. In his first song Klook laments that his memories make a mockery of him. In another he describes his life as a kaleidoscope of spiritual uppercuts.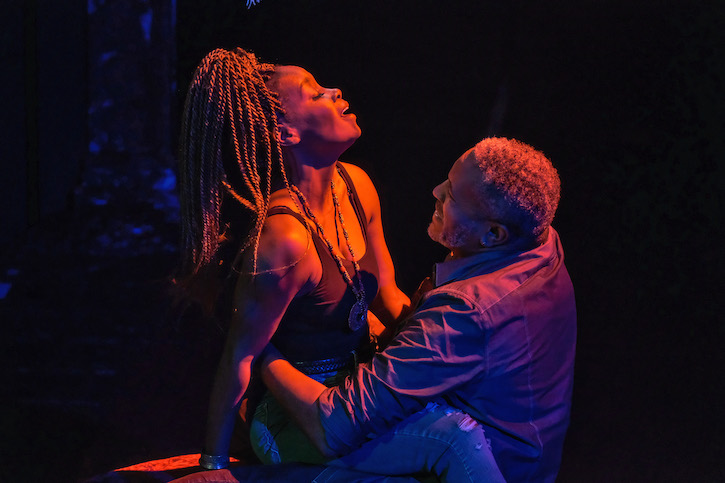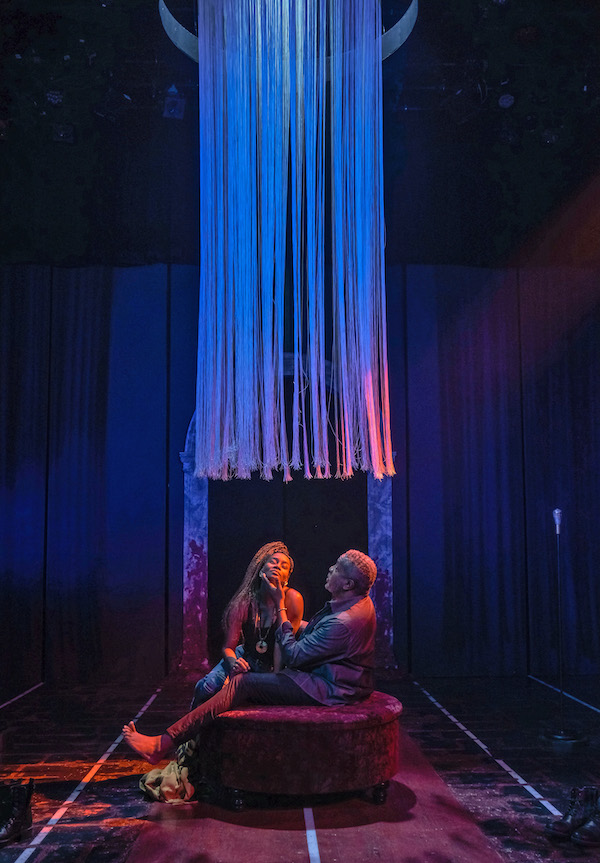 When Vinette meets Klook, she tells him he has just about the saddest eyes I've ever seen. The frisky interchanges are felt during scenes when the actors manage to make the musical duets seem conversationally impromptu. Klook and Vinette's relationship is not unlike two meteors colliding in what once felt like to them the vast, dark emptiness of space. The force of their meeting is celebratory, sensuous, and (not to belabor the point) Shakespearean in scale.
Production design is impressively cohesive between the lighting, the setting, the sound design, and the props. Some of the prop choices are perplexing but all seem to work, from the gothic candles with their gory masses of melted red wax, to the rum bottle that pulsates with the red and blue lights of a police car, to Vinette's writing notebook that resembles a red velvet tome, to the string chandelier that hangs above the space. The set is striated with vertical light strips that stretch from the walls to the floor, crisscrossed by freestanding lightbulbs that define the horizontal space. These various lights are used to define both the physical setting and the mood alike.
Costumes are also a mélange. They include elements from Klook's old bluesman look to Vinette's fierce and fabulous ensembles including African prints, large jewelry, and classic blue jeans. The actors switch between rough boots and bare feet throughout the production, creating a sudden sense of intimacy. All of these factors combine perfectly to create a hyper-realistic setting that is both familiar and yet beyond time and place.
Scott Groh handled both scenic and property design while Rachel Atkinson was the lighting designer. Carla Nickerson designed costumes and Serret Jensen handled both hair and makeup design.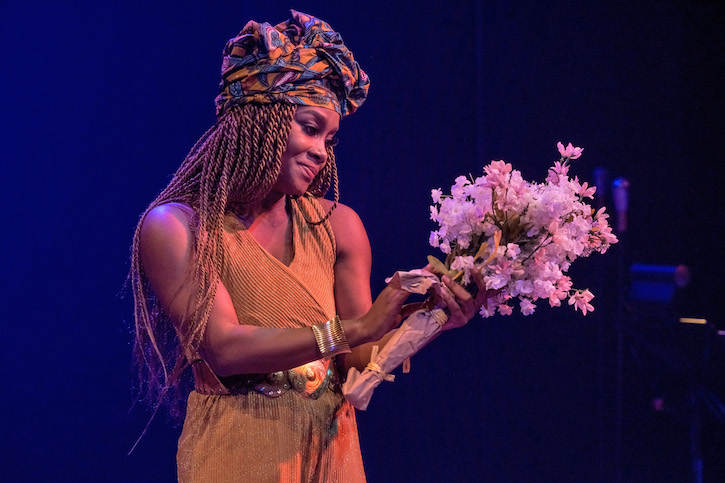 Vinette was played by Chanel (star of Zach's Lady Day at Emerson's Bar and Grille) with charisma, sass, and tenderness. Chanel captures the audience's attention and doesn't let go of it for the entire 90 minutes of the show. Her character at first eschews hope but once she has a taste of it, we watch her slowly transform from chrysalis to tentative butterfly with a soaring voice and a mischievous glimmer in her eye.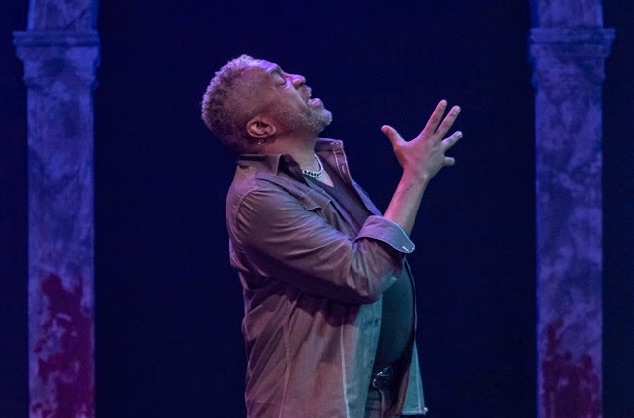 Roderick Sanford as Klook spouts poetic turns of phrase as convincingly as his rich palate of expletives, making neither seem out of place. His singing is next-level without being bombastic. His natural feeling comes through in every note, whether he's mournful, amorous, or outright tortured. These two characters are languishing in doubt. Can I win the other? Am I worthy of that person? Who am I and can I change? Though they may never discover the answers to these questions, the audience will hear them in their voices.
Dave Steakley directed this production with a book by Ché Walker and music and lyrics by Anoushka Lucas and Omar Lyefook. Christian Magby, the music director of the American premiere at Atlanta's Horizon Theatre, does the same here in Austin. Live on The Kleberg stage of Zach Theatre, The Ballad of Klook and Vinette runs until May 26.
---
The Ballad of Klook and Vinette
by Book by Ché Walker, Music and lyrics by Anoushka Lucas and Omar Lyefook
Zach Theatre
Wednesdays-Sundays,
April 24 - May 26, 2019
Special Events in Celebration of The Ballad of Klook and Vinette:
Pride Night – Thursday, April 25, 2019
Wednesday Post-Show Discussion – Wednesday, May 1, 2019
ASL Interpreted, Open Captioned, and Audio Described – Wednesday, May 1, 2019
Champagne Opening – Thursday, May 2, 2019
Tickets start at $25 and are available online at zachtheatre.org, by phone at 512-476-0541, or in person at the ZACH Theatre Box Office, in the Topfer Theatre, 202 South Lamar Boulevard (corner of Riverside Drive and South Lamar) Monday through Saturday, 12–5p.m. ZACH Theatre is wheelchair accessible. Student Rush Tickets are $20 one hour before show time (with valid ID). A limited number of Pay–What–You–Will tickets are available the day–of for Mainstage preview performances only. Groups of 8 or more may request reservations by calling 512-476-0594 x.245 or by emailing groupsales@zachtheatre.org.