Review #1 of 2: FIDDLER ON THE ROOF by touring company, Bass Concert Hall, April 2 - 7, 2019
by Brian Paul Scipione
The Tony Award-nominated Broadway revival of Fiddler on the Roof is playing in Austin from April 2nd to April 7th(including matinees on Saturday and Sunday). And as with many Broadway epics this production has been lavished with praise from The New York Times to New York Magazine. This performance is presented by Texas Performing Arts (TPA), found on the campus of the University of Texas at Austin, an organization that produces performances, educational events, and collaborations in their mission of supporting students, faculty, and the public alike. Established in 1981, TPA has brought to Bass Concert Hall not only Broadway productions but many world-famous performers.
Fiddler on the Roof is an old classic but may be new to any theatre-goers who haven't seen the 1971 film. The original musical debuted in 1964 and went on to win 9 Tony Awards in 1965, including best musical, score, book, direction, choreography, leading actor, and featured actress. In 1972, the show was granted a special Tony for being the longest-running musical in Broadway history (as of that date, of course). It has been revived on Broadway five times and in London's West End four times.Add to that the fact this play quickly become a favorite for high schools and university theatres. The original production's music was by Jerry Bock, the lyrics by Sheldon Harnick, and the book by Joseph Stein. This present production is directed by Tony- Award-winning Bartlett Sher, choreographed by Hofesh Schechter, and had musical direction by Ted Sperling. Costume design is by Catherine Zuber, lighting design by Donald Holder, and sound design by Scott Lehrer.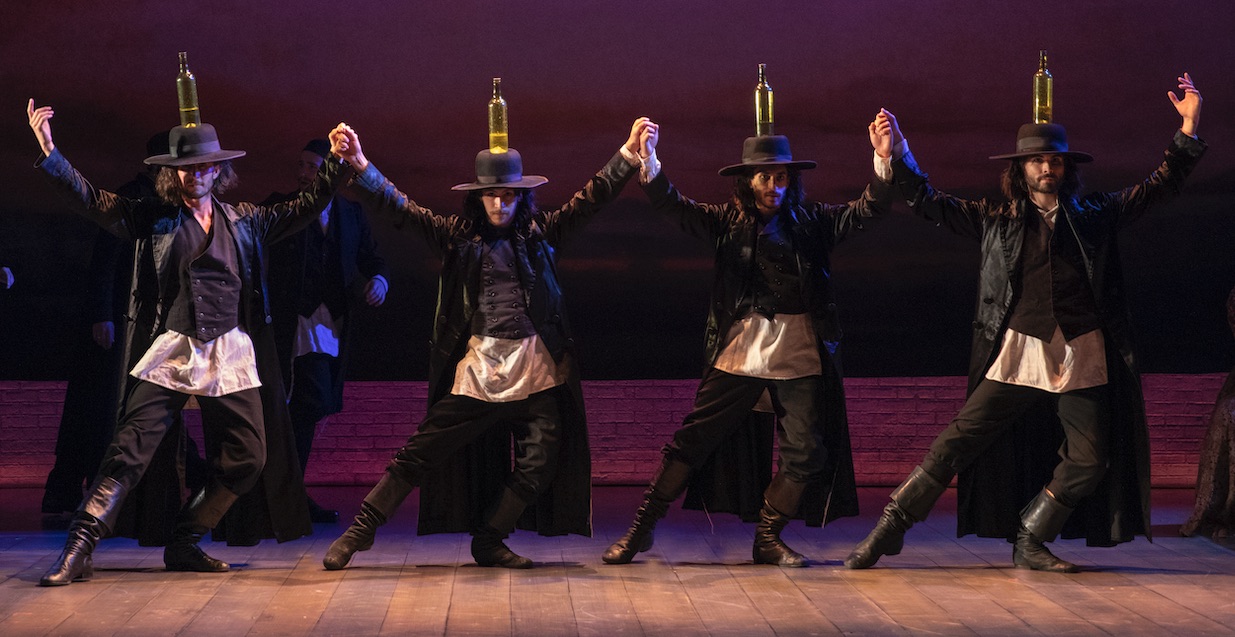 The story takes place in Imperial Russia in 1905 in a western region that tolerated Jewish settlements. The focus is on Tevye the Dairyman and his five daughters who hope to marry but not necessarily to the suitors their father prefers, based on his devotion to his religion and cultural traditions. Making matters worse is that the Tsar has issued an edict that will cause him to lose his home. The inspiration for this story dates back to the 1890s when Sholem Aleichem wrote a series of stories in Yiddish about the character of Tevye, later turned into a stage production in 1919 and a film in the 1930s.
The 60's musical brought Aleichem's tales mass appeal thanks to many hit songs including "If I Were A Rich Man," "Sunrise, Sunset," and "Matchmaker, Matchmaker." This present staging appears to stay very faithful to the original. This unfortunately makes the presentation of the material fairly dated. I am not referring to the story itself, of course, but rather the mind space and social outlook of the writers at that time. At two hours and forty-five minutes, the production may be a bit long for modern audiences, considering the story has a singular linear plot.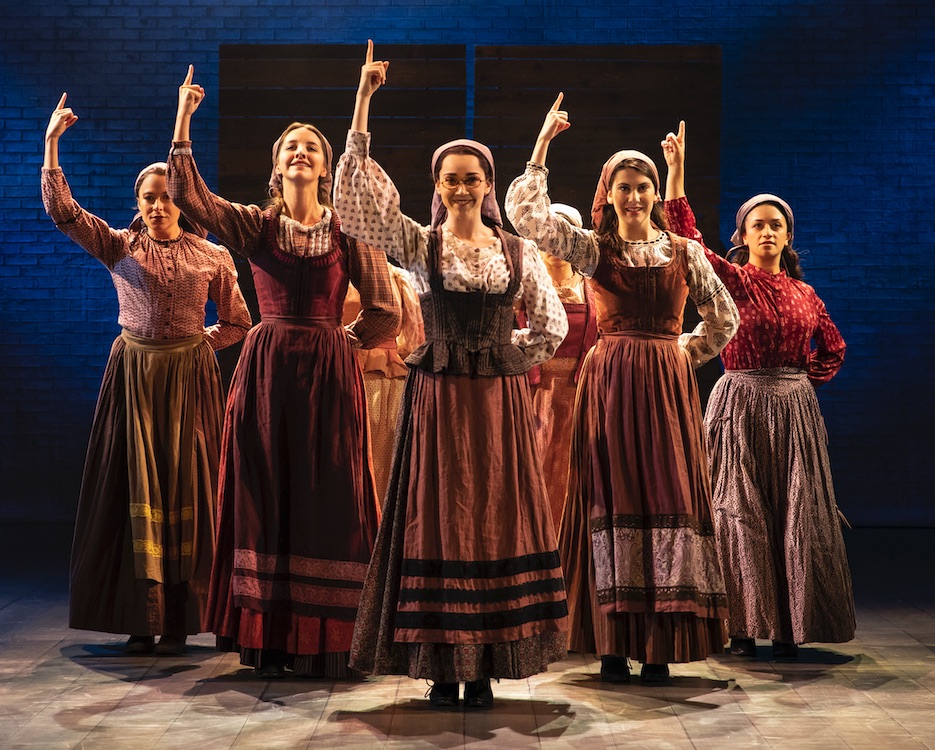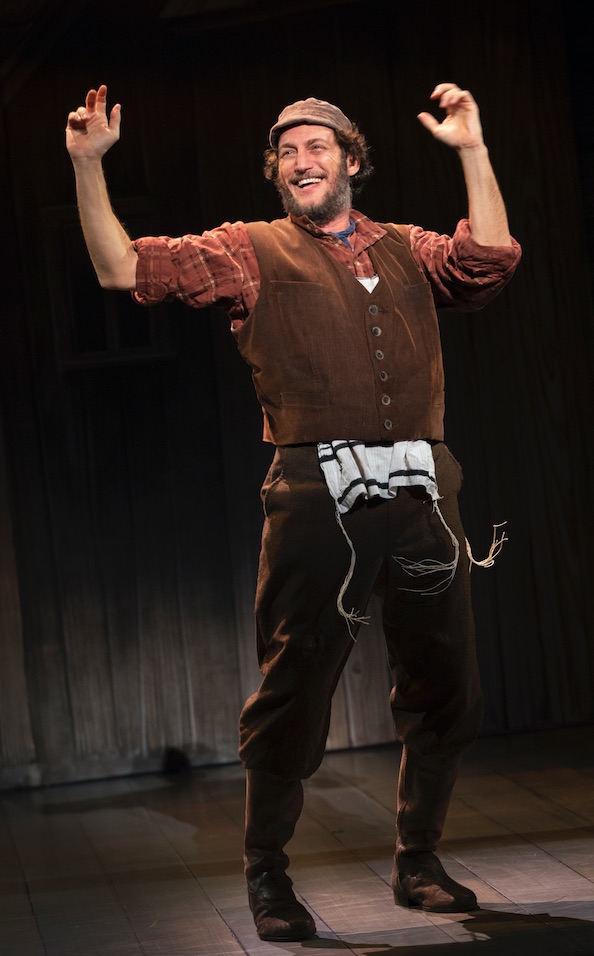 Yehezkel Lazarov as Tevye the Dairyman is a perfect example of immaculate casting. He embodies the character with an invigorating comic zeal. His physical comedy is spot on as well as are the moments in which he breaks the 4thwall to talk to God or the audience.
Lazarov's performance has an interesting flow to it as Tevye becomes leader, philosopher, victim, and fool as best befits the scene. His wry observations to the audience bring to mind Jerry Seinfeld's famous monologue stylings, but he also channeled other famous comedians. Both Gary Shandling and Jackie Gleason came to mind. In the space of one scene Tevye might be shaking his fist and yelling out his battle cry of 'Tradition!' but in the next moment he shrugs his shoulders like a Charlie Brown who just missed the football yet again.
Lazarov's singing is reflective of this production's musical direction, best described as natural. A traditional singing style is preserved and not painfully modernized or made show-boaty in any way. The dancing is wild and very amusing -- it's as if one has stumbled into a party rather than a performance, especially the number where Orthdox Jewish young men in their long black coats and prayer shawls dance with wine bottles perched on their heads.
The interesting sets include a life-size peasant hut and dreary backdrops. There's a dream sequence many bold and delightful moments, complete with the ghosts of the ancestors. Here we see the genius ofcostume designer Catherine Zuber and the show's hair and wig designer Tom Watson. The ghosts look like a cross between Beetlejuice and Downton Abby. The scene is appropriately creepy and whimsical, similar to the production itself.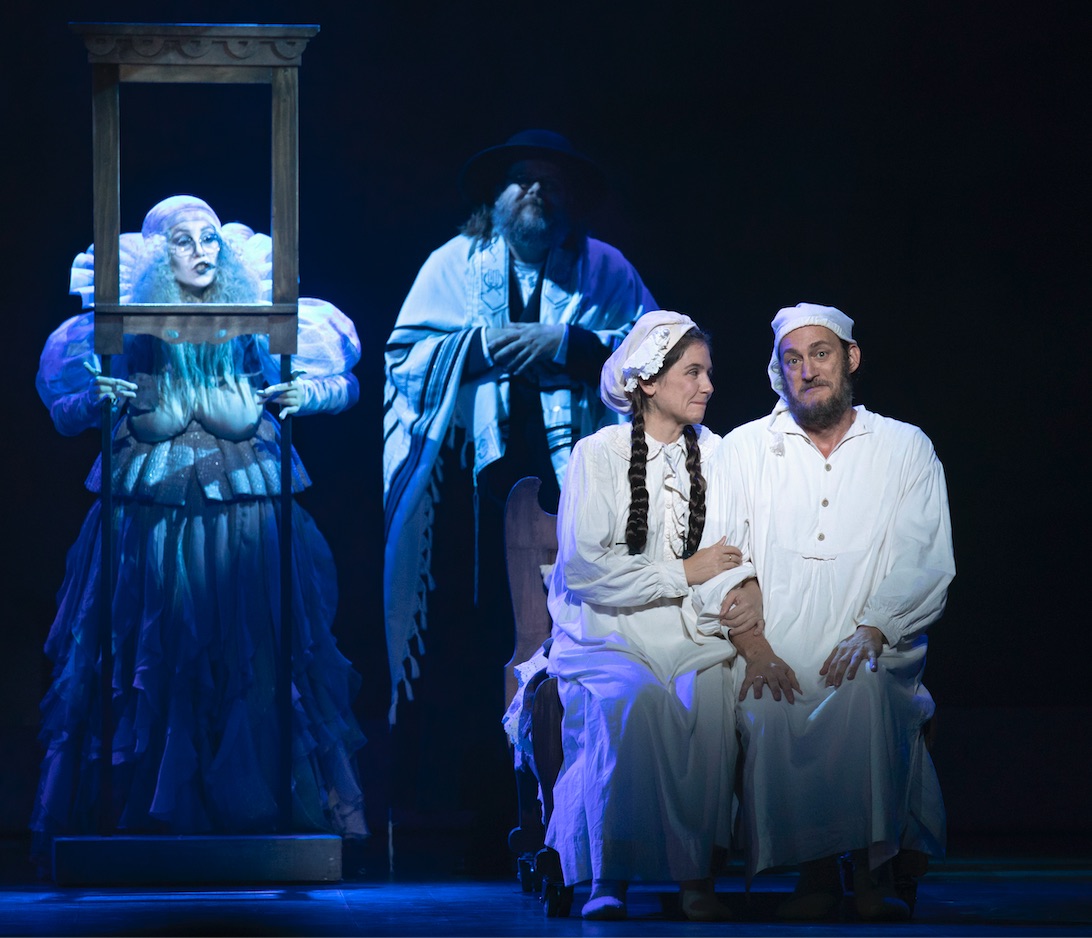 Fiddler on the Roof story has a feeling of impending doom, for there's violence in the background that can intrude at any moment. Tevye is as doomed as a Greek tragic hero or one of the many Biblical characters he's always invoking. Director Bartlett Sher uses powerful imagery and stark lighting in the last scene to emphasizes the fate of characters who are always crying out to God, never knowing if they are being heard.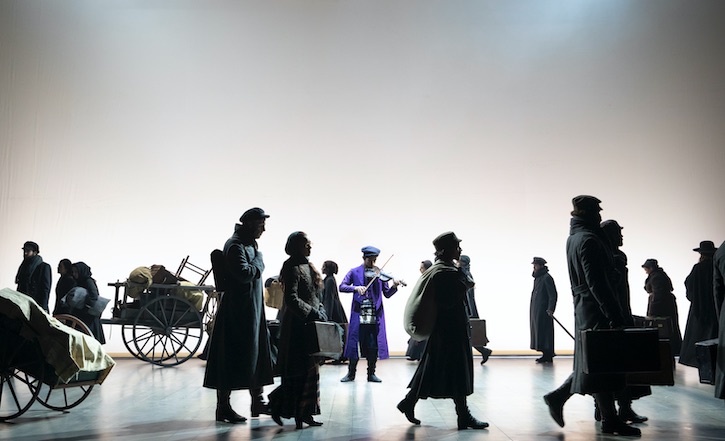 EXTRA
Click to view excerpts from the touring company's program for Fiddler on the Roof.
---
Fiddler on the Roof
by Bock, Harnick and Stein
touring company
Tuesday-Sunday,
April 02 - April 07, 2019
More info available at Texas Performing Arts.