Review: THE MOORS by Gaslight Baker Theatre, Lockhart
by Kara Bliss McGregor
The "merciless strength" and delightful absurdity of The Moors
The English moors are both the setting and a brooding character in the gothic writings of the Brontë sisters, Charlotte, Emily and Anne. Their 19thcentury fiction defined dark and stormy literary tropes made more compelling by having come from the imaginations of isolated young women living with a brother, aunt, and maid on the edge of the moors.
The Moors by Jen Silverman reconstructs the conceits of Jane Eyre and Wuthering Heights as a dark comedy, with a touch of magical realism. Set in a faded manor in the unforgiving landscape of northern England, the play gives us two sisters, Agatha and Huldey, plus a maid, a mastiff, and an unseen brother, Branwell (the name of the Brontë's brother). They are joined by a spunky governess and a moor-hen, and absurdity ensues.
Under the direction of Eric Beck, The Moors at the Gaslight-Baker Theatre in Lockhart is both a romp and a grim conversation about need and manipulation. The American accents (specified by the playwright), contemporary music and occasional sharp modern dialogue are bracing and hilarious, and this cast is gleeful and deft in establishing the buttoned-up Victorian conventions and then punching them in the face.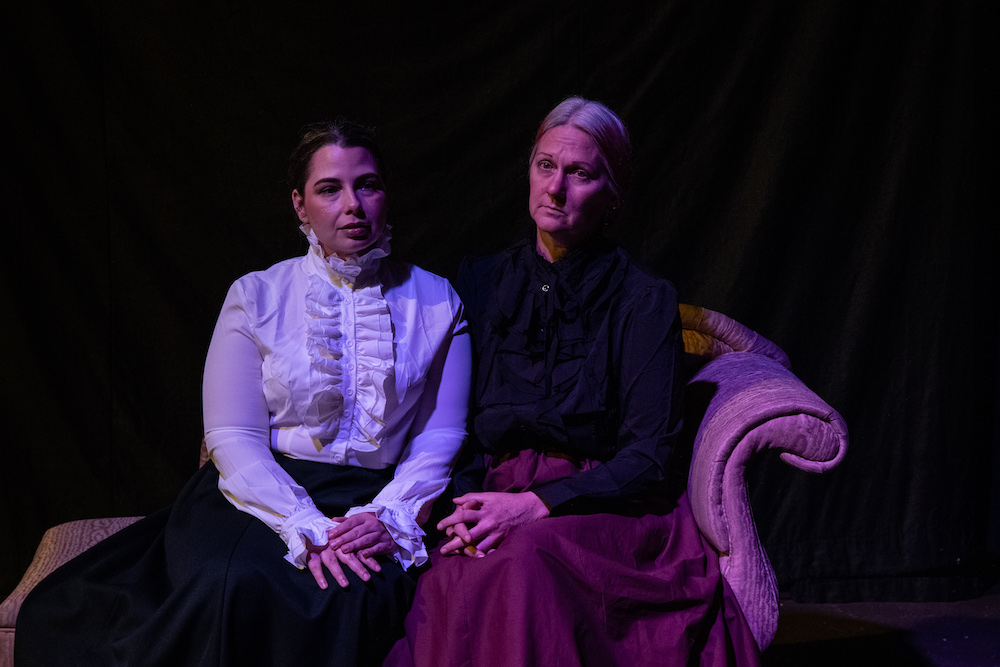 Robyn Gammill as Agatha is a stern spinster and the author of the convoluted narratives that keep other characters off-balance. Gammill's brittleness is comedic until it's not, delicately cracking open to show us something vulnerable, something desired. The relationship between Agatha and Dawn Wright Calvert as Emilie the governessis one of the delights of the production, featuring both a crackling battle of wits and a melting of hearts. Calvert is a sweet and smart counterweight to the dour and daffy sisters.
Francine Olguin brings the younger sister to twitterpated life, gripped by desperate desire for notoriety. Olguin's Huldey is a would-be reality TV star trapped in a Victorian world where "followers" are people who might follow her devotedly on the street. Her deliciously cringey triumph is a moment right out of first-round eliminations on American Idol.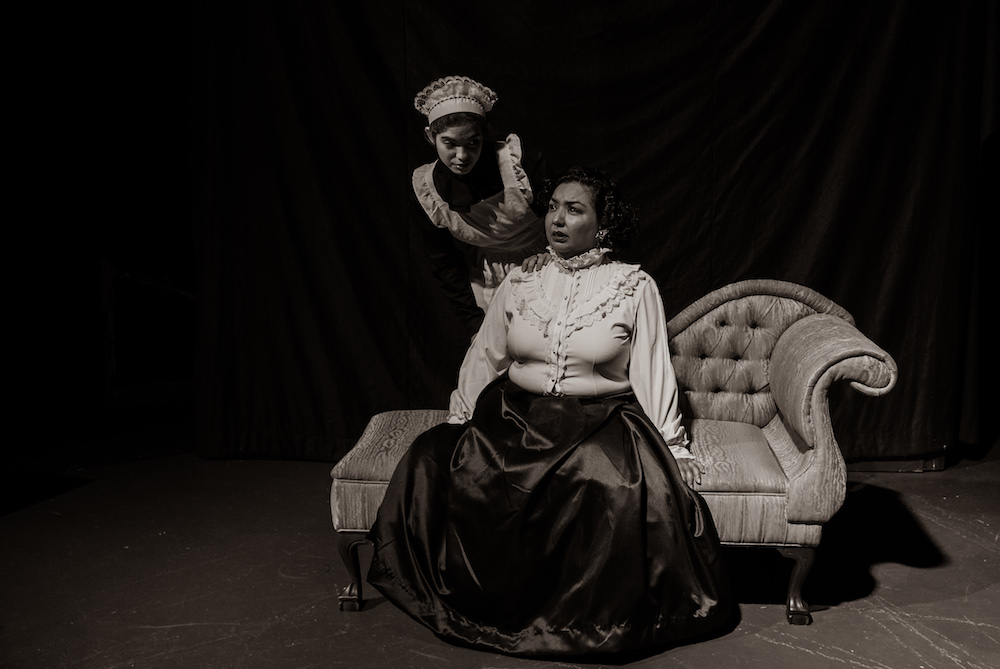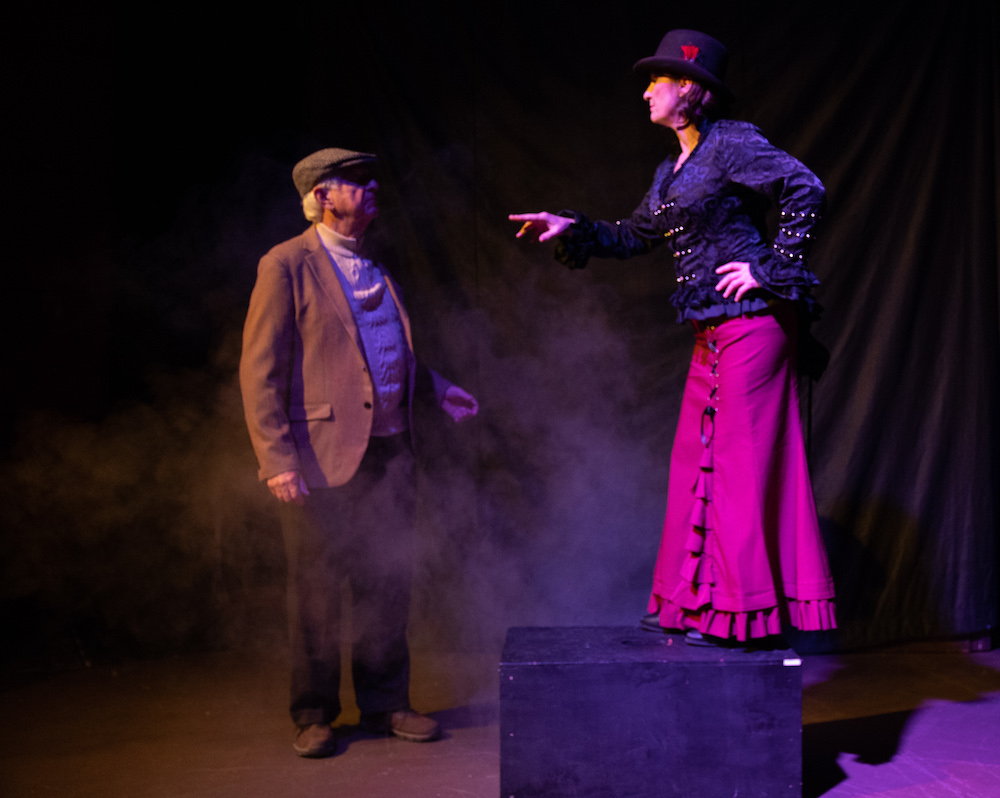 Kori Taylor's multi-faceted maid is an enjoyably dry-witted foil for the mania of others, while the most eloquently human character is a dog, played by Don Owen. Owen is the ignored and maligned mastiff whose lonely heart swells with affection for Melinda Ellisor's delightful moor-hen. Their negotiations about love between species are a whimsical exploration of the darker frustrated desires that drive the play: to connect and to touch, to be seen, to take flight, to destroy. . . .
Beck's set design works, with damask wallpaper, lead glass windows, and brittle-looking furniture – appropriately, nothing here is warm or comfortable. The preview performance had a few clunky transitions between scenes that are likely to smooth out as company members hit their stride.
The Moors is at the Gaslight-Baker Theatre, 216 S. Main Street, Lockhart, Texas, Fridays and Saturdays at 8 PM, March 15- 30, and 2 PM Sunday, March 24, and Saturday, March 30. Tickets are $15 for adults, $12 for seniors (60+) and veterans, and $7 for students with ID.
---
The Moors
by Jen Silverman
Gaslight Baker Theatre
Fridays-Sundays,
March 15 - March 30, 2019
Fridays and Saturdays at 8 p.m.; 2 p.m. matinees on Sunday, March 24, and Saturday, March 30.
| DAY | DATE | TIME |
| --- | --- | --- |
| Friday | 3/15 | 8pm |
| Saturday | 3/16 | 8pm |
| Friday | 3/22 | 8pm |
| Saturday | 3/23 | 8pm |
| Sunday | 3/24 | 2pm |
| Friday | 3/29 | 8pm |
| Saturday | 3/30 | 2 & 8pm |
TICKET PRICES
| | |
| --- | --- |
| Adult | $15 |
| Senior (60+) | $12 |
| Veteran | $12 |
| Student (up to 24 with ID) | $7 |
Save $2 per ticket for groups of 10 or more.