Review: Jane Eyre: An Epic Musical Love Story by Emily Ann Theatre
by Michael Meigs
Charlotte Brontë's Jane Eyre has long been beloved. Like Charles Dickens's David Copperfield, it takes a solitary, often teenaged reader back to the dark and unforgiving class structures of England's 19th century. Both novels profile protagonists of humble origin who survive, grow up and eventually achieve their goals thanks to diligence, character, and a touch of good luck.
Jane's story, published in 1841, is the darker of the two. Paul Gordon and John Caird's musical drama adaptation in 2000 preserves that sense. Bridget Farias Gates's in-the-round production for the Emily Ann Theatre creates a stark, almost claustrophobic space in the Burdine Johnson studio to intensify our empathy with Jane Eyre, both the young, neglected orphan played by Jadyn Collie, and the mature Jane Eyre portrayed by her sister Devyn.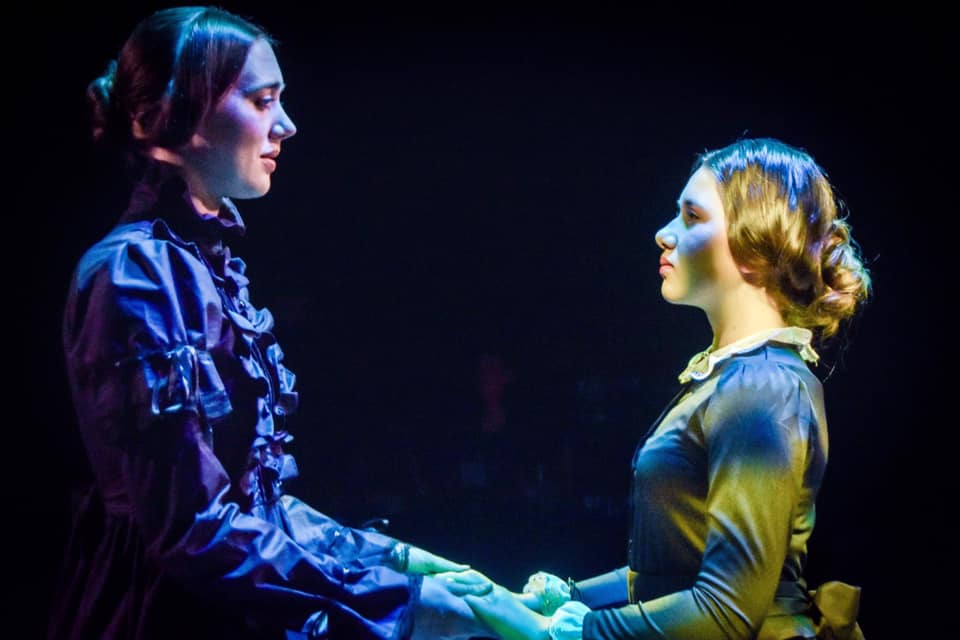 This is a tale unfolded in strongly focused pools of light surrounded by the dark. Jane's story is well enough known; it's no spoiler to remind the reader that a dark and terrible secret is confined in forbidden reaches of the Rochester mansion where she's employed as a governess. Jane's clear-eyed, reticent virtue turns like a flower toward the light of incipient love, but fate or the master of the house or the ingenious author builds toward revelation that at the last minute appears to crush all hope.
Did I avoid the spoiler? Michelle Pesina as Rochester's first wife Helen and Alexandra Green as her minder Grace Poole will make it vivid. Pesina mixes a sweet joyfulness with sudden menacing irrationality, while Green remains steady and compassionate, potentiallly as dedicated and correct as Jane herself.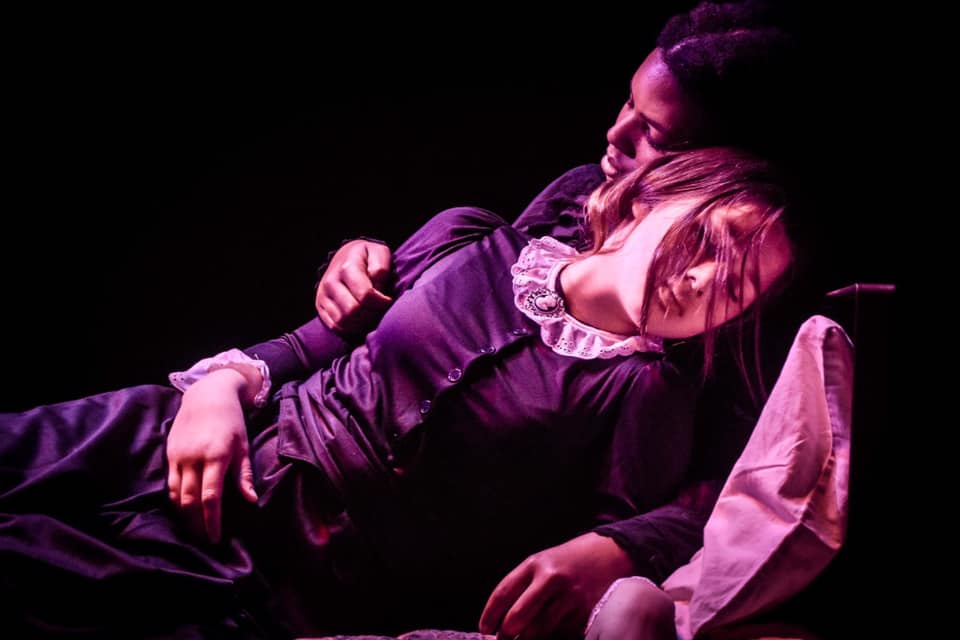 Jane Eyre, novel and musical play, offer a life story. Orphaned at a young age, Jane is passed to her sour-tempered aunt Mrs. Reed (Carla Davis) and then sent to a boarding school that's almost as austere as a prison. Her one friend Helen (Gabrielle Smith) falls ill and dies, not without offering Jane good Christian counsel about forgivenness. Penniless Jane acquires enough learning and French that when she comes of age, she's placed as a governess to young Adèle, a French speaker, at the Rochester estate. Elizabeth Reed is vivacious and just a touch naughty as the irrepressible Adèle. For the author and playwright Adèle is the gateway through which Jane makes the acquaintance of Edward Rochester, owner of the estate.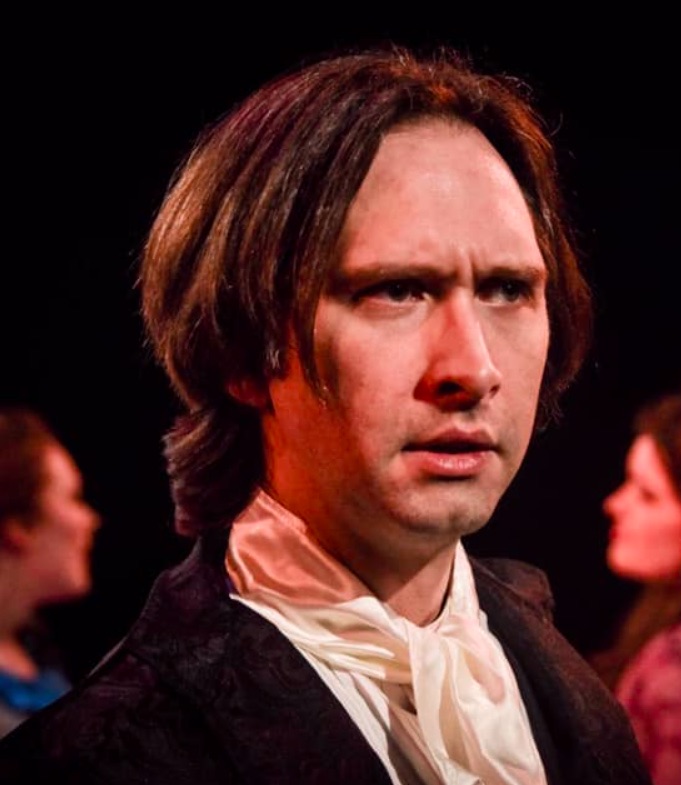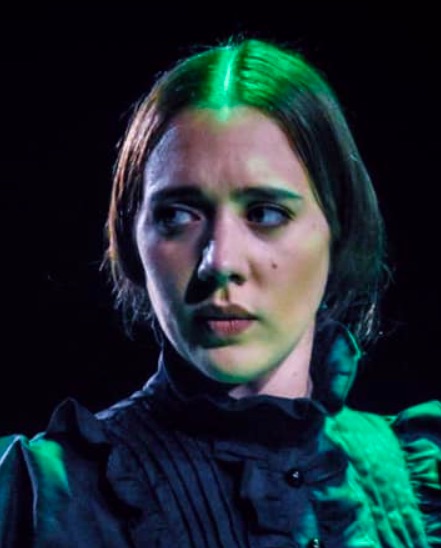 The essential sentimental movement of the novel and the play occurs through the relationship between Rochester and his employee Jane. Given the circumstances and English class structure, the gradual changes are repressed, ambiguous, and close to imperceptible. Rochester is caustic and often dismissive; he's absent for long periods and one gets the notion that he's something of a self-hating wastrel. Derek Smootz successfully navigates those shoals and constraints, signaling the evolution of Rochester's feelings with impressive subtlety. Opposite him, Devyn Collie is admirable as Jane, a study in severely correct black whose vivid eyes and contained expressions betray depths of sensitivity. The growing attachment of the characters is signaled much more by the music than by overt physical gesture.
The style of the work is closer to opera than to the typical Broadway musical. Each of the two acts features more than twenty musical numbers, written in complex musical lines designed to reveal character and emotion. There is little repetition of the melody. Coached by musical directors Maddie Tatman and Tommie Jackson, both in the cast, the company performs to a recorded orchestral soundtrack. Sound board operator Cameron Rivers manages levels to assure the singers are always heard.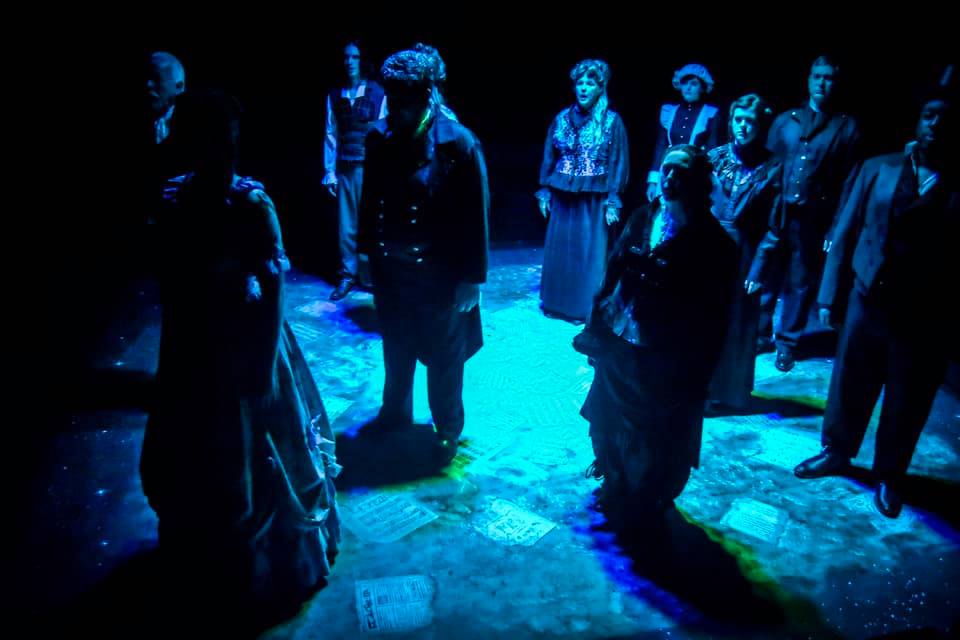 The cast is large, with 28 actors listed in the program. Director Farias Gates stages intimate scenes with a good awareness of the requirements of theatre in the round, and when she brings the full cast into that sacred space, it's with good effect. The many costumes designed or assembled by the director create an air of authenticity. Jane Eyre is not a dancing musical, despite a party scene with some waltzes choreographed by Melissa May Moncus; crowd scenes are for social gatherings or for musical presentations that remind us that Jane and Rochester as individuals are hemmed in by social constraints.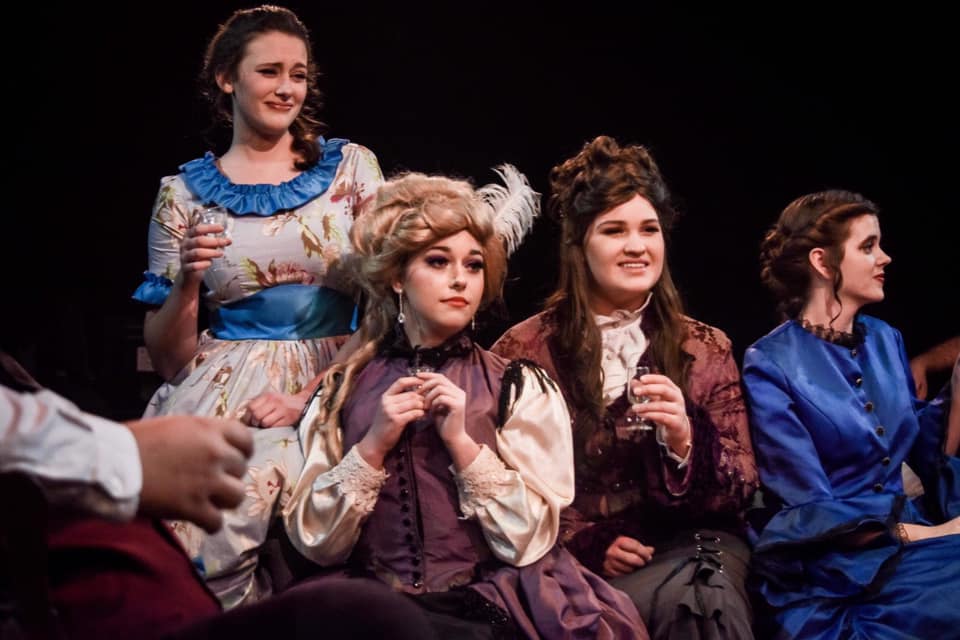 There are some juicy minor parts, characters whose clever quirks are Dickensian. Among them are socialite Blanche Ingram, played by the pert, attractive Jillian Linton, a notably gifted soprano; slightly dizzy housekeeper Mrs. Fairfax, played by Karin Cunningham; Tommie Jackson as Rochester's brother-in-law; and Chris Schaible as the missionary clergyman who courts Jane after her disappointments.
Jane Eyre is presented every weekend through March 3 in a space that seats an audience of about 65. This production targets and generally achieves a level of sophistication and excellence in musical performance that's rare in community-based theatre. And there's not a bad seat in the house.
EXTRA
Click to view the Emily Ann Theatre program for Jane Eyre, the Musical
---
Jane Eyre: An Epic Musical Love Story
by Paul Gordon, John Caird, based on Charlotte Brontë's novel
Emily Ann Theatre
Fridays-Sundays,
February 01 - March 03, 2019
Fridays and Saturdays at 7:30, Sundays at 2:30 p.m.
in the Burdine Johnson indoor studio theatre
Tickets $18 general admission, $12 for children