Review #2 of 2: Heartland by Vortex Repertory Theatre
by David Glen Robinson
Heartland, an important new play by Gabriel Jason Dean, is now up at the Vortex. The longish, heavily scripted work takes on geopolitics, especially the alt-tidal forces sweeping back and forth across Afghanistan and the United States. In the tradition of the best modern plays, Heartland also tells several stories at the same time, tracks up-to-the-minute, and shows great heart. This latter quality is sure to make it evergreen, some day to enter the canon.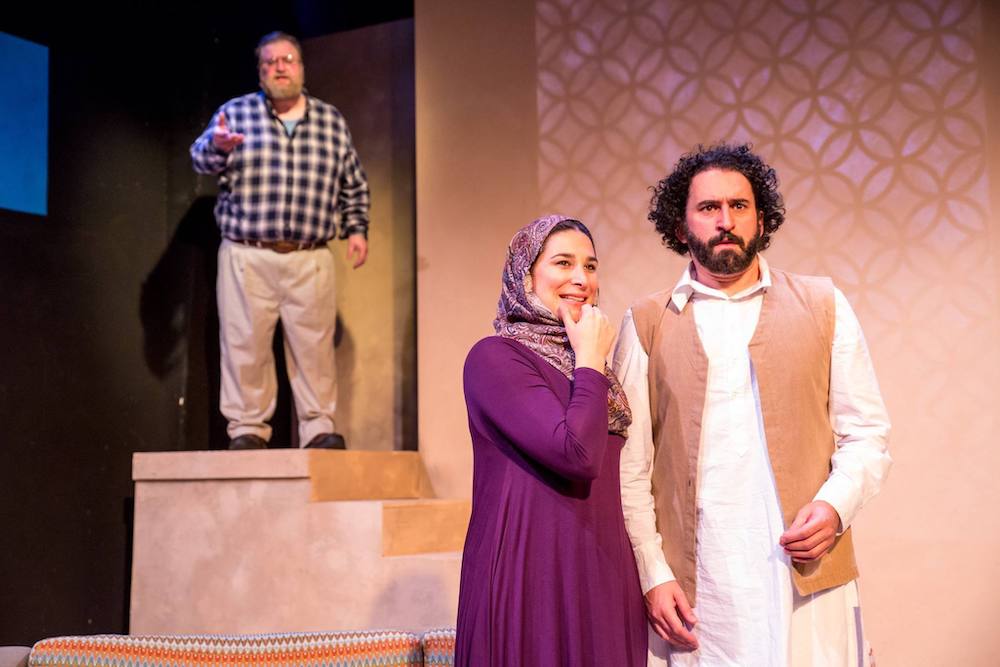 The play is almost all aftermath. The message of the death by Taliban violence of Getee (played by Kacey Samiee) is conveyed back to her home in Nebraska. Unmarried, she was the adoptive Afghan daughter of a professor of Afghan studies and literature, Dr. Harold Banks (played by Lowell Bartholomee). Later, Getee's Afghan lover Nazrullah (played by Kareem Badr) appears on Banks' doorstep as an undocumented migrant. Both men learn that life goes on even when one doesn't want it to, and they tell their stories of Afghanistan from near-opposing viewpoints.
Researching for Heartland, Gabriel Jason Dean discovered that the US wrote propagandizing textbooks favoring the Mujahideen in their conflict with the Russians early in the 1980s (see Robert Faires' feature in Austin Chronicle, January 18, 2019). The idea was to promote the concept of jihad among Afghans, at least in the way Westerners understood it. Many today feel that the West is reaping the whirlwind of jihad regardless of its variant conceptions and distortions. Michener Fellow Gabriel Jason Dean addresses the moral blur that Afghanistan has become for all involved.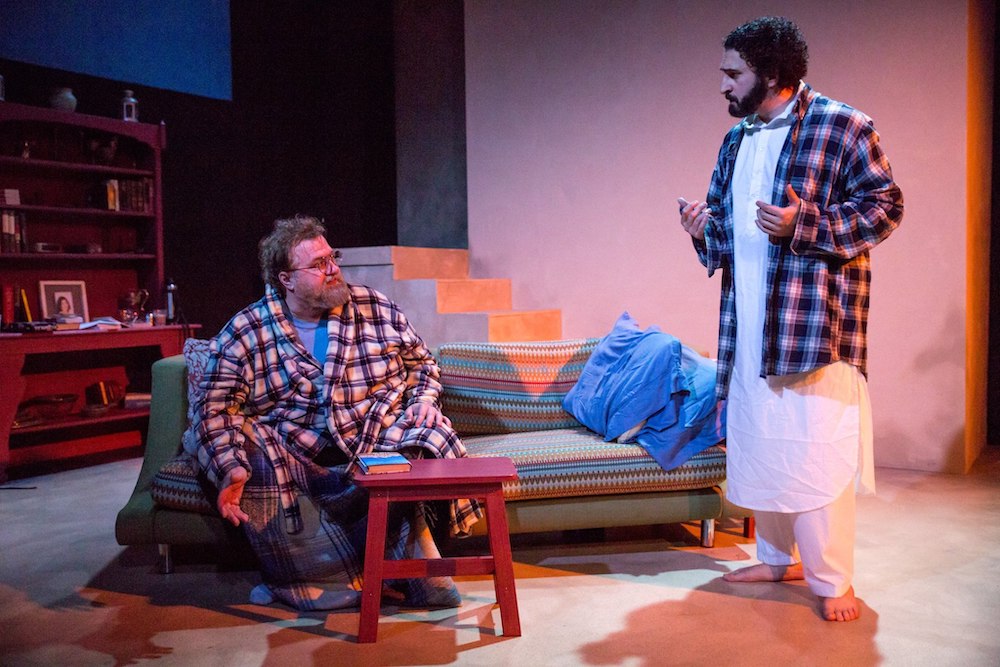 Hence the anticipation for Heartland. The opening of the play at The Vortex is billed as part of a National New Play Network Rolling World Premier, by Geva Theatre Center, Rochester NY; New Repertory Theatre, Watertown, MA; the Vortex; and InterAct Theatre Company, Center City, PA. Anticipation, indeed. The nation's theatre community welcomes and warmly embraces the work.
The seemingly ethnically correct cast was assembled from skilled professional actors. Their characterizations and stage performances are excellent and precise under the direction of Rudy Ramirez. Lowell Bartholomee's characterization of Prof. Harold Banks in particular is singular among the many characters Bartholomee has created over the years. In contrast to the many brash and bold characters in Bartholomee's repertoire, Prof. Banks is a withdrawn ivory-tower type, yet brainiacal; and in his movement qualities he fits easily and comfortably within Bartholomee's hefty frame. Banks, although tinged with tragedy, is enjoyable to watch.
Director Ramirez also shows deftness in creating scene transitions with split-second timing that advances the progress and pace of the play. This crisp quality of the play's action is assisted mightily by the lighting design of Patrick Anthony. In Heartland, Anthony relies on simple repeated light sets to switch the action back and forth between Nebraska and Afghanistan. One curtainless thrust stage by Ann Marie Gordon serves the needs of two continents almost to perfection.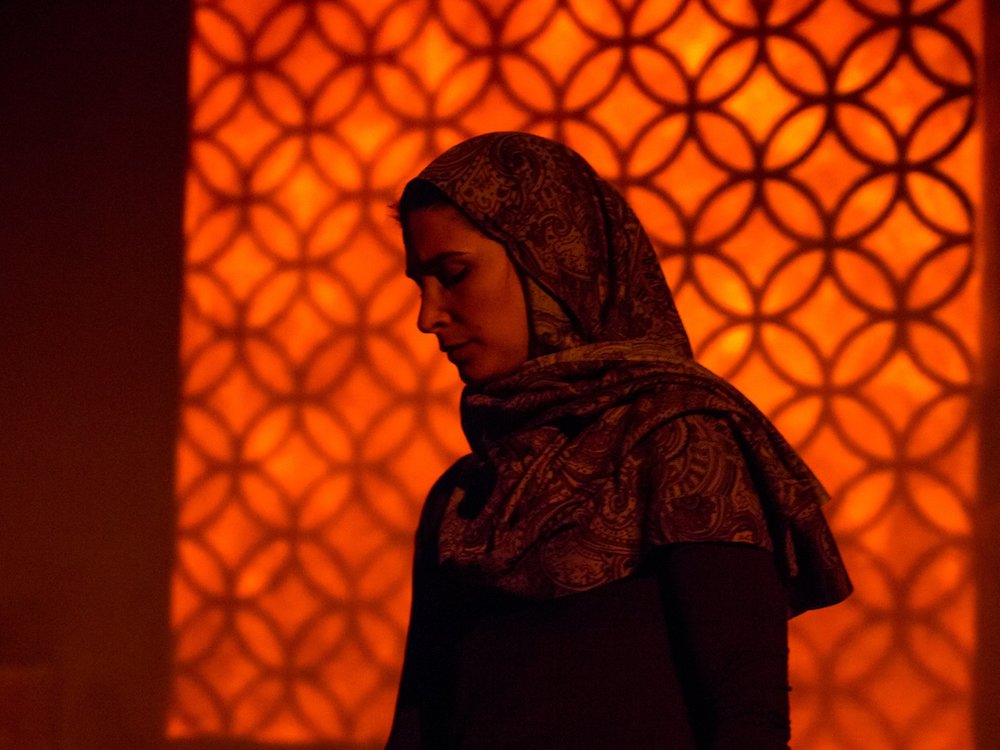 Rapid scene changes, almost as fast as those of a chase movie, left even some theatre adepts with the "Now where are we?" reflex response, especially early in the play. Contemporary theatre relies on semiotics to convey many of its transitions and symbol sets. Such signaling must be learned by the audience. Once the standards of a particular production are set forth, they must be followed consistently to keep things straight. By the use of memory ghosts—live actors stepping out on stage and delivering lines that are only memories, thoughts, or dreams of other characters on stage—the Vortex production blurred its own standards. Many of the patrons on the night this reviewer attended clearly were present to receive Dean's spoken text and to plumb the socio-political meanings of the play. In other words, they didn't have the look of frequent theatre attendees. Some confusion may have been the result, although I heard no specific complaints.
The credit in the program for videography wasn't for images onstage, but for a promo video by José Lozano and Magic Spoon Productions. A horizontal panel strip on stage left of the set occasionally brightened to green or orange, sometimes revealing a silhouette. Simple landscape videos, one for Nebraska, one for Afghanistan, would have solidified the audience's perception of each scene's location.
The clash of cultures is everywhere in the play, shown humorously in one particular scene by Prof. Bank's judgments on Getee's wardrobe-loading as she prepares for flying to Afghanistan. He divides the sheep from the goats by nodding and pointing left or right. Among the goats (non-transportables) were a sequined handbag and shortie wrap skirt, things displayed by women in Afghanistan only at their mortal peril.
Getee teaches English at a women's school in the countryside, and here the themes mingle. The school is progressive, and Getee is allowed to teach any literature as long as she and the girls wear the chador head-covering. Her father, Prof. Banks, sends her his works of literary criticism on Hemingway for her teaching. Getee waves off The Old Man and the Sea as being too "male" -- instead, she picks up The Diary of Anne Frank for lengthy analysis and discussion. Here is an immediate, telling if somewhat exaggerated, analogy between the status, risks, and dangers facing women (Jewish and other) both in World War II and Afghanistan today. Getee's students need little translation to connect. But Nazrullah tunes in to this and is appalled that, among other things, a female writer would write about her private parts in a short passage. Nazrullah is young and naïve to many things; he was educated with the US propaganda textbooks aimed against the Russians, with vast unintended consequences (actually intended on a deeper level) that distorted Afghan education from the 1980s through the turn of the millennium.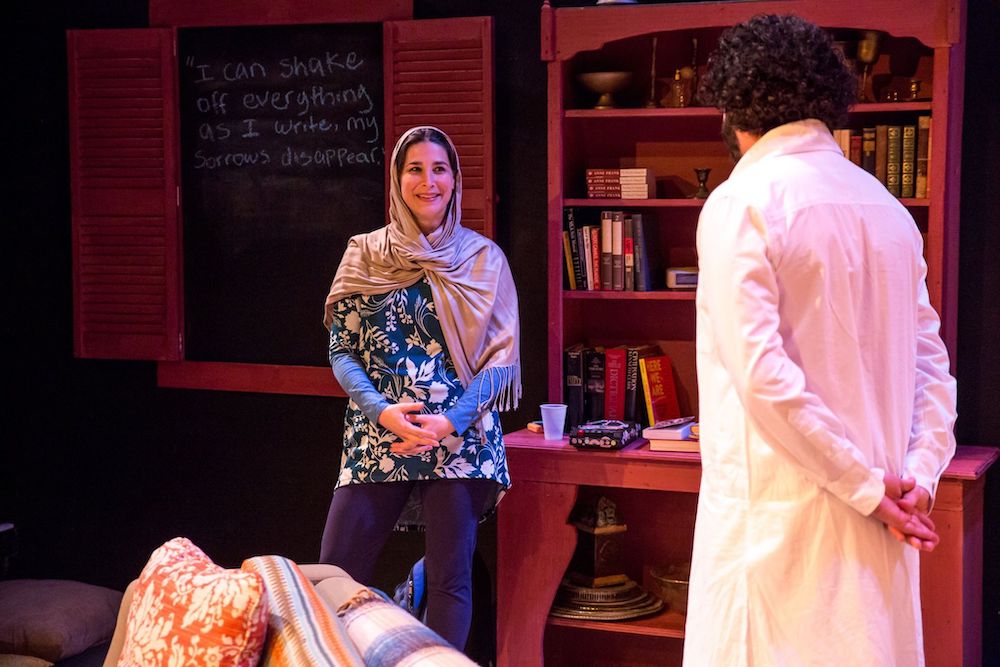 Modern feminism beats up on Hemingway, who is not a moving target. He long ago joined Steinbeck on the feminist shitlist of exemplars of toxic masculinity, worldwide and for all time. So it is surprising that through Getee Dean picks on The Old Man and the Sea, the least poisonously macho of Hemingway's longer works. His more entrenched male-dominated works such as The Sun Also Rises and A Farewell to Arms could metaphorically encapsulate both the haute-macho American Afghan intervention and the Taliban reaction to it. Afghan and American women, conjoined neatly in the figure of Getee, remain stuck in the middle.
Perhaps most poignantly, the character of Nazrullah is played by Badr as a wide-eyed idealist, full of hope in spite of being educationally deluded by the Americans he comes to view as his enemies. He clings to the philosophy and poetry of Jalal ad-Din Rumi, which keep him smiling upward at the stars. Rumi's works become the pathway to his romance with Getee. In a play full of darkness, their affair is as tender as flower petals.
Rumi is increasingly popular in the West. The quotation by Rumi on the Heartland poster, written more than 800 years before the play, gets at the play's essence. That simple poem is finding its way into religious songs and CDs, liturgies and body prayers in progressive Christian churches (Trinity Church of Austin), Wiccan covens, and synagogues. It is:
Out beyond ideas/of wrongdoing and rightdoing/there is a field/I'll meet you there.
Heartland by Gabriel Jason Dean is recommended to the World. It plays at the Vortex on Manor Road, East Austin, January 17 to February 9, 2019.
EXTRA
Click to view the Vortex Repertory program for Heartland
---
Heartland
by Gabriel Jackson Dean
Vortex Repertory Theatre
Wednesdays-Sundays,
January 17 - February 09, 2019
January 17-February 9, 2019 8 pm
Saturday, January 26--American Sign Language ASL-Interpreted Performance
Free to Deaf and Hard of Hearing Audiences
Friday, January 31--Live Streaming Howlround.com/tv
Wednesday, February 6 --Industry Night
The Eloise Stage @ The VORTEX
2307 Manor Rd. Austin, TX 78722
Free Parking. Bus Route.
The Butterfly Bar @ The VORTEX opens nightly at 5pm with full bar and hand-crafted cocktails.
Patrizi's @ The VORTEX opens nightly at 5pm with delicious homemade Italian food.
Tickets: $35-$15
$35 Priority Seating
$25 General Admission
$15 Discount/Artist/Student/Senior/Veteran
www.vortexrep.org 512-478-5282
Advanced Reservations Recommended. Limited seating.
Radical Rush Free Tickets: Limited free tickets for each performance in the spirit of sustainability, accessibility, and the gift economy. Radical Rush tickets released at 7pm each night-in-person only.
Blue Star Theatre: Discounts for Military, Veterans, and their families
2-for-1 admission: Thursday and Sunday with donation of 2 cans for SAFE Austin.