Review #1 of 2: Heartland by Vortex Repertory Theatre
by Michael Meigs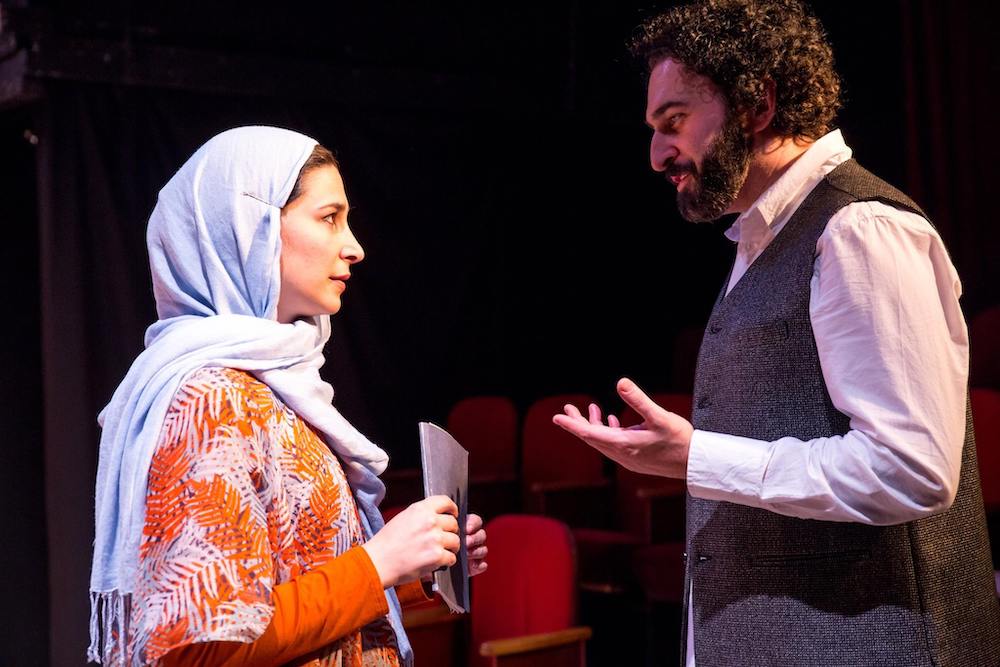 Heartland is a small miracle of a play. Playwright Gabriel Jason Dean, aided by director Rudy Ramirez, reconciles the ache of loss by drawing a quiet, warm portrait of a chaste love affair in the impossible circumstances of Afghanistan and evoking those memories for us in the home of an ill and grieving father. They're memories of Getee, a U.S. citizen teacher murdered by the Taliban, and they belong to Nazrullah, a fellow teacher, and to Harold, her father.
Improbable as it may seem, the young man, a mathematics teacher, has somehow made his way to Nebraska to fulfill Getee's promise to return Harold's first edition of Hemingway's The Old Man and the Sea. Dean alternates the two stories in flex-time; benefiting from Patrick Anthony's calculated lighting design, Ann Marie Gordon's deliberately plain set serves either as an Omaha living room or the staff room of an American-supported school in rural Afghanistan.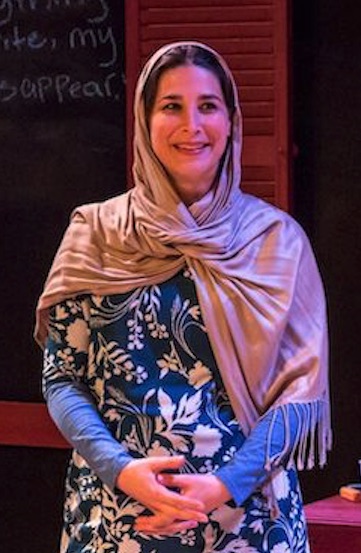 In the current time of the story Lowell Bartholomee plays the sluggish, despairing, and increasingly ill father. Formerly a professor of Afghan studies, he's an epic mess, retired and with little left to live for. While serving as an advisor to the U.S. government during the Soviet-Afghan war of 1979-1988, he adopted Getee from a refugee camp and brought her away to America. Afghan by heritage but Nebraskan by culture, she seeks her roots by taking Dari language lessons and volunteering with Harold's active encouragement to teach English in her previous homeland. Once she has departed, the only direct contacts between father and daughter are Skype conversations as each peers into an invisible computer screen.
Kacey Samiee as Getee has a gentle, attractive glow, shy and earnest throughout. She's apologetic about her Dari, willing to make the effort and take correction, delighted to find that the new math teacher has almost enough English to carry on a conversation. Dean's charming dialogue for these two spends time searching for linguistic understanding and cultural common ground. Getee is using Anne Frank's diary to teach her middle-school students. She persuades Nazrullah to read the text; in return he teases her with solemn-faced jokes and tells her about growing up under Russian occupation. Because we know from the opening scene that Getee and other teachers were murdered by the Taliban, there's a tug at the heart with each of these exchanges and with the gradually developing attraction between the lonely Getee and the bashful but mischievous Nasrullah.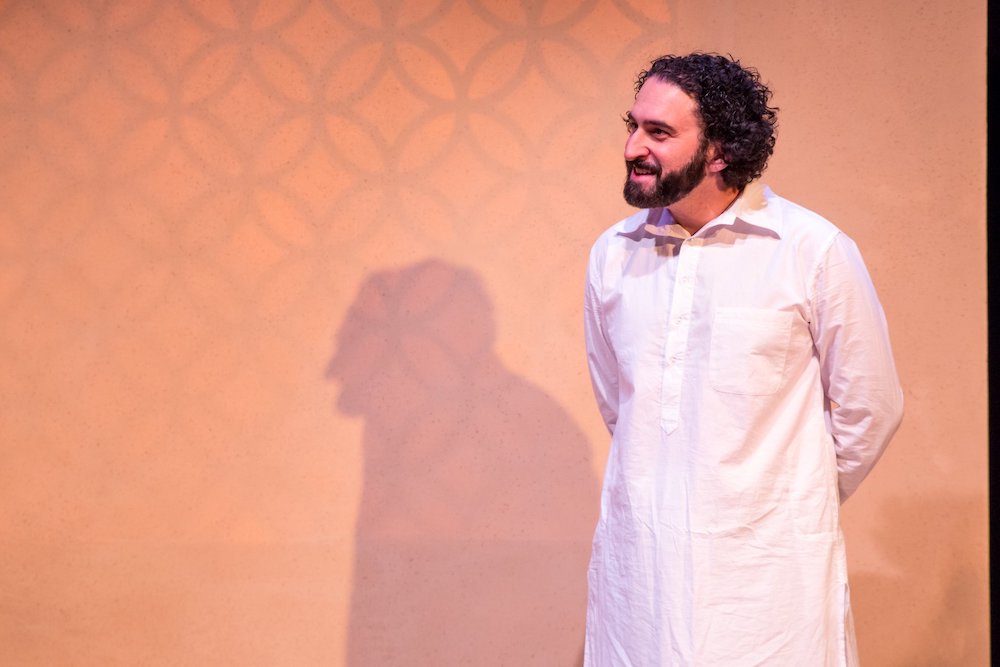 Playwright Dean has written Nasrullah as the antithesis to the crude caricature that stereotypes the Muslim male Afghani in American imagination. Nasrullah is the link between these two heart-rending stories, so Kareem Badr is onstage almost every moment. Badr's performance as the attentive, gravely courteous and clever Nasrullah is captivating for its mercurial character and almost Peter-Pan-like innocence. The other characters are fully drawn and convincing; one might want to take Samiee as Gettee in a warm hug or give Bartholomee as the defeated professor a couple of hard shakes, but Badr is the real enchantment of this staging. Nasrullah is attentive and selfless at every moment; Badr rivets our attention with the slightest shift of expression, as if wearing his heart on his sleeve.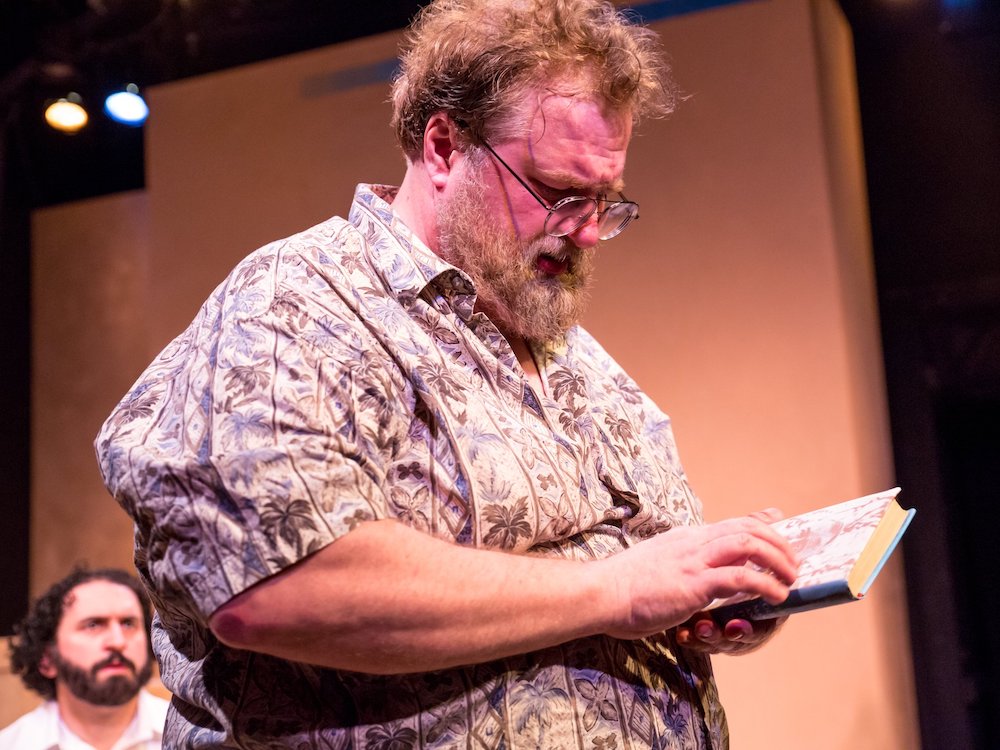 The personal stories succeed better than the polemical intent that the playwright announces. Through Getee he announces his indignation at U.S. propaganda against the Soviet occupation, in the form of schoolbooks crammed with ham-handed anti-Soviet phrasing. Getee's discovery of those old texts is the basis of a dispute with Harold, and his history with them will become just one more regret as he refuses medical treatment and embraces oblivion. The playwright implies that such foolish texts designed to encourage anti-Soviet mujahideen (freedom fighters) were fuses that later lit the grim fundamentalism of the taliban. In the complex contemporary situation created by wars pursued in Afghanistan by outside powers, stretching back to the British disaster of 1839-1842, school arithmetic books counted for very little.(*)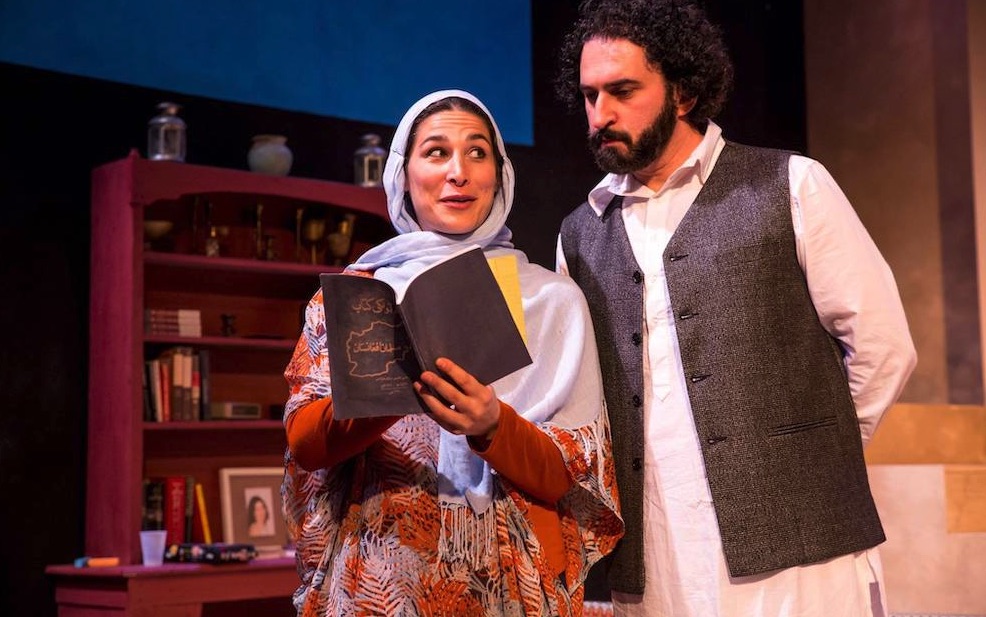 In a couple of details Dean strains credibility even in the make-believe world of theatre. Nasrullah says he entered the United States by appropriating another man's documents (mm, not likely, even in pre-Donald-Trump times), and we learn that Harold has had the university's Afghan Studies institute "fix things up" (in fact, the procedures for refugee and asylum status are lengthy, perilous, and increasingly difficult; I know, because I've been involved on both sides). And when Getee cites the contents of the schoolbook, she says she did the translation -- though she struggles in simple conversations, and the books are written in the Perso-Arabic script used for Dari (فارسی دری).

The human content of Heartland renders such details unimportant. Dean has created characters that live and breathe, a story that appeals to our best sensibilities, and tragedies that affect each of the characters in the ancient Greek sense. Each character's downfall springs directly from inherent flaws of character or understanding: Getee's dismay at her statelessness; Harold's regret at putting her into harm's way and abetting propaganda; Nasrullah's devotion to his lost love. Getee vanishes in her not-homeland; Harold renounces life; Nasrullah abandons a homeland for an American heartland. The theme of prayer is powerful through this piece, and Nasrullah/Badr brings these losses into stark and profoundly moving focus in the final scene.
Heartland, at Austin's Vortex until February 9, is so exquisitely written, directed and acted that it's likely to sweep Austin theatre awards, just as did the playwright's works Terminus and Quality of Starlight. If that's what floats your boat, be sure to see it. And when you do, give in to an evening that will take you out of yourself and into a better place.
EXTRAS
Click to view the Vortex Repertory program for Heartland
(*) "Why Did Soviets Invade Afghanistan? Douments Offer History Lesson for Trump," by Peter Baker, New York Times, January 29, 2019
---
Heartland
by Gabriel Jackson Dean
Vortex Repertory Theatre
Wednesdays-Sundays,
January 17 - February 09, 2019
January 17-February 9, 2019 8 pm
Saturday, January 26--American Sign Language ASL-Interpreted Performance
Free to Deaf and Hard of Hearing Audiences
Friday, January 31--Live Streaming Howlround.com/tv
Wednesday, February 6 --Industry Night
The Eloise Stage @ The VORTEX
2307 Manor Rd. Austin, TX 78722
Free Parking. Bus Route.
The Butterfly Bar @ The VORTEX opens nightly at 5pm with full bar and hand-crafted cocktails.
Patrizi's @ The VORTEX opens nightly at 5pm with delicious homemade Italian food.
Tickets: $35-$15
$35 Priority Seating
$25 General Admission
$15 Discount/Artist/Student/Senior/Veteran
www.vortexrep.org 512-478-5282
Advanced Reservations Recommended. Limited seating.
Radical Rush Free Tickets: Limited free tickets for each performance in the spirit of sustainability, accessibility, and the gift economy. Radical Rush tickets released at 7pm each night-in-person only.
Blue Star Theatre: Discounts for Military, Veterans, and their families
2-for-1 admission: Thursday and Sunday with donation of 2 cans for SAFE Austin.