Review: Waitress by touring company
by Brian Paul Scipione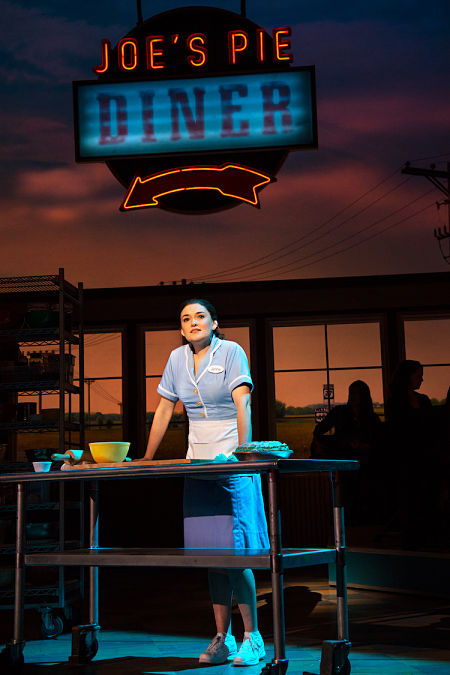 "Sugar. Butter. Flour"
These three words begin the show and are a common refrain through out the next two acts. It's a simple and sweet refrain for a simple but not always sweet story.
Our titular waitress learns in the first scene that she is expecting and must quickly re-evaluate her life -- but then again not really, because the truth is she has long known what she wants and, perhaps more tellingly, that what she has is what she doesn't want.
This musical is inspired by the 2007 film of the same name, written and directed by Adrienne Shelly. Many people are drawn to it for this very reason, and so the production has remained faithful. The tone is light, cheerful, and realistic which is not to say that it doesn't deal with many negative topics but does so with a c'est la vie flair that avoids any sense of impending despair or overtly-gloomy airs. And this is interesting, since the story isn't set in a realm of blatant hope or even controlled optimism, for that matter.
This aspect may be a byproduct of the original story, which seemed to preclude the possibility of anything too good happening to characters doomed to work in the service industry. The moments of greatest clarity and happiness for the main character, Jenna, happen when she's baking alone. These moments of catharsis border on exorcism as she attempts to excise the pain and demons of everyday life in the form of quirkily-named pies.While delicious, theyt symbolize for her the only possible retribution she can exact. She doesn't turn the other check but instead kiss the enemy on their cheek with the sweetest sweet.
Jenna's personal challenges come in many escalating emanations, including grousing co-workers, grumpy customers, grumpier bosses, and an abusive husband. If that seemed to escalate quickly in the line printed above, do not despair ,because on stage it does not. The overall tone of this production is nothing short of cheerful, light, and hilarious. The laughs, chuckles, and guffaws come at a rapid fire pace and the music is catchy and moving; reminiscent of classic pop music, it brings to mind Elton John. Let me qualify that last sentence -- it's only reminiscent of pop music, it is pop music, written by Sara Bareilles, a multi-Grammy nominated artist who has spent an enviable time in the charts. She hosted the 2018 Tony awards and has been deservedly lauded for her contribution to both mainstream and Broadway music. Bareilles joins an amazing all-female creative team in this production which includes: Jessie Nelson who wrote the book, Lorin Latarro (choreography), and Tony-Award-winning director Diane Paulus whose previous credits include Hair, Pippin,and Finding Neverland.
This production of Waitress is fun, catchy, and very moving. The dancing and singing are wonderful and sprinkled with a few show-stopping moments of vibrato and syncopation. The characters, though routinely stereotypes, are all very likable and easy to commiserate with. The synchronized pie-making sences were especially delightful. The song's hooks will definitely stick with you just as the overtly sugar-sweet mood of the play is refreshing (excepting of course the scenes of emotional abuse that utterly silenced the large audience of the Bass Concert Hall and can easily be considered borderline triggers despite the play's overt frivolity). The band is amazing and plays with a vigorous energy that complements the actors' abundance of élan. In some scences, portions of the band appeared on stage, kind of in the background and kind of in the foreground, and it was hard to tell why. They weren't incorporated into the scenes and to some degree seemed as though they were just used to fill space on the stage. The rest of musicians hidden in the orchestra were already doing a splendid job and making their presence known with the verve of their performance.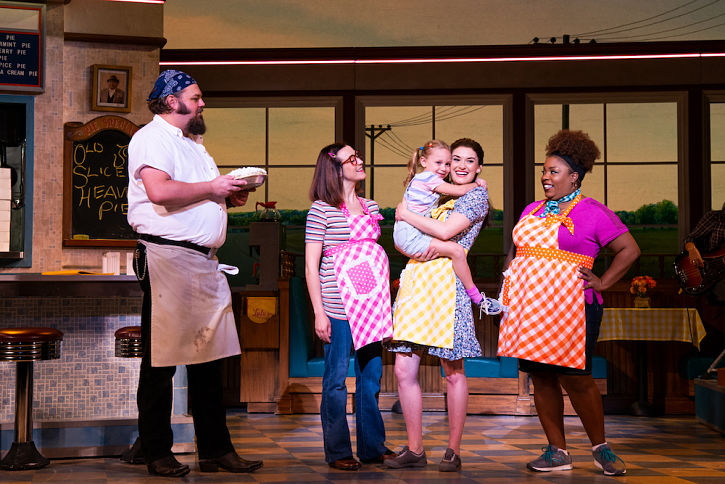 The touring cast is joined by two aspiring Austin actors chosen to play the part of Lulu for the local performances. Penelope Hall of Cedar Park and Zoe Rutherford of Austin appear at alternate performances, each performing 4 engagements. After auditions at the University of Texas this past November, they were hand-picked for the role by members of the Waitress production team. The tour does this in each city the company visits. It's nice PR and a boost for the youngsters chosen.
Christine Dwyer, as our waitress Jenna, has a goose-bump-inducing voice and an onstage aplomb that was neither over-bearing or restrained. It would be silly to say she stole the show, when she actually was the show. One had the impression her character sought neither pity or praise but nonetheless displayed the full gamut of her emotions.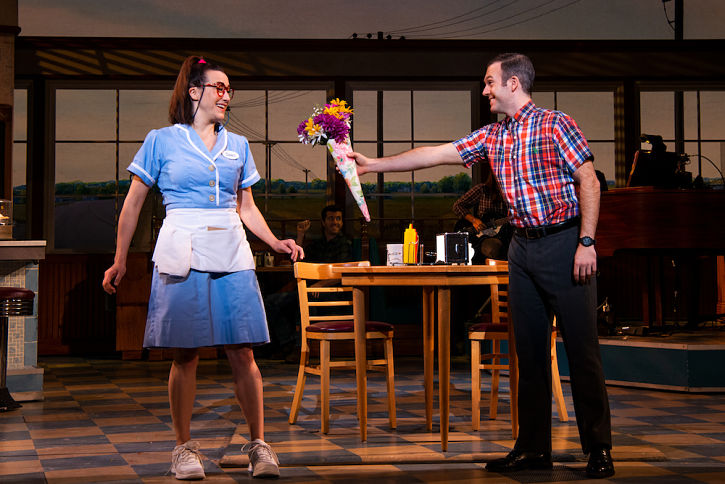 Jeremy Morse as Ogie, the love-sick, stalker-ish, fully-owning-it-nerdy CPA who falls for Jenna's fellow waitress Dawn, simply demolishes the stage. The role is certainly a delightful one to play and fully-defined, but its quiet genius has nothing on Morse's performance. One can imagine him playing a soldier of the Queen's Guard, standing stock still, and still invoking peals of laughter. During his time on stage, Morse seeks and finds every possible moment to add a flourish, a wink, or a guttural howl, and he does so again and again.
---
Waitress
by Sara Bareilles, Jesse Nelson
touring company
Tuesday-Sunday,
January 22 - January 27, 2019
Broadway musical, on tour 2018-2019, in Austin January 22 - 27, 2019.
Click to go to ticketing page for Broadway in Austin.