Review: Paradise by touring company
by Samantha Hendel
Austin Playhouse is hosting LA-based Ruskin Theatre's bluegrass musical comedy Paradise: A Town of Sinners and Saints through February 3. This is apparently a first for Austin's #2 commercial stage, housed for several years now at the former Highland Mall. For well over a decade Don Toner, his daughter Lora Toner Haddock, his son Mike Toner and associates have relied on a stalwart company of local artists and a strong clientele of subscribers to establish their trademark quality stagework. The Playhouse has resumed its campaign to move toward the dream of constructing its own venue.
The transplanted bluegrass musical comedy features toe-tapping rhythms by Jim Doyle and seamless direction by Michael Myers. It's a hysterical, knee-slapping comedy, another evolution in a genre that stretches way back: the cheerful depiction of oddball backwoods characters as imagined by bicoastal writers and tunesmiths. Prolific writers for community theatre Jones, Hope and Wooten have made a living at it without having to add music (Doublewide, Texas is a favorite); another example is The Great Trailer Park Musical by Nehls and Kelso (2005).
The live band brings a personal touch, set and lighting designs are simple yet effective, and the cast brings these peculiar characters vividly to life.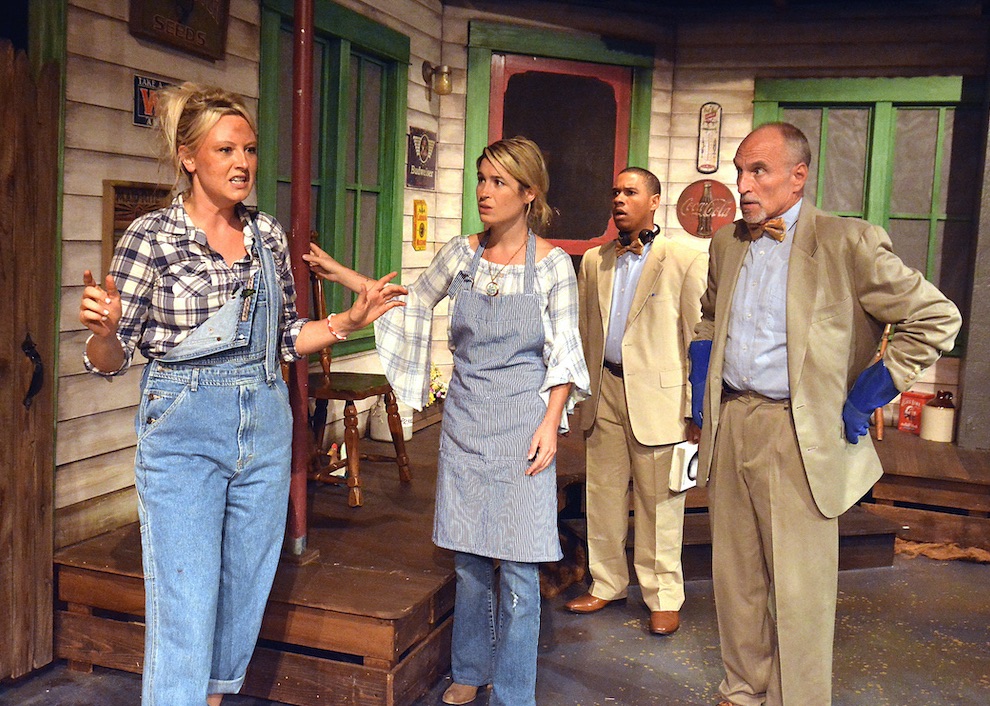 The opening number "Paradise" sets the stage in the desolate coal-mining town of that name and introduces characters Louanne Knight (Kelsey Joyce), Mayor Gayheart (crowd favorite Chip Bolcik) and Ezra Johnson (the incredibly funny Dave Florek). Louanne, the heart and soul of the town, longs for something better than Paradise as Ezra and Mayor Gayheart provide comedic commentary.
Cue "Greater Than Thou" to introduce the Reverend John Cyrus Mountain (Jon Root) and, another stock character in this genre, ex-stripper Chasity Jones (Nina Brissey). Root has phenomenal comedic timing and signals his intentions with body language and his sly demeanor. Chastity connects her previous life and her current duties as the Preacher's right hand in the solo number "Jesus Is Deep Inside Me." Punny lyrics and impressive pole dancing made it a crowd pleaser.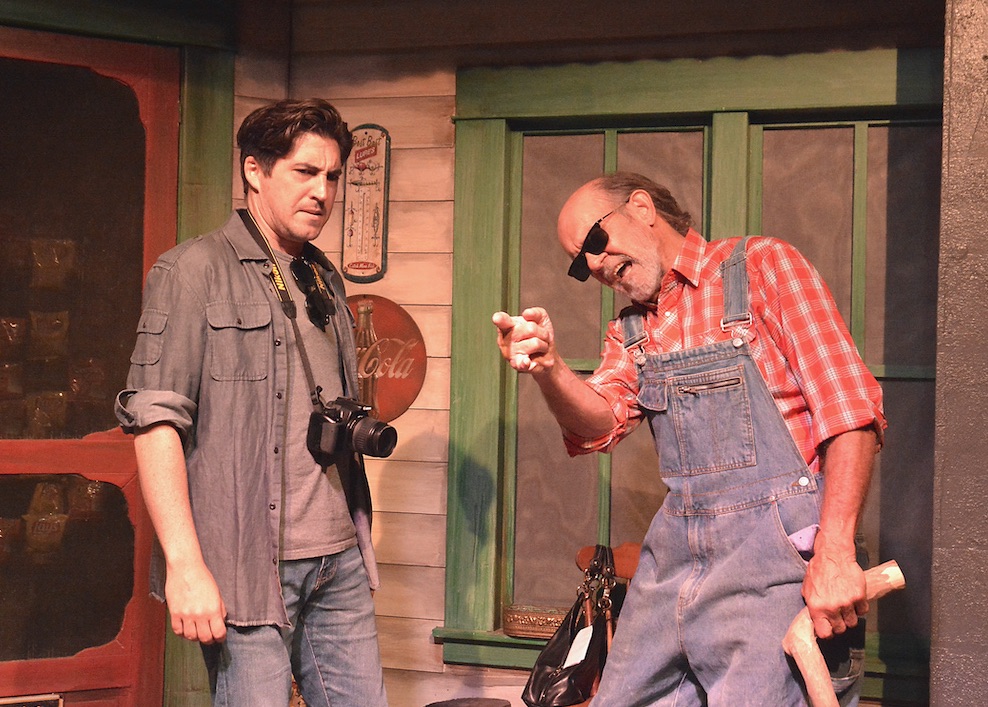 Root's powerhouse vocals in "For Profit Prophet" promise a financial revolution if the people of Paradise agree to use a reality TV show to raise money. The townsfolk aren't completely sold on the idea. Ezra explains they're just good ol' hillbillies who enjoy their way of life. Though denizens of Appalachia might be unlikely to use that term, but the bluegrass band shines and gets audience feet tapping to the music.
TV producer Peter Martinez (Jamie Daniels) arrives to help convince the people. Louanne is attracted to him but dubious of the scheme. Frustrated with the chaos, she wishes that she could turn to her late mother for advice, a desire that motivates the beautifully sung ballad "I Miss You." The incipient romantic relationship could have been better developed, but the actors did a fine job of establishing their characters' backgrounds.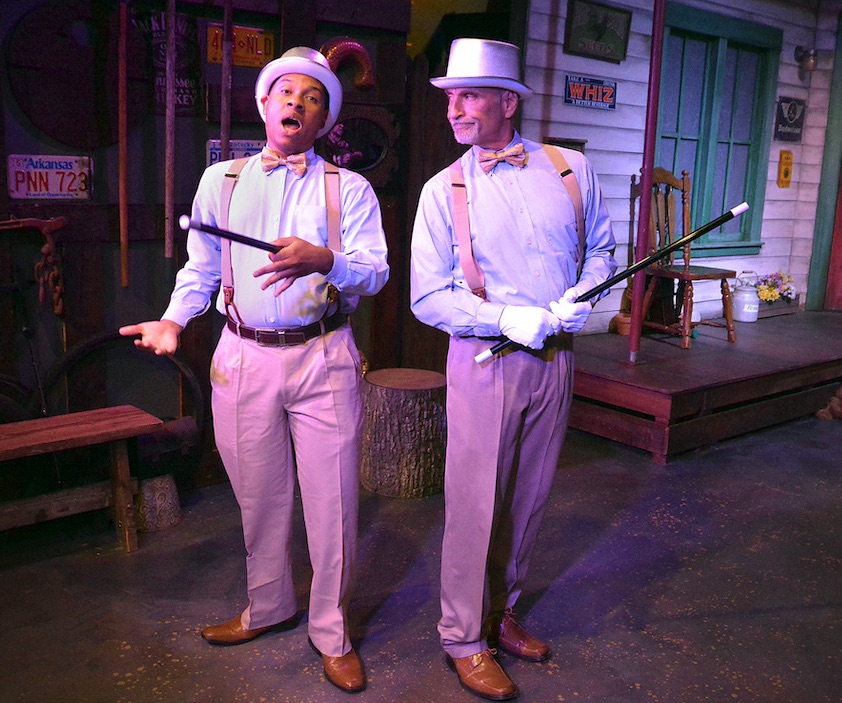 The Mayor, his son Tator (Randy Taylor), Ezra and the Preacher bring more laughter to the audience in the number "That's The American Way." Tor Campbell's choreography for the number was simple yet creative and seamlessly executed by the men. Act One closes abruptly when the people of Paradise finally agree to the reality TV show.
That show, titled "Boom to Bust," opens Act Two. Lighting designer Don Day spotlights confessionals by each character. Paige Segal as Cyndi belts out "The Missing Link" about her tactics for revenge, including setting on fire a sack of shit on her victim's porch. Segal's delivery was hilariously brilliant and brought belly-laughter to the audience with its vulgar yet relatable lyrics.
Closeted germaphobe Mayor Gayheart, a devoted father, remained a crowd favorite. Bolcik delivers his lines flawlessly and effortless comedic timing. Bolcik and Taylor steal the show with their father-son number, "I Don't Want To Sing On Broadway."
A plot twist at the end reveals the Preacher's identity. Will the town of Paradise be saved? Will Louanne find love? The talented cast's responses are lively and entertaining.
---
Paradise
by Bill Robertson, Tom Sage, Cliff Wagner
touring company
Thursdays-Sundays,
January 11 - February 03, 2019
More forthcoming from Austin Playhouse. (November 13, 2018)